Back in the day, many must have read about the comic book character named Shegz in the amazing series of the Supa Strikas; however, not many knew the brains behind the comic book series. In this fresh Episode of CEOs interview, we will be telling you about Mustardseed Communications, a comic company in Lagos. They didn't produce the Supa Strikas series, but they are definitely a comic company you need to know about.
Do you want your company to feature on the Legit.ng CEOs Interview contact us at ads@corp.legit.ng
Legit.ng recently visited the office of Mustard Seed Communications, a Nigerian company that makes comics and animations with a focus on Nigerian superheroes. The company's CEO Ayodele Elegba revealed why he decided to start Lagos Comic Convention (Lagos Comic Con) - an annual event that celebrates the comic culture in Nigeria.
Ayodele Elegba is the CEO of Mustardseed Communications Ltd, organisers of the Lagos Comic Con, the biggest geek event in Africa. He is also the CEO of Spoof Animations.
Here are the excerpts from his interview:
What motivated you to start the Lagos Comic Con?
I started Mustardseed after my youth service. I developed the flare to add something to the creative industry in Nigeria. I rushed down from Abuja to Lagos to establish Mustardseed Communications Ltd in 2008. Since then, we have been organizing events and consulting for firms and individuals who want to make entry into the creative space.
Looking at the Lagos Comic Con, it has been a combination of all we have been doing. The event has brought together creative professionals in the industry to network and foster a viable environment.
How has the company managed to survive in the Nigerian comic space?
Lagos Comic Con started seven (7) years ago and it has been challenging and fun at the same time. Like every entrepreneur in Nigeria, there are so many challenges we face like financing, power, structure and others.
It has been a struggle but I thank God that the event has grown from 300 attendees in 2012 to 4500 in 2017. However, we have been getting support from people in terms of encouragement, donations and partnerships.
What is the biggest achievement of the company?
Our biggest achievement is still the Lagos Comic Con. It is the biggest comic event in Africa, there's nothing like it. This year's event expects about 10,000 people. We have also helped other comic book publishers get their works out there.
We worked with Unique Studios based in the United States by pulling together a group of artistic professionals to achieve a common goal. We have also helped birth some comic publishers in Nigeria and gotten them to where they are today.
How have you been dealing with competition?
I really don't believe in competition because I believe the sky is big enough for everyone. My greatest competition is myself because if I continue to improve by adding value to myself and my company, I wouldn't feel threatened. Besides, the comic industry in Nigeria is still at its emerging state and more players are needed.
Challenges faced so far
The greatest challenge so far is the mind; one has to keep their mind positive. That's one thing most entrepreneurs don't realize. People think it's about the funding or the money but it's not. If your mind is not intact you might not be able to face the challenges. With a good mindset you can sell yourself well and get the money that you need.
Goals set at the inception of the company
I didn't have set goals written down on paper, but in my mind I had a vision of what I wanted to accomplish. One of them was to see a time where young people that are fresh out of secondary school and university can jump in and make money from their drawings and creations; and it is already happening.
Another goal I had in mind was to see more comic studios emerge in the country and it is already happening. Since Lagos Comic Con started 7 years ago, the industry has grown by 300% having more publishers and players showcasing their contents and creations.
Watch the video below:
Mustardseed Communications Ltd is the conveyor of the iconic Lagos Comic Con happening on September 15, 2018. Keep up with the forthcoming event by following @lagoscomiccon on Instagram.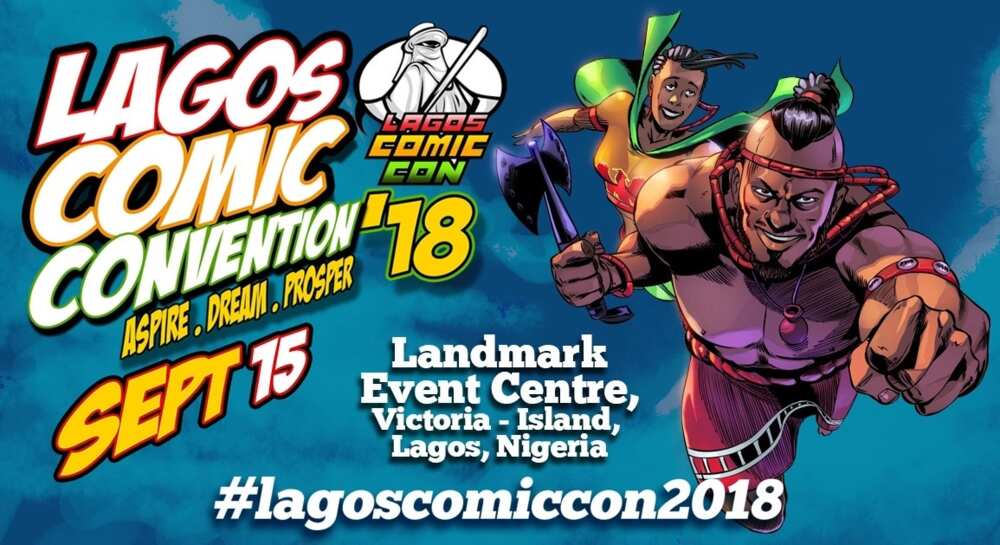 Do you want your company to feature on the Legit.ng CEOs Interview contact us at ads@corp.legit.ng