Only recently, Legit.ng shared the story of a NYSC corps member serving in Abuja who mocked death in the face by celebrating the demise of his own father on social media.
This action was puzzling to a lot of people. As it appears, the young man has come out to state why he thought the passing away of his dad was good news.
Announcing the loss of a loved one should be done with remorse and utmost regret for a life that had cowed to the throes of death. But a particular Nigerian guy with the name Victor M Bills proved that the reverse could be the case.
After the death of his father, he took to Facebook to express these rather strange words:
"Friday is for CDS….#Abjcoppa….And finally the great devil died last night….. R.I.P my useless father…..Just so happy we all saw ur death…. This is GOODNEWS."
Although the man who is a corps member serving in Abuja later deleted this post due to the appeals of his friends, it became clear that he meant every word he said. Not wanting to leave many in the dark, Victor revealed the reason about his obvious happiness at his father's death.
READ ALSO: Father of a boy who killed his 18-year-old girlfriend dies as he can't cope with grief
In a chat with NewsmakerNG, he disclosed that he was in no way sorry about the statements he wrote on Facebook as his father's demise was an answered prayer. According to him, his dad had denied him the essential fatherly love he needed ever since his mother got separated from him about 26 years ago due to an unknown reason.
Also, the deceased whose first name was Moses cursed Victor and told him that he would die prematurely. The curse had also included the clause that the young corps member would die before his father.
Hence, for Victor, there was nothing he wanted more than to be the one to witness the death of his father. After his wish was granted, the young Nigerian said he had no scruples about mourning his father as he could not pretend he loved him in the first place.
PAY ATTENTION: Get more Nigerian News on Legit.ng News App
These were his exact words:
"I can't paint him white when I'm dying inside me. He always laughed and told me I would suffer and die before him. But the reverse is now the case… He wasn't God.
"He deprived me of fatherly love… And still didn't wish me well. So his death was a great relief to the family… I'm not regretting anything. My friends asked me to delete the post. But I don't regret posting it.
"Now I wonder the kind of tribute the children will write for him and what people will know him for other than evil. I just pity him, because even at gunpoint I'll never agree that he had an atom of love for me.
"He cursed me every time he saw me. We never had a loving time as father and son. I'm not fabricating stories. I'm telling you the truth. Don't know why he hated me so much.
"Before now, anytime I met new friends I told them my dad was late so that they wouldn't bring up topics about him. I always talked about my mum. So, when they saw my post about him, they were surprised I had a dad all the while. Even friends from secondary school.
He didn't attend his children's wedding or even wished them well. Rather, he rained curses on them, just to frustrate them. Does such a man deserve to be given a befitting burial? He was heartless and never believed he would die soon."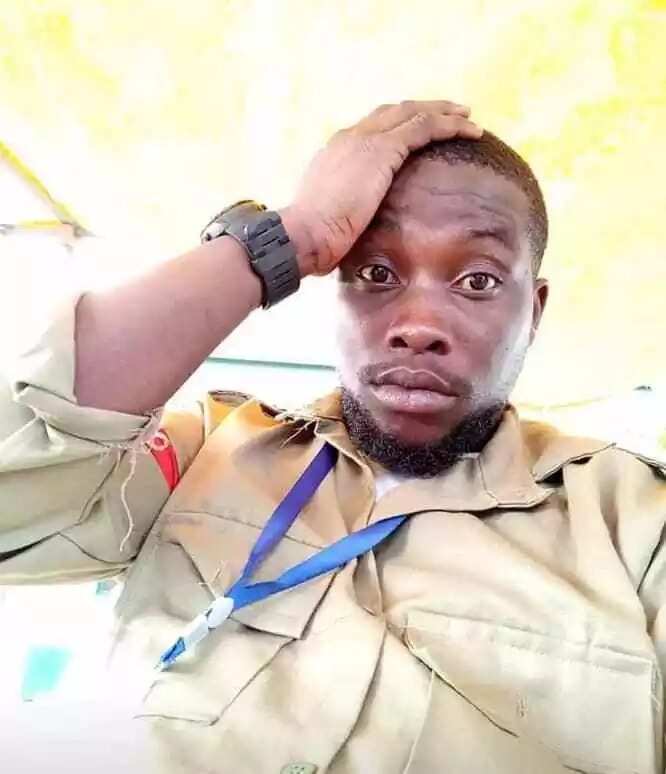 READ ALSO: Lady shares story behind her father's surprising death
However, Victor who hails from Amaraku, Isiala Mbano in Imo state could not but celebrate his mother who took up the responsibility of taking care of him and his three siblings.
He said: "I believe in the strength of thorough womanhood from my mum. I thought about how life would have been if my mother wasn't hardworking and industrious. What if my mum had hooked up with another man after their separation. What would I have done?
PAY ATTENTION: Get the hottest relationship gist on Africa Love Aid
As for whether he planned to grace the occasion of his father's burial, the Abuja corps member said he would not only be more than happy to miss the funeral, he would also ensure his siblings and mother do not spare the time to do same. For one, they had been warned by a distant uncle via a Whatsapp chat not to attend any ceremony in honour of the deceased as he was evil.
Towards the end of the chat, Victor said that, with the post he shared on Facebook, he hopes to awaken every parent who treated their children in ill manners due to the fact that they were hurting from the scars meted to them by their spouses.
"Just trying to encourage my peers that if they hate any lass, they shouldn't transfer their hatred to the children. Too bad that parents do so with belief that certainly the child will forgive them later in life, even after punishing such a child emotionally."
Kids of top Naija politicians who are not like their parents | Legit.ng TV