- An Abuja resident on Wednesday, September 12, made a dramatic move to protest the state of Nigeria's economy
- The man climbed a telecommunication mast in Asokoro area of Abuja
- Nurudeen Lliyasu said he was also on a hunger strike
A 28-year-old man, Nurudeen Lliyasu, has climbed a telecommunication mast in Abuja, to protest the poor economy in the country.
The News Agency of Nigeria (NAN) reports that the man was seen on top of the mast at about noon on Wednesday at AYA, Abuja.
NAN also reports that posters with different inscriptions were seen along the AYA road and at the foot of the mast, which read: 'Another hope betrayed battered, mutilated with collapsed economy.'
Others include, 'inflation and hunger is killing Nigerians', 'unemployment continues unabated', and 'Nigeria is on the precipice of collapse' among others.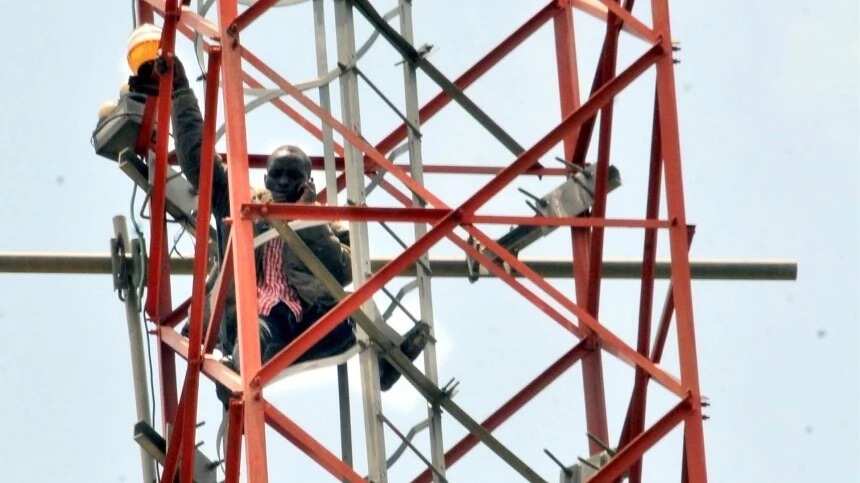 READ ALSO: Dogara reportedly picks up PDP nomination form
Lliyasu said he would remain on the mast for the next seven days, adding that he was ready to sacrifice his life for the progress of the country.
He said: "I am on hunger strike to protest and register my grievances on the condition of the country; I will remain here for the next seven days and I do not mind if I die here. If my dying on this mast will change the economy of this country, then I choose to die for others to live a good life.
" I have not eaten for days and also other Nigerians, if I die on this mast I am not worried, no roads in the states only in the city of Abuja you can see good roads. The doctors have said that a man can survive only on water without food for some days, I believe I can and if I cannot I will die."
READ ALSO: Buhari committed to reviewing workers' salaries - Presidency
Lliyasu said that there was nothing working in the country, adding that the education, health system, infrastructure are all in bad shape. He said that he was into transport business and other businesses.
Ayuba Luka, the security man in the area, told NAN that Lliyasu approached him that he wants to climb the mast he warned him against it.
"He came to me I warned him not to climb that mast, but when I left the site he sneaked in and climbed it. I was shocked when I came back and saw him on the topmost part of the mast, I have called my supervisor to come and take necessary action," he said.
Meanwhile, Legit.ng previously reported that one of the many excited men who allegedly trekked for the All Progressives Congress (APC) in 2015 commenced another movement from Lagos to Abuja on Thursday, August 23, ahead of 2019.
PAY ATTENTION: Install our latest app for Android and read the best news about Nigeria
The Borno state man who gave his name as Isa Mohammed Munlaila said this time, his trek to Abuja is to record his disappointment that the major promise of the APC to create jobs had not been fulfilled.
He commenced the trek from the Alausa area of Ikeja, and walked through the Otedola Bridge lining the Lagos-Ibadan expressway.
Who is The Most Influential Nigerian Pastor? | Legit.ng TV