Nigerian lace styles for wedding in 2018
Lace always excited the imagination of women, and not for nothing. Lace styles are attractive, and elegant. That's why many brides prefer gorgeous lace dresses. Checkout Nigerian lace styles for wedding 2018 that would make every bride .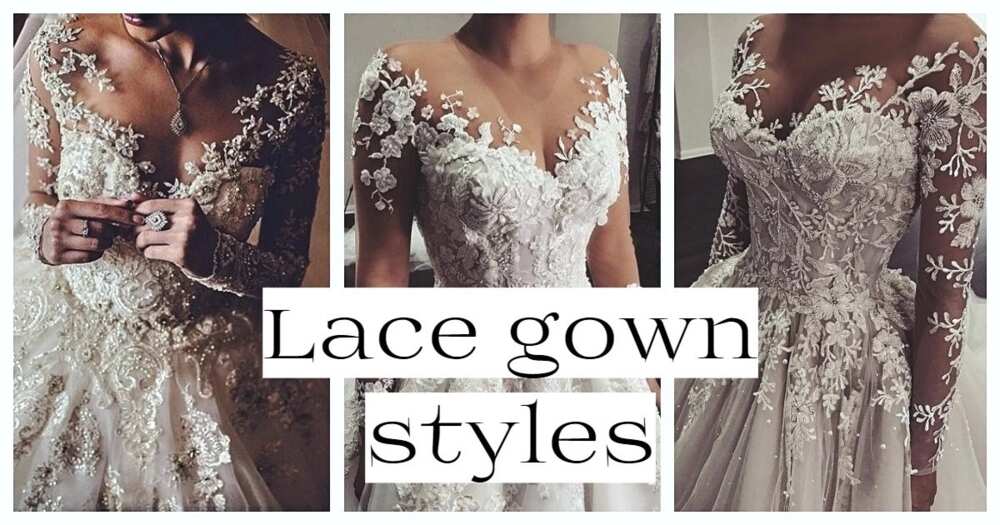 The world of fashion cannot resist lace outfits, which now and then appear in collections of fashion designers. Nigerian wedding fashion also shows great interest in lace. Lacy fabric has a natural tenderness.
Lace gown styles
Nigerian fashion in 2018 don`t exclude lace, on the contrary, it is at the peak of popularity. Especially dresses for brides with lace inserts. Lace dresses with floral applications and 3D designs made of lace look interesting.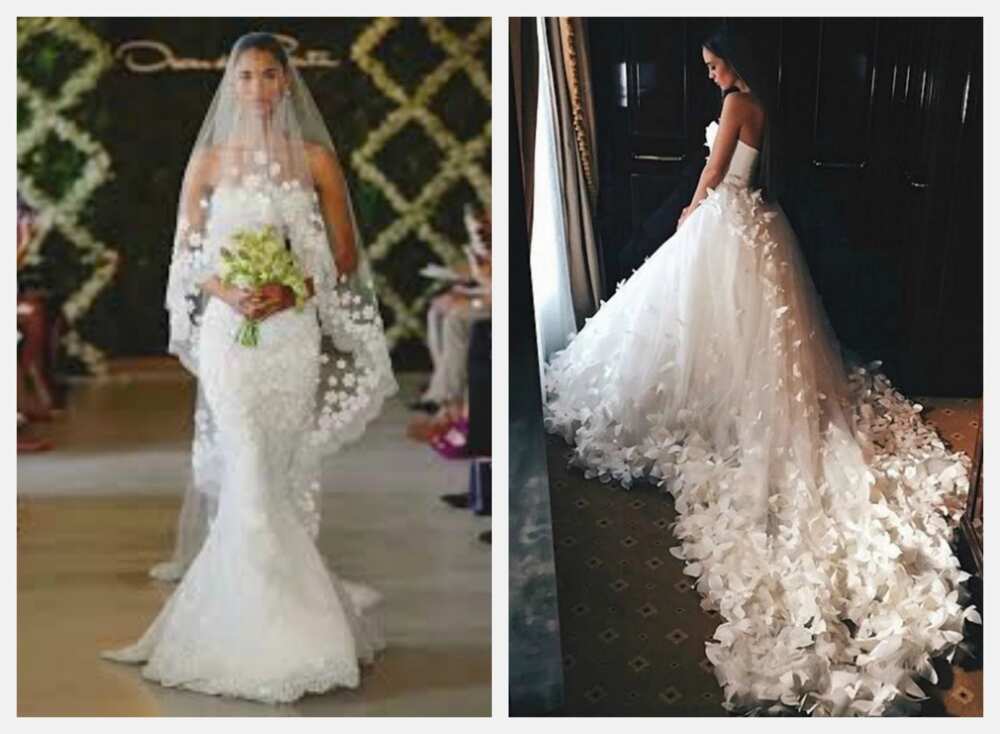 Not every style of wedding dress can be decorated with lace, as you want. It is necessary that the lacy patterns work together. First of all, pay attention to the bride.
The lace dress is a universal model that will suit girls with a different type of figure.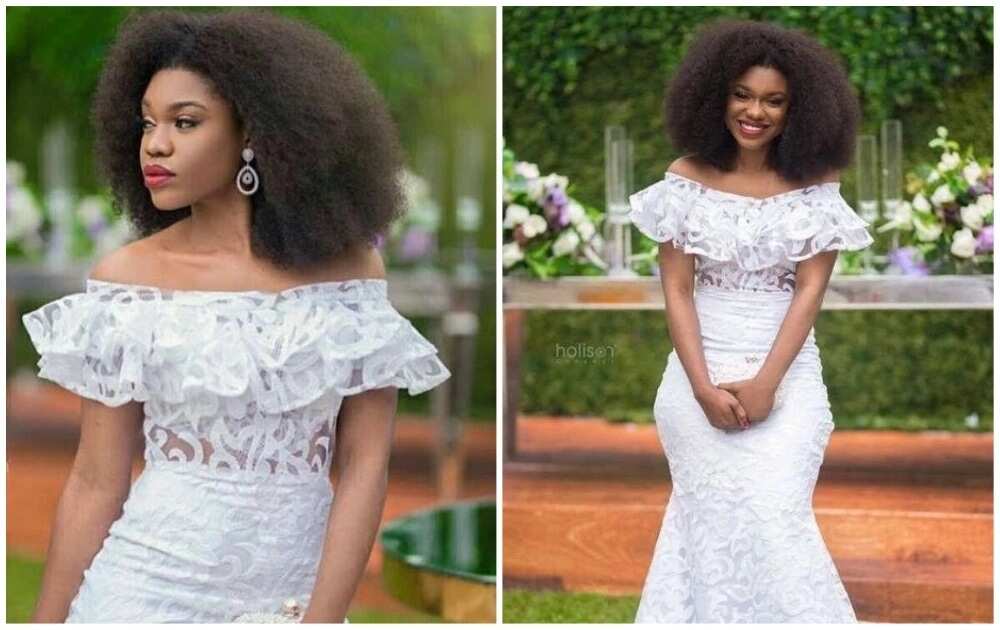 READ ALSO: Nollywood actors and actresses weddings that made headlines this year
Lace wedding dress is also suitable for plus size ladies. Mermaid style dress is a great option as it would accentuate the brides curves nicely.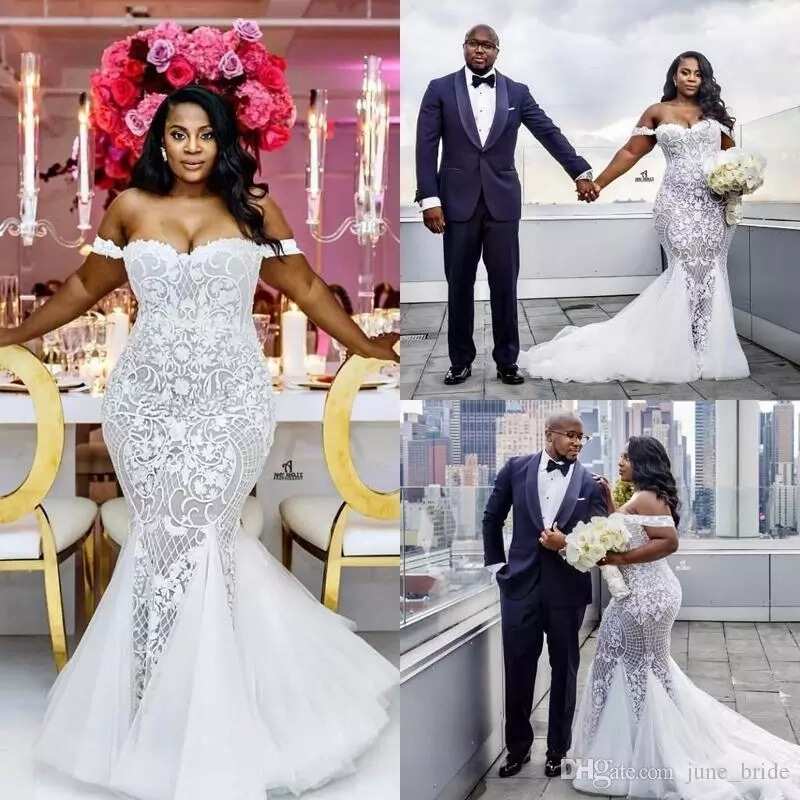 Lace can fully constitute a short wedding dress and can be combined with satin, chiffon, silk or organza. Each model has its share of attractiveness.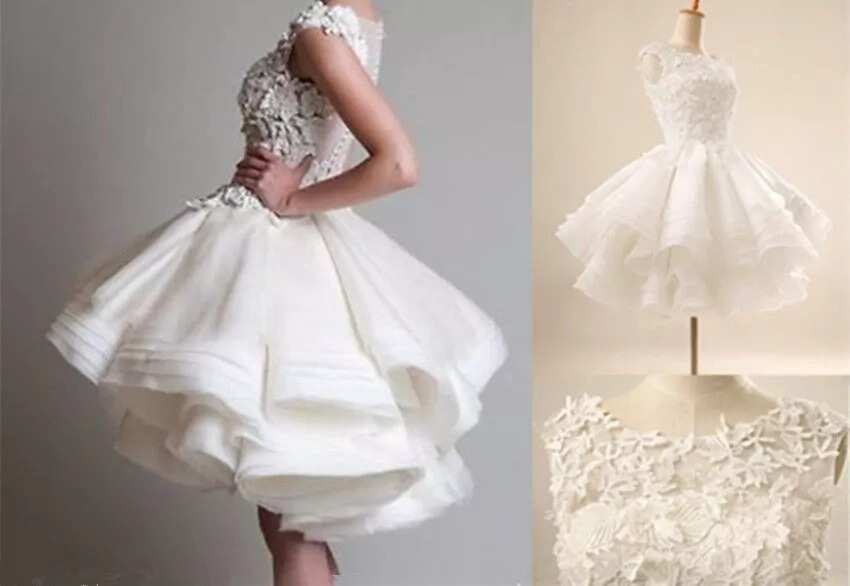 The balance of matte and shiny must be observed. Here, bright accents in the form of belts should be used. Light lace with an exquisite pattern will give the airiness to the dress and a long train of solemnity.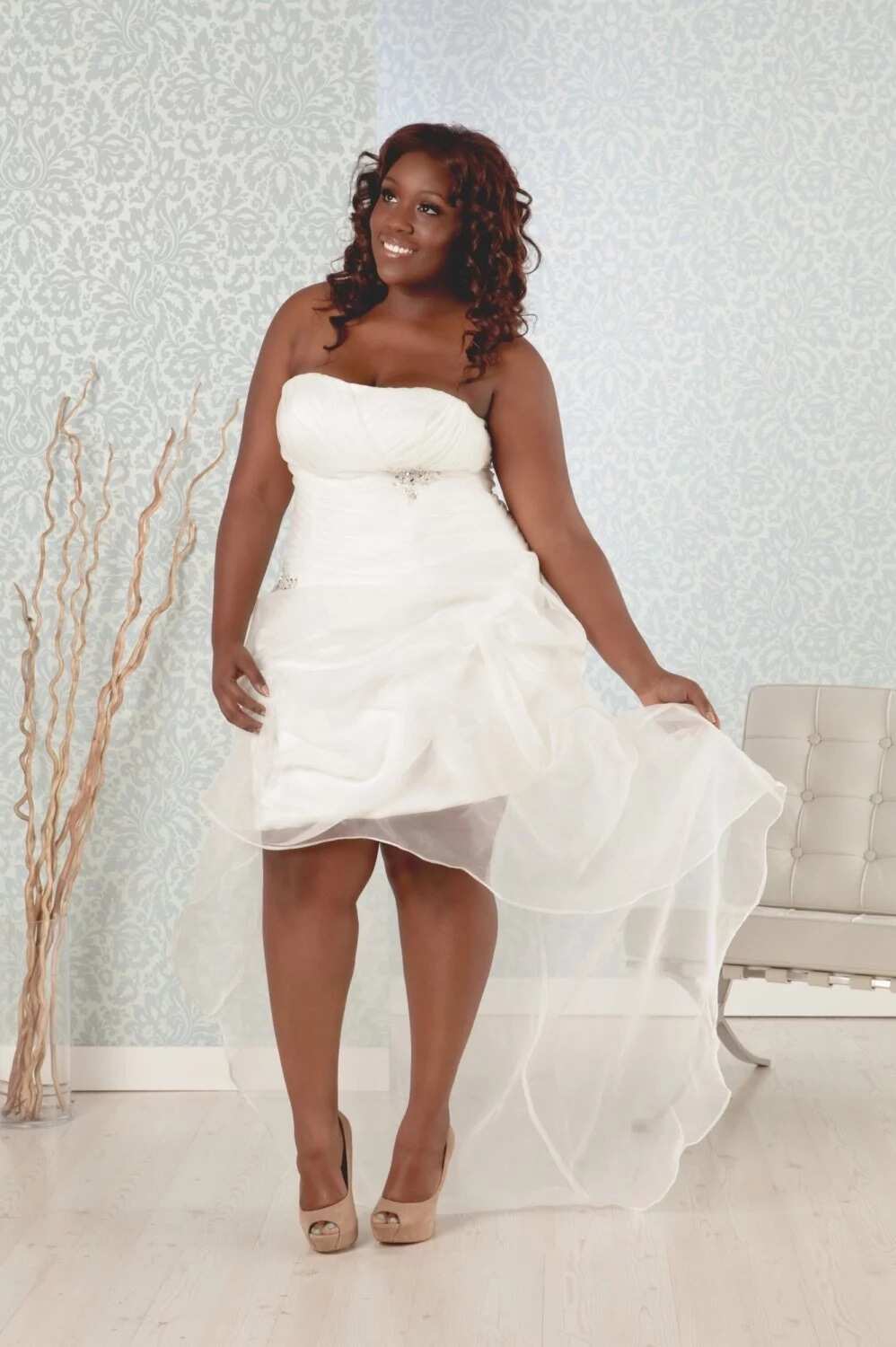 An amazing variant beloved by many brides is the long lace dresses, which consist entirely of this beautiful material. The fitted silhouette and lace back were taken as a basis by many designers. If you can casually keep a royal posture, then a dress with a great finish is created for you.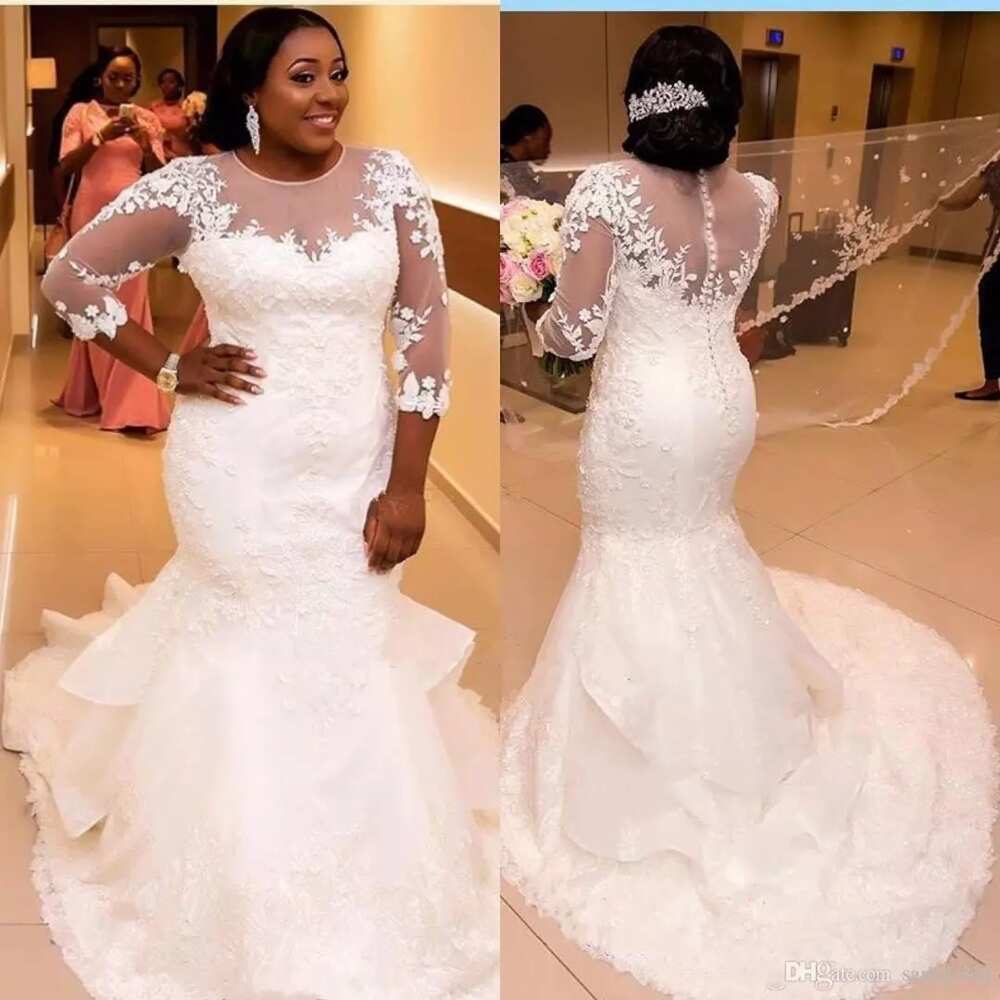 As for color, in this season, it is recommended to choose the most delicate shades of lace fabric, starting from dairy to ivory. The combination with an open back and a high cut allows you to achieve special attractiveness.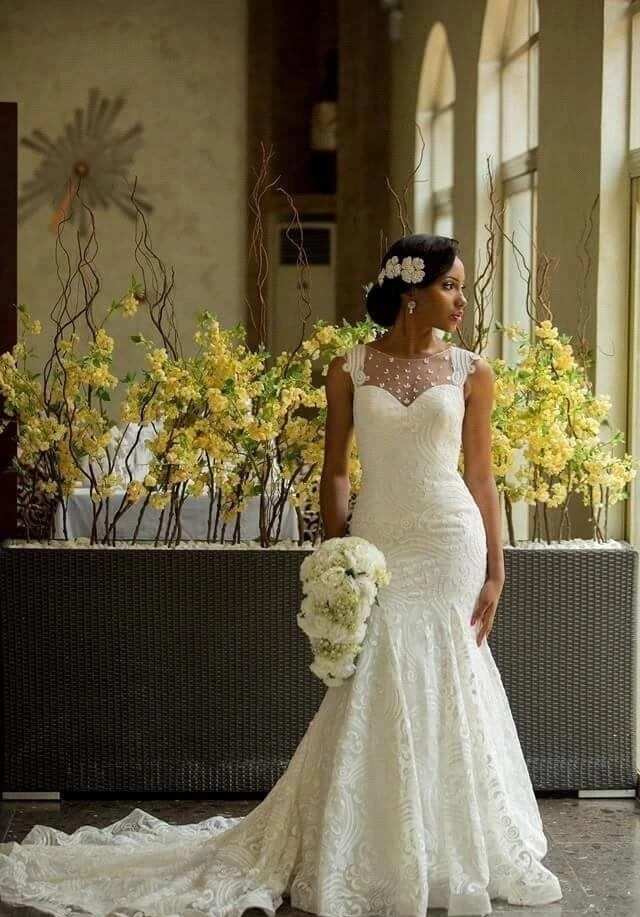 To connect two different texture parts of the dress, you can use a slim satin belt that will create a contrast. The color of the satin belt should be chosen based on the tone of the lace part.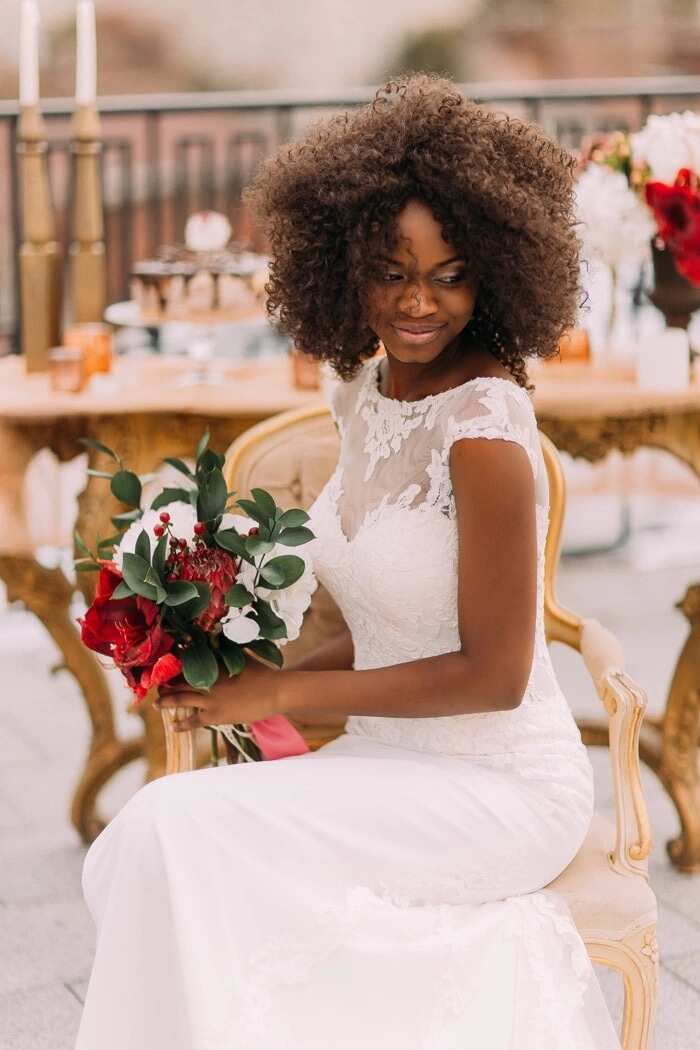 READ ALSO: Lace styles for wedding in 2018
Milk lace, ivory color, mint, natural turquoise color, coral shade - all this are lovely colours for the Nigerian bride. Even gray, blue or pink. Yes, what can we say, also if the shades of red are in trend.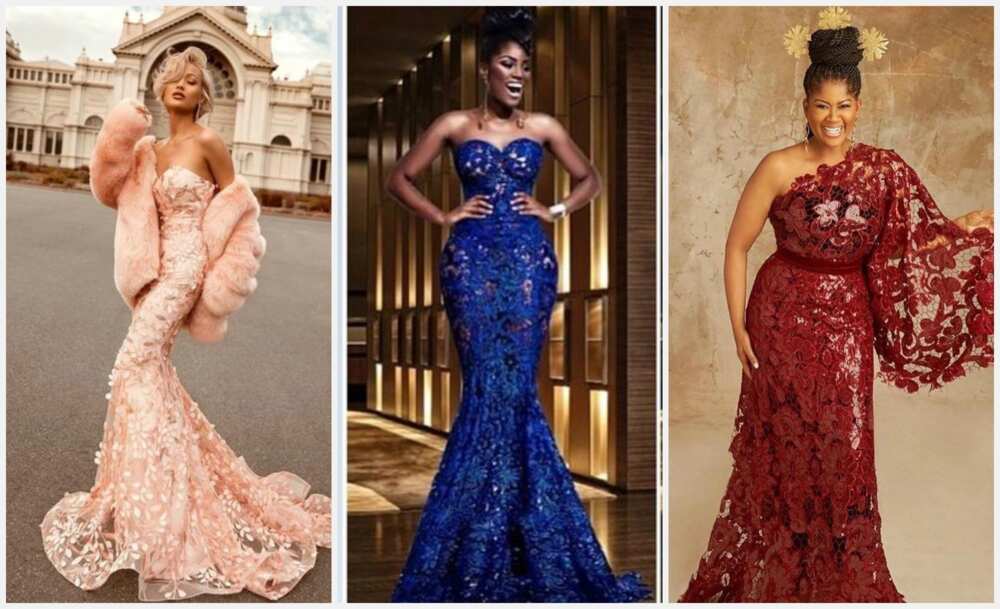 One of the required attributes of the Nigerian bride is gele, a kind of crown of the bride. The traditional wedding dress whether for bride or guest is also often made with lace. It`s decorated with many precious stones and pearls. Nigerian traditional bride looks posh and gorgeous, like a real queen.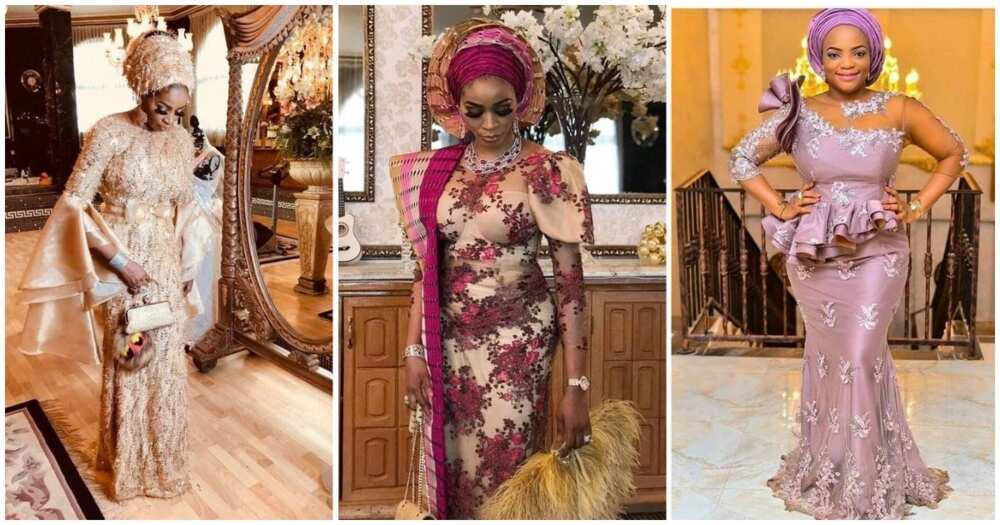 Traditional styles made of lace often have such elements as a tight-fitting corset and flared or straight multilayered skirt made of translucent fabric. Such a light dress resembles a dress of a princess, so this style is very popular and Nigerian brides choose such dresses for their special day.
If the dress is sewn with a neckline, then on the neck you can put on elegant jewelry - a pearl necklace, bright and eye-catchy beads or jewelry with transparent stones. The color of the gele is selected according to the style and color of the dress.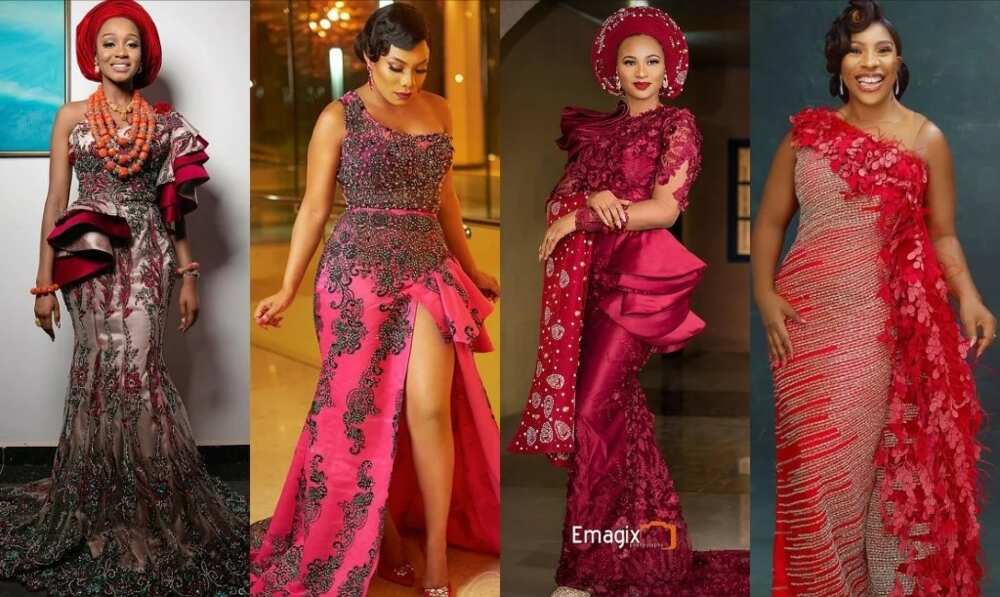 Traditional wedding dresses with lace inserts are also relevant. For example, you can sew a fitted dress with a light multi-tiered skirt and lace belt. If you decorate the belt with shining stones, then the outfit will advantageously emphasize the curves of the figure.
Elegant and modest traditional wedding dresses are made of lace but have sleeves. Such outfits are made of smooth fabric with patterns throughout the dress. The length and style of the sleeves can be any, but the fitting sleeves three-quarters long look most stylish.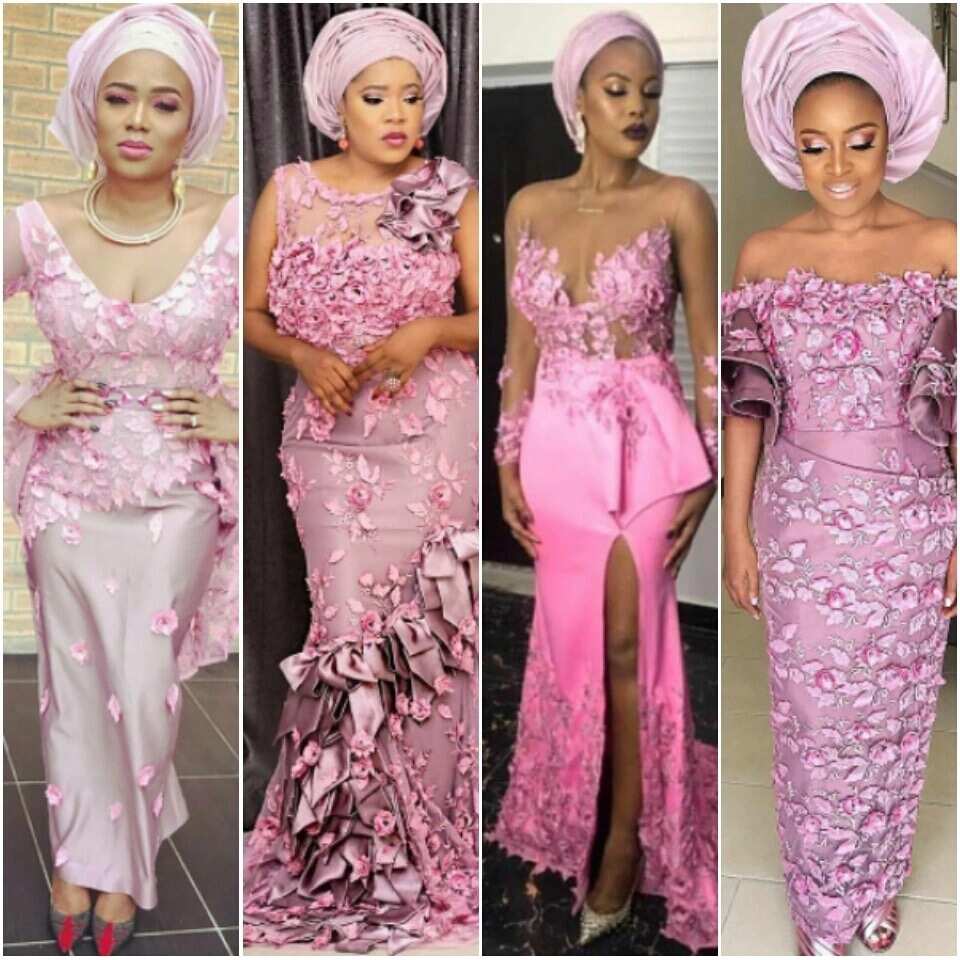 The same can be said about the traditional lace dresses in light blue and golden colors. We must admit that pastel colors make the lace material to look even more delicate and light.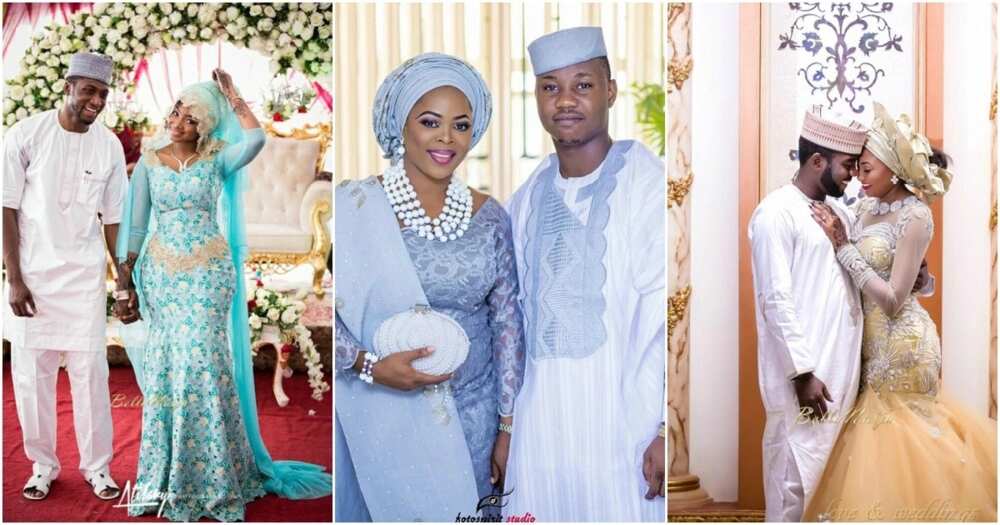 Latest Nigerian lace styles and designs
As in any other case, when decorating a lace wedding, we focus our attention on small details. They create and complete a picture of the ideal lace wedding. And, of course, don`t forget about the guests. Invitations for them also need to be done using lace.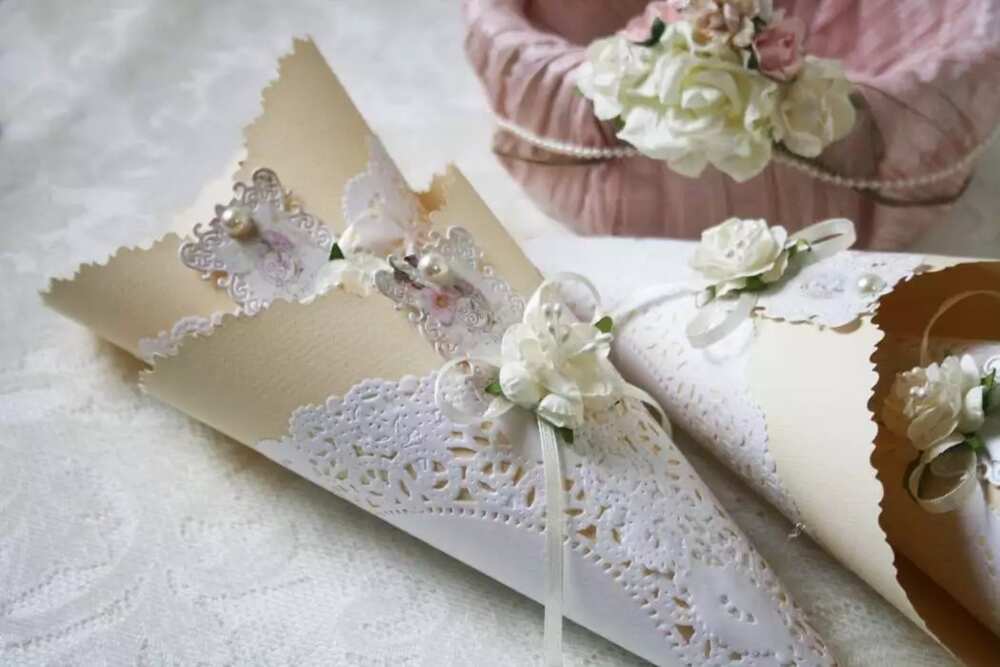 The wedding table is one of the key figures of the whole celebration. Accordingly, it`s just necessary to pay special attention to decorating the tables.
Firstly, you need to decorate all dishes, including glasses, cups. It`s not necessary to sit for hours on one small glass, meticulously gluing beads to it. It`s enough only to add the central element of the decor - lace. Using the usual lace tape, you can easily decorate all the wine glasses on the table. If desired, you can add rhinestones or the same artificial pearls.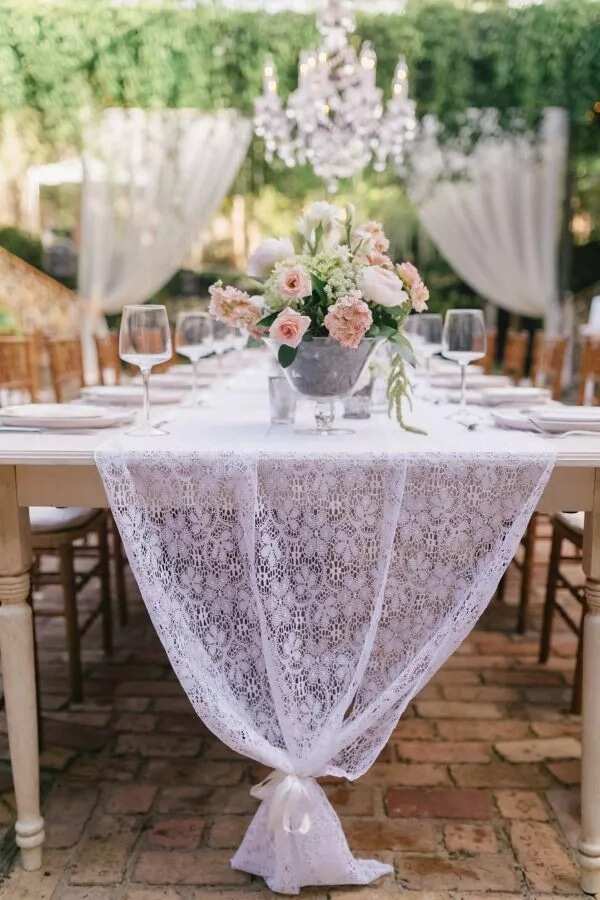 To create the unique vintage style wedding, you need to use as many lace elements as possible - tablecloths, napkins, fabrics, a bride's gown - all these and some other components of a perfect wedding should contain at least a lace motif.
As you have seen enough just one small lace element in the dress can change it completely.
READ ALSO: Latest lace gown styles in Nigeria
Source: Legit.ng