- Gospel singer Wale Adenuga and his wife celebrated their 21st wedding anniversary
- To mark the day, he shared several marriage tips on social media
- Several people have responded to the helpful nuggets in several ways
Wale Adenuga, a popular gospel musician, celebrated his 21st year as a husband to his beautiful wife Bukola. The band singer who is known for performing in churches and worship programmes shared a photo of him and his adorable partner on Facebook to mark the illustrious anniversary.
He was evidently grateful for all the years he had spent as a husband to his wife and to show this, he wrote a caption of gratitude alongside the image he posted: "Wale x Bukky. 21 years on. #Grateful."
In a later post, Wale who was still in a celebratory mood doled out yet another picture that portrayed his wife and himself together. This time, the photo was a throwback that dated back to the period when he just wedded Bukola.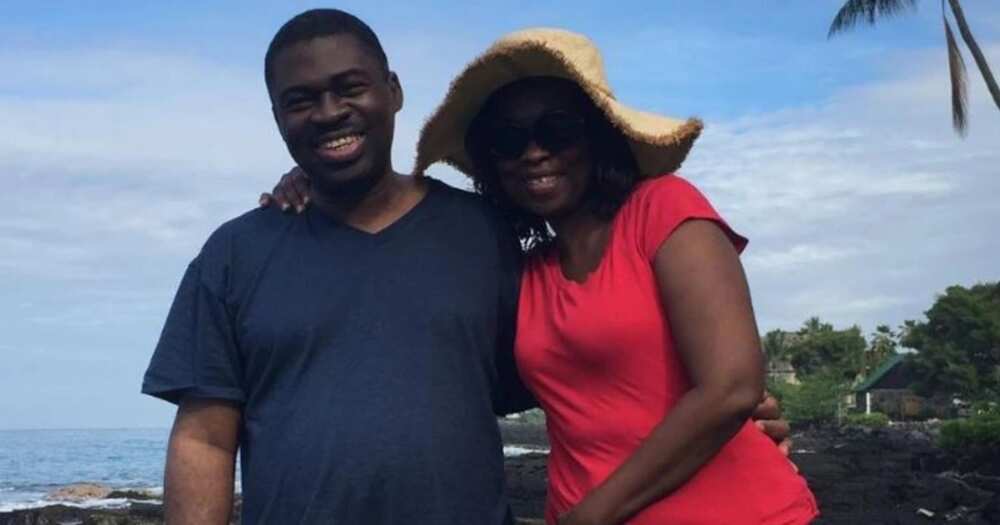 READ ALSO: Gorgeous bride is 'about to fly' in her pre-wedding photos
Both of them were looking rather young and happy in their wedding attires. It was as he shared this image that he thought it good to also dish out some marriage advices that had sustained his relationship with his 21-year-old partner.
The singer elucidated on how love, money or having an elaborate wedding ceremony were not really enough to sustain a marriage, and in light of this, he went on to state the other ingredients that made a relationship work.
Read his full post below:
"A few days ago, Bukky and I celebrated 21 years of being married. First I thought maybe I should share 21 tips. But then I don't think I have that many things to say. Here are a few lessons I've learnt along from day one.
1. A dear friend set me really free just before I got married. He said to me, your wedding ceremony will not be the best, and it won't be the worst. Oh, how liberated I was.
2. I've learnt not to confuse how I love my wife with how I feel. Chemistry is great. But trust me, that's not the only subject you will need to pass its test on marriage. Your commitment will always be tested.
3. We married way before the fuss about destination weddings. Guess what; my wife and I had our honeymoon at Redemption camp That's the best we could come away with then. Today, we've been to many places we never imagined 21 years ago. The wedding ceremony isn't the destination!
PAY ATTENTION: More Nigerian News at your fingertips on Legit.ng News App
4. All the assets I had when I got married fit into 2 'Ghana must go' bags. My most prized possession was a cassette player. My wife married me nonetheless. Bukky, thank you. Like a friend said, no lady should be eyeing me now. Such a one is 21 years late.
5. I'm grateful that I'm married to a woman who does not put me under pressure to be who I'm not. In the early years we had many a plate of rice with just egg on top of the 'mountain'. We didn't have curtains on the window. We draped it with a wrapper my grandmother gave us.
6. We've had plenty of civil wars. SORRY is an eventual word we get to say to each other so that things don't progress to world war status.
7. My wife is the person God has planted in my life to make my head to be correct. That's who your spouse should be to you.
8. If you're not intentional about how things run in your family, you might unconsciously be executing an operating system you learnt from your parents or your surrounding. And if that was defective, then you've got a whirlwind on your hands. So it may be against the grain of popular culture, till tomorrow, my role includes doing the dishes and cooking sometimes. It's not a big deal.
Just the two cents on marriage I am able to put together now. Should write some more soon."
PAY ATTENTION: More hot relationship gossips on Africa Love Aid
A lot of people have responded in varied ways to his post on Facebook. Many more congratulated the couple on their anniversary. See some of the reactions below:
What is the major reason why relationships crash? | Legit.ng TV