- A Nigerian preacher identified as Gofrey Emeghalu has incurred the wrath of social media users over his comment on domestic violence
- Emeghalu opined that women who are chastised and attacked by their husbands should stay in the marriage
- He advised that speaking ill against the man is wrong on all levels no matter what
The internet is an interesting place to be at all times. A Nigerian preacher identified as Godfrey Emeghalu recently shared a post on Facebook, advising women to stay put even when their husbands beat them stupor.
Emeghalu is of the opinion that women should stick with their abusive husbands in order to preserve their marriages, instead of bailing out or speaking ill of the man because of 'some chastisement'
The clergyman also quoted the scriptures to defend his point. Stating that a woman should not turn herself into the enemy within because her husband hits her but instead should remain patient. He also mentioned that if it's the woman's fault, she should take the chastisement and if it's not, she should take it to God in prayer.
READ ALSO: Drama as groom's family calls off wedding over bride's addiction to social media
Read his post below: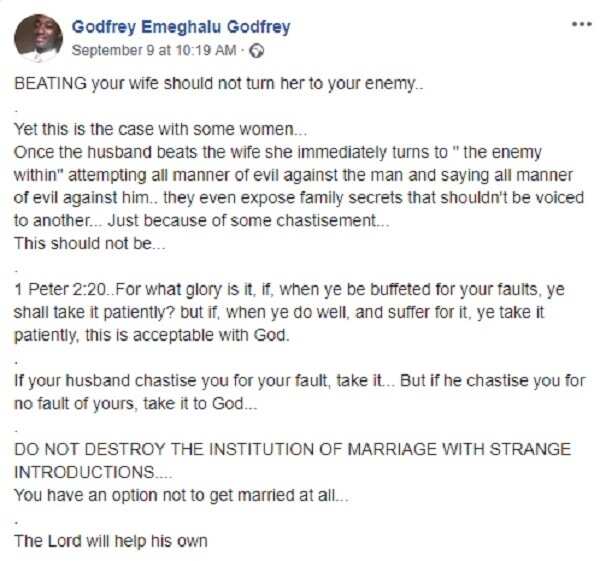 His post immediately sparked controversy on social media and many Nigerians wasted no time slamming the preacher for his absurd views.
Read some of the reactions below: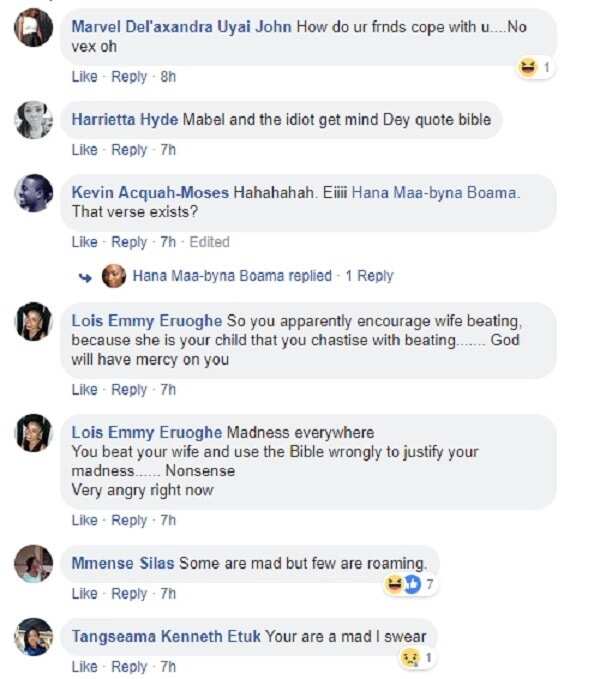 READ ALSO: Davido's bae Chioma is all shades of pretty in pink jumpsuit
Interestingly, Godfrey is known for his controversial statements which he splashes on his Facebook wall at will. He once defended child marriage, saying that if no one could provide any scripture against it they are just cowards.

Emeghalu has also revealed on social media that it is not normal for women to lead men as it is not the will of God.

It is unknown whether Godfrey is a married and might be abusive towards his spouse, giving that he believes strongly, it is normal. It is also unclear if he his married to an adult or an underage, taking into cognisance his stance on the ideal.
However, he has managed to cause a lot of outrage on his timeline with his comments and many social media users keep voting that he gets arrested.
There is also no doubt that the young preacher is getting the attention he is desperately seeking.
PAY ATTENTION: Read best news on Nigeria's #1 news app
Who is The Most Influential Nigerian Pastor? on Legit.ng TV