- Maurizio Sarri has named one person who can stop him from smoking cigarette
- The 59-year-old Chelsea boss is known for his chain-smoking habits while in Italy
- Sarri has now reduced his consumption rate due to smoking ban in UK stadiums since 2006
Chelsea boss Maurizio Sarri has taken time out of his busy schedule to reveal the only person who can stop him from smoking cigarette.
According to a UK Sun report, citing sources at Il Mattino, the cigarette-loving football manager, who once admitted that he smoked up to five packets in 24-hour, disclosed that only his father can stop him from the habit.
However, since moving to the English topflight before the start of the current campaign, the 59-year-old Italian has reduced his consumption rate due to smoking ban in place in football stadiums.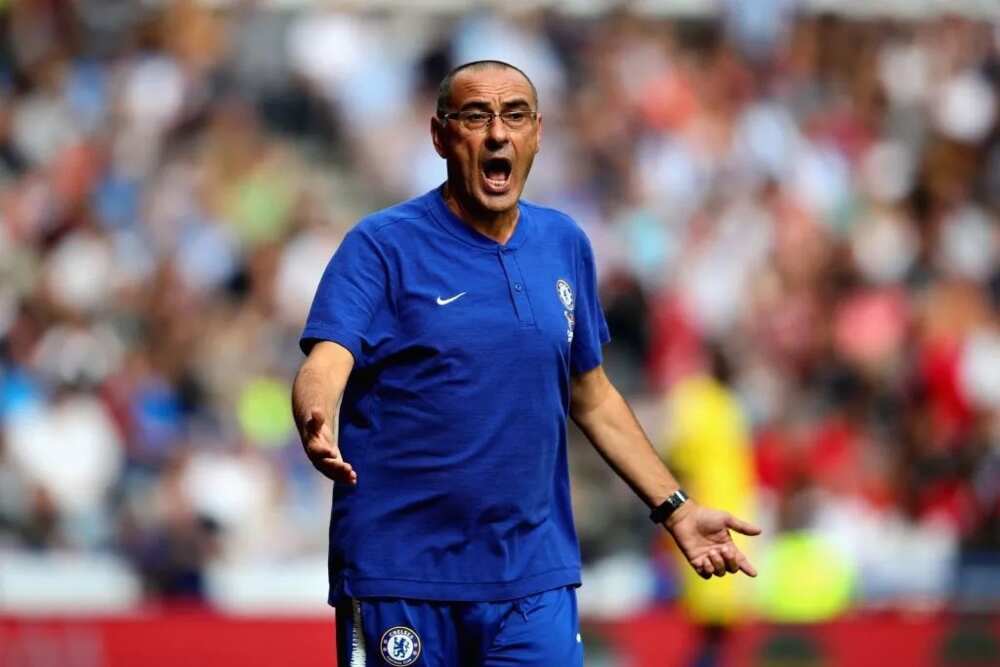 READ ALSO: Rudiger reveals Maurizio Sarri's style of play is better than Antonio Conte's
At the moment, Sarri is still struggling to do away with the smoking habit and has been caught on camera, fiddling with what looks like a plastic cigarette during Chelsea's Premier League games so far.
Sarri's dad seems to be the only one with the magical wand, to stop the Chelsea boss from cigarettes smoking.
But the former Napoli manager admitted that his dad's instructions hardly sink in before heading for a stick of cigarette as soon as the urge for nicotine returns.
"When my father learned I had this offer (from Chelsea), he told me to go to London, that it was the right thing to do.
"He did ask me to stop smoking at least while I'm here. He is the only one who for five minutes can make me wobble in my convictions," Sarri was quoted as saying.
The football tactician further revealed that he never had the opportunity to bid farewell to his former squad members at Napoli after Carlo Ancelotti's arrival at the end of last campaign.
PAY ATTENTION: Become a member of the leading sports Facebook group 'Naija Football Fan Zone'
"It all happened so quickly, I didn't get a chance to say goodbye to the players. I want to do it now and say, 'You are extraordinary lads. Continue like this, because you can do it and achieve that dream we only glanced," Sarri added.
Meanwhile, Legit.ng previously had reported that English Premier League club Chelsea are reportedly looking for an area within Stamford Bridge where new coach Maurizio Sarri can smoke during match days, according to reports.
The 59-year-old was known for smoking on the touchline during his time at Napoli and puffy up to 80 sticks of cigarette a day.
In 2006, smoking was banned in workplaces and enclosed public spaces in the United Kingdom with the rule extending to football stadiums.
Football Transfers That Shocked The World | Legit.ng TV