Wonders shall never end! A young lady has come out for ladies that called their boyfriends baby.
The lady who seems to also call her lover baby decided to give him a treat meant for babies since he is her own baby so she treated her matured boyfriend as a nursing mother will do to her toddler child.
In hilarious photos making the rounds on social media, the unnamed lady was seen taking care of her man in various ways like a baby.
PAY ATTENTION: Install our latest app for Android and read the best news about Nigeria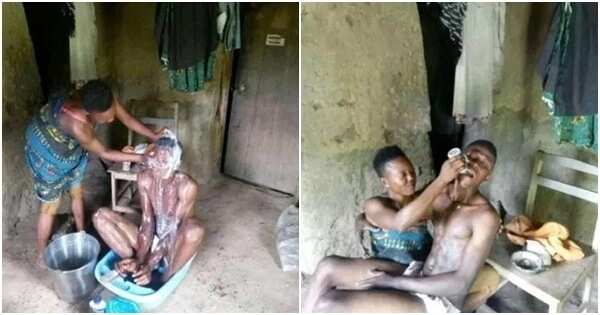 According to reports, this big baby nursing scene happened in Aba, Abia state, and the lady captioned her photos thus: "ladies should stop calling their boyfriends baby if they cannot take care of him in this manner."
In the photos taken, baby bath, baby powder and other necessities used when bathing a baby were seen in the background.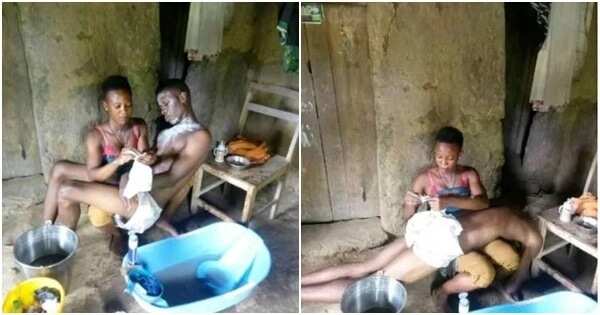 The pictures have definitely gotten online users talking, as many people had been dropping various comments.
Hope her boyfriend will bathe for her too if he calls her baby too.
Meanwhile, Legit.ng had reported that a Kenyan man simply known as Dickson Samba was alleged to have caught his wife in bed with another man when he came home without informing her beforehand.
READ ALSO: Cardi B, Nicki Minaj in messy fight as one sustain injury on the head (photo, video)
The man unfortunately died in the fight that ensued after the confrontation. Dickson on returning home caught his wife on another man. As the man of the house, he began fighting the man over what is his in a fierce exchange of punches at their home in Umoja Estate, Nairobi. But alas, he fell off the balcony of his house during the fight and unfortunately died from the injuries he sustained from the fall.
Who cheats more in a relationship, the man or the woman? Legit.ng TV