- The Not Too Young To Run movement has continued its series of town hall meetings in Abuja
- The meetings are aimed at engaging political parties on the cost of party nomination forms and party primaries for young aspirants
- At one of such meetings held recently, the group lamented that young aspirants in various political parties are finding it hard to participate in the political process
The Not Too Young To Run movement held an interactive session with leaders of about 89 political parties in Nigeria on Thursday, September 6, in Abuja.
The meeting was aimed at engaging political parties on the cost of party nomination forms and party primaries for young aspirants ahead of the 2019 general elections.
The movement had earlier held a similar session with the leadership of the Peoples Democratic Party (PDP), and is scheduled to meet with the leadership of the All Progressives Congress (APC) on the same issue in the coming days.
Speaking at the event, the convener of the Not Too Young To Run movement, Samson Itodo, lamented that young aspirants in various political parties are finding it hard to participate in the political process due to cumbersome process and the difficulties they face as youths.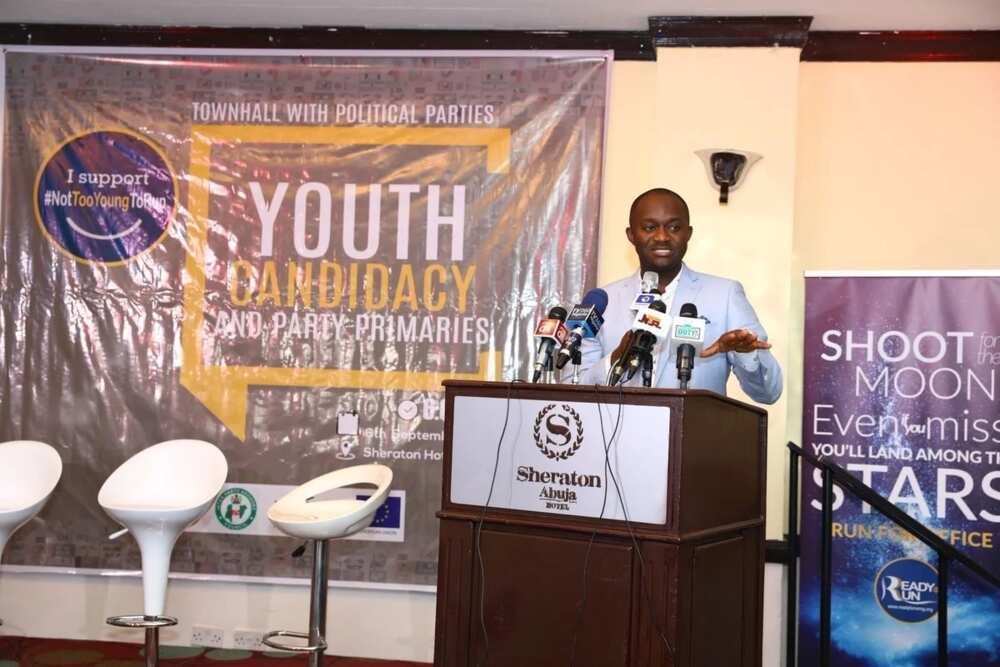 READ ALSO: Over 100 Pro-Buhari groups scrambled to buy nomination form for president - Keyamo
His words: "Political party bottlenecks has posed a huge challenge for young aspirants and this is why Not Too Young To Run is convening this town hall with political parties to enable young aspirants engage political parties.
"Despite the passage of the Not Too Young To Run bill, young people are still faced with challenges of internal democracy within political parties."
He however urged the young contestants to join the Ready To Run movement, so as to network with other young aspirants across the country.
"You've got to be ready, and being ready means being very popular in your community as your constituents need to know you, because all politics is local.
"You don't just wake up and say you want to run for office, no! Running for office and politics is serious business, so you have got to be ready to actually run," he told Legit.ng on the sidelines of the event.
PAY ATTENTION: Read the news on Nigeria's #1 new app
Political party leaders at the event during a panel session conducted by Bella Anne Ndubuisi, used the opportunity to outline what their parties are doing to promote youth candidacy within their fold.
A number of them also made series of commitments on reduction of cost of nomination forms for young aspirants and open party primaries during the session.
Meanwhile, the state chapter of the movement in Gombe state have accused some state governors of working to frustrate the leadership ambition of the youths by hijacking the sale of nomination forms.
According to them, the governors were hell-bent on edging out the youths from vying for elected public offices by making the expression of interest and nomination forms exorbitant and out of their reach.
A co-convener of the movement, Hamzat Lawal, said this in Gombe at a press conference earlier this week in the state.
Nigeria Latest News: Not Too Young to Run Pay a Visit to APC and PDP on Legit.ng TV