Editor's note: Mariah Adeboboye, the Legit.ng partner blogger, in this article, explains six amazing ways to prepare peach-papaya-grapefruit juice.
Mariah is an amazing cook, who is passionate about her family and inspires other families to ensure best meals are on their tables on a daily basis.
She is the owner of food bog called Mariellasmenu, the platform she uses to share recipes in order to inspire people to cook for their families.
Mariah could be contacted via: Mariellasmenu or +2348173155778, +2348126766674
More details in Legit.ng's step-by-step guide for guest bloggers.
My peachy food drink is on the spotlight today, I call it food drink because it is packed with vitamins and minerals and it is concentrated enough to keep you full for a long time due to its pulpy consistency, it is thick and rich and full of a lot of nourishing goodness.
I actually went shopping for peaches to make desserts, then I stumbled on papayas and grapefruits, I didn't have any intentions of making juice out of all of these fruits until I got home. I have a fruit bowl in my kitchen so for me, filling it up with a variety of fruits for my family is what drives me.
READ ALSO: Alleged defection of 6 governors: PDP is hallucinating - APC
So if you call this juice a mariellasmenu inspiration, you wouldn't be far from the truth. I love fresh fruits and I try as much as possible to have them readily available for my family at all times. The fresher the fruits are; the sweeter, the juicier, the better!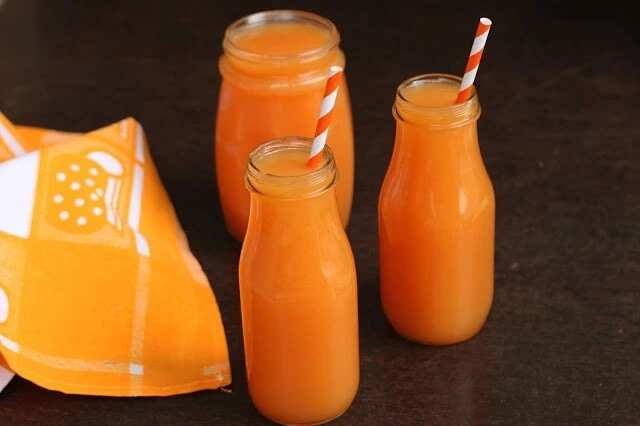 Peaches; as luscious as they are, are a member of the drupe or stone fruit family like mangoes and plums. These fleshy fruits are indigenous to China and South Asia but are also grown in Spain, Greece, the United States and Italy and according to foodfacts.mercola.com, peaches contains an assortments of vitamins and minerals such as vitamin C, vitamin A, vitamin K, potassium, sodium, niacin, copper, calcium, magnesium, iron lycopene and lutein just to mention a few.
Together, these vitamins and minerals help regulate heart rate and fight heart diseases, lower blood pressure and prevent indigestion, prevents muscular degeneration and aging . So, the next time you are up and about and peaches are close by, please put some in your shopping basket so your family can begin enjoy all these benefits.
Let's make juice!
Ingredients
1) Peaches 400g or 6 peaches
2) 1 grapefruit
3) 1 small sized papaya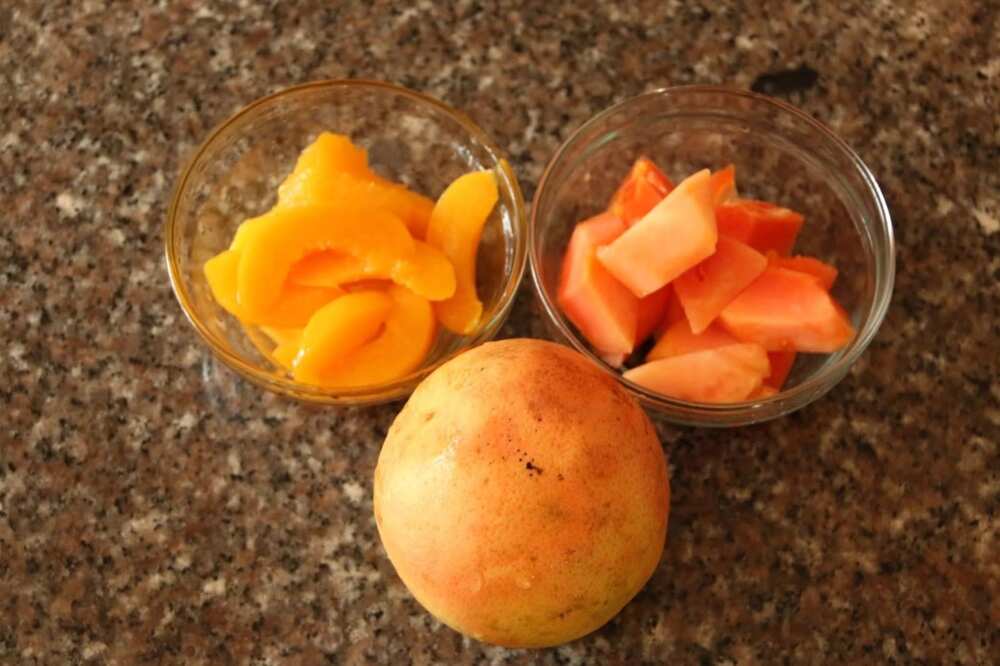 4) 3 table spoons honey
Directions
1) Wash the fruits thoroughly.
2) Cut the peaches and papaya in halves and remove the seeds at the center
3) Peel the papaya and cut into small chunks.
4) Blend the peaches and papaya together and sieve into a clean jug, set aside.
5) Now cut the grape fruit in half and extract the juice with a manual juicer, mix the 3 table spoons honey with the grapefruit juice, and pour this mixture into the peach and papaya blend.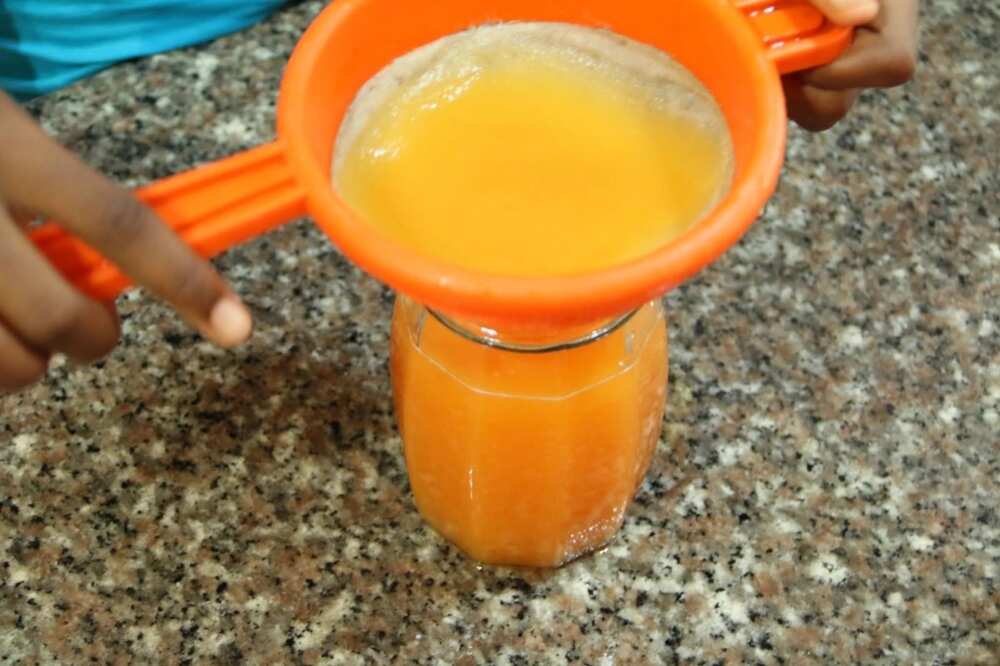 Cooks tip: the addition of the grapefruit and honey gives this juice a slightly tangy, yet mellow vibe that sits well at the palates, your family will love this juice!
6) Serve chilled and the rest is history!
Be Inspired! Mariellasmenu.
PAY ATTENTION: Read the news on Nigeria's #1 new app
The views expressed in this article are the author's own and do not necessarily represent the editorial policy of Legit.ng.
Legit.ng welcomes writers, bloggers, photographers and all sorts of "noise makers" to become a part of our Bloggers network. If you are a seasoned writer or a complete newbie – apply and become Nigeria's next star blogger.
Send us some info about your career, interests and expertise and why you'd like to contribute to the Blogger Network at blogger@corp.legit.ng Also, please send us the link to your blog and three examples of your work. Amazing health benefits of taking cucumber - on Legit.ng TV.
Meanwhile, Legit.ng had previously reported about five amazing ways to make unripe plantain Fufu.
Amazing health benefits of taking cucumber - on Legit.ng TV