Now the world of the WWE isn`t as populous as it used to be a long time ago, but some of the divas of wrestling still amaze us with their abilities and victories. They got many titles, belts and put their names on the list of the best. Who are the best WWE female wrestlers? If you want to know about these dangerous beauties, you have come to the right place!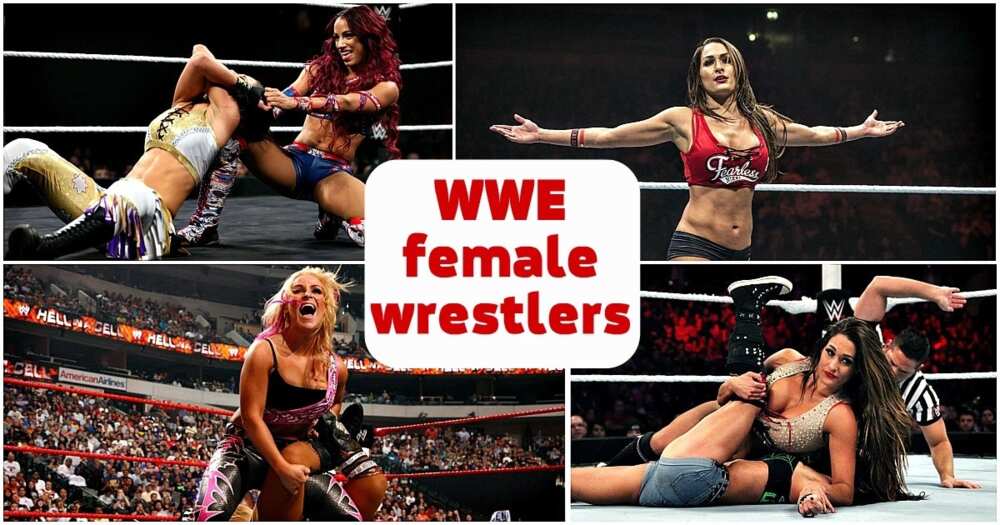 Best female wrestlers of WWE
Professional wrestling has spread widely as a kind of spectacle, especially popular is female wrestling. Although there are people, who believe that this kind of so-called sport is too cruel and doesn`t fit the delicate feminine nature. Let's get acquainted with the female representatives of WWE wrestling.
1. Alexa Bliss
Alexis Kaufman is an American bodybuilder and wrestler who currently works for WWE on the Raw brand under the name of Alex Bliss. Now, she is a two-time champion among women of the SmackDown, as well as a two-time champion of women brand Raw.
Kaufman was born August 9, 1991, in Columbus, Ohio State. She began doing sports when five years old engage in sports. here were softball, athletics, kickboxing, and gymnastics. She was a cheerleader During college. Alexa has participated in the competition Arnold Classic.
Bliss signed a contract with WWE in May 2013 and on July 24, she made her debut on the NXT television show.
READ ALSO: Is wrestling real or acting?
2. Sasha Banks
Mercedes Kestner-Varnado or Sasha Banks was born on January 26, 1992, Fairfield, California state. Sasha is an American professional wrestler, acting in WWE on the Raw brand. While working in independent promotions, she acted under the name Mercedes KV.
She is the former female champion of NXT, three times Female Champion Raw. Sasha's debut on the NXT took place on December 12, 2012. She is a cousin of the rap singer Snoop Dogg. Her favorite wrestler is Eddie Guerrero.
3. Asuka
Kanako Urai is a Japanese wrestler, better known as Kana, and now on the NXT brand as Asuka. She was born on September 26, 1981, in the city of Osaka. Her height is 160 cm, weight - 62 kg. Asuka is known for her style of wrestling "stiff," which includes various kicks and grips. She is also known as a freelance graphic designer and video game journalist. Kanako even worked for Microsoft and was sponsored by the company, so the Xbox 360 logo appears on her clothes.
She acted in many promotions. Among her achievements, there are the JWP Openweight Championship, the NEO Tag Team Championship, the Reina World Women's Championship, the Smash Diva Championship, and the Wave Tag Team Championship. In 2015, the wrestler signed a contract with WWE.
4. Charlotte
Ashley Elizabeth Fliehr is the real name of Charlotte. She was born on April 5, 1986, in Charlotte, North Carolina, the USA. She is an American wrestler, acting in WWE under the name Charlotte Fliehr.
Ashley is a second-generation wrestler, daughter of WWE Hall of Fame member Rick Fliehr and sister of David and Reed Fliehr. Ashley is the former NXT champion among women, is a four-time champion of Divas WWE Raw champion among women. She was named the "Rookie of the Year" according to Pro Wrestling Illustrated magazine in 2014.
5. Bayley
Pamela Martinez or simply Bailey was born June 15, 1989, in Newark, California, the USA. Pamela made her debut in wrestling in 2008. She was the champion of women NHT, but got to WWE NXT in 2012.
READ ALSO: Top WWE wrestlers and their wheels: who has the most impressive?
6. Natalya
Natalie Neidhart was born on May 27, 1982, in Calgary, Alberta, Canada. Natalie is a third-generation wrestler. Her father Jim "The Anvil" Neidhart and grandfather Stiu Hart once shone in the ring. Moreover, Natalie is also married to a wrestler.- in June 2013 She married her team-mate, Tyson Kidd in June 2013.
Among the professional achievements of Natalie is the SuperGirls Championship title, the title "Female wrestler of 2005", she also has two belts of the Stampede Women's Pacific Championship and the champion title of the WWE.
7. Rebecca Quin
Rebecca Quinn was born on January 30, 1987, in Limerick, Ireland. She is better known by the pseudonym, Rebecca Knox. Currently working for WWE under the pseudonym Becky Lynch.
Queen started wrestling in June 2002 under the leadership of Fergal DeWitt and Paul Tracy and in just five months made her debut in the ring under her real name. She is the first ever Smackdown champion among women.
8. Naomi
Trinity McCray AKA Naomi was born on November 30, 1987, in Orlando, Florida, the USA. She is an American dancer, model, and professional wrestler. In 2010, she took part in the third season of NXT, where she finished second, losing only to Caitlin. On June 20, she became the first FCW champion among the Divas. On January 9, 2012, she made her debut in Raw, as one of the dancers and assistants of Brodus Clay.
9. Alicia Fox
Alicia Fox, whose real name is Victoria Crawford, was born on June 30, 1986, in Ponte Vedra Beach, Florida, the USA. She began her career in OVW, immediately blending into the local Royal battle. A month later the young wrestler won the title of the female champion OVW, but the Federation recognized the transfer of the title illegitimate, and the belt went to Beth Phoenix.
Fox did not manage to win many titles, and there are only two of them on her account: a victory in the women's tournament of Ohio Valley Wrestling and WWE champion among the divas.
10. Ember Moon
Adrienne Reese oWho is also known as Ember Moon was born on August 31, 1988, in Garland, Texas, United States. She is called the "Goddess of Wrestling."
Ember Moon has won many titles such as Women's NXT Champion, Female Champion AIW, American Joshi-Champion ACW, "King and Queen WSU" 2013/with AR Fox, TV Champion ACW, "Queen of Divas ACW" 2012 and Female Champion RAW.
After reviewing outstanding female wrestlers, we can say that they aren`t just fighters but also very beautiful and talented women.
READ ALSO: Highest paid WWE wrestlers of 2017