Many are confused after a pastor survived several gun shots in Anambra state. Some think God miraculously spared his life while others are thinking otherwise.
According to a Facebook user Izuegbunam Chi-Chi, she disclosed that the founder of Grace and Power Prophetic Ministry International, Pastor David Elijah, was recently shot by unidentified assassins but his body refused to take in all the bullets fired at him.
She added that, this took place while the man of God was on his way to church. His native top had several bullet holes but none of them pierced through his body.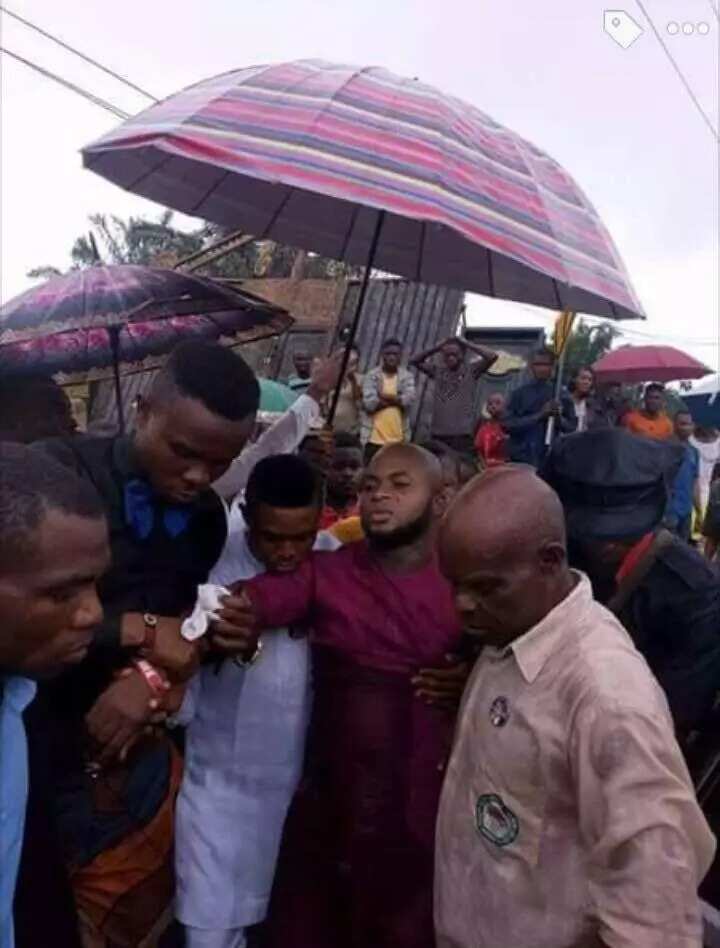 READ ALSO: Man shows the fuel tank of a bus he boarded in Lagos
Chi-Chi shared several pictures from the scene of the incident with the caption: "MIRACLE OR SHOW? **Bullet Unable to Penetrate A Pastor's Body After He Was Attacked By Unknown Gunmen** Earlier today, the founder of Grace and power prophetic ministry international, Pastor David Elijah, was attacked by unknown assailants in Awka, Anambra state capital. According to multiple reports, the pastor was shot at while going to his church by the hoodlums as the bullets refused to penetrate his body even after piercing his car an tearing his clothes as it can be seen in the pictures."
See post below:
A young man identified as Prince Keccy also shared pictures of Pastor Elijah with the caption: "My brother pastor David Elijah was shot at 'Awka' please pray for him."
PAY ATTENTION: Join Africa Love Aid today for your daily relationship tips and advice
See post below:
UPDATE:
Contradicting claims to being attacked by unknown gunmen, a young man identified as Nwajagu Chisom J took to his Facebook handle on Thursday, September 6, to call out the man of God.
According to Chisom's post, he disclosed that he was surprised when he began to see reports of Pastor David Elijah being attacked because as at the time he claimed he was attacked, he was on the same route with him and even overtook his car. He added that he even saw the pastor speaking with some police officers outside his church.
His post reads: "I sincerely lost hope today. Reading the now viral news of one pastor David Elijah of one Pentecostal church based in Awka & how he escaped assassination & trying to reconcile what I have been reading in the news both vanguard, naira land, Linda ikeji etc, really shows the level of grand fraud, deceit & treachery that prevails our world. A man whose vehicle I overtook while he was driving from club street in Awka & whom I witnessed when he stopped his car in the middle of the road in front of his church close to the mechanic I had stopped to fix my car ( near state secretariat) suddenly became a man who was attacked in front of his church by assassins while he was returning from Enugu. The same damaged vehicle I overtook & saw him driving, suddenly became a vehicle the assassins sprayed with bullets at the entrance of his church. I personally witnessed him talking with some people & seeing policemen & civil defence already stationed in front of his church before his arrival & after a while, his church members started screaming & waving their hands in frenzy while pouring out to surround his damaged vehicle. I personally witnessed all this & I am trying to reconcile it with the news of his miraculous escape from assasins & bullets not penetrating him going round. Suddenly a church I saw dwindling, as I passed this evening around 5pm, I saw huge numbers of persons & cars as it was when he started. I then start pondering, what about all these miracles these pastors claim on TV, we watch daily, the so called healings etc we hear, only God knows what transpired behind the screen . the drama is real. The theatrics now absurd & the sheep's ever most gullible. Kiri eleh isoh!"
See post below:
Legit.ng earlier reported that a beautiful National Youth Service Corps (NYSC) member has just taken to her Facebook profile to thank God for sparing her life. Stella Okwy is most grateful after escaping from a tragic accident.
Thank God!
Osun Osogbo Festival: My Entire Family Serves the River Goddess, Traditionalist Says| Legit.ng TV - on Legit.ng TV.