We need you here - Skiibii reacts after Harrysong's scary post about death
- Popular musician Harry song wrote a post about death that got many scared
- Skibii, a colleague of his, in a message urged the singer that he was still very much needed
- Many other fans of his could not but agree with him
Many a time, when people drop messages that show that they are thinking about death or what should happen after they die, those around them see it either as a sign of depression or some ominous event.
This was the case with Harrysong who recently posted something that scared the wits out of his fans and colleagues. In the post put up by the musician, he wanted Nigerians to know what to do when he died. According to him, he didn't want anybody crying for him; rather he wanted a noble cause to go up in his name.
As reported by Legit.ng, this did not go down well with many people. A colleague of the prominent musician named Skibii has taken to his Instagram page to respond to Harrysong. The artist had no chills for what his fellow singer said.
READ ALSO: Nigerian singer Harrysong acquires bulletproof car worth N95million (photo, video)
According to him, he was not ready to use the singer's photos for RIP so he should quit talking about death.
Besides, as laid out by Skibii, Harrysong was still very much needed. See the post of the music artist:
"❤️ I don't wanna use your picz for RIP...never!.......I love you bro...no matter what it is...we need you here!"
PAY ATTENTION: Spend less on data, get the latest Nigerian News on Legit.ng News App
Many fans couldn't agree enough with Skibii. Apart from raising alarm at the post of the singer, they pointed out that Harrysong might be depressed. To combat this, he has been asked to take life easy and stop thinking about death because he's got 'forever' to spend on earth.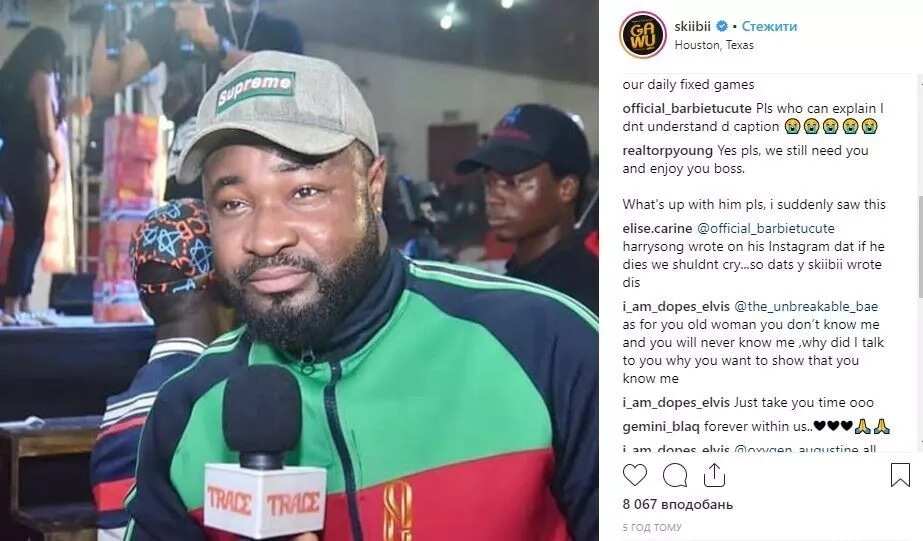 PAY ATTENTION: Daily relationship gist on Africa Love Aid
Harrysong explains why people shouldn't call him a legend yet | Legit.ng TV
Source: Legit.ng News