- The Inter-Party Advisory Council (IPAC) held its election on Wednesday, September 5, in Abuja
- Peter Ameh, emerged as the new chairman of the IPAC which is the umbrella body of registered political parties in Nigeria
- In his acceptance speech, Ameh hailed members of the committee for standing firm and electing him and other executives in the election, despite pressure from external forces
The national chairman, Progressive People's Alliance (PPA), Chief Peter Ameh, has emerged as the new chairman of the Inter-Party Advisory Council (IPAC) after a keenly contested election in Abuja.
Ameh polled 51 votes to defeat his closest rival, Chief Chekwas Okorie of the United Peoples Party (UPP) who got 28 votes and Michael Ndu Bye who got 1 vote.
The election saw delegates from the 91 political parties electing their choice of candidates among those who presented themselves for positions in the executive committee.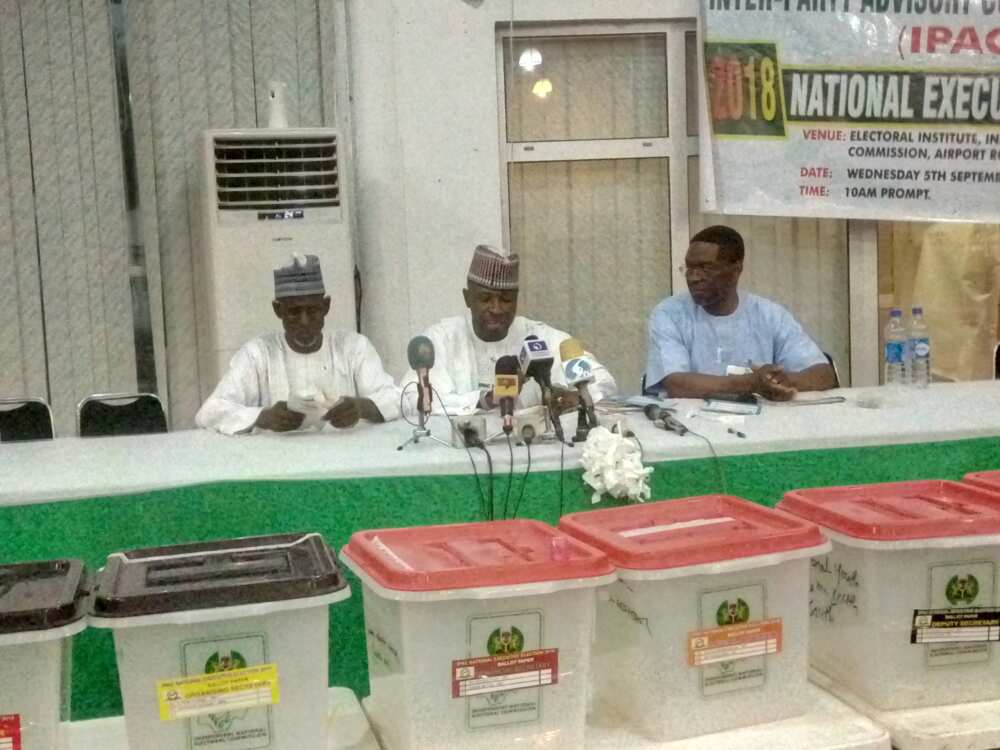 READ ALSO: 2019: PDP confirms discussions with APC governors, lawmakers allegedly planning to defect
Other candidates elected by delegates at the election included: Geff Ojinika, deputy national chairman, 42 votes; Georgina Dakpokpo, national secretary, 42 votes; Eunice Atuejie, deputy national secretary, 49; and Okey Chikwendu, national treasurer, 46 votes; Olusegun Peters, national financial secretary, 48; Ikenga Ugochinyere, national publicity secretary, 45; Hamisu Santuraki, national organising secretary, 46; and Kenneth Udeze, national legal adviser, 49 votes.
Result of the election was announced by the IPAC, electoral committee chairman, Yunusa Tanko.
Ameh will now oversee the new National Executive Committee that will stir the affairs of the committee for the next one year.
In his acceptance speech, Ameh pledged to unite the body and work with all members adding that the core values of IPAC would be brought to fore in the discharge of his duties.
He hailed members of the committee for standing firm and electing him and other executives in the election, despite pressure from external forces.
"Today, you have proven that Nigeria of tomorrow is workable. Today, you have given Nigeria hope, you have given our children hope, you have given the young people hope. I assure the members of the Inter-Party Advisory Council of Nigeria the very best of leadership, the very best of comradeship, the very best of friendship," he promised.
He urged those who were not successful in the election, not to see it as a loss, adding that one year is a short time and they can contest again. He also promised to set up an advisory council that will it membership would be all former chair persons of IPAC.
PAY ATTENTION: Read the news on Nigeria's #1 new app
Meanwhile, members of the Not-too-Young-to-Run movement have accused some state governors of working to frustrate the leadership ambition of the youths by hijacking the sale of nomination forms.
According to them, the governors were hell-bent on edging out the youths from vying for elected public offices by making the expression of interest and nomination forms exorbitant and out of their reach.
They, however, lauded the leadership of some political parties that had reserved tickets for young men and women with character, capacity and competence.
Nigeria Latest News: Not Too Young to Run Pay a Visit to APC and PDP | Legit.ng TV