- One of the last surviving Tuskegee Airmen, Lemuel Arthur Lewie and his artist wife, Reva Goodwin mark 70 years of blissful marriage
- The couple tied the knot in August 28, 1948 when the groom was 28 and the bride, 18
- Arthur is one of the last surviving first Afro-American military aviators in the U.S. Armed Forces
- Their love story has left many including their family members inspired
Seven decades ago, 28-year-old military pilot named Lemuel Arthur Lewie Jr. and his girlfriend, a beautiful 18-year-old Baltimore high school senior named Reva Goodwin eloped and tied the knot in a courthouse in South Carolina, US.
Like many young couples, they had a burning desire to spend the rest of their lives together as husband and wife. While Reva's parents thought she was too young, the love they have for each other proved that they knew what they both wanted on August 28, 1948.
Arthur on the other hand was a decade older than his wife but he was sure she was the one for him and 70 years later, they are both glad they took the bold decision to stick together since they knew early, their hearts were inseparable.
READ ALSO: I still get nervous around him - Tiwa Savage hails Don Jazzy
The Lewies, who are now 98 and 88, recently celebrated seven decades of marriage in a beautiful ceremony with family and friends and for the first time, the couple who renewed their vows, had a proper wedding ceremony.
Speaking to Baltimore Sun, now a grandma, Goodwin revealed: "My granddaughter once asked me, 'Grandma, where are the pictures of your wedding?, I just told her, 'There aren't any, honey, we eloped!' Today's the first time we've had it all - the pictures, the reception, everything. It's wonderful."
READ ALSO: Shaku Shaku is a slavery dance - Viral message scares Nigerians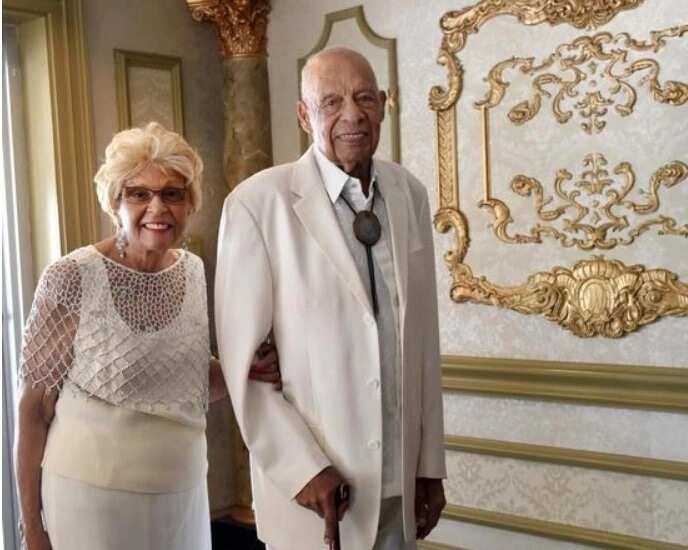 They both dazzled in white as they showed the world what 70 years of love, respect and happiness looks like.
Interestingly, Arthur was a part of the first group of African American military aviators in the U.S. Armed Forces. He met Reva in 1947 and proposed to her just three days after. They went on to build a life for themselves in Baltimore. While Lemuel taught Science, his wife was an arts educator and the lived happily ever after.
READ ALSO: Davido narrates hilarious story of how his father sent police to arrest him after his first show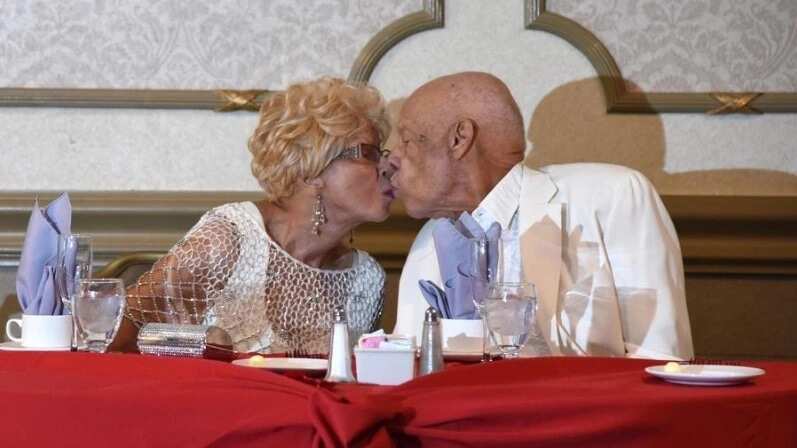 As the one of the last surviving Afro-American pilots of WWII, Lewie has come a long way. In fact, himself and his wife have lived and loved through 25,550 days, 13 presidents and five major U.S. wars.
Their daughter, Christel Thompson, a captain in the U.S. Army who was present at the event expressed appreciation for the love the couple share. She said: "Let's take a second to appreciate what 70 years of marriage looks like. The relationship is "older than the microwave oven, cellphones, video games, ATMs, Kevlar, GPS and pacemakers."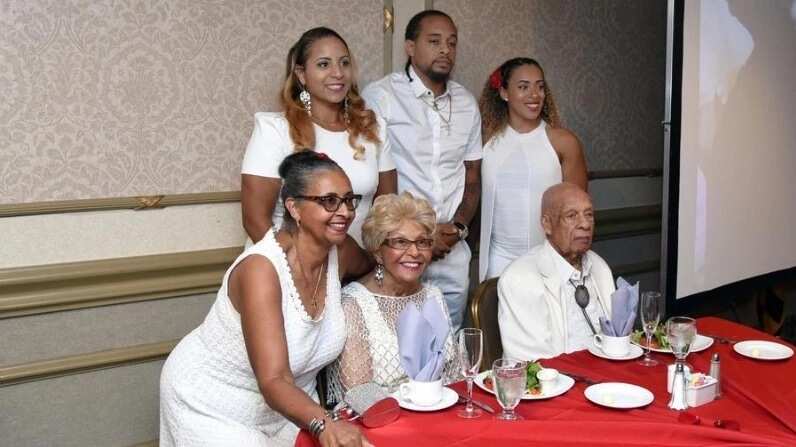 Guests at the bash included children, grandchildren, great-grandchildren and friends and family members from as far away as South Carolina, California and Hawaii.
When the beautiful ceremony came to a close, Arthur had tears in his eyes and said: "I'd do it all over again."
Congratulations to the couple!
PAY ATTENTION: Read best news on Nigeria's #1 news app
Street GIST: Biggest Cause of Misundestending in Relationship on Legit.ng TV: