- The ruling party has fixed dates for its primary elections
- APC in its guidelines for the conduct of the process said the presidential candidate would emerge through direct primary
- The party has also announced the reduction of presidential ticket from N55 million to N45 million
The All Progressives Congress (APC) has fixed a date for its presidential primaries to elect a candidate for the 2019 presidential election.
The party's national working committee said the primaries for the ruling party would take place on Thursday, September 20.
The party in its guidelines for the conduct of the process said the presidential candidate would emerge through direct primary.
READ ALSO: There's an attack on principle of rule of law by Buhari - PDP writes May, Merkel, calls for help
It also fixed the governorship primaries for Monday, September 24 and Tuesday, September 25.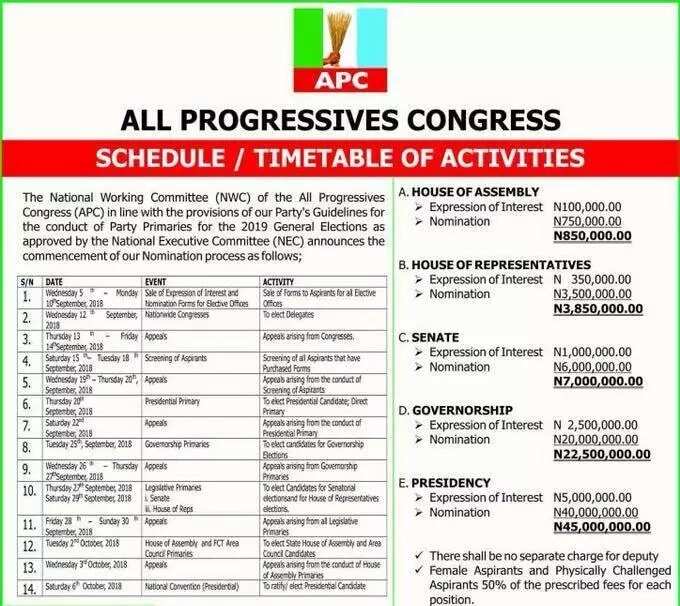 APC in a statement signed by its national organising secretary, Emma Ibediro, also indicated that the sale of expression of interest and nomination forms for all elective offices would begin on Wednesday, September 5.
Legit.ng had reported that days after President Muhammadu Buhari reportedly cried out saying that he could not afford the amount for presidential form, the APC announced new rates for its various nomination forms including that of the presidency ahead of the 2019 general elections.
The party said each presidential aspirant will buy expression of interest form for N5 million, while nomination form will go for N40 million reducing the total amount to N45 million - N10 million less than its previous amount.
READ ALSO: 2019: Afenifere speaks about President Buhari's age, give critical advice to Yorubas
The governorship aspirants will buy the expression off interest form for N2.5 million while nomination form will sell for N20 million totaling N22.5 million. On the other had the senatorial aspirants will pay N1 million for Expression of interest form for while nomination form attracts N6 million totaling N7m.
Subsequently, the House of Representatives expression of interest form is N350,000, while its nomination form attracts N3.5 million, totaling N3.85 million. Also the state House of Assembly's expression of interest form is for N100,000 while its nomination form attracts N750,000 totaling N850,000.
However, the party's guideline for the sale of forms ruled out separate charges for deputy, added that female aspirants and physically challenged aspirants are expected to pay 50% of the prescribed fees for each position.
PAY ATTENTION: Install our latest app for Android, read best news on Nigeria's #1 news app
Meanwhile, Legit.ng previously reported that a support group for President Muhammadu Buhari had decried the high cost of forms for aspirants ahead of the 2019 election.
The Buhari Youth Organisation (BYO) urged the All Progressives Congress (APC) to review the nomination and expression of interest fees for aspirants contesting the 2019 general elections.
According to the group, the fees being demanded by the ruling party from aspirants is a "disenfranchisement weapon" for genuine aspirants, especially youths.
PDP's Magnificent 7 For 2019 Election - on Legit.ng TV