Recipe for egg roll in a bowl you should try
Do you like the egg roll? This is a simple-to-cook yet extremely delicious meal, and you can follow the best and easy recipe for egg roll in a bowl presented in below. Prepare this dish on the weekend or make it an evening party for your family. What is awesome about this recipe is preparation – there is little to prepare beforehand. Everything can be done very quickly with no extra prep.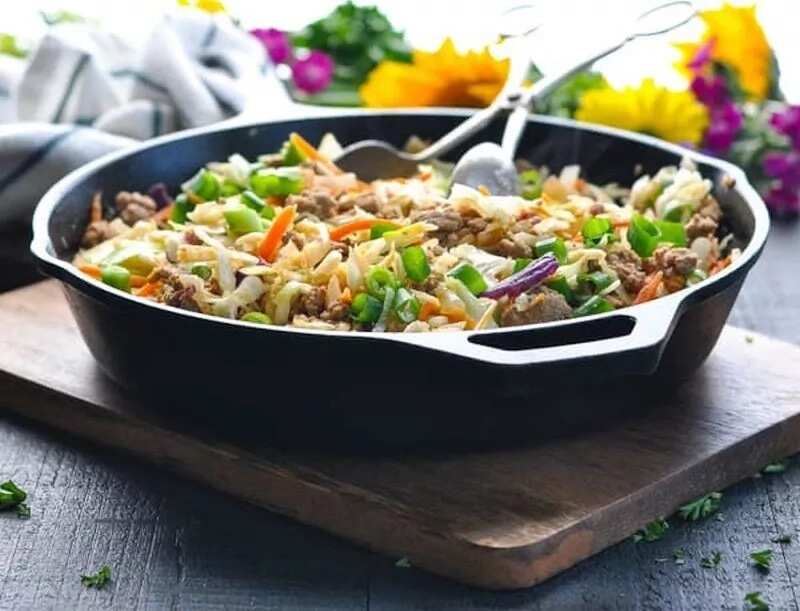 Healthy egg roll
Everyone who loves to eat healthy and tasty meals should learn more about egg roll and try to cook this popular dish at least once. If you fall in love with the result, you can make it your every day or every weekend meal.
By the way, the egg roll is a dish inspired by Asian (Chinese) kitchen. It has an impressive flavour. It is light and simple to make. Egg roll looks cute and tastes great. You can cook all the ingredients in the same skillet and later serve your delicious egg roll in a bowl.
Are you ready to enjoy some vegetables with tasty sauce? We will explain to you how to make your egg roll below.
READ ALSO: How to make egg roll?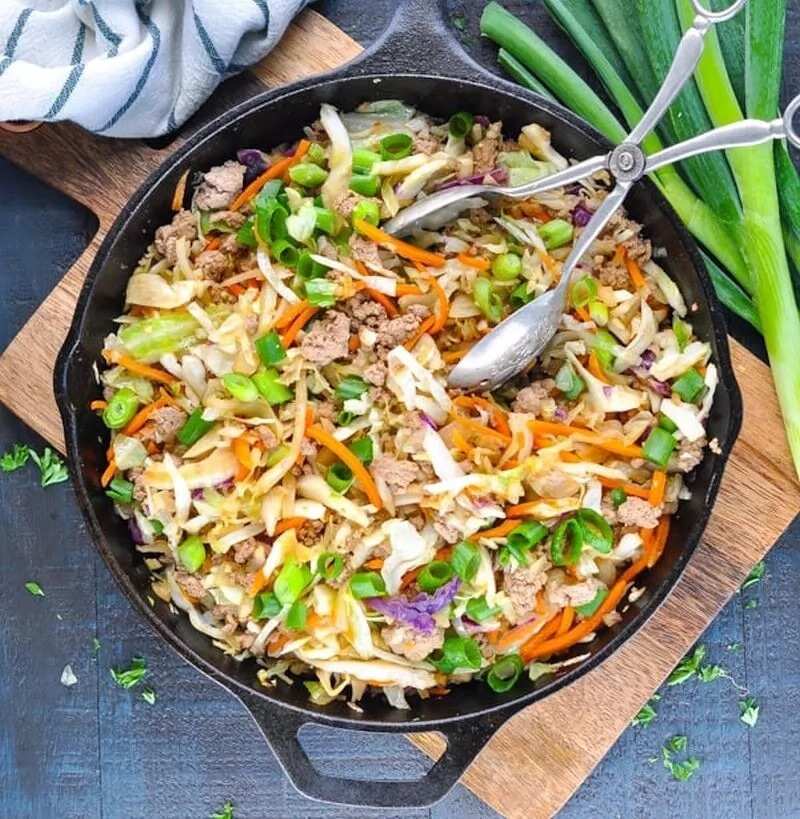 Egg roll ingredients
Carrots (fresh) – 0.5 cup
Cabbage (or coleslaw) – 450 grams
Green onions – 2 pieces
Regular onion (sweet one) – 1 medium-size vegetable
Chicken or other meat (pork, turkey would be perfect too) – 450-500 grams
Mushrooms (optional) – 0.25 cup
Soy sauce – 0.25 cup
Ginger – 1 teaspoon
Garlic – 2 teaspoon
Vinegar – 1 tablespoon
Toasted sesame oil – 1 tablespoon
Egg (optional) – 1 or 2 pieces (to your taste)
Skillet (pan) – 1 piece
Knife and cut board – 1 piece of each
Pepper (optional) – to your taste
Salt – to your taste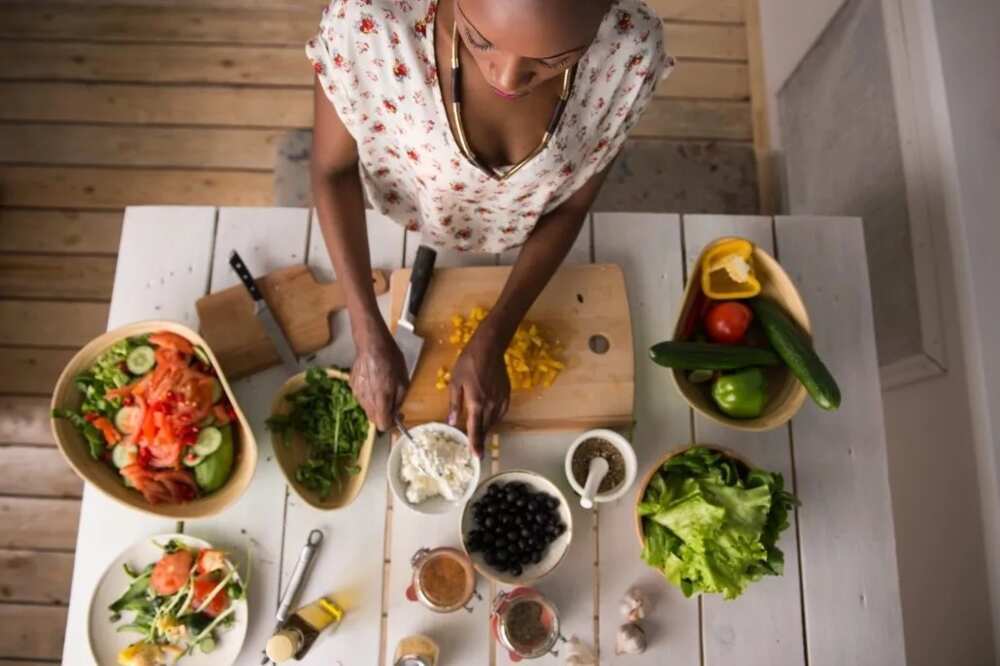 Egg roll preparation guide
If you love to cut vegetables and use only fresh products directly from the market, you can chop carrots (and mushrooms if you wish to add them) yourself and buy cabbage along with other things to shred it before using.
Those who enjoy eating tasty meals but don't want to spend time near the kitchen table with a knife and board can shorten the preparation time. How is it possible? Purchase a pre-cut carrot bag and coleslaw package. If you don't like to mince garlic, just find a package of pre-minced garlic and save some time.
Besides, you can add the green onions to the dish by cutting this vegetable over the pan or skillet where you are cooking your egg roll (if you do not have a cut board nearby).
Now, since the preparations are done, you can begin cooking, and the whole procedure should take no more than half an hour.
READ ALSO: How to fry egg rolls in a pan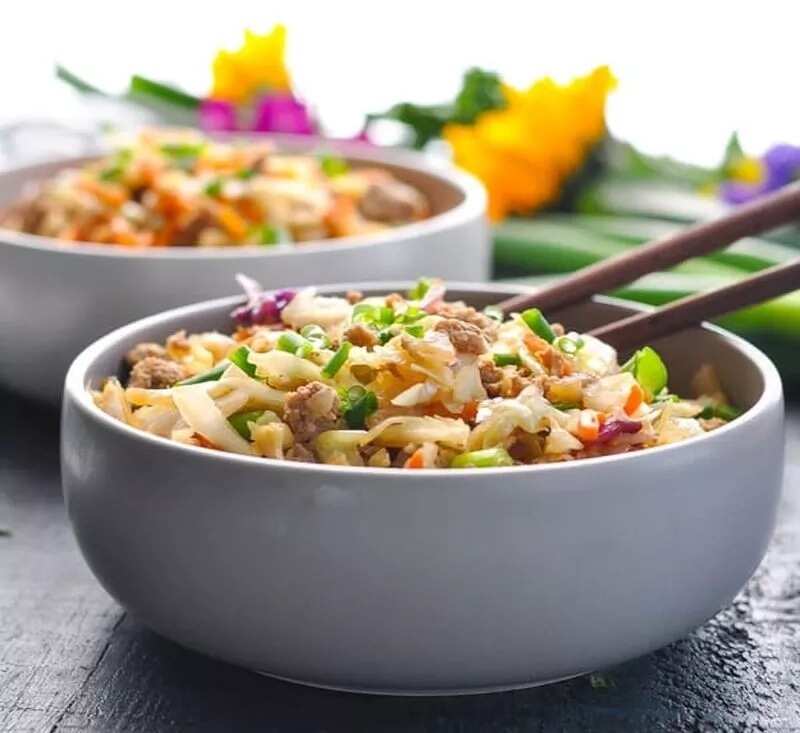 How to prepare egg rolls - basic steps
Beautiful as the final result looks, this easy recipe for egg roll in a bowl also offers awesome taste.
Follow the steps below, and you will get a beautiful bowl of Asian meal in 20-30 minutes:
Step 1. Use a big pan or skillet. Put it on the stove – you can use low or medium heat. Add a bit of oil into the pan. Put pieces of meat and cook slowly. Remember to stir your chicken (or other meat) periodically, and wait until the bright red or pink color becomes pale.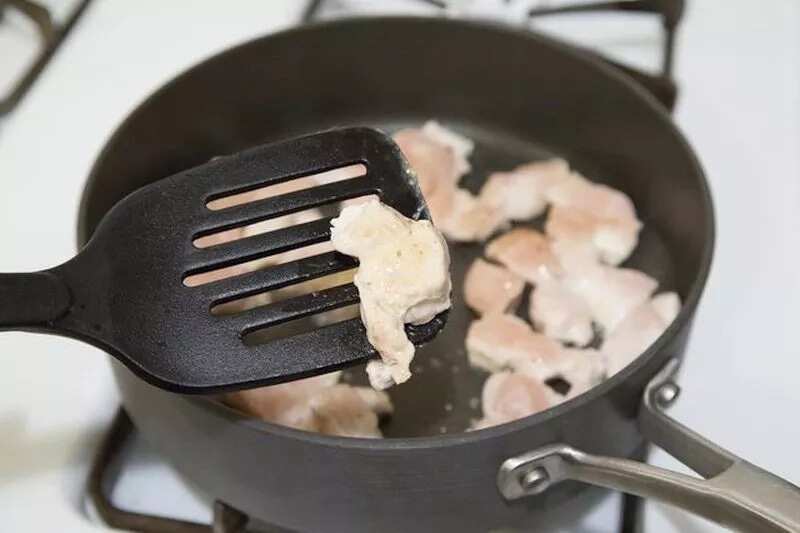 Step 2. Now place the following ingredients into your cooking meat: sesame oil, sweet onion (make sure it is chopped) and vinegar. Keep stirring for a while. When you see that the pieces of onion become gentle, you can move to the next step to cook further.
Step 3. Keep adding more ingredients, including coleslaw (or chopped cabbage), pieces of carrots, garlic (you should mince it), ground ginger, soy sauce and stir everything for about 6 minutes.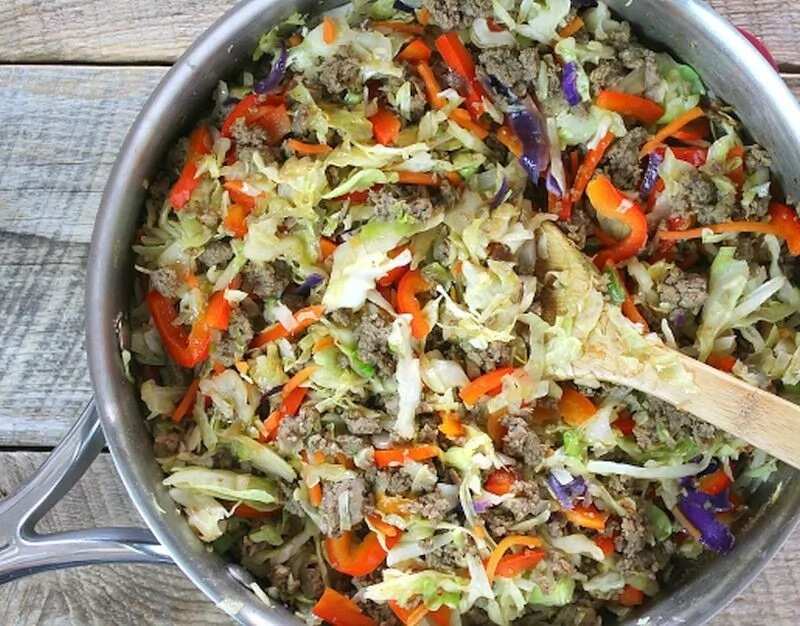 Step 4. Scramble eggs on top of the meal and stir everything at this point. You can skip this step if you prefer eating fully vegetable meal without meat and eggs. Some people love the Asian taste and prefer making 'egg roll' without eggs which sounds unusual, but actually works.
Step 5. Turn off the heat and put the pan (skillet) away. Now you can add chopped green onion on top and adjust the final flavour with pepper, salt – how you love it.
Since you have learned an easy recipe for egg roll in a bowl, you can cook this Chinese meal in Nigeria and any other country right away. It is healthy, nutritious and rich in vitamins as well as useful elements.
You will love it, we are sure because the nice Asian dish contains no nuts, grain, sugars and is gluten-free! Besides, one serving of 1.5 cups contains only 200 calories or even less (if you use mushrooms instead of meat). This can become your perfect dish even if you are on a diet.
READ ALSO: Nigerian snacks - Top 10 street foods you should taste
Source: Legit.ng