Stop asking guys for hairnet and iPhones, ask for lands and loans - Joro Olumofin advises Nigerian ladies
- Nigerian love doctor, Joro Olumofin, has left social media buzzing with his latest post about ladies who demand things from their partners
- According to the psychologist, ladies should learn to stop asking for trivial things and start becoming more business-minded in their demands
- Giving an example, he stated that instead of asking for hair, ladies should ask for jobs
If there is anyone who knows how to get people talking as regards relationship matters on the Nigerian social media platform, it is no other person but popular love docotor, Joro Olumofin. The relationship blogger has been known to be a proper 'table shaker' with his unique styles of addressing common issues.
In his recent post, he addressed the issue of ladies who are fond of asking men for material things. According to him, ladies should learn to be more business-inclined in their demands. Rather than ask for material things like phone and hair, they should ask for jobs and lands.
He wrote: "I don't approve of Ladies asking Guys for money. I believe men and women are equal, feminists even advocate equality between sexes but I'm very disappointed at the requests a lot of ladies make on their Boyfriends or Suitors. Most ladies make requests of items that won't change their status quo or current state permanently. For example (1) Hair (2) Iphone (3) Dubai Ticket (4) Makeup kit (5) N50,000 / $200 (6) Hair Net (7) Underwear.
READ ALSO: Bisola of BBNaija fame performs touching song to remember her dead baby daddy
These items won't change your life or make you reach your Self Actualized State. Please ladies from now on, if you're the TYPE to ask guys for Things. Please ask for (1)Land (2) 500k Loan (3) Employment (4) School Fees(5) Business Capital or Partnership Ask with a purpose if you're going to ask for anything at all, don't ask to remain the same, ask to change.
READ ALSO: Dino Melaye movie, IK Osakioduwa sings love song, other gist at AMVCA 2018
As expected, the post caused massive reactions and inadvertently sparked a debate on social media. While some people were of the opinion that he was absolutely right, others believed women should stop feeling entitled and become more self-sufficient.
See reactions below: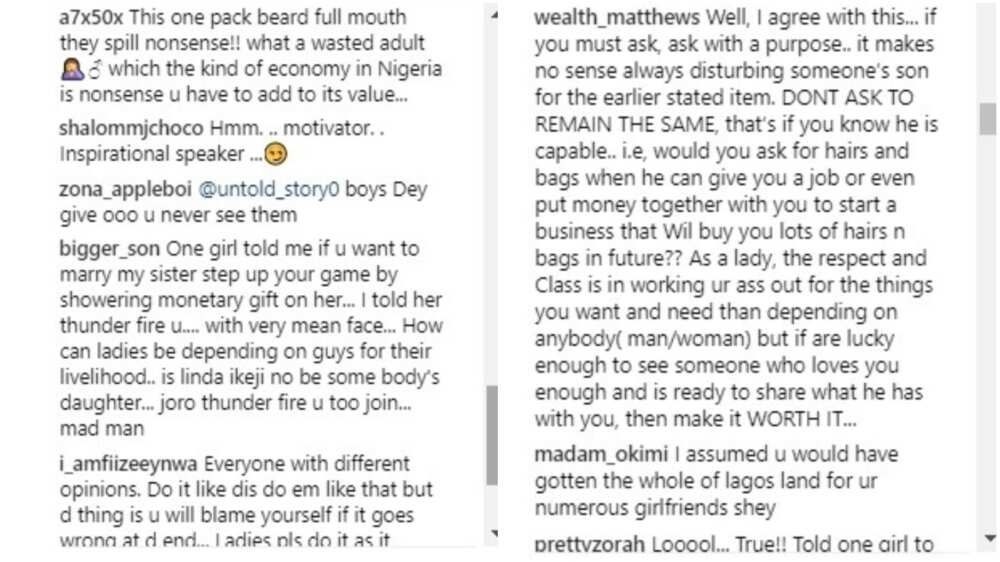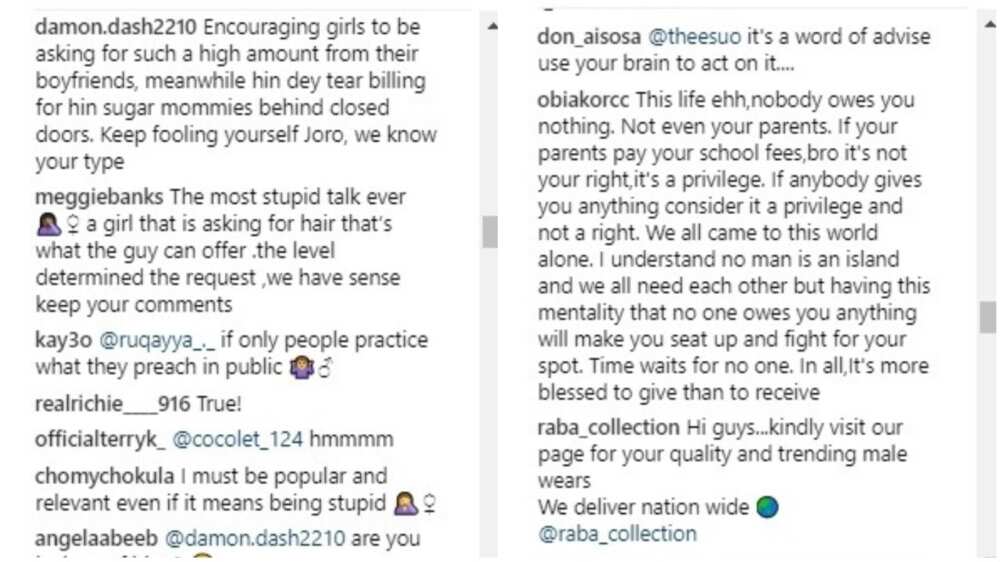 Interesting!
PAY ATTENTION: Get the Latest Nigerian News on Legit.ng News App
Get the hottest gist on Africa Love Aid
Cartoon Comedy: A Cop And A Young Couple | Legit.ng TV
Source: Legit