Celebrated Nigerian blogger Linda Ikeji obviously cannot wait for the safe arrival of her baby boy. She never gets tired of showing off her pregnancy journey as she gushed about her unborn baby.
Once again the award winning blogger took to her Instagram handle to share photos of some of the expensive gifts she got for her unborn baby. The white baby boy dresses looked so beautiful and taking a close look at the price tags, the clothes are really expensive.
The pictures which were shared in her InstaStory, showed how she made jest of her mother who cannot believe she could spend so much money on baby clothes.
READ ALSO: I would love to see Bill Gates at one of my concerts - Tiwa Savage (video)
The pictures were shared with the caption: "Mum can't believe how much I'm sopending on baby clothes. Gucci this, Fendi that, Burberry this, Bimbalo that, Baby J."
See posts below: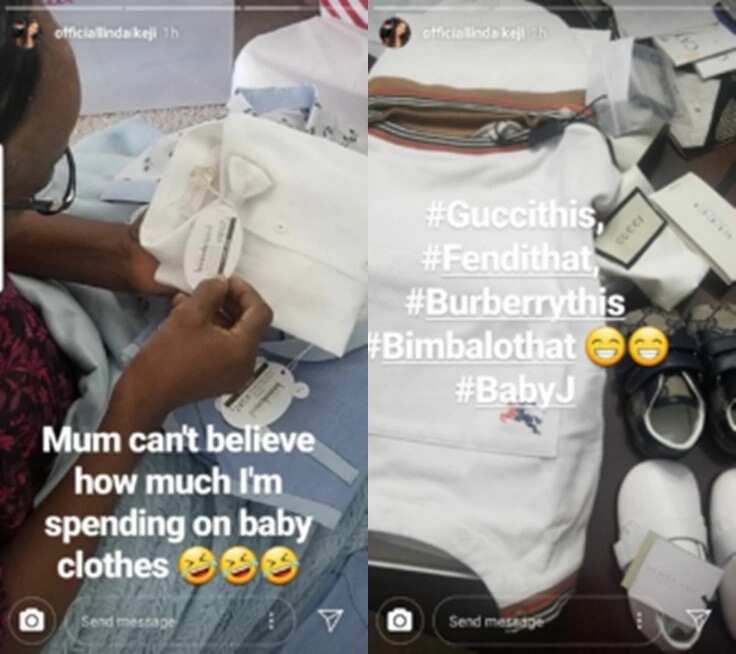 That was not all, Linda Ikeji further shared a story of how she had loved babies from childhood and happy now that her baby is on the way. She further gave a hint on how her baby daddy looked like.
PAY ATTENTION: Get your daily relationship tips and advice on Africa Love Aid group
Her post reads: "I love children so much. I'm particularly obsessed with babies. I grew up in a compound with a lot of neighbours and believe it or not, as a teenager/young woman, I was the unofficial resident babysitter. I swear, ask my siblings. I literally carried all the newborn babies born in that compound at a period of time until they grew up to a certain age. Their mums used to come drop the babies at our house whenever they were tired or wanted to go out, this was, of course, to the annoyance of my family..lol. The first baby I carried was a boy named Makoba (wonder where he is now, this was about 20yrs ago). From the first day I carried him, I didn't want to let him go. So every time I had free time, and his mum hadn't brought him to me, I would walk two floors up, knock on his family's door and ask them if they wanted me to take the child off them for a while. I was always happy when they said yes. After him other mums started dropping their kids with me. Back then my sisters and I used to take turns to cook every day of the week. So whenever it was my turn to cook and I was babysitting and they insisted I go cook, I'd tell my sisters to either hold the baby for me so I could go cook or they go cook. They always chose the latter. Lol. Then my siblings started having children & I started to feel more joy. These were no longer neighbours' or friends' children, these were my nephews and nieces. My family! And carrying them brought me even more joy. If I was planning to go out and I heard my beautiful nephews and niece were coming over to the house, most times, I change plans and just stay home with them. There's no greater joy for me than being around them. So now imagine soon I will look down at a baby, and it won't be a neighbor's child, a friend's child, a sister's child, but my own child, my own flesh and blood, carried in my womb. My own son. It's surreal. I can't get over it. Dear son, you are my greatest dream realized and I can't wait to meet you! I plan to be one of the best mums the world has ever seen. Thanks for choosing me. Sometimes I wonder what he will look like. His dad is tall, dark and handsome and I'm cute too so fingers crossed."
READ ALSO: Linda Ikeji in Atlanta, prepares to give birth to her son
See post below:
It was earlier reported that Linda Ikeji recently bagged the Global Leadership Award for Digital Media in the United States (US). The award was presented to her by the United Nations Global Awards for her contribution into building a global reach of media and entrepreneurship in Africa.
Congratulations in advance!
Nigeria Celebrities: How Much Do They Spend On Luxury Life? | Legit.ng TV - on Legit.ng TV.
Source: Legit.ng