- The Not Too Young To Run movement has promised not to relent in its efforts to ensure young men and women become flag-bearers of political parties during the 2019 general elections
- The movement hosted a National Day of Action on youth candidacy and democratic party primaries across Nigeria on August 8
- They made their demands known to the registered political parties and stated the challenges that are liable impede the progress made so far
The Not Too Young To Run Movement has reassured Nigerian youths on their dedicated efforts towards ensuring that young men and women in the country become flag-bearers of political parties during the 2019 general elections.
Leaders of the movement made this known during a press briefing in Abuja on Wednesday, August 8.
In making tangible their promises, the movement, held a National Day of Action on youth candidacy and democratic party primaries across Nigeria on Wednesday, August 8.
The leadership of the movement also made it public knowledge some of the challenges being faced by young aspirants due to to implicit rules guarding the possibility of assenting as a fore-runner and contender of any political party.
READ ALSO: APC's style of fighting corruption
In arresting some of these difficulties, the leadership of the movement plans to hold a public dialogue with all political parties before their primaries ahead of the 2019 elections. Their aim is to enable the creation of a platform for political parties to exchange ideas with the youths on policy directions.
They also advised the national leadership of political parties to ensure that guidelines for primary elections are made public to promote transparency and accountability.
Following the public awareness of their intentions, they also rendered their demands towards ensuring the youth are given reasonable opportunities to succeed.
Some of the demands presented to political parties include: "That Political parties reserve party tickets for young men and women with character, capacity and competence.
"That political parties prescribe and enforce spending limits for party nomination fees and charges. The cost for nomination of candidates should not exceed; House of assembly aspirant - N200,000, house of Representatives aspirant - N400,000, senatorial Aspirant - N600,000, governorship aspirant - N1,000,000, presidential aspirant - N2,000,000."
The group noted that the power of democracy lies in the hands of the youths, revealing that they plan to rally up to 50 million youths towards ensuring the right people are voted into political offices.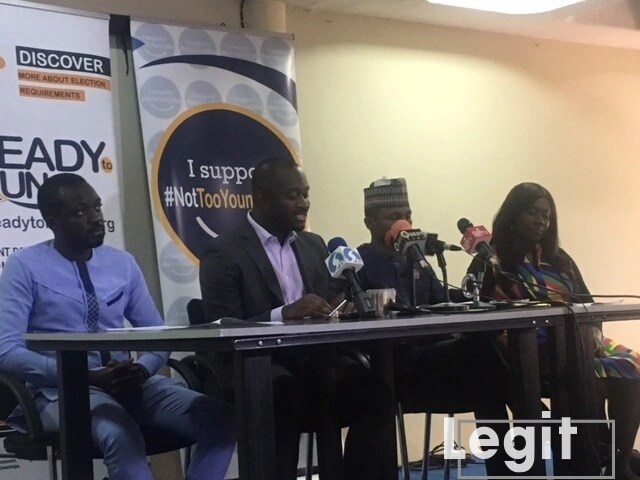 They advised Nigerian youths to do all they can to secure their Permanent Voters Card (PVCs) as it is their voice and should be used. They also highlighted some of the problems the movement is facing concerning making young Nigerians flag-bearers of political parties.
The group, however, commended some parties which have adhered to a favourable atmosphere to accommodate young aspirants on all levels.
"The Movement also commends parties that have taken intentional steps to accede to the demands of the Movement and have ensured that the cost of nomination forms is not a hindrance to youth candidacy within their political parties. Notable amongst them is the United Progressive Party (UPP) and Young Progressive Party (YPP).
"There remain plans to hold more public dialogue series with political parties concerning youth candidacy and party primaries," the group said.
PAY ATTENTION: Read best news on Nigeria's #1 news app
Nigeria Latest News: Not Too Young to Run Pay a Visit to APC and PDP on Legit.ng TV:
Source: Legit.ng