Latest butter icing designs for cakes in Nigeria
Today, the confectionery market is so large that confectioners, not to miss customers, come up with more and more types of cakes, try to offer something innovative. We decided to present you a tasty and useful review, after which you will be aware of the latest butter icing designs for cakes in Nigeria. Do you want to know about the best novelties, see fashionable and beautiful cakes made in different designs? Then read the information below.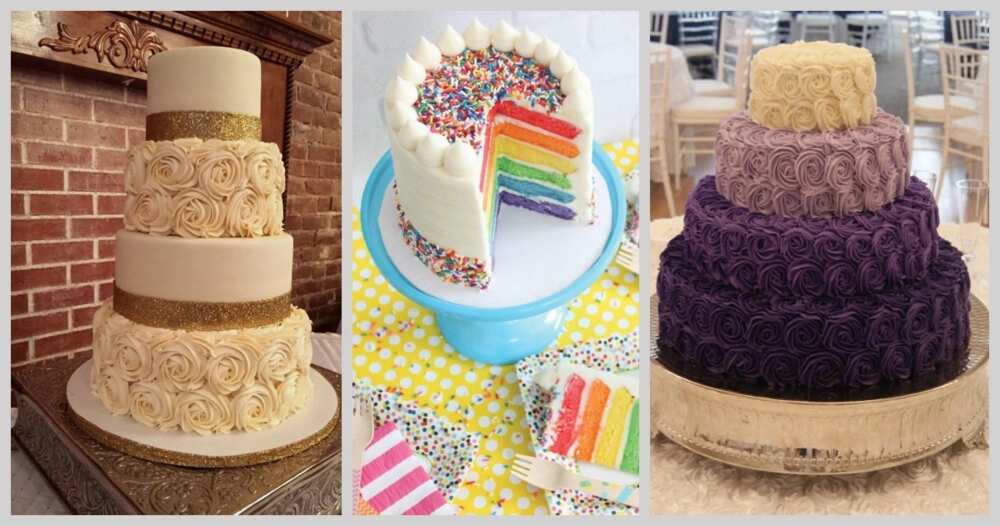 Today, more and more attention is paid to confectionery skills not only among ordinary consumers but also among connoisseurs of beauty and perfection. Creators of culinary masterpieces are increasingly showing their skills at mega professional level, offering customers the most beautiful cakes of 2018-2019 for every taste.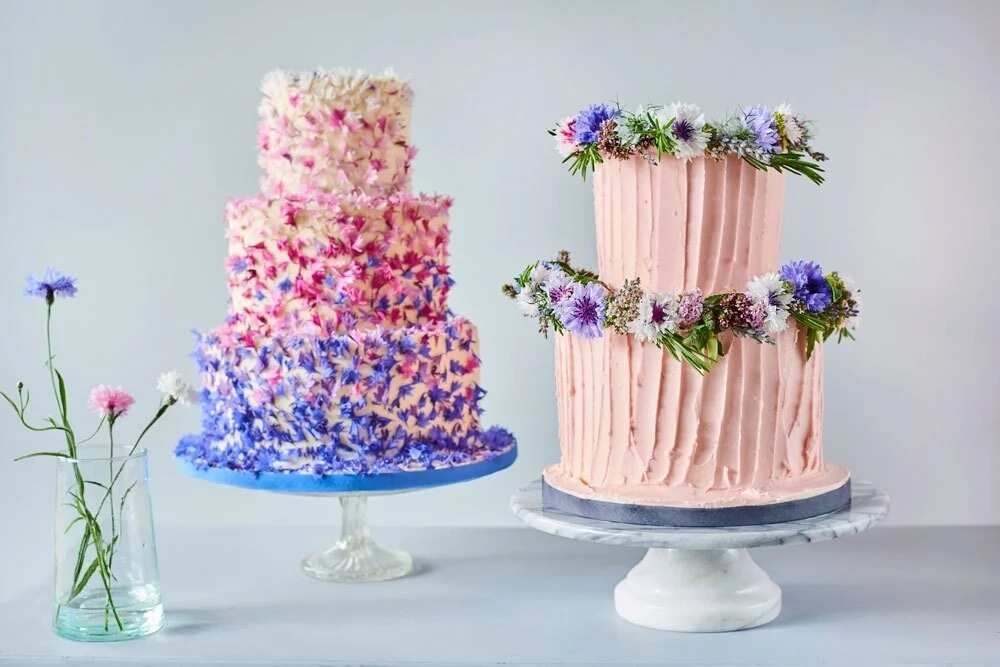 The most beautiful cakes today are exciting and are an indispensable attribute of any celebration such as weddings, birthdays, anniversaries, corporate parties, etc.
Fashionable and most beautiful Nigerian cakes 2018-2019 adorn not only sweet tables of celebrations but also covers of authoritative publications that follow trends not only in fashion and design but also in the culinary.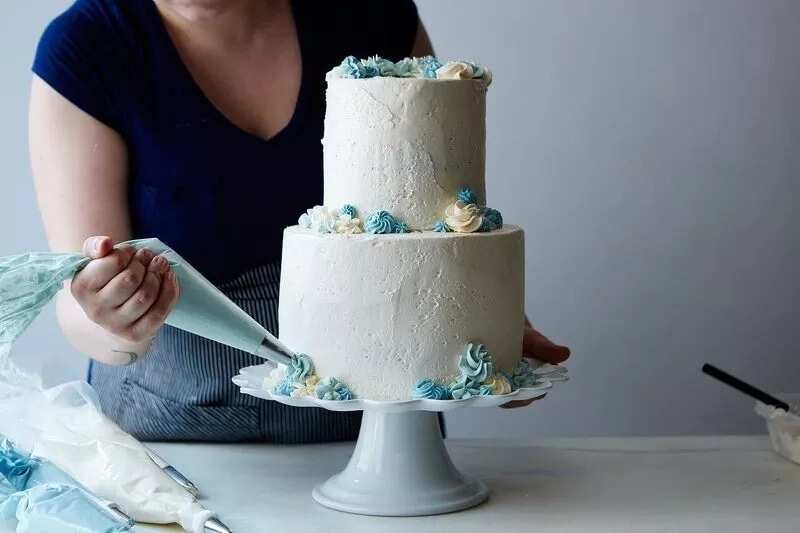 Butter icing designs for birthday cakes
Confectionery trend became beautiful cakes with bare or open area so-called "naked cake," which appeared not so long ago, but managed to win a huge audience of admirers. The cake is called naked when it isn`t covered with mastic and isn`t covered with cream.
Layers of this cake have cream between them, which is visible from all sides, and on the top, there are decorated with large butter icing flowers or patterns, fruits or berries. Outwardly, is created the effect of careless harmony, those feeling that the master has started to work on the design of the cake and forgot to continue, or, having started decorating, made a few strokes and realized that the cake looks like it is a masterpiece.
Cakes with layers of different colors, for example, chocolate and white, and the cream drain lace on the sides of the cake looks appetizing and creates really nice cake butter icing images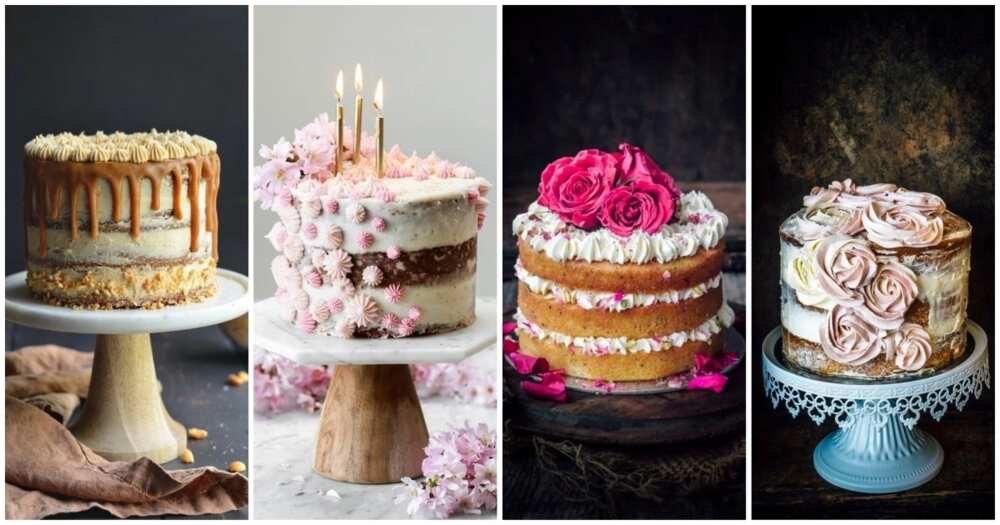 READ ALSO: Beautiful birthday cakes for ladies with names
Fashionable cake in the style of "ombre" differs from its brethren in the color of its cream. It`s gradually changing from light to dark. It can be blue or pink. At the top, the cake is tender-light pink or blue, and at the base of the cake, it becomes almost red or dark blue.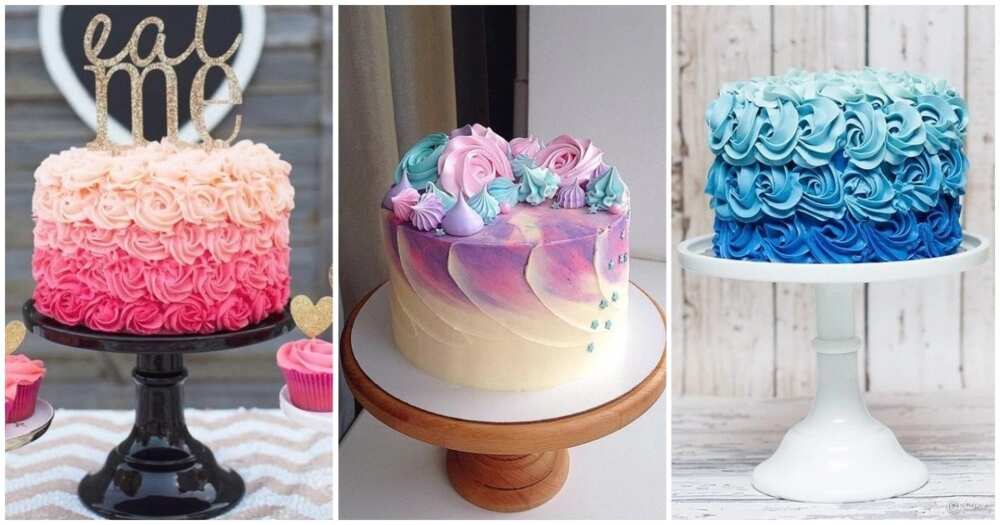 Despite this colour effect, a similar cake is also called a "flounce" cake. Such curls adorn it all around, making it irresistible. For a birthday party of a little princess this cake, like a doll dress, will be an excellent decision.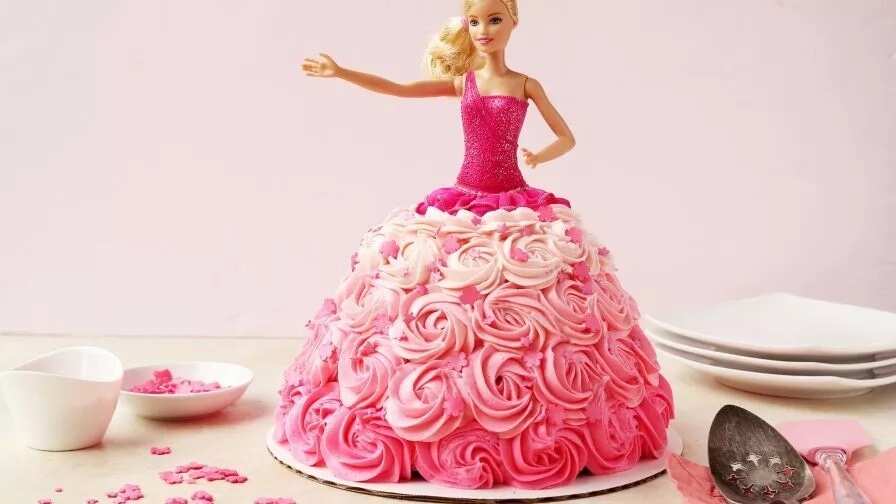 In general, amazing rainbow cakes are obtained by using food colors.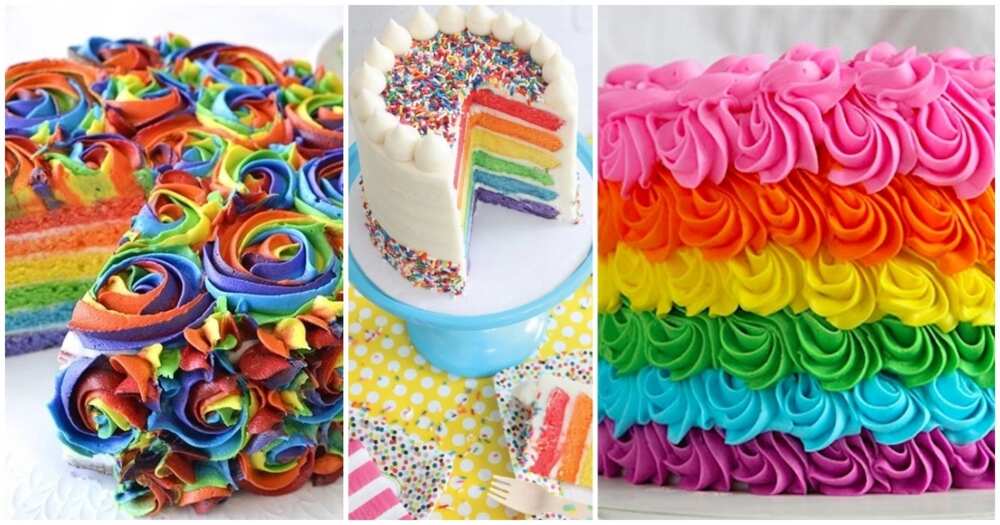 READ ALSO: 13 traditional wedding cakes that stun you (photos)
Fashionable, tasty and beautiful! This is how the innovations of cakes with edible spangles and metal details in the form of gold, silver, which will gently flicker on the confectionery masterpiece, are designed.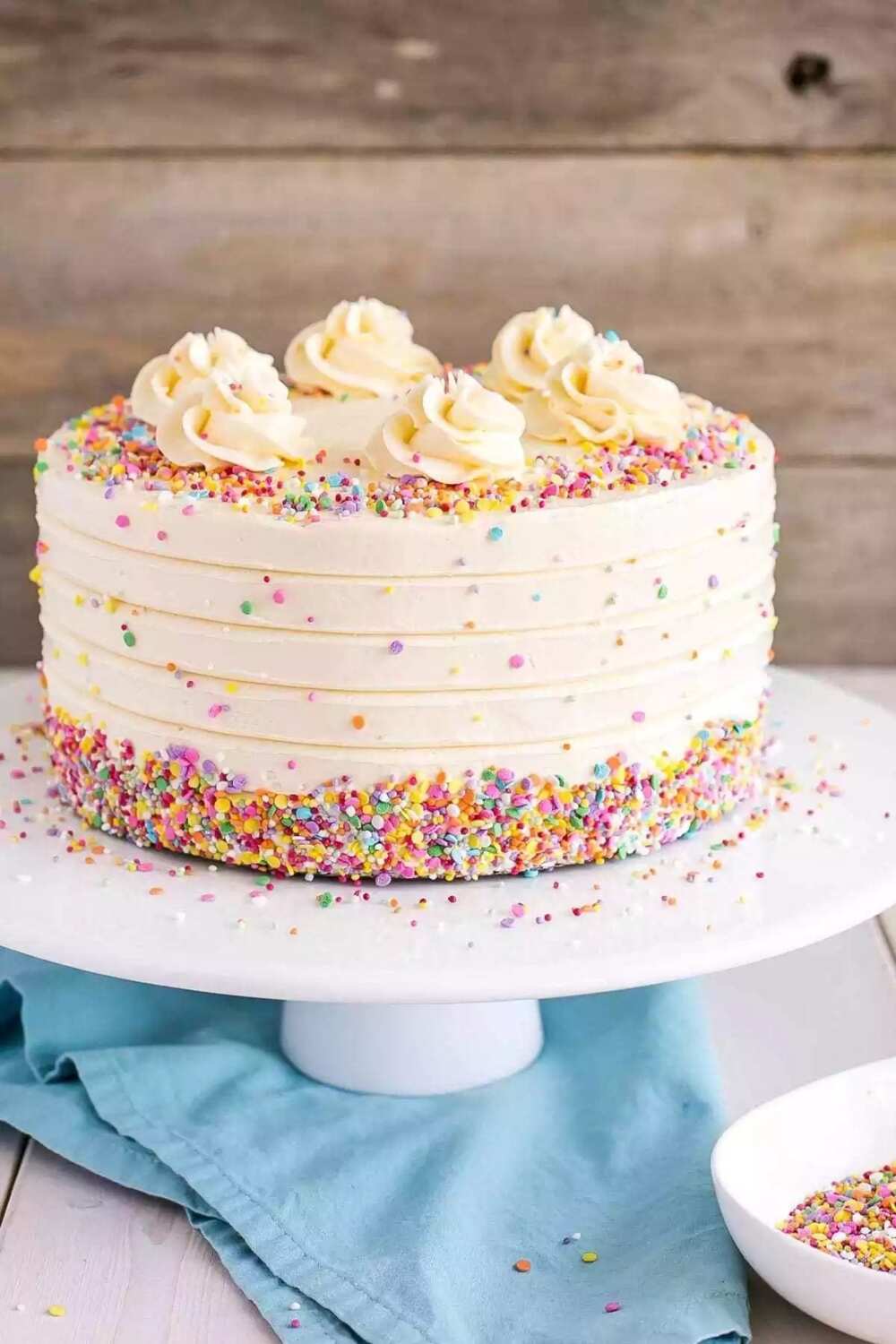 Nigerian wedding cakes with butter icing
Wedding cakes have long ceased to be just a sweet treat, having received the status of a symbol of a wedding feast. They have become an integral part of a successful wedding, so a lot depends on the kind, shape, size, cake content, and of course, decoration.
Both classic and trendy innovations of confectionery art are present in the arsenal of the latest butter icing designs for cakes in Nigeria. It seems that fashion is far from sweets, but beautiful Nigerian wedding cakes are fashionable no less than clothes.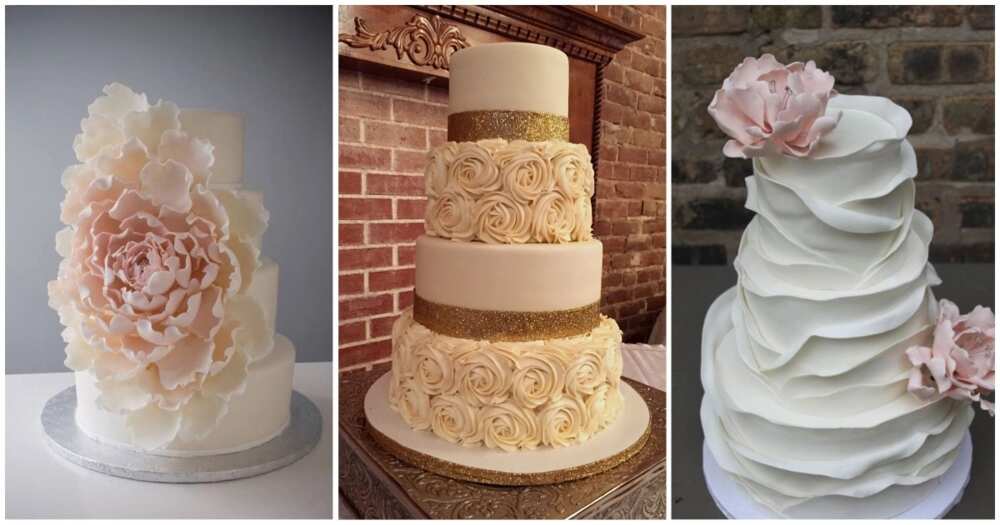 But the confectioners went further, offering beautiful wedding cakes to Nigerian couple in a creative thematic manner using not only mastic but especially butter icing, sugar and rice paper of different kinds, gelatin, candy and fresh fruits, etc. Such fashionable cakes can be decorated with fresh flowers, or be made up of small desserts.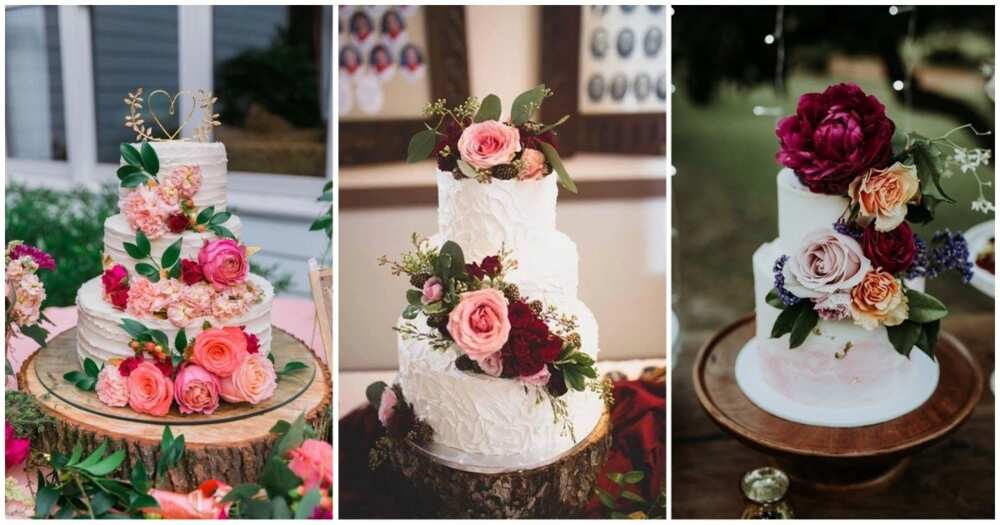 Wedding cakes are increasingly made in the spirit of minimalism, putting aside redundant decoration. Perfect are also butter icing cakes with light refined lines, which will add not only simplicity but also elegance.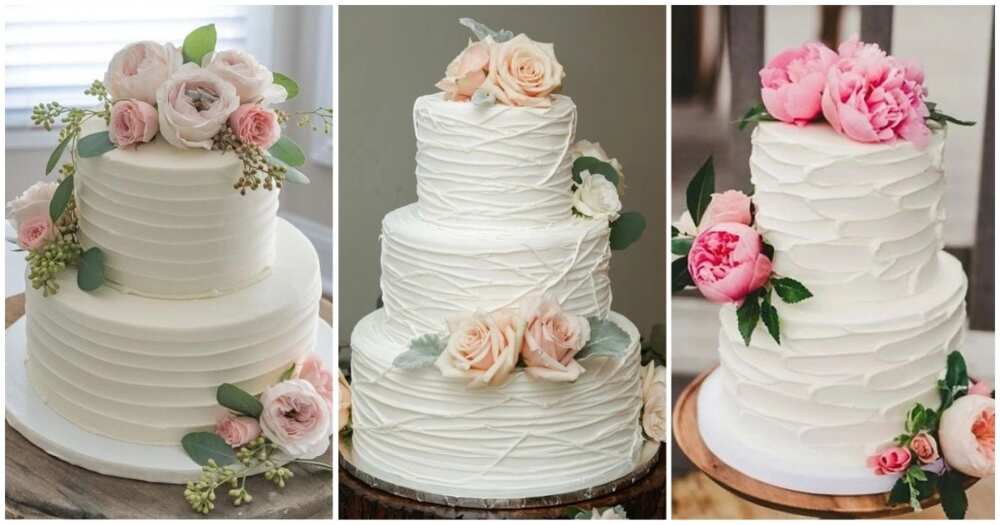 Latest butter icing designs for cakes in Nigeria has gone beyond the regular, some cake makers go as far as hiring professional artists or designers to create ideas for their cakes. For a confectioners, there are three priorities: taste, quality, and appearance. Today a butter icing cake is very popular and the main trend now is simplicity mixed with creativity.
READ ALSO: Wedding anniversary cakes with names in Nigeria
Source: Legit.ng