- President Muhammadu Buhari commended the government of Denmark for establishing a dairy farm in Kaduna
- The president said it will go a long way to reduce the perennial farmers and herders clashes in Nigeria
- President Buhari noted that the establishment of dairy farms are economically viable as cattle herders will realize productive considerations
President Muhammadu Buhari Monday, August 27, said an initiative on dairy farming being championed by the Kingdom of Denmark and the Kaduna state government would go a long way in curbing clashes between cattle herders and farmers in the country.
Receiving His Excellency, Torben Gettermann, the ambassador of the Kingdom of Denmark in a farewell audience at State House, Abuja, the president in a statement by Femi Adesina, special adviser on media and publicity, noted that establishment of dairy farms, as being promoted by the Kingdom of Denmark, "will save the country from the almost perennial problem of clashes between herders and farmers, made worse by population explosion."
President Buhari observed that when the dairy farms are "economically viable, the cattle herders will see the need to stay in one place, as they will realize that productive considerations, rather than the number of heads of cattle, are more important."
READ ALSO: PDP senators tackle Buhari over rule of law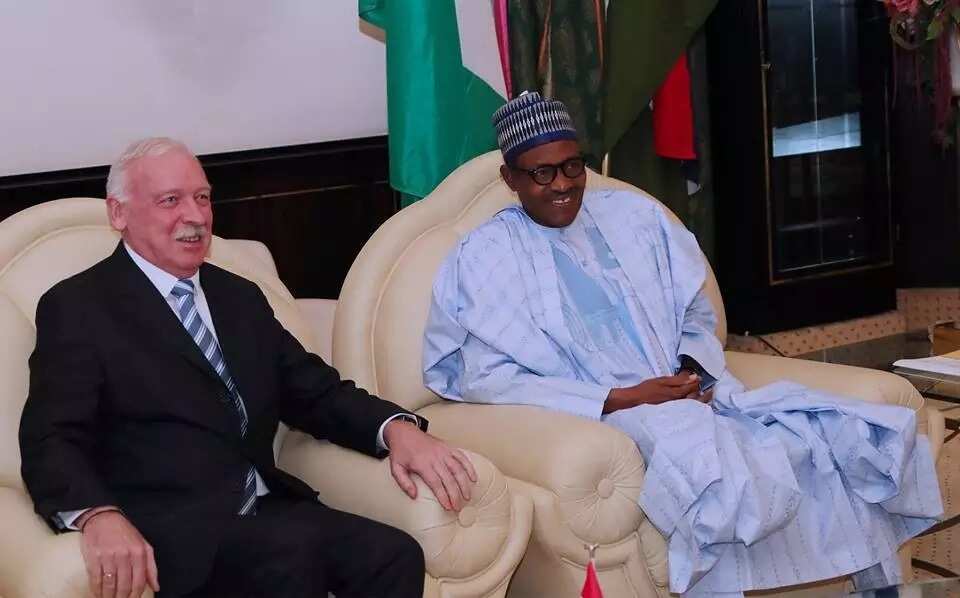 Explaining the concept of dairy farming further, Ambassador Gettermann, said the plan was to have 1,000 families of herdsmen with 12,000 heads of cattle in a location, where they will have veterinary attention, schools for their children, and generally live as a small community. A Danish company, Arla, will then buy the milk off the cattle farmers.
The Danish government will bring investors through its Agriculture Counsellor in the country, while the Kaduna State government will provide initial infrastructure and funding.
"Dairy farming is not exactly the same thing as ranching. It will yield better meat, and the Danish company will buy the milk from the farmers. A pilot project will start in Kaduna, and then move to other locations, as it becomes commercially viable," the Ambassador, who spent four years in Nigeria, said.
After 40 years in the service of his country, Ambassador Gettermann is proceeding on retirement.
PAY ATTENTION: Read the news on Nigeria's #1 news app
Legit.ng previously reported that in reaction to allegations and accusations levied at the Buhari-led regime, claiming that the administration is yet to achieve victory in the fight against the nation-wide insecurity, the presidency on Monday, July 17, decided to release steps it has taken so far in that respect.
Femi Adesina, special adviser on media and publicity to President Muhammadu Buhari has spoken on the efforts of the presidency targeted at curbing violence and large-scale insecurity in the country, Premium Times reports.
Nigerian Herdsmen vs Nigerian Farmers | Legit.ng TV