- The EFCC has been alerted on an alleged corruption act ongoing in the country
- The alarm was raised by the Nigerian Young Professionals Forum (NYPF)
- Hamzat Lawal, the chief executive of Connected Development (CODE), also added his voice to the campaign
The Economic and Financial Crimes Commission (EFCC) has been alerted on an alleged corruption act ongoing in the country by foreign contractors.
The alarm was raised by the Nigerian Young Professionals Forum (NYPF) and Connected Development (CODE).
The groups led by the chief executive officers, Moses Siloko Siasia (NYPF) and Hamzat Lawal (CODE) marched to the Abuja office of the EFCC on Monday, August 27.
They specifically asked the anti-graft commission to investigate suspected fraud and corruption within the oil and gas sector by some foreign contractors operating in the country.
Legit.ng gathered that the groups had earlier delivered the petition to President Muhammadu Buhari at the presidential villa during the early hours of the day before heading to the EFCC's office.
READ ALSO: Demand free and fair election from President Buhari - PDP to Theresa May
They expressed concern over the alleged fraud and disregard of Nigerian local content law by a foreign firm in the matter of an awarded contract of about 3.8 million dollars (N1.3 trillion).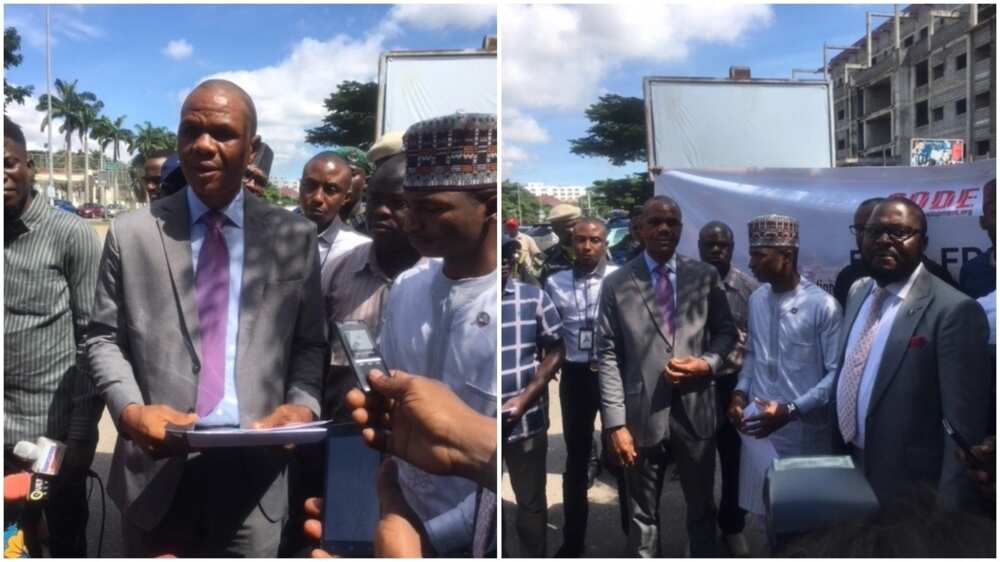 "Few weeks ago we conveyed a world press conference, to tell the world that in the oil and gas sector, we are experiencing high level of corruption, where $3.8 billion budget called Egina have not been able to meet expectations particularly to employ millions of young Nigerians, both female and male. We believe the only person who can salvage the situation, is the Economic and Financial Crimes Institution because it is an economic crime against young people in Nigeria.
"We believe to strengthen institution, we are using this opportunity to call on the chairman of the EFCC, we believe that the chairman knowing he is a young professional, can help us and moving forward, for us to strive, we know that Nigeria will keep giving contracts to the oil and gas sector, we want to ensure institutions are strengthened whereby EFCC will investigate this matter independently and call the attention of Mr President so that moving forward the local content law that we have in NAPTIP signed by a sitting president will be implemented. So today, we are here at EFCC to submit this petition, having in mind our confidence with this great institution, they will investigate this matter and ensure that young professionals will benefit from the local content law when we sign contracts with multinationals in the oil and gas sector," Lawal said.
On his part, NYPF's Siasia said: "We have been malnourished by too many generations of broken promises. The future and destiny of this country lies in our hands as young people we must as a matter of national urgency continue the step of rising up to take the step of our destiny and future in our hands.
READ ALSO: Court warns against illegal removal of Saraki
"We held a press conference earlier where we called the world's attention to the fraud and corruption going on in the oil and gas sector., talking about the 3.8 billion dollars Egina project which is tend to employ over 30,000 people, young professionals, engineers, young Nigerians but as we speak to you a lot of people were deprived from that process because a lot of the local content job were done in South Korea, whereby creating enormous jobs for young South Koreans. We can't keep quiet. The local content laws or principles that was applied in that project in terms contract and agreement was not followed duly.
"Earlier we were in the presidential villa to submit a letter to Mr President and we are also here as the custodian of anti-corruption fight in Nigeria, the EFCC, to present this petition to the chairman of EFCC so they can do justice."
The petition was delivered to Wilson Uwajeren, spokesman of the EFCC, who assured the group that necessary steps will be taken in investigating the matter.
He also revealed that the petition is merely an allegation that will be put through a test and if found wanting, would be thoroughly investigated as well as dealt within the capacity of the commission.
His words: "I want to assure you that we will take the petition through the normal process to which we receive petitions. To us, this is merely an allegation but we will subject it to test and if it is worthy of investigation, the commission will duly investigate and we will get to make our findings in due course."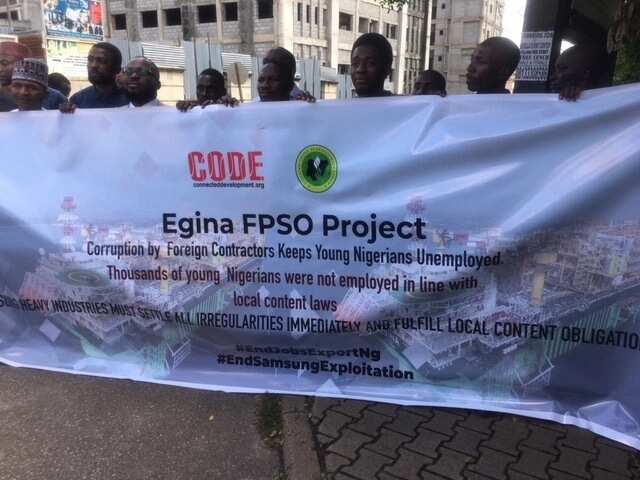 PAY ATTENTION: Read best news on Nigeria's #1 news app
The CSOs requested that the presidency and agency take the certain steps to deal with companies who have made a mockery of Nigerian laws and deprived many young Nigerian professionals of work.
Top Nigeria Corruption Scandals: Joshua Dariye, Olisa Metuh and Sambo Dasuki on Legit.ng TV: