Organizers of the Lagos Comic Convention have released an elite list of speakers for its Book Zone called BOOKICON. The speakers who are all top players in the American and Nigerian book industry range from Bestselling authors to CEOs of big publishing houses.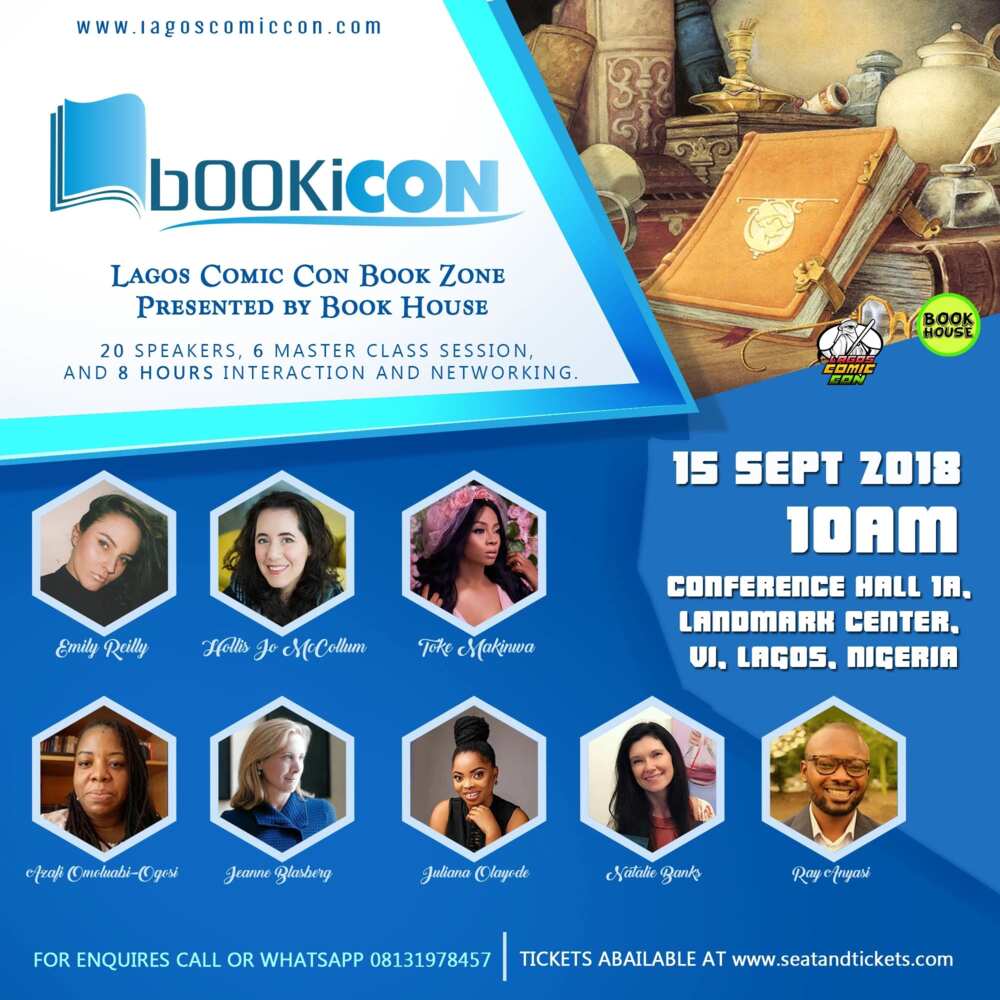 Some of the confirmed speakers are; Natalie Banks (Bestselling author, USA), Jeanne Blasberg (Bestselling author, USA), Hollis J. McCollum (Bestselling author, USA), Emily Reily (Bestselling author, USA), Bella Rosa (Bestselling author, USA), Ray Anyasi (Bestselling Author and MD of Naphtali Books), Jay Hall (Bestselling Author, Canada), Azafi Omoluabi-Ogosi (CEO of Parresia Publishers), Eghosa Imasuen (CEO of Narrative Landscape Publishers)Toke Makinwa (Bestselling Author of On Becoming and media personality), Isabella Akinseye (TV host, Compeer and Book Critique) Juliana Olayode (Bestselling Author of Rebirth and Actor) amongst others.
These speakers will be speaking in six distinct panel sessions on a wide range of topics relating to writing and publishing. The topics of the sessions are: Building a Writing Career from Scratch, Plotting and Writing a bestseller, Editing your Manuscript like a Pro, Selling your Book and Growing a Reading Audience, Getting Published; What your Manuscripts Should Look Like and Telling the Story of your Life; Courage, Complexities and Challenges.
Attendees have access to the zone all day to partake in the entire master classes which begin by 10am and ends by 6pm. They will ultimately learn from the immense wisdom and experience of the elite crop of speakers, network with other writers and the speakers, partake in competitions and win prizes.
The BOOKICON session will be crowned by a Book Pitch Competition where Nigerian writers will pitch their book ideas to judges and the best three will win publishing contracts from Naphtali Books. Judges of the Book Pitch Competition include Ray Anyasi and Isabella Akinseye. For details on how to enter for the Book pitch Competition, visit lagoscomiccon.com
The Event holds in Conference Hall 2A of the Landmark Events Centre, VI, Lagos on the 15th of September, 2018.
Tickets to BOOKICON can be purchased on https://www.afritickets.com/event?id=3388
For further enquiries call 08131978457.
[Sponsored]