It would seem the whole saga of money missing from piggy banks is now becoming an epidemic. This is yet another case of a woman whose money went missing from her 'kolo'.
Just recently, Legit.ng shared a story about a couple who lost their savings to nobody in particular but a mystery box where they had been stacking the money. The couple who was very sad had ranted on Facebook even as they displayed the near empty piggy bank they had trusted to help them save smartly.
Well, it would appear that yet another person has fallen victim to this mysterious disappearing of money. The testifier, a woman identified as Kiki on Instagram, said she had heard the uncanny experience of the couple on social media. This inspired her to open her own piggy bank.
Once she opened hers, Kiki found a new, sad story to tell because just like in the couple's case, she couldn't find her money! At least, not all of it. This made her to take to her Instagram page to share the details of her own experience in full.
READ ALSO: Nigerian man finds N118,470 in his piggy bank just in 8 months
According to her, she had bought the piggy bank in the month of February 2016. Since then, she had been saving up new N500 notes in it. Sometimes, she said she put in as much as N30, 000 in a day.
Because she was fond of using her constructed wooden box to save up, her husband had always made fun of her. But in reply to his joke, she told him her intent to buy a land with the money. The news she had heard about the piggy bank going wild had unwillingly prompted her to check up on her saving and rather than the N400, 000 she had expected to see, she saw only a trickle of currency notes.
See her post below:
"I decided to open my piggybank after reading another story of money missing from the box this morning... This is what I found after over 2 years of putting money in the box. I was expecting to see nothing less than 400k.I remember I got d box from a carpenter down d street February 2016 and ever since I've been putting money,dia were days I put 30k at once the least I put is 5k. As a matter of fact I like putting new notes and I jokingly told my husband I will use the money to buy land one day.. some said it's diabolical while some said it's an inside job, but right now all I know is my chest is paining me ."
PAY ATTENTION: Nigeria's best news on Legit.ng News App
The irony of the situation was that Kiki had taken to a platform to comment about the whole mysterious thing going on even without knowing that the same applied to her.
Now, that she had fallen prey to the mysterious saga of piggy banks, many people have also taken to the page to air their views as well as console her for losing out on the land she had intended to buy. Still, more similar experiences about not finding money after saving up in these piggy banks emerged.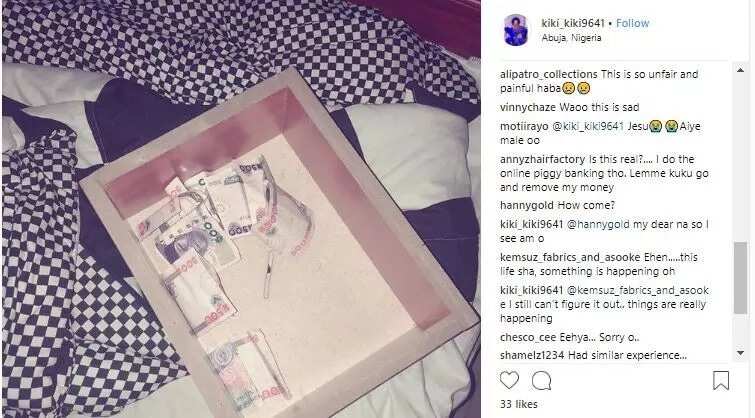 PAY ATTENTION: Get Daily relationship gist on Africa Love Aid
With the way things are going, wouldn't it be a rather wise decision for you to check up on your piggy bank before throwing in another dime?
Top 5 Tips To Save Money in Nigeria: Do Your Wallet A Favor | Legit.ng TV