A keen observation from a fan of popular musicians Davido and Dammy Krane has shown that, after having separated for quite a while, the duo are rediscovering their lost bond.
Earlier, Legit.ng reported that Davido was very excited at the release of Dammy Krane who was detained and prosecuted in the USA for fraud charges. The artist was released on August 17, 2017 and for this, his musical colleague had taken to Snapchat to thank God that he was a free man.
Well, it would seem that the tie between the A-list musician Davido and Dammy Krane, a rising star, has been slightly broken. For as long as it is known, the duo have not been seen together neither have any said anything to themselves.
It does not appear that they are at love lost with each other but the strong friendship which was usually exhibited between the two has sort of fizzled off for a while as they unfollowed each other on Instagram.
READ ALSO: You are an idiot - Dammy Krane calls out Orezi over his new hairstyle
Dammy Krane had made the first move by unfollowing Davido and every other person on Instagram after his release. The Fia Fia star who was very pissed by the action also followed suit.
But then, reports reaching Legit.ng have shown that these musicians have reunited and are now close once again. It was the acute attention of a person that revealed their renewed friendship.
PAY ATTENTION: Get more Nigerian News on Legit.ng News App
The individual on Instagram noticed that the Davido and Dammy Krane who just released a single title Go Down have started following each other again on Instagram. He then put his observation into words and posted it on his page:
"After staying apart for a while, #davidoofficial and #dammykrane_worldstar follow each other again on instagram. Let Love reign."
In his response to these words, Dammy Krane liked the post. This confirms that the attentive statement was true.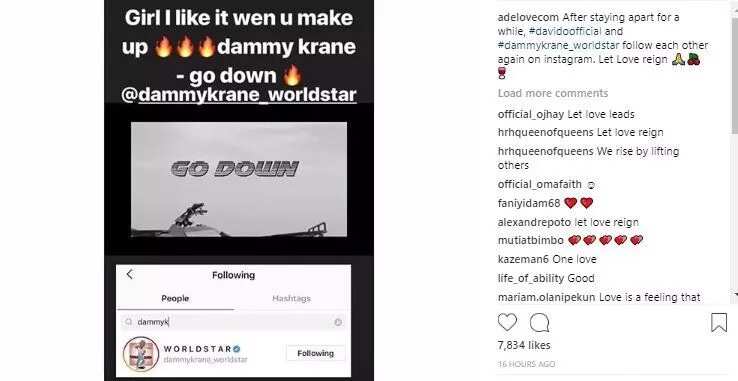 PAY ATTENTION: Daily Relationship gist on Africa Love Aid
Now that Dammy krane has filled up the distance and repaired the breach between Davido and himself, it can only be hoped for that he does the same with Wizkid with whom he has had a lasting feud.
Top 5 Richest Nigerian Musicians: Who Are They? | Legit.ng TV