- The Nigeria Customs Service (NCS) laments that fraudsters have continued to defraud victims through fake employment schemes
- The service releases one of such letters of appointment riddled with irregularities
- It warns Nigerians that it is not recruiting currently
The Nigeria Customs Service (NCS) has busted a fake online recruitment syndicate demanding money from unsuspecting job seekers to get them employed in the para-military agency.
The NCS denied claim that it was currently recruiting. It also warned members of the public to be careful who they deal with concerning recruitments into the service.
In one of the cases, the NCS released a fake letter of appointment with an error in its name. The alleged fraudsters wrote 'custom' instead of 'customs'.
READ ALSO: Governor Ajimobi, Alaafin and others meet Ayefele behind closed door
"Internet fraudsters are still on the sprownl, extorting money for despirate job seekers. Despite so many irregularities in the above so called 'appointment letter', some people failed and may still fail to the cheap trap.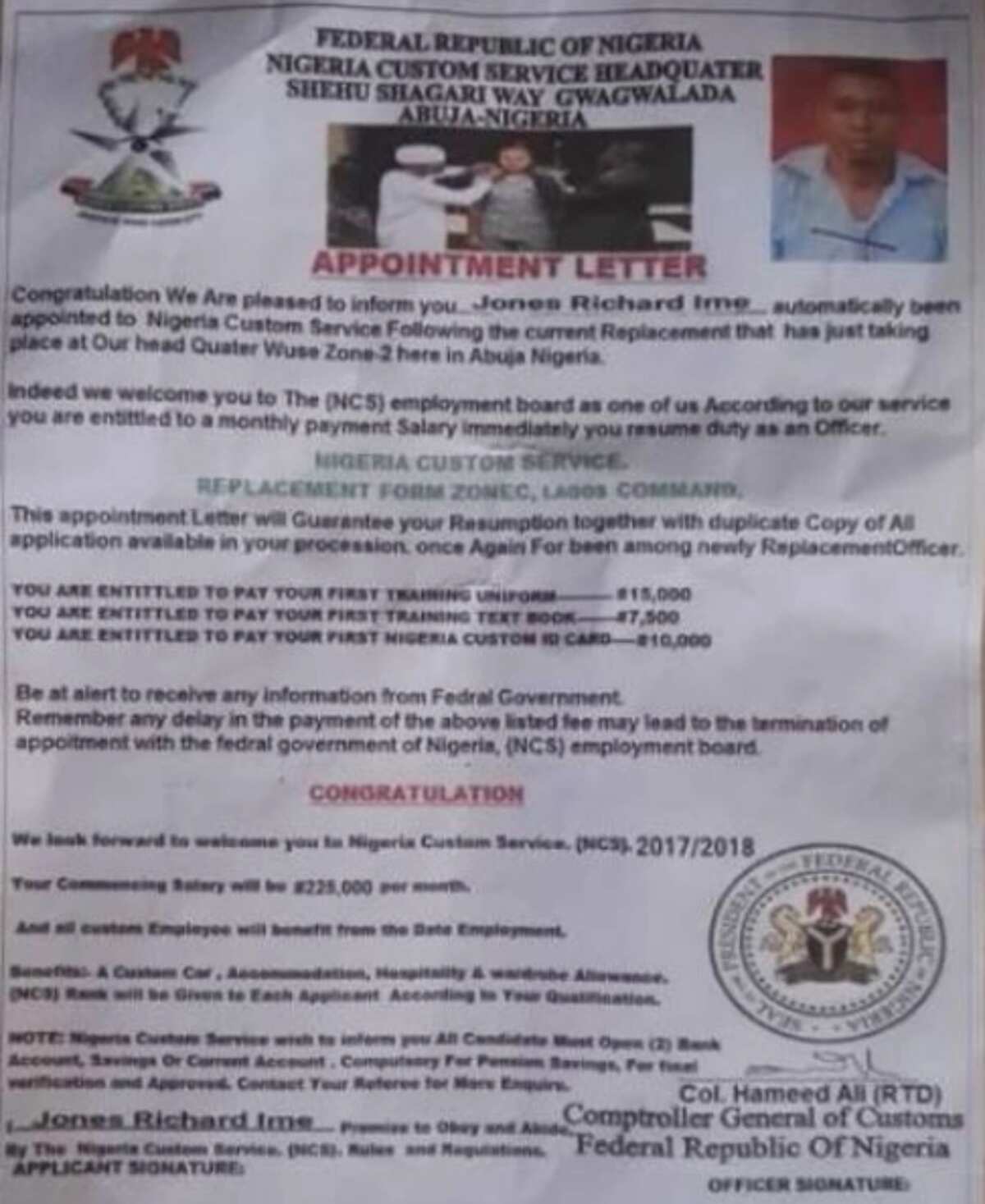 "Ordinarily, looking at the fraudulent letter, it should be easy to suspect its intention.
"If not, how will CUSTOMS be spelt CUSTOM; official letter head bearing federal government before the service name?" It asked
The NCS also said it never asks any recruit to pay for training kits.
"Again, of all platforms, Nigeria Customs Service will choose Facebook or Watsapp to conduct its recruitment exercise? Certainly not true.
"Please note that Nigeria Customs Service is presently not recruiting, and when we are ready, the public will be notified through television, radio and newspapers.
PAY ATTENTION: Read the news on Nigeria's #1 new app
"Nigeria Customs Service does not charge any amount of money for its recruitment exercises. Be wise, and don't allow yourself to be extorted," it warned in a statement obtained by Legit.ng.
Legit.ng earlier reported that the Nigeria Customs Service recently also warned Nigerians against falling for fake recruitment advertisements.
The Customs said majority of these adverts are on social media platforms like Facebook and WhatsaApp.
Nigeria Latest News: Woman Laments Bitterly After her Sister Sent Assassins to Kill Her| Legit.ng TV
Source: Legit.ng