Everyone loves dates but not everyone knows about the date shake benefits. Yes, that's what you've heard. You can prepare shakes with these fruits and enjoy the delicious taste and a whole range of health benefits at the same time. Check out the useful information on date shakes below and discover several delicious recipes at the end!

Dates benefits for heath and date shakes
It's a universal truth that dates are extremely useful for health. What about date shakes? Well, the usefulness of these shakes is doubtless. You receive the benefits of dates and other components of the shake together. For example, if you eat dates as they are, you receive only what's found in dates. When you add some nuts, milk, other fruits, it's obvious that the health value of such a cocktail increases.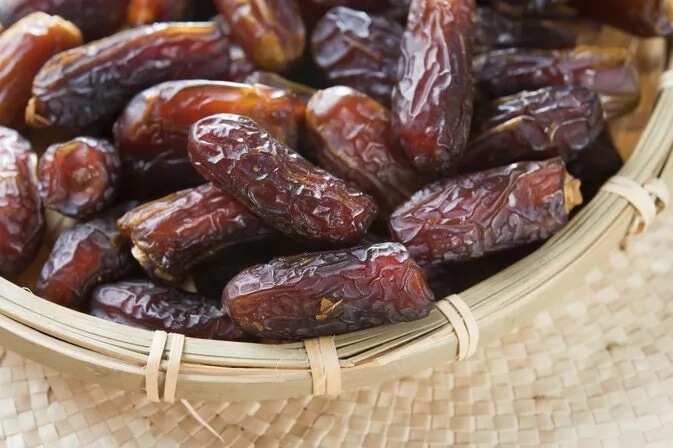 READ ALSO: 7 amazing health benefits of bitter kola
First of all, you need to know why the main components of a dates shake is so useful for health.
Dates contain plenty of food fibers, which have a positive effect on the bowel digestion processes. They are not dissolves in either the stomach or bowels and thus can cleanse the intestines perfectly well
Dates contain pantothenic acid, which regulates the metabolism, improve the immune system, control the performance of the nerve system and other organs. This is why if you have ever doubted whether to consume dates or no, you should know that the usefulness overweighs all other arguments
Plenty of vitamin A will help you retain the health of your hair and nails and prevent their fragility and weakness
Dates contain plenty of potassium, which protects the heart muscle and all the skeleton muscles. 150-200g dates per day are enough to cover the daily need of an adult's body. A child should eat about 2 to 3 dates a day to receive as much potassium as necessary for the body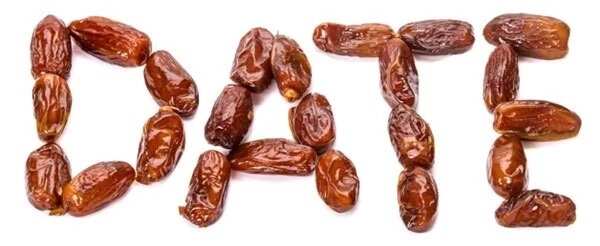 The calcium these fruits also contain is one of the main date shake benefits in pregnancy. Pregnant and breastfeeding women should give extra attention to the amount of calcium they eat to keep their teeth, bones, and tenures healthy and strong
Dates are nourishing enough to be a great snack during the day. Their energetic value covers the needs of the body between the full-size meals, gives energy, strength and good mood
There are negative sides effects but they are really few: dates are not the food diabetic people should eat, definitely. Besides they contain a lot of sugar, which are able to attack teeth and the enamel aggressively. As a result, a regular case of caries can turn into something more complicated after eating dates. Actually, that's all about the warnings.
Date shakes for weight loss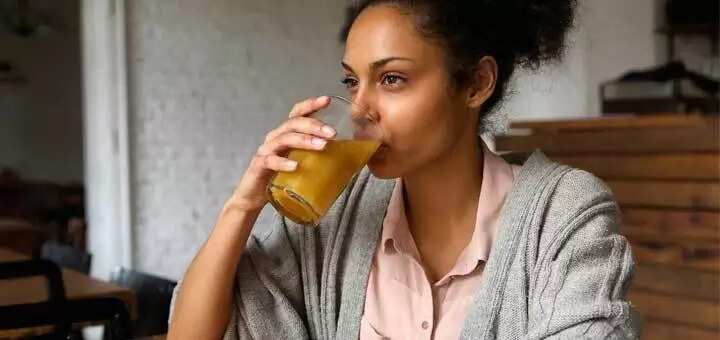 READ ALSO: Health benefits of cashew fruit in pregnancy
Sounds like fiction but shakes with dates are useful to people who are trying to lose weight. Dates are high in nutritional value and can kill your hunger in a moment. Together with other components of shakes like milk or nuts, this nutrition can be enough to make you last for several hours.
Here are some recipes of date shakes that can help you lose weight and gain a lot of energy.
Soak a handful of raw almonds in water for the night, and then grind in a blender with a cup of water. Filter the milky liquid and return it to the blender together with a handful of dates (without stones), 1 teaspoon of cinnamon, and 2 to 8 leaves of fresh mint. Blend it all to smoothness and add ice cubes if you wish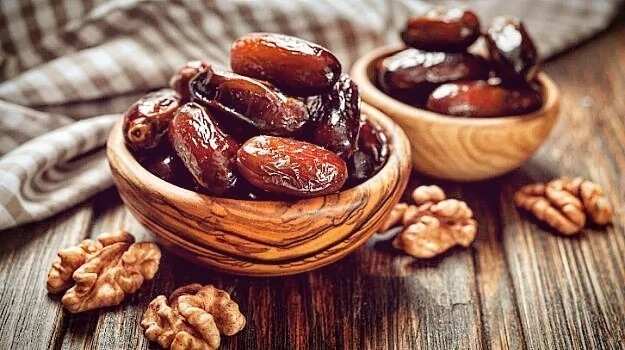 Take a handful of strawberries, remove the leaves and cut in two. Remove stones from the dates. Put into the blender together with ½ cup of grapefruit juice and blend at a medium speed for 30 seconds. Increase the speed to the highest one and keep on blending for 30 seconds more
Take one banana and remove the peel. Cut the flesh into pieces and put into your blender. Remove stones from the dates (about 10 dates) and add them to the banana. Add ½ cup of milk and ½ cup of any frozen berries you choose. Blend at a small speed for 30 minutes and eventually increase the speed to the highest. Blend for 30 seconds more and then add 250g of frozen yogurt. Blend for 30 seconds to evenness
Take 1 apple, remove the peel and seeds, cut into pieces. Take 45g of prunes and 45g of dates, remove stones and add to the apple. Put into your blender together with 50ml of apple juice and ¼ teaspoon of ground licorice. Blend at a low speed for 30 seconds, eventually increase the speed. Blend for 30 seconds more.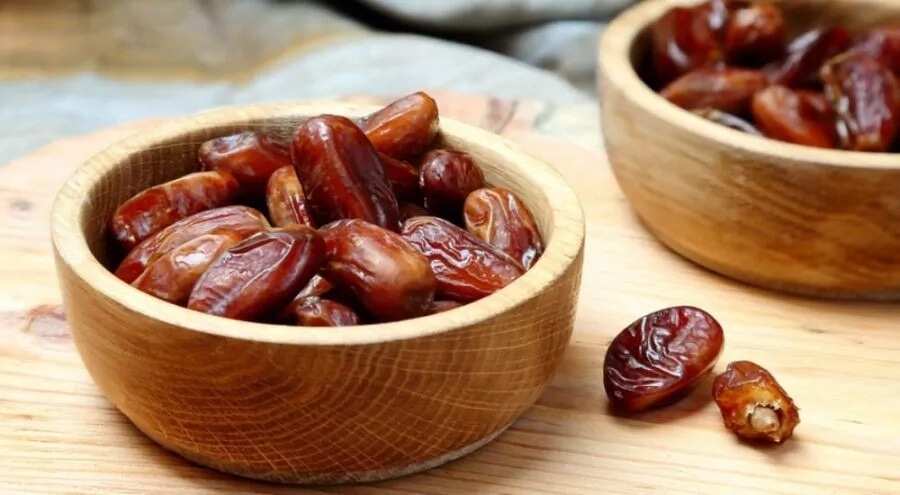 Warning: Don't use licorice if you have a high blood pressure. Instead, take some cinnamon or ground ginger. The shake also has a laxative effect
Take 175g of chopped walnut kernels, add 1 tablespoon of chopped dates without stones, 1 tablespoon of flax seeds, and 1 tablespoon of chopped vanilla. Put all the ingredients into your blender, add 250ml of boiling water. Cover the vessel tightly and start blending at a small speed for 30 minutes.
Gradually increase the speed and finally blend for 30 seconds at the highest speed. Add 250ml of boiling water and keep on blending at the highest speed for 30 seconds more. Cool down and store in the fridge for no longer than 3 days
A date shake with such ingredients as oat flakes or creamy cheese can be a great breakfast option for those who don't have much time for cooking and eating in the morning. Such a shake will provide you with enough nutrition and a great taste to make your mood good since the very morning.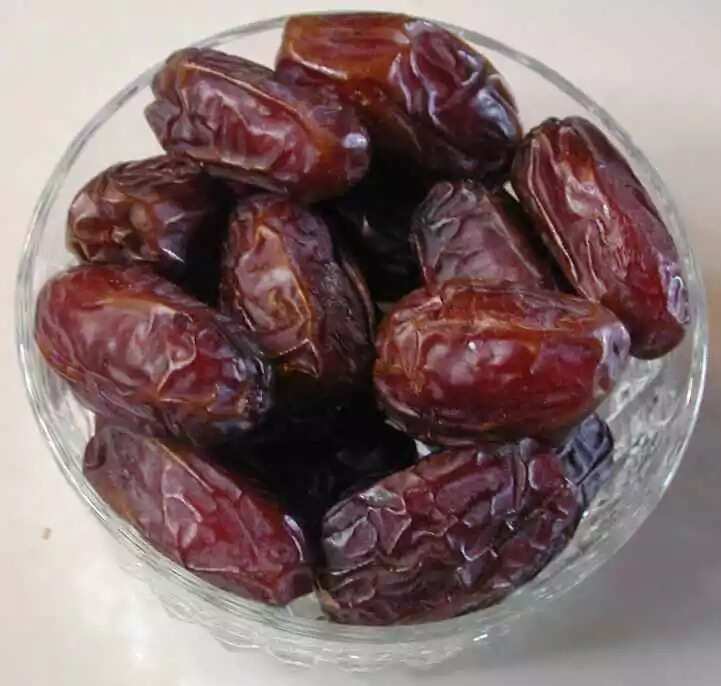 The date shake recipes mentioned above can be alternated as you wish. You are free to add any ingredients and anything you like to compose a healthy, tasty, and nourishing shake.
READ ALSO: Tomato benefits and side effects
Source: Legit.ng