- Popular Nigerian actor IK Ogbonna replies troll with a savage comment
- The person had insinuated that he and his beautiful wife were divorced
Well acclaimed Nigerian actor has proven that he is not one to be messed with in the least. He conveyed this indirectly with his reply to an online troll who was making insinuations about his marriage.
The said individual whose Instagram account identifies him as Lexo_bronxy had taken to the page of IK Ogbonna's wife to react to a picture she had shared. In the picture, Sonia Ogbonna Morales, the actor's wife was holding their son close to a rail overlooking the sea.
She captioned the beautiful moment of herself and her son named Ace with these words: "Welcome to the good life baby."
READ ALSO: Actor IK Ogbonna's wife, who is she?
Upon seeing this, Lexo_bronxy, gave his opinion on the caption which was nothing short of an insinuation that Sonia was divorced from her husband and had taken their 4-year-old son into custody:
"Oh... guess you and his dad are no longer together and the kid is gonna stay with u?"
This strong verdict of his got the attention of Ik Ogbonna who responded the man with an unapologetic comment that told him to go and mind the 2019 elections or how he was going to eat rather than invent rumours about his marriage:
"Are you guessing or are you wishing? My bro, go and worry about 2019 elections or how you will eat tmrw."
PAY ATTENTION: More Nigerian News from around the world on Legit.ng News App
Other Instagram followers who were taken in by Ik's reply commended him for giving the troll a dose of his own medicine and also for standing up for his marriage which by all indications was still very intact. A lot more directed their attention to the person who made the comment as they said that it was unwarranted and shortsighted.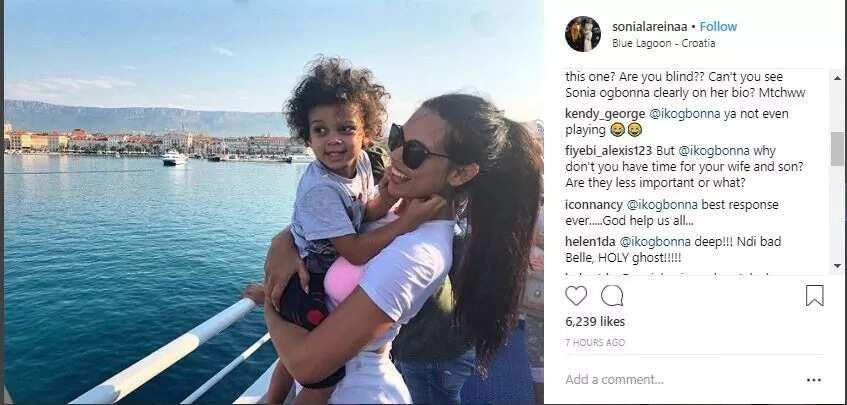 Without mincing words, Lexo_bronxy's false claim must have come from the fact that the masculine model is rarely ever seen with his wife and son these days. While he mostly posts pictures of himself on set with other popular celebrities, his Columbian woman is mostly pictured in the Mediterranean having a good, quality time with the sea and their son.
A follower of the couple pointed this out in a wry comment that attempted to shake many tables:
"But @ikogbonna why don't you have time for your wife and son? Are they less important or what?"
However, this confusion that has arisen due to a crisis of place was cleared by a fan of his who insisted that so long as the curvy beauty still bore the name Sonia Ogbonna, she remained IK's wife and so no mistake should be made about that.
Laughing With Adeola EP 6: Best Nollywood Prank | Legit.ng TV
Source: Legit.ng