It appears that a strange lady has taken to social media to call out talented Nigerian music star, Duncan Mighty for allegedly battering his wife, Vivien Nwakanwa. The lady who is yet to be identified called out the singer on Instagram.
According to various reports by some of Nwakanwa's classmates, Duncan was said to have allegedly hit his beautiful wife on Saturday, August 18, before making it down for his trip in Lagos. They added that this is not the first time the Port Harcourt boy would be hitting his wife.
The recent was said to have allegedly taken place after Duncan finished a video shoot with Davido in Port Harcourt, as the cause of the attack is still unknown.
READ ALSO: Duncan Mighty bowed for Davido because he was happy - Manager
On Sunday, August 19, Duncan shared a picture of him and one @Okokoceline decided to drag the young man on social media. Searching for the true owner of the page, it was discovered that the lady must have created the account to embarrass the singer as there was not profile picture, no followers and no posts.
Her message to Duncan reads: "What a caption "graceofGOD" You think you still have His Grace after what you did to your beautiful wife, battered and bruised her face as if she's your bunching bag. A woman, I believe loves you and cherish you. You had the guts to lay your hands on her, hit her with so much hate and here you are claiming the grace of God in your life. What kind of a human being are you? After trying to kill her, you left her, traveled. Behaving as if nothing has happened, and she's going through pains. While you are busy showing the social media the fake side of you, while you are such a beast in the inside. You claim you love her, but you don't. You can't love a woman and do such thing to her no matter what happens. I don't know how long you have being making her go through this kinda of act since your marriage to her, but one thing am sure of is that for this to be in the news, she must have gotten it up to her neck that she can't hold it anymore and pretend to be in peace. In order to cover your shame and protect your fame. Haters, will say the news is fake maybe it's just a scandal to spoil your name and as well destroy the fame you have gathered again. But, I don't think so, I believe this actually happened. I learnt that she's even supposed to be writing an exam today in school but she can't anymore because of what you must have done to her. I pray that, that same God you claim you have his Grace will judge you. Definitely, He will because He's the God of Justice. He will definitely judge you for such an inhuman act. That same God you are claiming His Grace, didn't tell you in his word that *A man who lays his hand on a woman is a COWARD? OR you don't know that part?#besthusbandmyfoot# Karma will definitely reach for you. #Wickedness#"
See post below: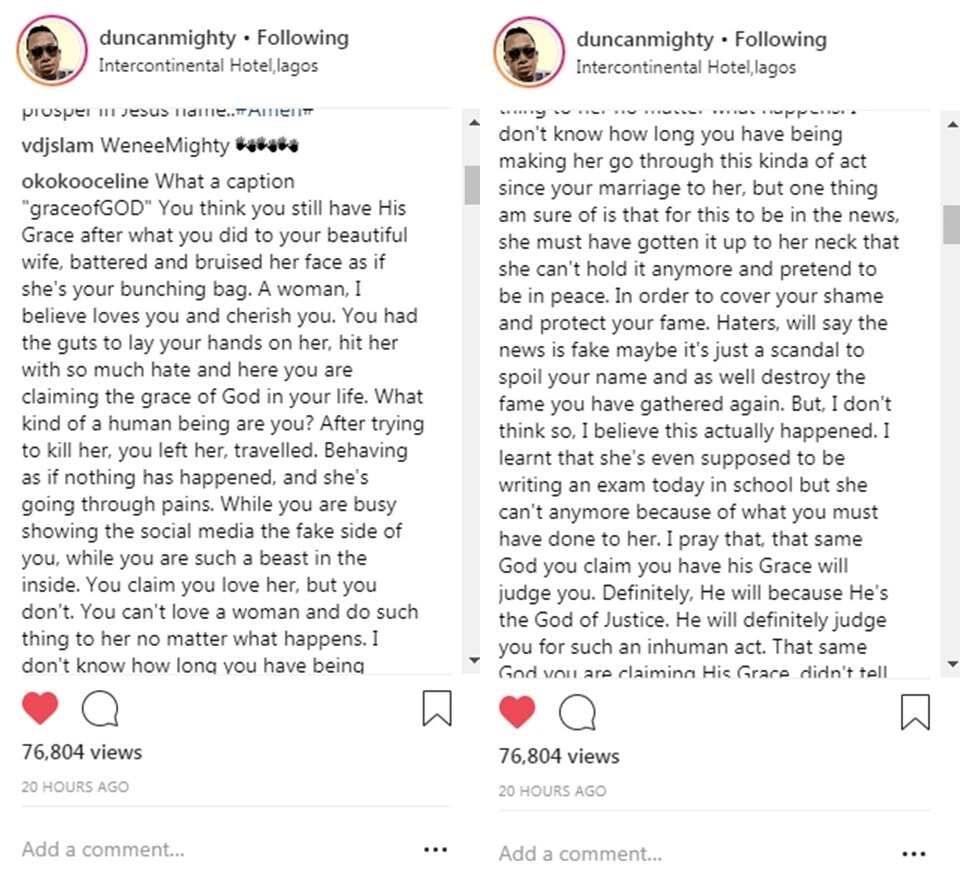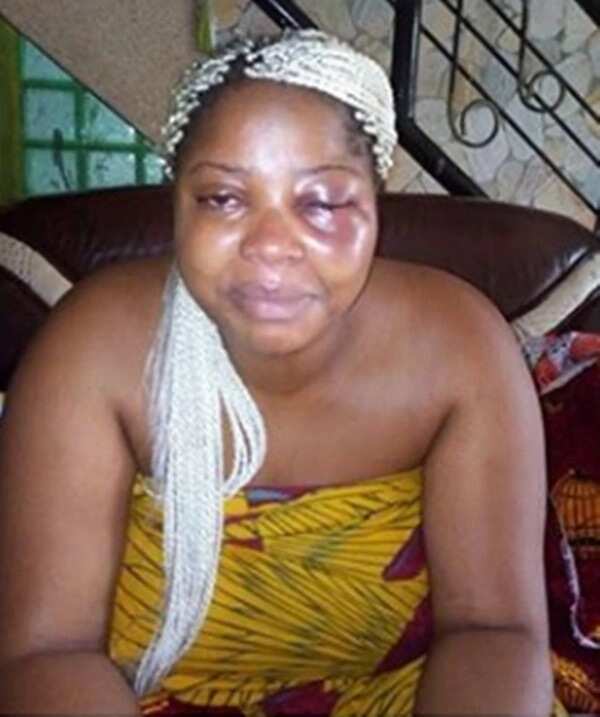 PAY ATTENTION: Best love tips and relationship advice on Africa Love Aid group!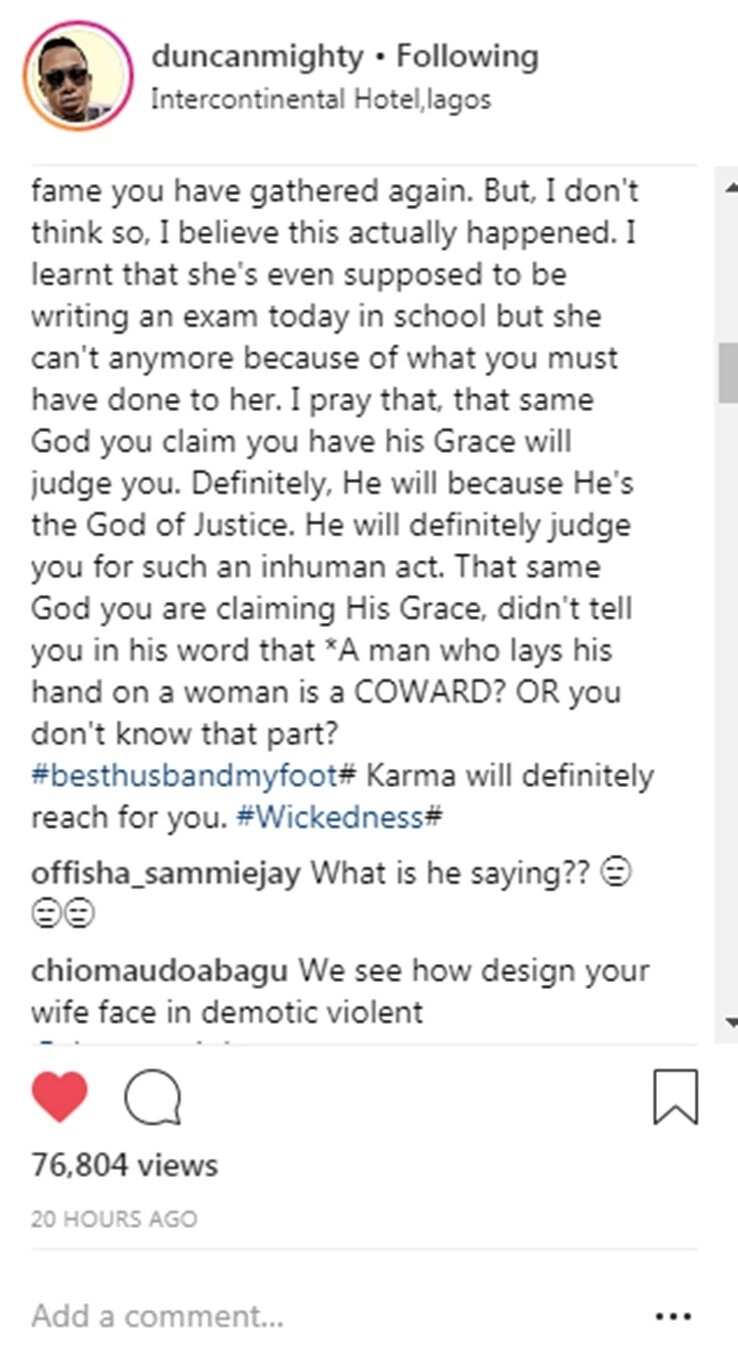 As at the time of this report, Legit.ng got in touch with Duncan Mighty's management but said everything is under control as the woman in question is doing very well. We still hope to get more details from them.
Nawa o!
Let's Not Blame God For Our Problems - Deyemi Okanlawon Speaks on Otedola Bridge Fire | Legit.ng TV - on Legit.ng TV.
Source: Legit.ng