- Cristiano Ronaldo collided with Chievo's Stefano Sorrentino during their Serie A opener
- Sorrentino was left unconscious after collision and suffered multiple injuries
- The goalie's girlfriend is bitter Ronaldo left her man in agony after the incident
Portugal star Cristiano Ronaldo has been branded 'shameful' by Chievo goalie Stefano Sorrentino's girlfriend over his reaction moments after the pair collided on Saturday.
According to a UK Mirror report citing sources ESPN his partner, Sara Ruggeri, was not satisfied, seemingly slamming the 33-year-old for "observing" then "leaving" her man in pains on the turf.
The 39-year-old Sorrentino spent the night in hospital after he was involved in a collision with Juventus' £88m summer signing.
READ ALSO: Paul Pogba admits Manchester United lacked quality in Brighton defeat
At the end the veteran goalie came out worse after suffering a broken nose, whiplash and a bruised shoulder when the ex-Los Blancos superstar who was marking his debut for the Serie A champions, ran into him.
However his girlfriend in a since-deleted Instagram post, she wrote: "I tried for hours to keep quiet and focus on what was important, in other words my family.
"However, if champions want to be called champions, they must first of all be HUMAN BEINGS! I'm sorry, but I cannot admire this champion!
"I can admire real men, like my other half who was lying there unconscious and (Nenad) Tomovic trying everything possible to help him!
"Thank you to those who have heart, humanity, dignity and principles! Shame on those who insult, criticise, celebrate or even worse observe and then leave!"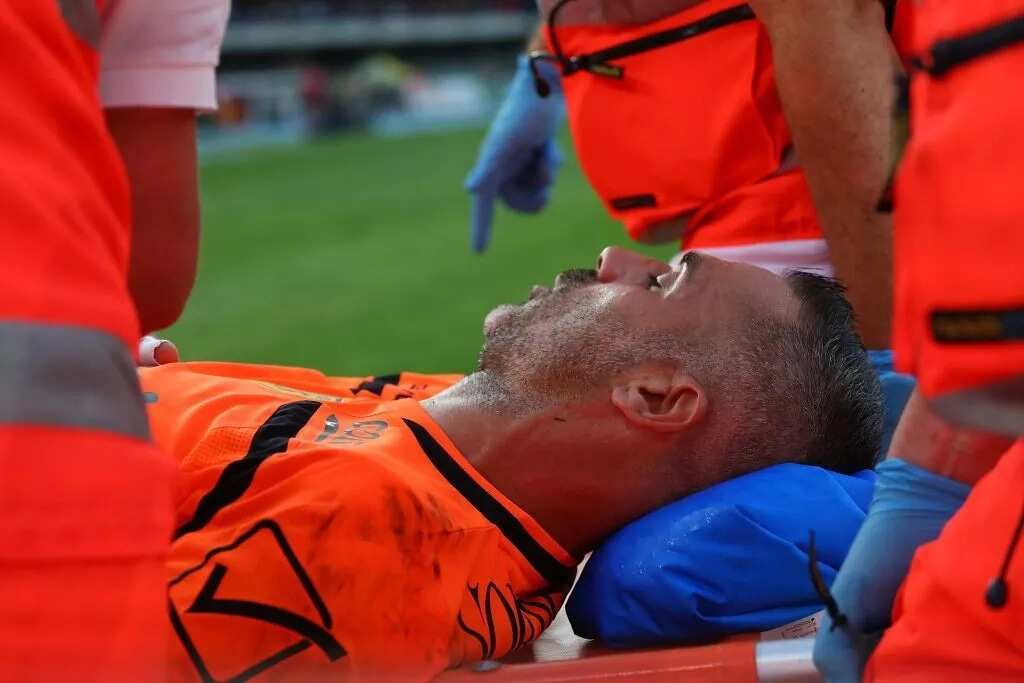 Sorrentino could not continue the match and was replaced by was by Andrea Seculin.
Initially, Juve forward Mario Mandzukic had put the ball across the line during the madness but it was later reversed after VAR suggests Ronaldo's arm made an impact during the buildup.
The report further confirmed that after staying overnight with the medics the Chievo's shot-stopper took to social media on Sunday morning, posting a snap of himself with a neck brace and his nose patched up.
"Thank you for all your messages of affection and respect," he wrote.
"We are a fantastic squad and yesterday we had a brush with greatness: meanwhile, CR7 didn't so much brush me as get a bullseye!"
PAY ATTENTION: Become a member of the leading sports Facebook group 'Naija Football Fan Zone'
But later added: "I received a message of support and wishing me a speedy recovery from Cristiano Ronaldo. Thanks legend!"
Meanwhile, Legit.ng previously had reported that Chievo goalkeeper Stefano Sorrentino has taken to social media to show off the injuries he sustained against Juventus when he had a collision with Cristiano Ronaldo.
The Italian goalie was left unconscious on the ground after making contact with the five-time Ballon d'Or winner as they both went for a loose ball.
Ronaldo who was playing his first League game for Juventus was anxious to score on his debut which he never did although Juventus won the match 3-2.
Sorrentino, 39, who rejoined Chievo from Palermo in 2016 was forced to leave the field and was replaced by Andrea Seculin before being taken to hospital.
The extent of his injuries include a fractured nose, whiplash and a bruised shoulder according to Dailymail UK.
Football Transfers That Shocked The World | Naij.com TV
Source: Legit.ng