Casual ankara gowns for Nigerian beauties
Again, feminine and beautiful casual ankara gowns began to gain popularity. Ankara gowns are a very comfortable thing for every day, sometimes. You put on a dress, and you have a complete outfit ready. Putting on ankara gown in everyday life you will never be deprived of attention. Just read on!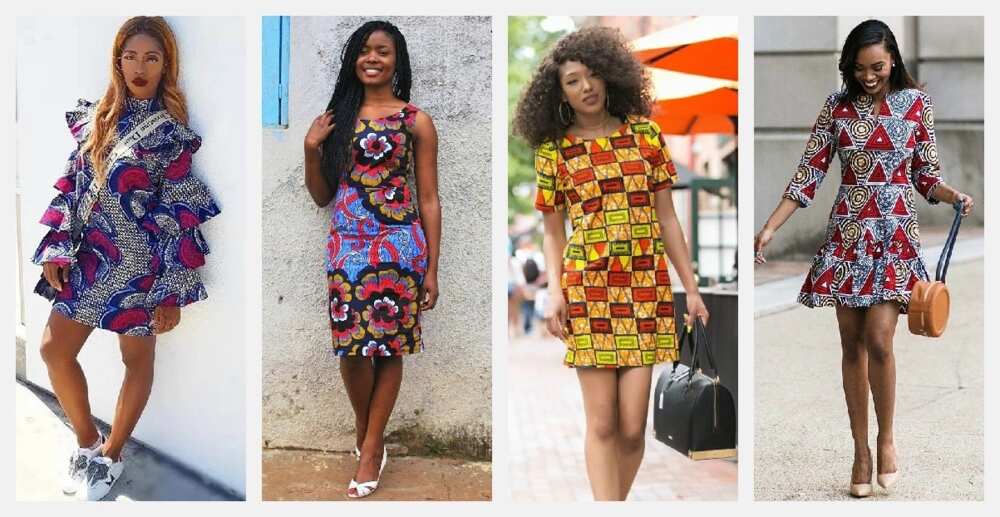 Casual ankara short gowns
A short gown from the latest ankara styles is the most dangerous female weapon, and if correctly applied, no man can stand before you! A dress is by right considered the most feminine elegant and alluring element of ladies' wardrobe.
We insist you remember the following rules of wearing casual ankara short gowns:
A short dress is an excellent opportunity to demonstrate the beauty of your legs. Pre-take care of the removal of hairs (depilation), masking of veins, bruises or pallor of the skin with the help of sunburn or pantyhose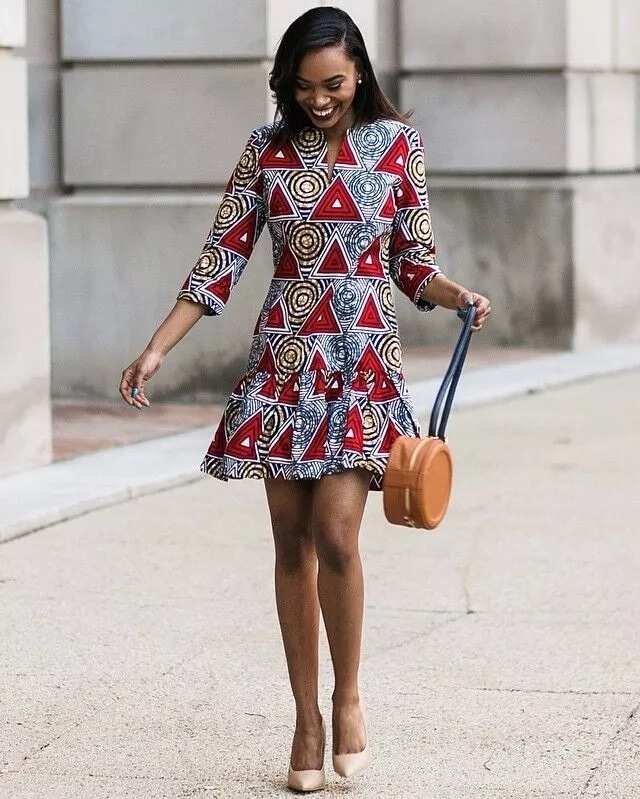 Any outfit, the length of which on the palm above knee cap is not appropriate in business style. Otherwise, colleagues will start to think and talk about your person not the best words.
Also, don`t wear too short ankara gown for the first date. Otherwise, you risk giving the wrong signals of seduction to your new acquaintance.
Remember that under a very short ankara gown it is better to wear jeans or leggings, so as not to frankly demonstrate your body.
The older woman, the more cautious it is to approach the choice of attire. Even if you have impeccable forms in 40 years, emphasize them better than other things, for example, ankara long gowns.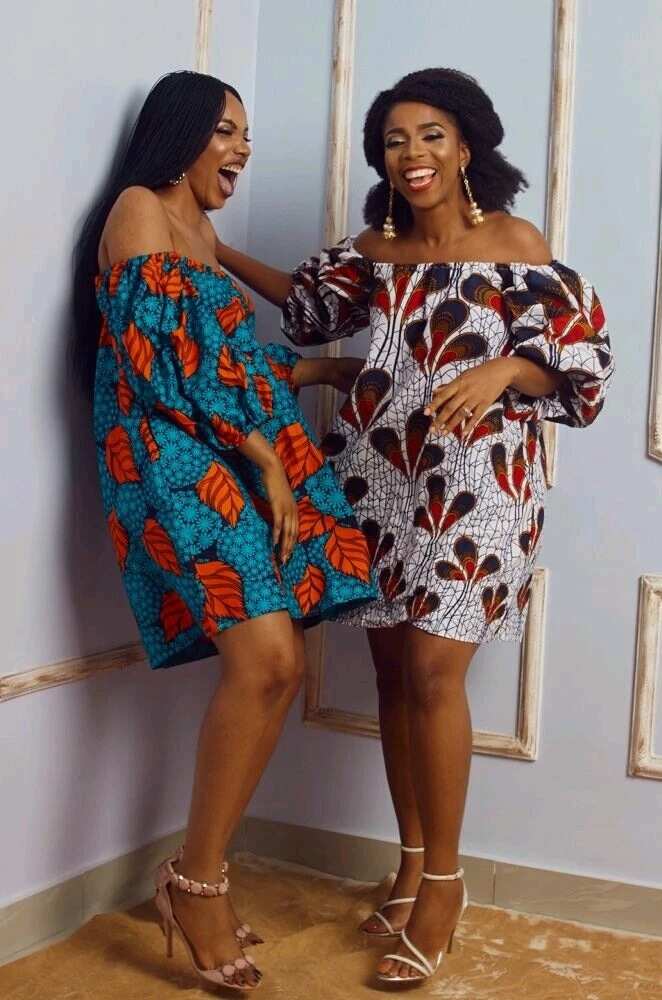 Almost in all ensembles, a short dress requires shoes on the heel. The ideal option is elegant shoes and summer sandals on medium and high heels. Color should be in the range that matches the color of your dress.
By the way, a small white ankara gown looks great with black boots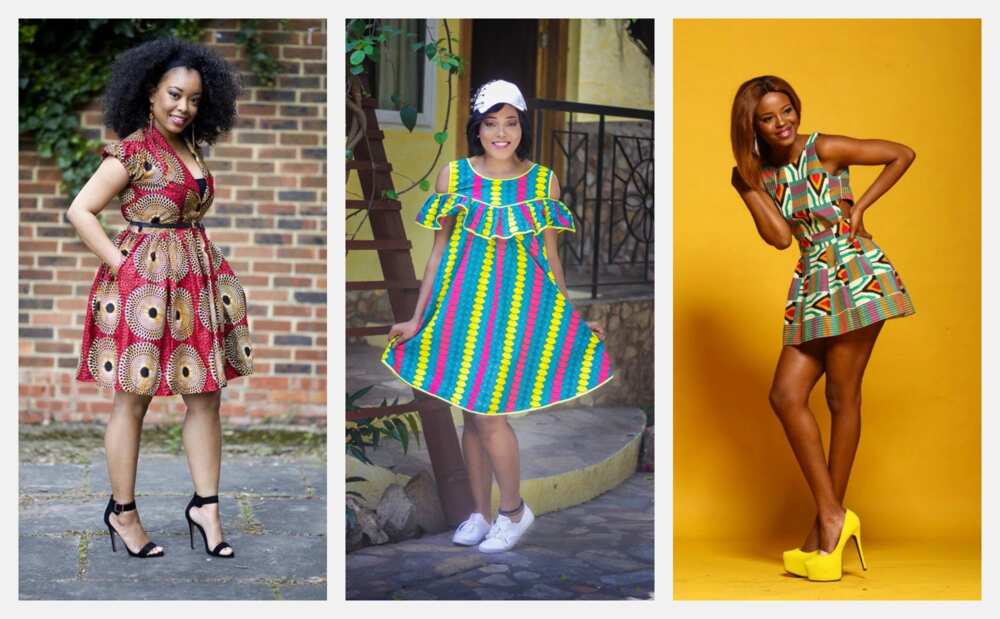 Do you want to be stylish and colorful in your daily life? A combination of short ankara gown and, for example, pantyhose with a pattern and shoes in the tone of the dress look cool. Replacing pantyhose with bright stockings or golf, you almost immediately turn into a queen of shocking.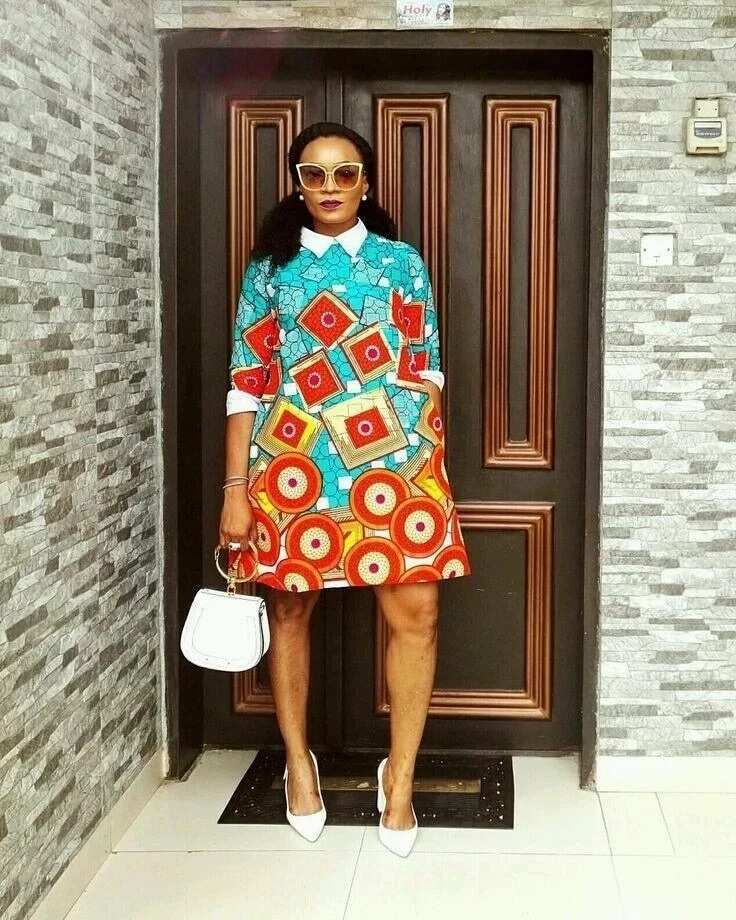 The accessory to a short dress of the latest ankara styles should be plain. However, sometimes the fashion claims the opposite. For everyday life, it is better to choose light dresses of ankara styles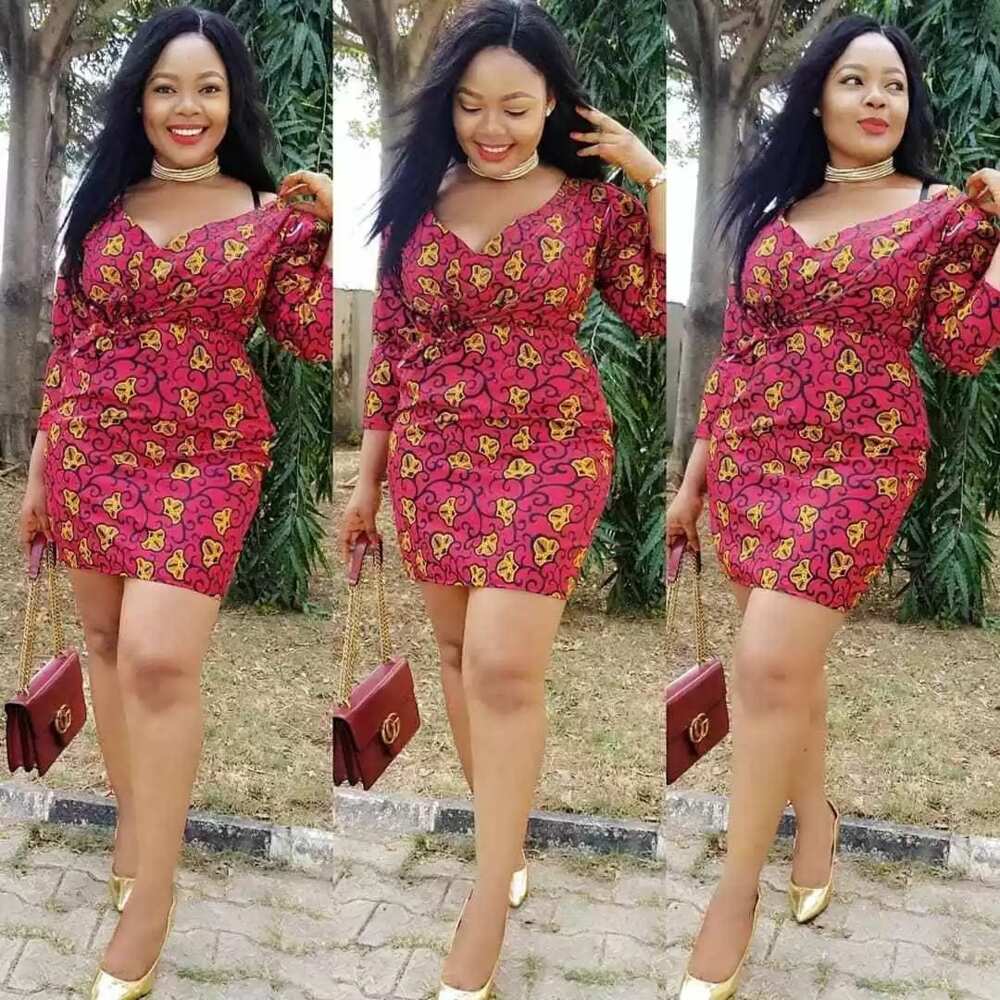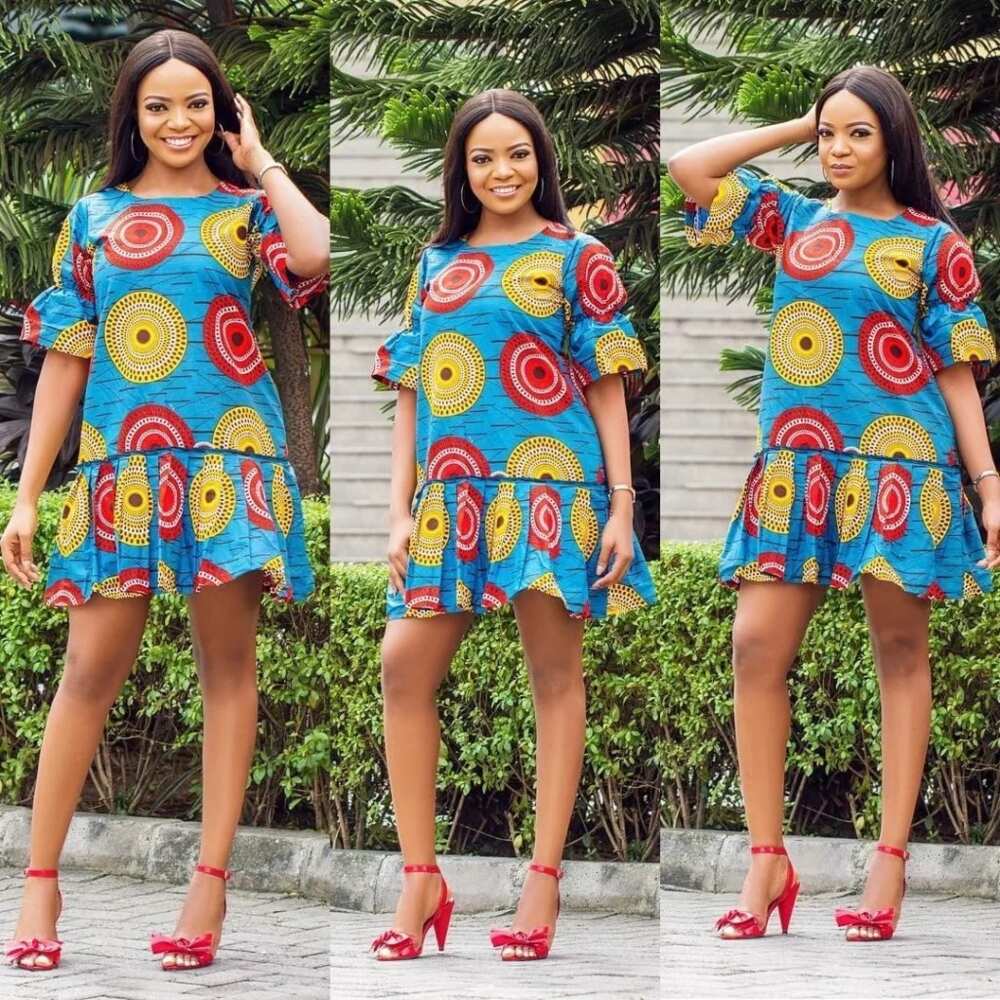 READ ALSO: Latest Ankara straight gowns for Nigerian beauties
Simple casual ankara gowns
A very popular in the ankara fashion is a shift-dress. This short gown is very popular among Nigerian fashionista.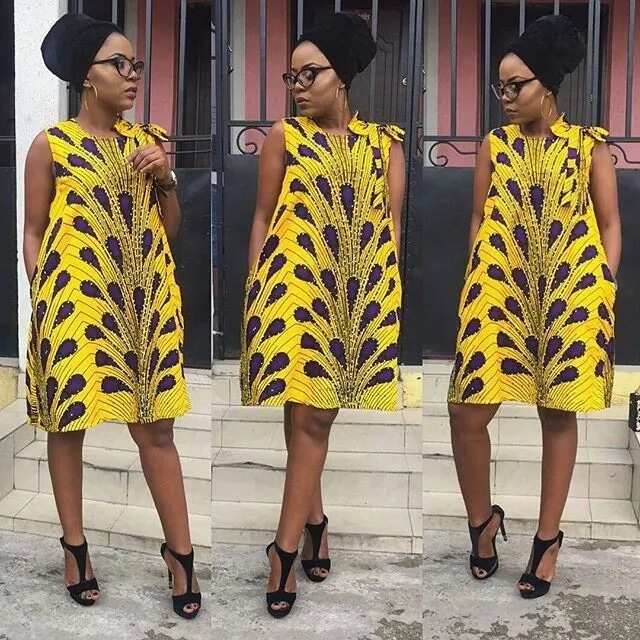 The very concept of shift (displacement), which gave the name to this style, began to symbolize the shift in culture among young people away from everything that is customary.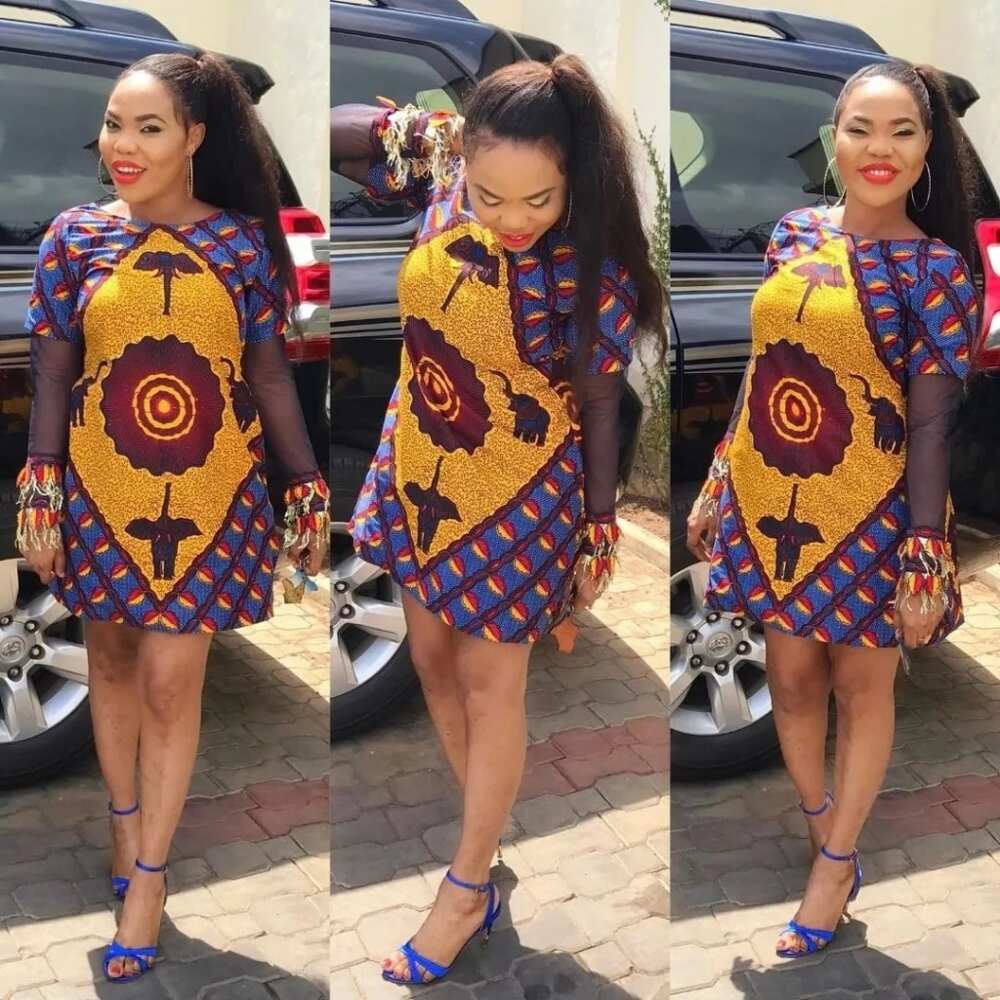 READ ALSO: Latest Ankara styles in 2018
Casual ankara long gowns
Ankara gowns, especially long ones, can help in this. Such a dress introduces a special mystery to the woman`s image, emphasizes all the dignity of the figure and hides the flaws. Even at shows of fashion designers, long dresses occupy the most important place.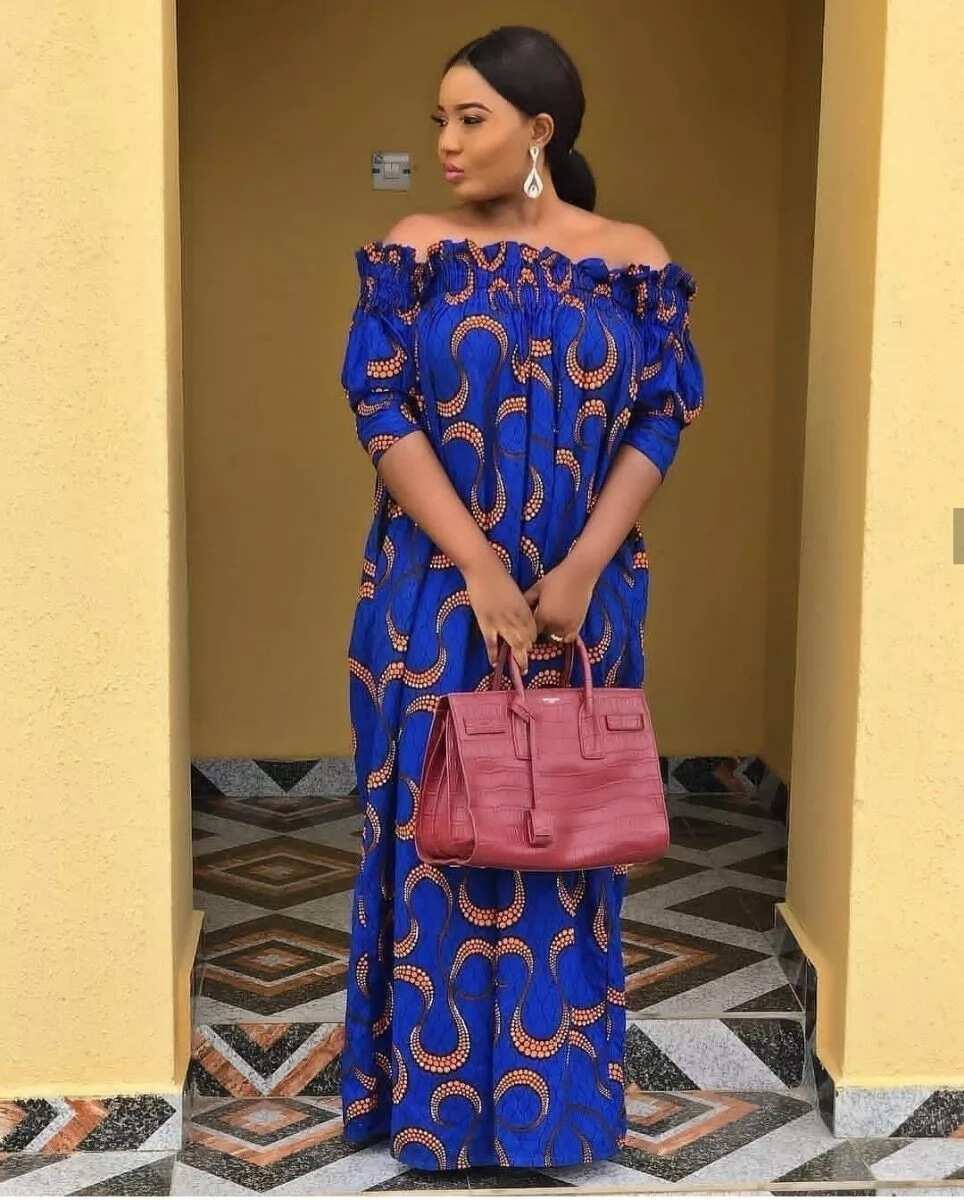 To your attention is represented a selection of long gowns of ankara styles for ladies. You can buy leather, woolen, knitted, chiffon, silk, cotton, denim or flax model with ankara prints. This outfit will help any woman to look stylish and feminine every day. The main thing is to choose the right dress and accessories for it.
A beautiful chest can be emphasized by a long gown with a deep neckline.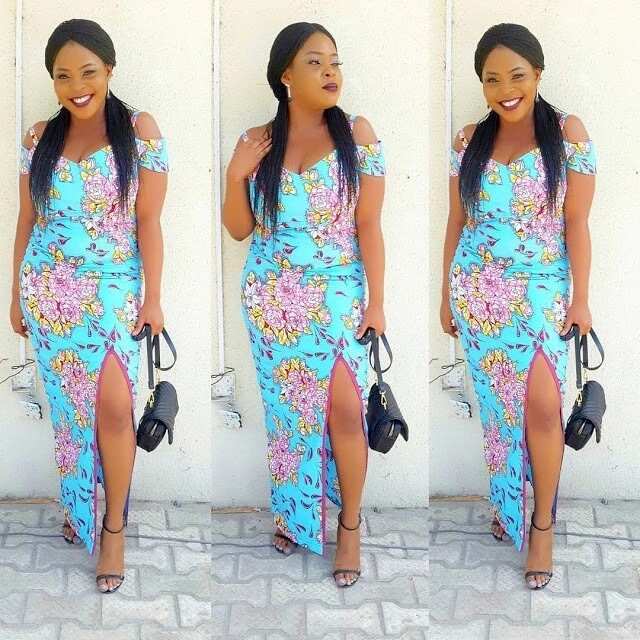 The perfect back will be emphasized by the attire with a cutout from behind.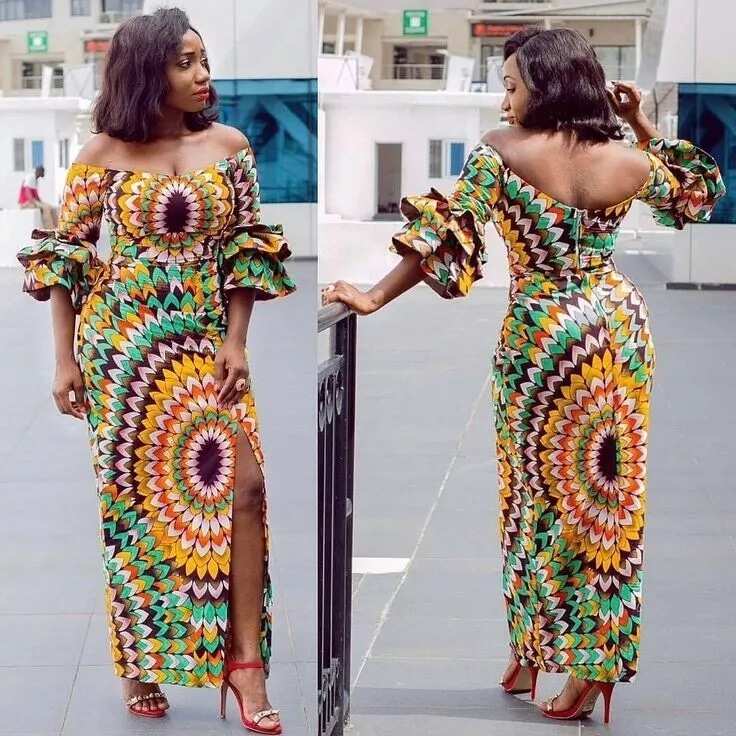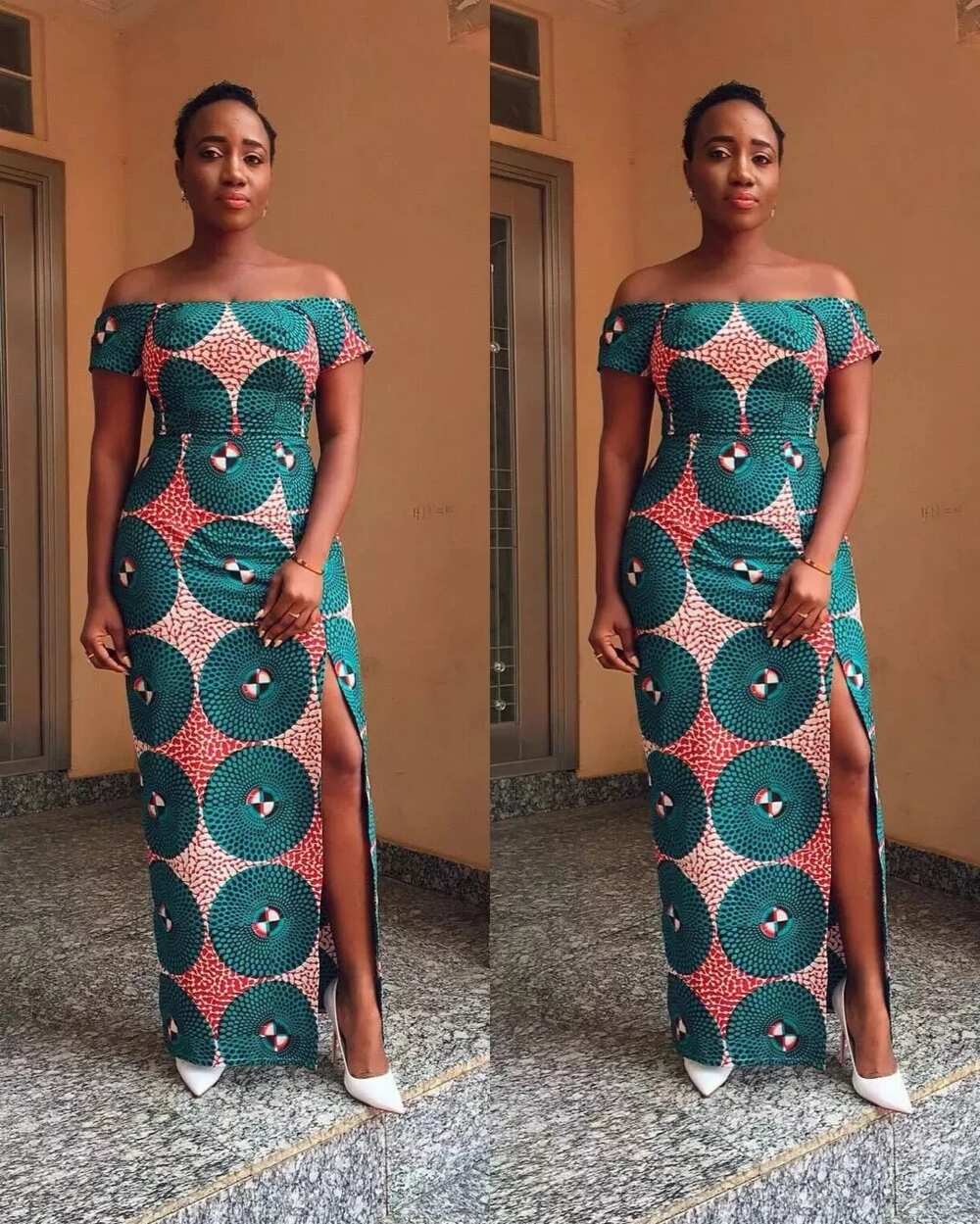 What to wear with a long ankara gown?
1. Outerwear
If you are a fan of grunge style, you can safely put a leather jacket on top of a long dress. It may be a shortened version of a jacket or crochet of pastel shades (pink, blue, cream) with a long romantic gown.
A long cardigan to a long dress doesn`t always fit. An extended cardigan combined with a belt will look good on every woman who will put it on top of a long tight dress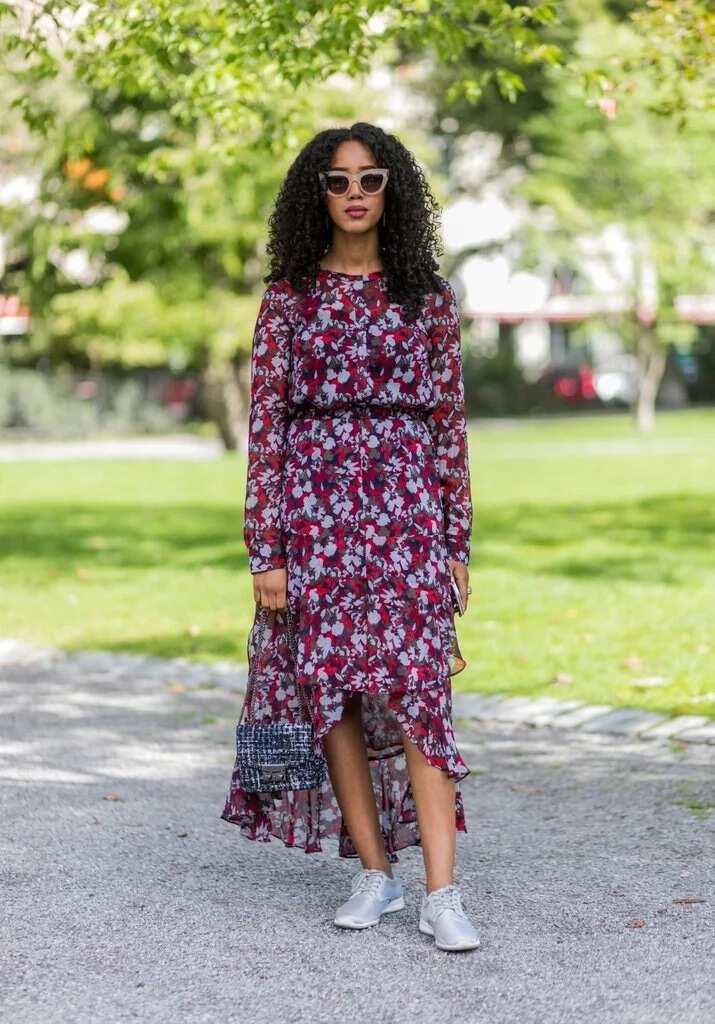 2. Shoes
An incorrectly selected pair of shoes will be not only uncomfortable but also can spoil the entire image. To prevent this, shoes should be carefully selected. To a long ankara gown, stylists recommend wearing shoes at low heel. Ballet shoes, high sandals, running shoes, and converse are perfect for creating an everyday image.
Sandals will also be relevant. Shoes in ethnic style with various decorative elements (straps, lacing, etc.) are a perfect option for a long dress.
When choosing shoes with heels, don`t forget that the dress is too long and will completely cover your shoes. Also, it is possible you will catch the hem for the heel and can be injured. Therefore, the choice of such shoes should be approached very carefully.
Fans of grunge style will be able to choose massive boots with rivets, chains, and lacing, like rockers or bikers.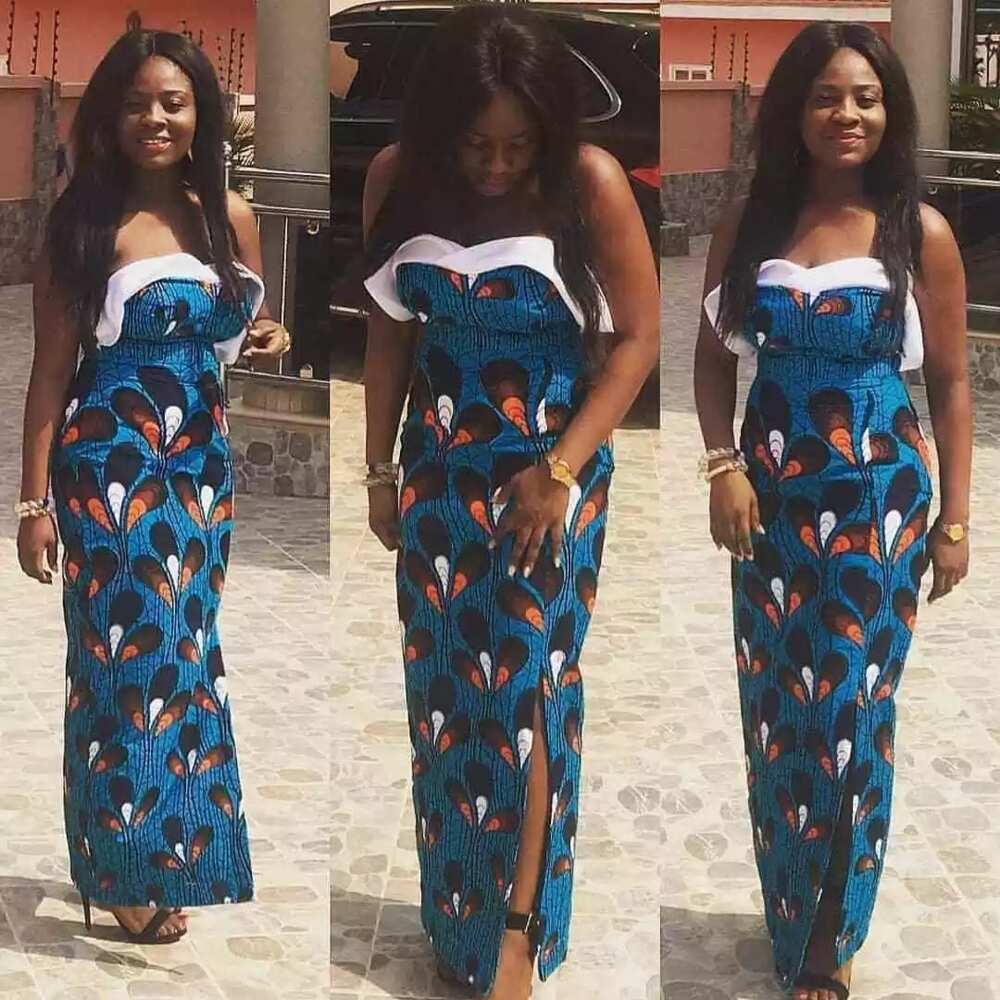 3. Accessories
To make the image complete and concise, it is important to choose the right accessories. A belt or strap on a long dress will help draw attention to the waist and, if necessary, shift the focus in the right direction.
All kinds of hats are popular today, as never before.
In summer, a wonderful addition to the maxi dress will be a romantic wide-brimmed hat and sunglasses
A dress with bare shoulders "requires" necklaces with stones or large earrings, and other in the oriental style - metal jewelry.
A belt is always appropriate to a maxi gown.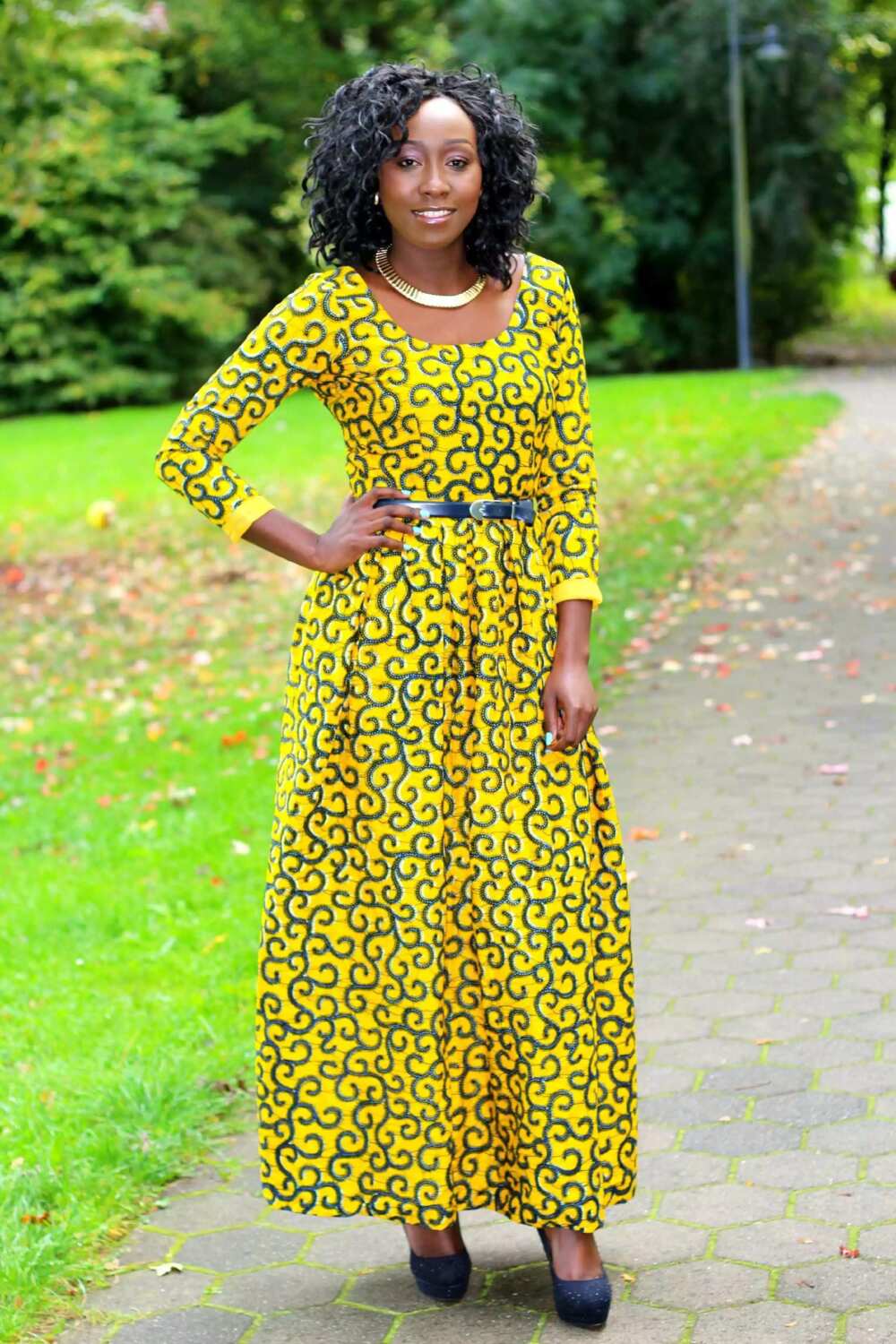 READ ALSO: Latest Ankara skirt and blouse styles in 2018
In our time, fashion plays the role of an indicator of the person`s status and lifestyle. A woman can choose any style of clothing to her liking. In the past centuries, ladies could not afford this and strictly follow the canons of beauty and fashion, but today, style has become a much more democratic concept. Modern clothes are so multifaceted that everyone can fully express themselves. Be always in a trend!
READ ALSO: Ankara top on jeans
Source: Legit.ng