There was tension on Saturday, August 18, at the site of the collapsed three-storey building in Abuja as residents of the victims of the incident commenced protest following the closure of rescue operation.
The angered family members insisted some of their people were still trapped underneath the rubbles.
The protesters were later dispersed by armed mobile policemen deployed to the site who used teargas.
READ ALSO: JUST IN: Heavy shooting reported in Port Harcourt by-election
Daily Independent reports that the combined rescue team left the site at 8am without evacuating any survivor or dead bodies believed to have been trapped beneath the rubble.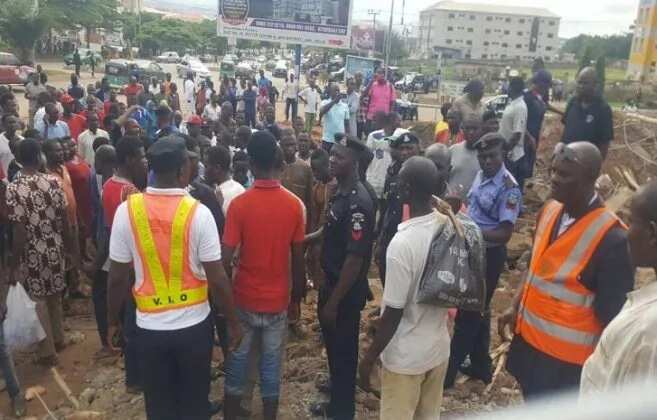 "As at 8:00am the rescue operation was stopped as officials of FCT emergency management agency, FCT fire fighters and Julius Berger were seen moving away their earth moving equipment from the site of the collapsed building.
"But some of the relatives and sympathisers have accused the rescue officials of not doing enough to enable them evacuate the victims who they believed are still trapped under the rubble.
"They explained that the debris of the first floor have not been totally removed and that there are chances that people are still underneath the rubble, particularly the food vendor and others workers," the report said adding that some of the relatives claimed that they were able to reach the victims beneath the rubbles earlier through their phones.
A relative who identified himself as Mohammed said: "I have a brother here. Yesterday we called our brother and we are talking to him under ground and he was complaining of heat.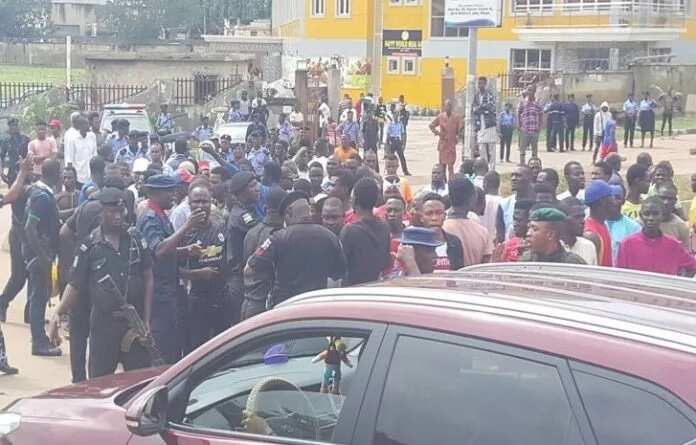 "But this morning we called him but we did not get him. So government did not do anything and our people are under the ground," Mohammed said.
Some others claimed the earlier rescue operation was carried out by them and not the government officials who came later.
They claimed that after the rescued the site engineer who broke his legs, he told them that they were about 18 in the building including his workers.
PAY ATTENTION: Read the news on Nigeria's #1 new app
The report quoted the acting deputy director (forecasting, response and mitigation) of the FCT emergency agency management authority, Florence Wenegieme, as saying: "As at yesterday (Friday), only one person died, the other people whom they claimed were in the building, we have been searching since last night and we have not be able to find any corpse or anybody alive.
"So we cannot say that there are still people inside because we have searched right deep into the building but we could not find anyone."
Legit.ng earlier reported that one person was said to have died while about 18 others were feared trapped after a building collapsed in Abuja on Friday, August 17.
The four-storey building was under construction when it collapsed on the workers and food sellers in the Jabi area of the city.
Nigeria Latest News: Osinbajo Orders Overhaul Of The Dreaded SARS | Legit.ng TV
Source: Legit.ng