Ramsey Nouah speaks on his 16 years of marriage
Veteran Nollywood actor, Ramsey Nouah may look like fine gentlemen who always has everything served to him, but this talented actor has shared details of his marriage that proves he knows how to get things done, especially in the kitchen!
Nollywood actor and filmmaker, Ramsey Nuoah has continued to maintain a healthy and scandal-free life as an actor and a family man. The prolific actor who got married in 2002, was the ladies' favourite and thus, how he has manage to remain married is a wonder to fans.
In a recent interview, he spoke about his marriage and how he has been able to sustain a happy home despite his status as one of Nollywood's most sort after actors with a huge female fanbase. Nouah attributed the success of his marriage to his wife's understanding.
He said: "My wife is special. She is not an ordinary woman. She understands things in a way many other women don't. That is why I say, an actor or actress, has to find that special person. It is not love that will bond you. Forget love, love dies. What sustains the marriage is companionship. If you cannot find companionship in your partner from the beginning, then you do not have a partner."
READ ALSO: BBNaija's Bambam flaunts hot legs as she steps out with the vice president's daughter in Lagos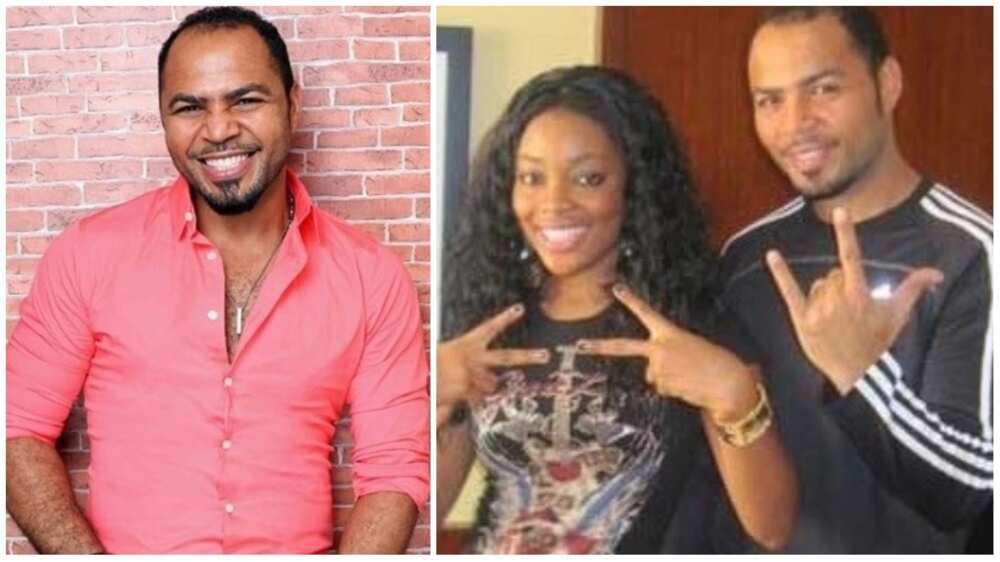 He went on to add: "Don't lust after a woman because of her beauty and don't lust after a guy because he is handsome. You must lust after the companionship that bonds you together. It should be like for some reasons you cannot do without her; for some reasons there is something about her that brings you home.
It may be her sense of humour; or the way she keeps the home. Same thing applies for the ladies; there must be something about him that you cannot do without. If this quality is not there, then you don't have a companion.
Speaking on gender roles in his marriage, Ramsey Nouah bragged about his cooking skills, revealing that he doesn't leave the complete management of the house to his wife. He said: "I cooked two days before having this interview. I am a great cook. No woman can do shakara for me oo. I made my stew and rice with smoked chicken. I grew up with my mum and with her, you must know how to sweep and do many other chores.
READ ALSO: 37 corps members survive ghastly auto crash along Lagos-Ibadan expressway, 19 terribly injured
He continued: "The thing is that everyone now has the perspective of wanting to live larger than life, forgetting the reality. We keep forgetting that if we don't do it, who will do it? At some point my wife got tired of house helps. We have three kids at home and we have to fend for them. I cannot leave everything for her, so I help out.
Sometimes we tell the kids to wash their plates. At some point I realized that my 12 and 13 years old could not sweep and that was very wrong. So we started forcing them to clean. Most kids of these days cannot sweep or clean. All they want to do is do is make their nails, make their hair and carry big phones and tablets around."
PAY ATTENTION: Get the Latest Nigerian News on Legit.ng News App
When asked to give advice to couples out there, Nouah revealed that there is really no advice as even after an advise is given, people will still go ahead to do what their hearts desire. According to him, the heart desires are laced with emotions and these emotions are hard to tackle.
"Nobody gives advice when it comes to matters of the heart. People say they are going for counseling and all but at the end, it is what is in their heart is still what they want to do. Because those things in your heart are laced with emotions and emotions are very hard to tackle.
When you have emotion that is full of jealousy, hate or anger, it is hard to break it until you exercise it. That is why when your dad screams 'do not follow that boy' the teenager does not listen until she has satisfied what her heart desires from the boy. Most times, you learn by experience.
Companionship is not easy. When everybody is running into marriages as if marriage wants to go out of fashion, take your time and be ready for it. Be ready to accept someone with his flaws. My wife has her problems and I also have mine. A lot of it actually and I know. You must be able to accommodate the other person."
Get the hottest gist on Africa Love Aid
EXCLUSIVE: 17 Years After Their Marriage. Ramsey Nouah Has This to Say About His Wife | Legit.ng TV
Source: Legit.ng