A Lagos-based barren housewife Bose Ogedengbe has been arrested by the police for brutalising a 13-year-old girl, Favour. Both parties are reportedly from Akoko Edo, Edo state, and lives on Bush Street around Anthony Village.
According to Punch, Favour's father who was identified as a farmer reportedly handed over his daughter to Ogedengbe's husband who is a close relation about a year ago. The young girl was a student of Mende Junior High School and was beaten for allegedly taunting her madam of being childless.
One of those who rescued the 13-year-old Favour, Wasiu Ismail, disclosed that the young girl was found around 6:30am on Friday, August 10.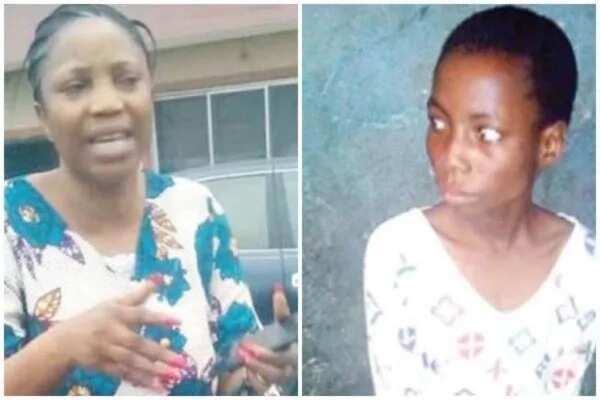 READ ALSO: 15-year-old Lagos girl went missing after leaving for church on Sunday (photo)
He said: "Around 6.30am on Friday, an elderly man who lives on this street brought the girl. He said he saw her with blood all over her body. When I queried her, she said her guardian's wife maltreated her every day and it was when it became unbearable that she decided to run away from the house."
Ismail added that when they querried the young girl on why she was beaten, she disclsoed that she washed some clothes the previous day and because she left some of the clothes outside, she was beaten.
After being asked if she would like to go back to meet her aunty, Favour disclosed that she is not interested in going back there because the woman might kill her. The teenager added that her madam beats her at the slightest provocation.
It was further reported that Ogedengbe later stormed the street and attempted to take the girl away but was not permitted by angry residents. The woman later came with police officers.
The woman said: "Her version of the story was a bit different. She said the girl abused her that she was a witch and that was why she had not conceived. She said the girl's grandma was behind the mischief."
A student, Suleiman Habeeb, who was there when the teenager was not released to the woman disclosed that:
PAY ATTENTION: Get your daily relationship tips and advice on Africa Love Aid group
"We told the woman not to think that she could use the police to harass us. We called different emergency numbers of Lagos State and sent distress calls to government agencies. Some youths wanted to beat up the woman, but we cautioned them. We are happy that the government has now taken over the case and we hope justice will be done. We want the government to take action against the woman. If you cannot take care of a child, return her to her parents and do your domestic chores yourself."
The police also disclosed that Favour has been taken to the Lagos state Ministry of Youths and Social Development. According to their public affairs director, Adeola Olabisi, Favour has fresh and fading scars to show for being beaten by her madam.
Star Chat: We are not lovers - Broda Shaggi and Aunty Shaggi | Legit.ng TV - on Legit.ng TV.
Source: Legit.ng