- Kabiru Tanimu Turaki, SAN, has said that he had no inordinate ambition to be the president of Nigeria
- The front-line presidential aspirant of the Peoples Democratic Party (PDP), stated this at while receiving a delegation in his campaign office
- The delegation was the National Executive Committee of the Nigerian Political Science Association
Front-line PDP presidential aspirant and former minister of special duties, Kabiru Tanimu Turaki, SAN, has said that he had no inordinate ambition to be the president of the country.
According to him, his decision to contest for the number one office in the land, was propelled by the desire to give qualitative leadership to salvage Nigeria from he said is its current socio-economic, political and leadership quagmire that the administration had put the country.
Turaki made this known on Friday, August 10, in his campaign office in Abuja, when he granted audience to the National Executive Committee of the Nigerian Political Science Association, who came on a fact-finding visit to know what agenda the aspirant had for improving the life of the average Nigerian.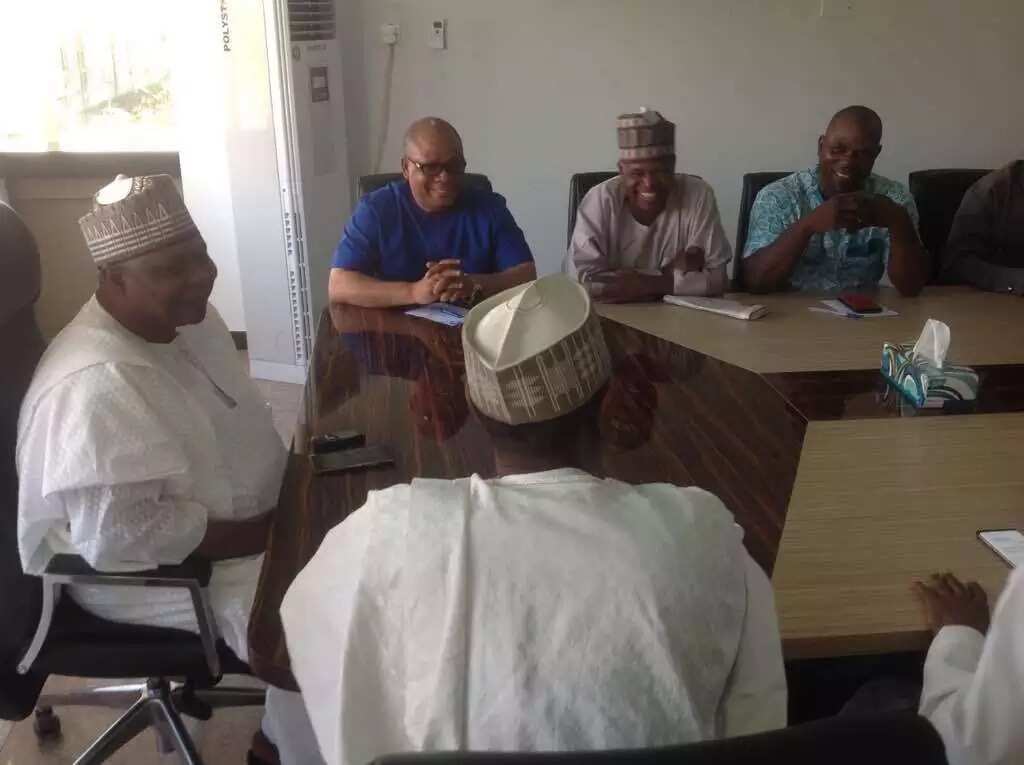 READ ALSO: Buhari will still run with Osinbajo in 2019 - Presidency
The association was led by its president, Professor Aloysius Michael Okolie of the University of Nigeria, Nsukka.
Turaki who urged Nigerians to take a more active interest in the governance of the country, pointed out that the variables for determining political leadership had changed as people now look beyond the character of the political parties to the quality of the candidates being presented for elective offices.
He stressed that a presidential material at this juncture of the nation's history "must be somebody who has integrity, credibility, well educated, knowledgeable, experienced and be able to build strong bridges of unity across the country. Somebody who will treat Nigerians fairly, equitably and decently, and above all, have the fear of God."
He assured the association that he has the vision and the necessary political will to lead the country, noting that he would bring trust, sense of responsibility and rule of law into governance.
He listed his priority ares as the tackling of the challenges of insecurity, addressing the critical question of unity including restructuring from different facets to promote equity and fairness, revitalizing the economy, pursuing scientifically-driven and value-added agriculture, infrastructural development and educational development driven by technology and geared toward employment generation.
"We would bring deliberate policy of reforms; genuine change as different from the propaganda stuff which the APC has been dishing out to Nigerians," he said.
The president of the association, Professor Okolie who decried the level of deficit in governance in the country, however commended Turaki for his capacity and valuable ideas as well as for being sufficiently educated.
PAY ATTENTION: Read the news on Nigeria's #1 news app
Meanwhile, the Northern Missionary Forum, a fellowship of Christian Missionaries with membership drawn from states in Nigeria, USA and Taiwan, has endorsed the aspiration of Turaki.
The endorsement came after the 18th annual missionary conference held by the forum recently.
In a letter to the aspirant, the national coordinator of the forum, Bishop David Ina, D.D. (JP), explained that, "the leadership of the body has declared its unalloyed support for Kabiru Tanimu's quest to lead the country at this critical period, in recognition of his steadfastness, consistency, commitment to worthy beliefs, and his sterling leadership qualities when he was a minister and also outside public service."
PDP's Magnificent 7 for 2019 on Legit.ng TV
Source: Legit.ng