- A Nigerian lady has been thrown into mourning after loosing her husband to the cold hands of death
- The pregnant mother of two revealed he died shortly after returning from church service on July 8
- She shared the sad news on a closed Facebook group, seeking for support in her trying times
Every couple's dream is to live a long and happy life, long enough to watch their children grow and become something in life. Sadly this will not be the case for a Nigerian lady who lost her husband of 4 years, leaving her to cater for 2 kids and a baby on the way.
Identified as Adaeze Angela Anabaraonye, she narrated the sad news of the untimely death of her husband, Tochukwu Stanley Anabaraonye who died after he returned from Sunday mass on July 8. According to Adaeze who is currently 4 months pregnant, everything seemed normal as he even sang in church.
The distraught widow revealed that she finds consolation in the fact that he loved God and served Him with all his might. According to her, on that fateful Sunday, Tochukwu played the keyboard in church, sang with the microphone, took Holy Communion. After Mass, he asked her to take photos of him and their two children in the Church Chapel.
READ ALSO: Mom told Olu Jacobs I was adopted the first time she met him - Veteran actress Joke Silva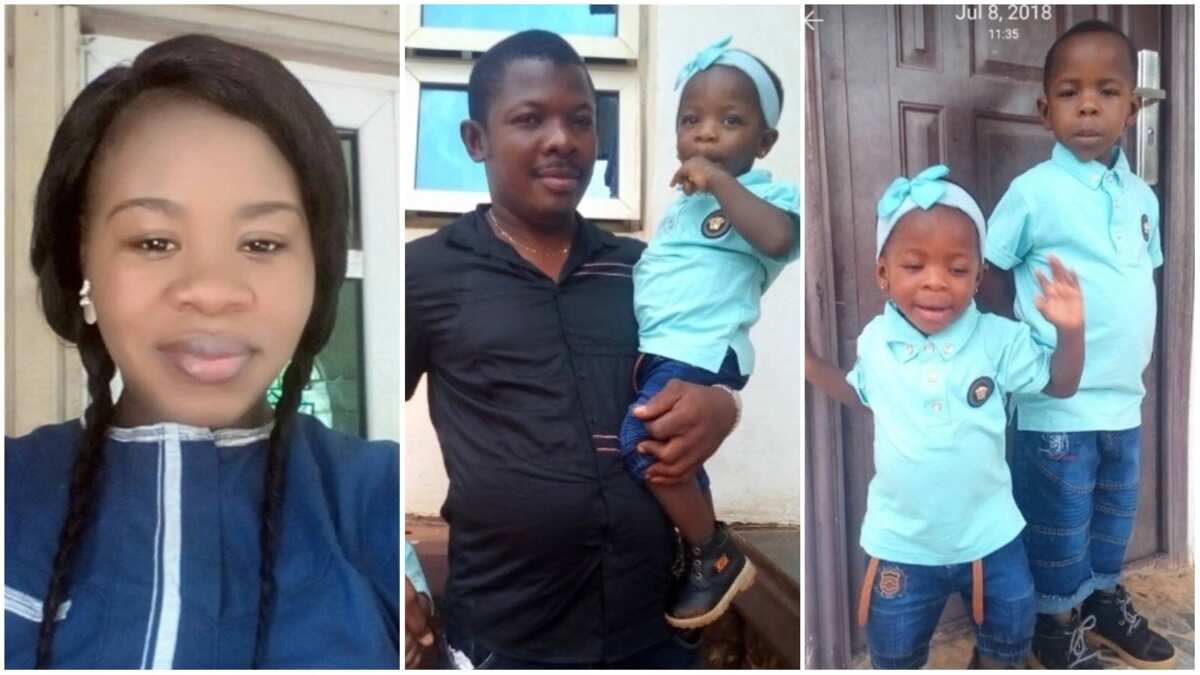 She wrote on the Facebook group: "I lost my husband to the cold hands of death last month July 8 on Sunday after Sunday service. My consolation is that he had the fear of God. Praised Him that Sunday, played the keyboard, sang with the microphone and told me to snap him and the kids in front of the Chapel. He served God during his short stay on earth.
Now am confused not knowing the next step to take because am heavy and my first child of 4yrs old keeps asking of his Daddy while the second child keeps pointing to different directions at night saying daddy daddy.
Please remember me in prayers that I should deliver safely and should also be strong for these children because my heart beats faster than normal.
READ ALSO: Photo showing Taraba 9 corps members taking selfie before drowning in river
Please pray for a sister in need of God's protection, blessing and intervention.
Please let your prayers touch God for because I believe in psalms 121vs1 which says I look up to the mountain where will my help come from? My help will come from the Lord who made heaven and earth.
I only rely on Him. Halleluyah........... Glory be to our Heavenly Father. In every/any situation I will glorify your name. My husband has gone to continue singing and praising our glorious God with the heavenly cherubim and seraphim. Weep no more everyone for Tochukwu Stanley Anabaraonye is with the Lord. He prepared himself, went to Church: played keyboard, sang with microphone, took communion.
After Mass took photos with his children in the Chapel. Let place our hope in the Lord for He is the author and finisher of our faith. My Hubby, your children and I will continue pray for you and love you always. Congratulations on your new address. One day we will all be together in the presence of the Lord. Rest in peace Honey m. We will be strong for you."
PAY ATTENTION: Get the Latest Nigerian News on Legit.ng News App
She went on to describe her time spent with him and the kind of person he was in yet another Facebook post. She wrote:
"Just four years in marriage, I felt like I have been married for like fifty years. I enjoyed marriage. My husband wasn't perfect but he worked/walked toward perfection. God during my time give me the grace to be in your presence even at my last moment. Please take care of these children and I put the evil ones to shape. Nothing can shake my faith and trust in you again since I can withstand this situation in this life. I can do all things through Christ that strengthens me."
Get the hottest gist on Africa Love Aid
See post below:
This is so sad.
Nigeria Latest News: Woman Laments Bitterly After her Sister Sent Assassins to Kill Her| Legit.ng TV
Source: Legit.ng