Due to avocado benefits, it has quickly gained popularity. There are many recipes for home care products, made with fresh avocado pulp or oil. The avocado pulp gently softens and soothes the skin, deeply moisturizes and nourishes the hair and nails. After trying the masks from avocado for the hair and face, you cannot give it up.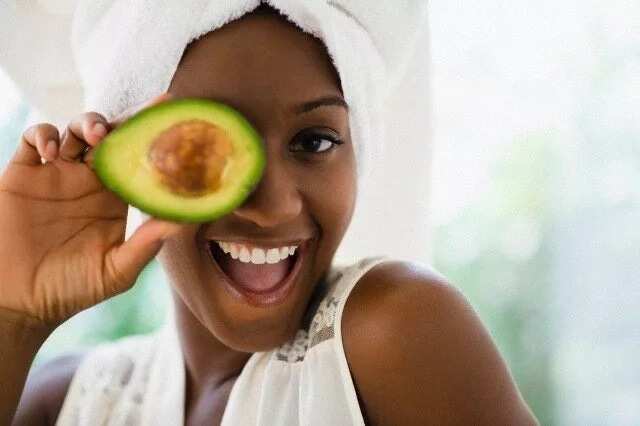 Benefits of avocado for skin and hair
The pulp has almost all the vitamins necessary for skin health, avocado is simply an indispensable basis for making home masks and peelings for the face skin. Avocados are rich in Vitamins A and E. They help restore and regenerate the skin, increase elasticity. Vitamin E is able to protect the face from the harmful effects of free radicals. It does not allow the face to grow old and fade, prevents skin dryness, increases the elasticity of the skin, reduces swelling, bags under the eyes, swelling, prevents and reduces the appearance of pigment spots associated with age-related changes in the body.
That's why avocado is ideal for caring for aging and flabby skin. In addition, the avocado pulp has a cleansing property and is an excellent base for preparing masks for oily and combination skin.
The avocado is also an excellent care product for dry and sensitive skin.
grind the pulp in puree,
add yolk to the pulp,
a spoonful of honey and a spoonful of olive oil and apply a thick layer on the skin,
leave for half an hour.
To make a scrub from an avocado:
mix a spoonful of pulp,
a spoonful of ground oatmeal and a little yogurt,
rub your face with this mixture.
Such a scrub perfectly suits any skin type. Scrub from avocado gently and deeply cleans pores of oily skin and exfoliates dead cells.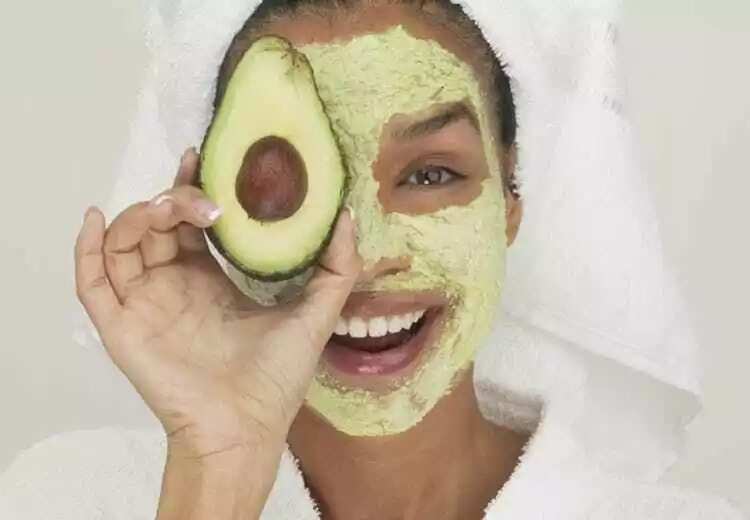 READ ALSO: Benefits of rice water for skin and hair
Besides other avocado benefits for skin, you can also prepare an excellent moisturizing and cleansing mask. Take a spoonful of chopped pulp and mix it with whipped egg whites. This mask is applied to the face with a thick layer and left for half an hour, removed with cool water. In addition to the cleansing action, this mask also helps to narrow the pores on the porous skin.
How to use avocado for hair
Avocado contains many important phytochemicals, antioxidants, vitamins A, E, D and B6, amino acids and minerals such as potassium, sulfur, copper, iron and magnesium.
But most importantly, fatty acids (it has a high fat content - almost 30%), which provide our hair with nutrition and intensive moisturizing, keeping moisture in the hair cells.
Therefore, avocado promotes hair growth and prevents their loss.
It gives shine to the dull hair.
It strengthens the roots of hair, restores damaged and lifeless hair.
Having prepared home care products from avocado for hair, you will help your hair become stronger, get rid of dandruff, restore strength and shine to curls. Masks based on avocados actively restore hair and protect against harmful sunlight, promotes hair growth and strengthening.
To restore dry and depleted hair, prepare the following mask: grind one ripe fruit of avocado in puree, add three spoons of olive oil and one egg. Mix everything thoroughly and apply to wet hair, wrap the head with a film and a towel and leave for a couple of hours, rinse your head with an ordinary shampoo.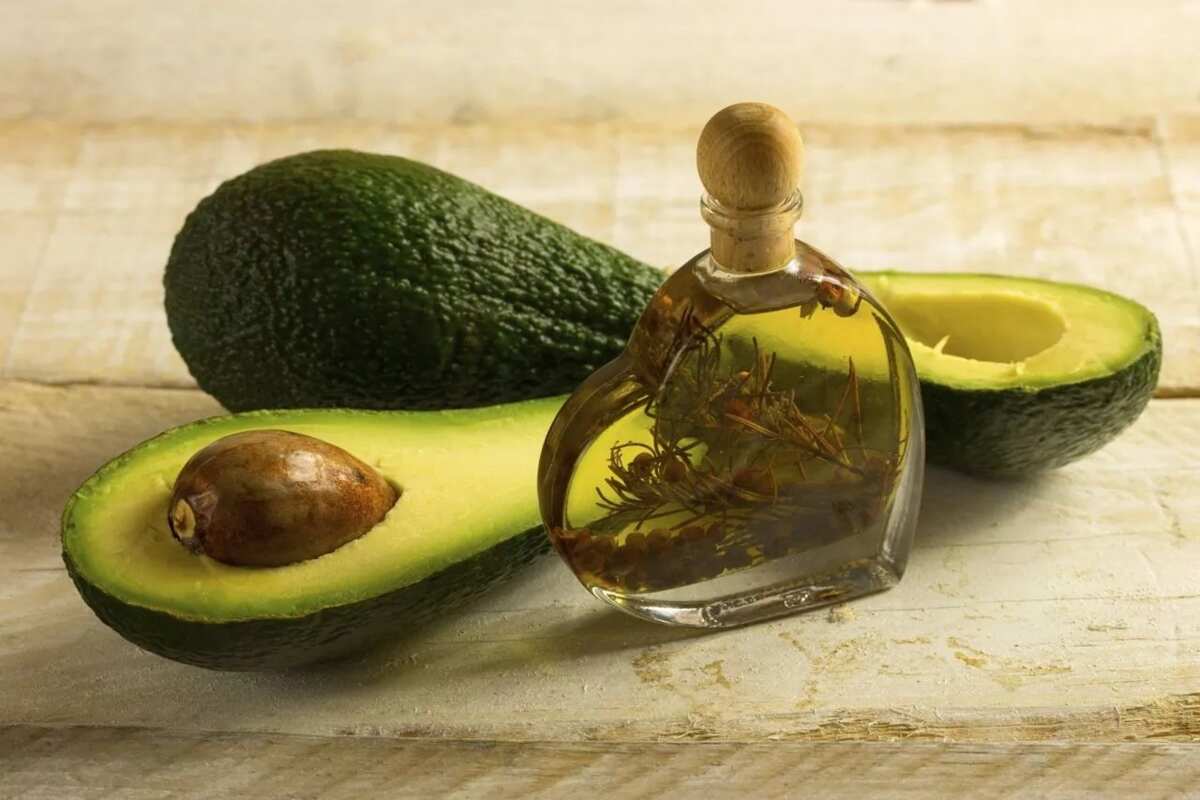 For oily hair, you can also prepare an effective mask of avocado, which deeply nourish the hair and dry the scalp. Take the ripe fruit and chop it in a blender until it is puree. Then add three spoons of low-fat milk and two tablespoons of natural honey. This mask is applied to the hair for a minimum of one hour.
To improve hair growth and strengthen hair fall out, you can prepare the following mask.
Take the fruit and grind it in a blender.
Then add a spoonful of mayonnaise and a spoonful of olive oil to the puree.
Whisk it well and apply on the hair for one hour.
Wrap your head with a warm kerchief.
If you really want to improve your hair with avocado, make masks at least twice a week. For heavily weakened hair, the moisturizing mask can be left overnight. It is best to prepare masks of a soft ripe avocado, from which you can very easily cook puree.
If you do not have time to prepare the masks, just chop one fruit into puree and apply a mass to your face or hair, leave for half an hour and wash it off. The result is smooth, silky hair and clean, fresh skin!
This fruit for the hair and face is the most urgent help! Avocado benefits for skin and hair are numerous and everyone can find something for himself.
READ ALSO: Top Rihanna's hairstyles: short, curly hair and braids
Source: Legit.ng