- The rally was held to show the constituents opposition to the decision of the senator to defect from the APC
- The protesters carried placards that accused Senator Shitu of being corrupt, a 'Saraki-boy' and a poor opposition to President Buhari who they claim will remain in office till 2023
- The protest was led by Bala Umar, an APC chieftain and close ally of state governor Badaru
No fewer than hundreds of Jigawa state residents on Sunday, August 12 protested in the streets of Hadejia local government area against the recent defection of Senator Ubale Shitu from the All Progressives Congress (APC) to the Peoples Democratic Party (PDP).
Premium Times reports that the protesters moved in a procession all the way to the emir's palace chanting against the federal lawmaker and accusing him of being a thief for rejecting President Buhari and APC.
At the emir's palace, they demanded Shitu's resignation from the National Assembly.
READ ALSO: APC defeats PDP again, wins Bauchi bye-election
According to the report, the convener of the rally Bala Umar, who is a chieftain of the APC and ally to Governor Mohammed Badaru, told pressmen that they protested to that Senator Shitu's defection to PDP was not approved by them - his constituents.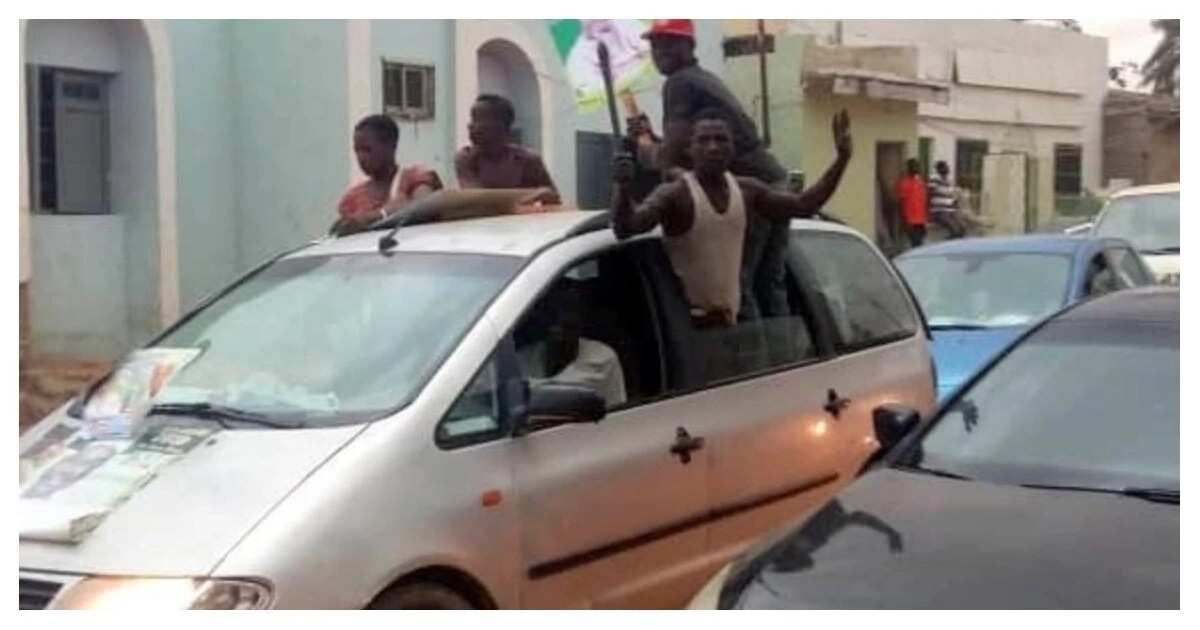 He said: "Before Mr Shitu defected to PDP, whenever you came to his official residence in Hadejia, you will fine hundreds of people with him. But since he announced his defection to PDP, he is now sneaking out and in of Hadejia in fear."
Senator Shitu, who represents Jigawa North-east Senatorial District, is one of the fifteen senators who recently defected from the APC to PDP on the floor of the Nigerian Senate.
PAY ATTENTION: Install our latest app for Android and read best news on Nigeria's #1 news app
He is said to be a strong opposition to Governor Badaru and had even reportedly vowed to help unseat the Jigawa state chief executive before he defected from the APC.
Meanwhile, Legit.ng reported that a former governor of Jigawa state Sule Lamido, on Monday, August 6, claimed that the APC will not return to power in the forthcoming 2019 presidential election.
Lamido said Nigerians who voted the party into power in 2015 are currently battling with hunger and abject poverty and the people are angry with the President Muhammadu Buhari-led government.
He also alleged that Buhari is incompetent to lead the country for a period of another four years.
The Next President of Nigeria. Who Will Win the 2019 Elections? - on Legit.ng TV