Latest Aso Ebi styles on Bellanaija
Enjoy the latest Aso Ebi styles on Bellanaija that inspire! Choose the brightest Bellanaija images and create beautiful outfits for festive occasions. If you have some imagination and make efforts, you will be a queen of the evening!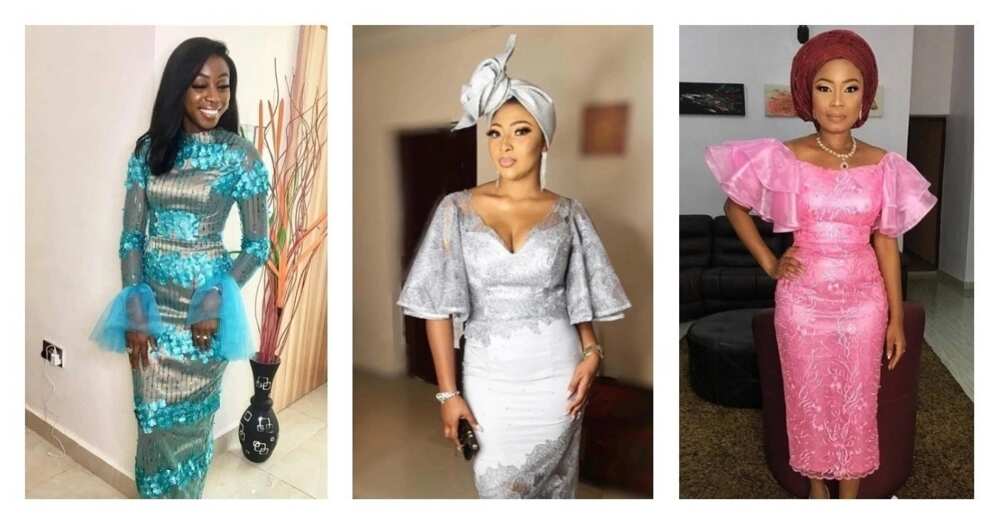 It's difficult to come up with a more suitable style of wears for all kinds of festive events than Aso Ebi style. Stunning, beautiful, and at the same time very elegant evening outfits - it's certainly Aso Ebi. The mix of ultramodern fabrics and decor with traditional motifs is also Aso Ebi.
Peplum or mermaid styles as well as flared sleeves in combination with the latest fashion trends: one shoulder, multilayeredness, fringe, and feathers are characteristic of Aso Ebi too.
Bellanaija closely follows the latest in Nigerian fashion, including this beautiful and feminine style. We offer to your attention the brightest Aso Ebi images from Bella Naija fashion.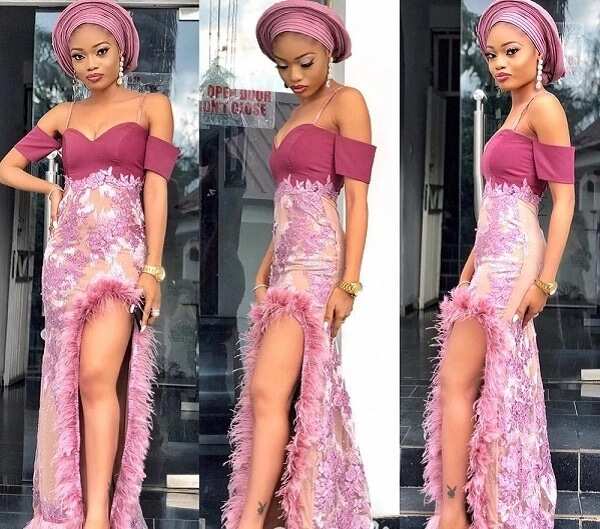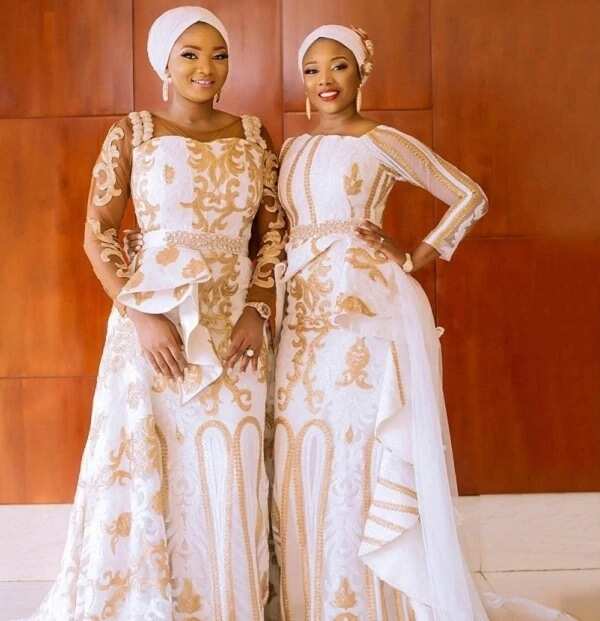 Latest Aso Ebi styles on Bellanaija
Let's start with the textiles. In Aso Ebi outfits expensive fabrics with complex texture are usually used. The fabric for attire can be shimmer and sparkle. Besides, it may have a pattern of varying complexity. Most often it's floral or ornate ornament. But strips or other geometric patterns are used too.
The 3-D volume pattern are very popular now. In general, Aso Ebi outfits are characterized by a combination of different fabrics and textures.
READ ALSO: Latest Aso Ebi styles 2018 for ladies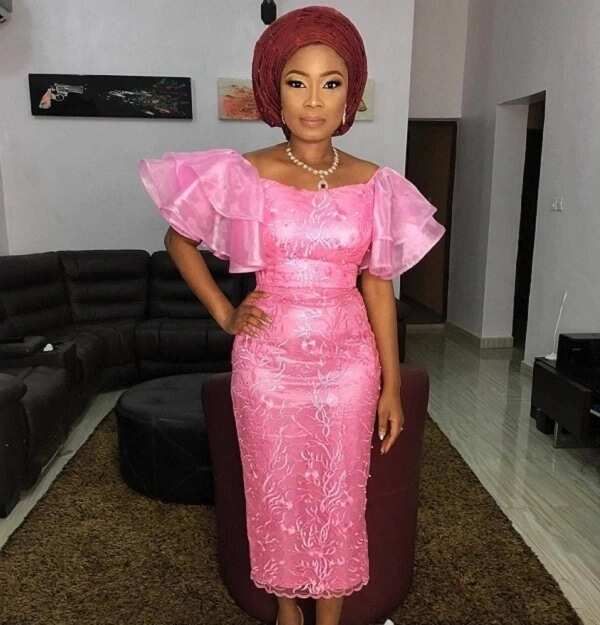 Chiffon, various kinds of lace and other textiles with a pattern on a transparent or translucent basis adds lightness and chic to Aso Ebi wears. Ankara fabrics can also be used for Aso Ebi styles. The more slender the girl, the more complex combination of textiles she can afford in the outfit.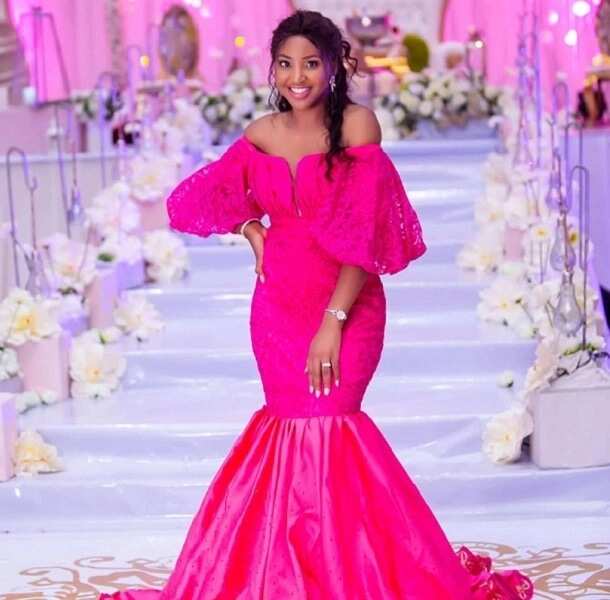 The female Aso Ebi attire is mainly a dress or skirt and blouse. The length is usually maxi or below the knee. The silhouette is usually fitted. The dress-case of midi length can serve as the basis for Aso Ebi outfit too. These are common features for this style. Style, tailoring, fabrics' combination, decorative elements are what you need. There are plenty of ideas. See Bella Naija latest Aso Ebi styles and be inspired.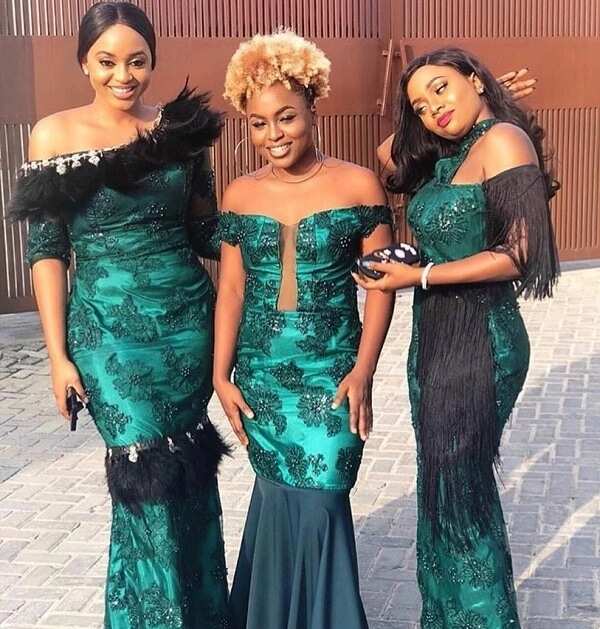 Aso Ebi styles on Bella Naija: main features
The classic bottom of the dress is a narrowed silhouette or mermaid style. The frill for the so-called 'tail' begins from the knee or slightly higher. The element can be single-layered or multi-layered and have different lengths. The front part is usually shorter, but the back is longer. The single-layered frill is made of dense fabric. The light multilayered 'tails' of different length are made from fabrics like chiffon. Also, the frill can be decorated with lace, embroidery, feathers, etc.
READ ALSO: Latest Aso Ebi styles with cord lace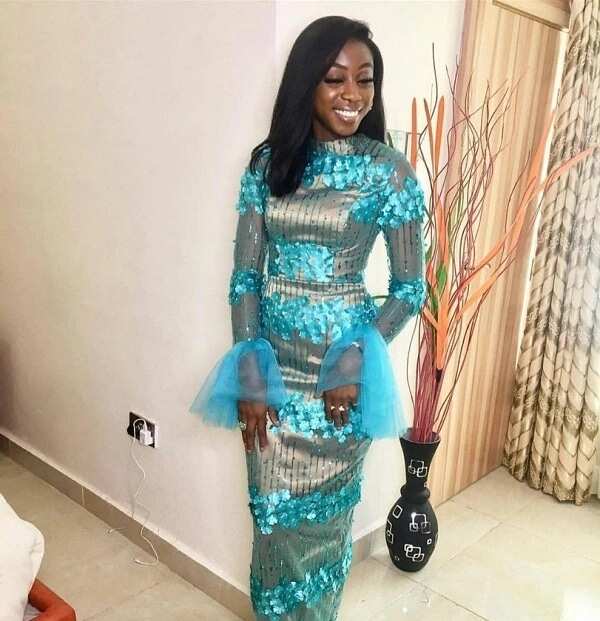 Often the bottom of the dress or skirt is sewn from a dense fabric without a pattern. But above it, another layer of thin transparent fabric with a beautiful floral or ornate picture or the finest and airy French lace is added. And both layers can be of the same length or different. It looks a great option, where the transparent upper layer of the fabric is slightly longer than the dense base.
There are models where the dense underdress has a length to the knee and even shorter, and the upper transparent one has a maxi length. A lady with slender legs looks perfect in such an outfit.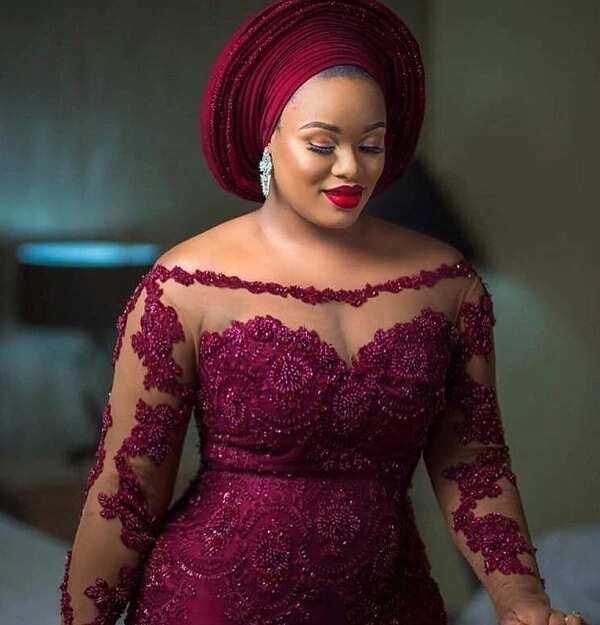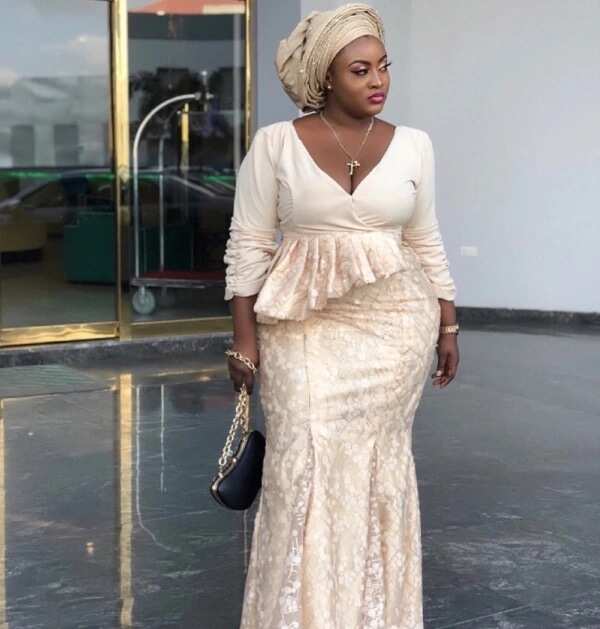 Latest Aso Ebi styles: new trends
The top of the dress or blouse usually has more options. We can see here a lot of different trims and more complicated tailoring.
In Bella Naija photos, all the models are sewn fitted, and the waist is beautifully underlined. There are also many décolleté options: from tight and open shoulder bustier to a multi-layered mix of dense fabric with thin and transparent textile.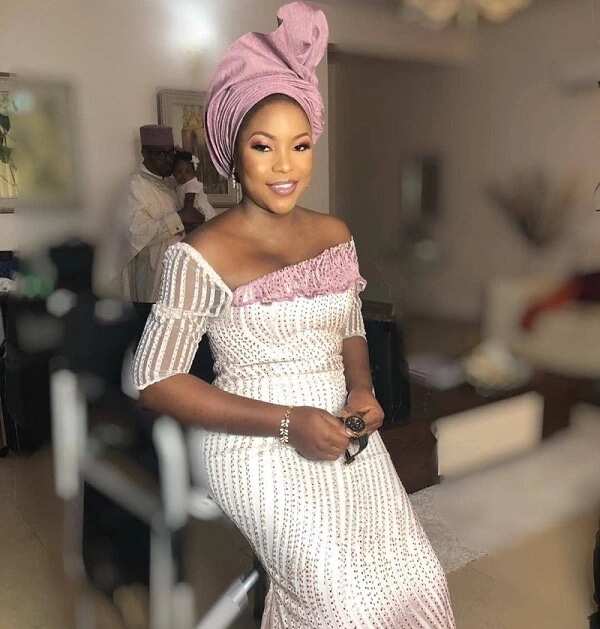 The necklines of dresses and blouses are both plane and decorated with trendy ruffles, feathers, lace, bows, appliqués, sequins, and beads.
READ ALSO: Bella Naija iro and buba styles 2018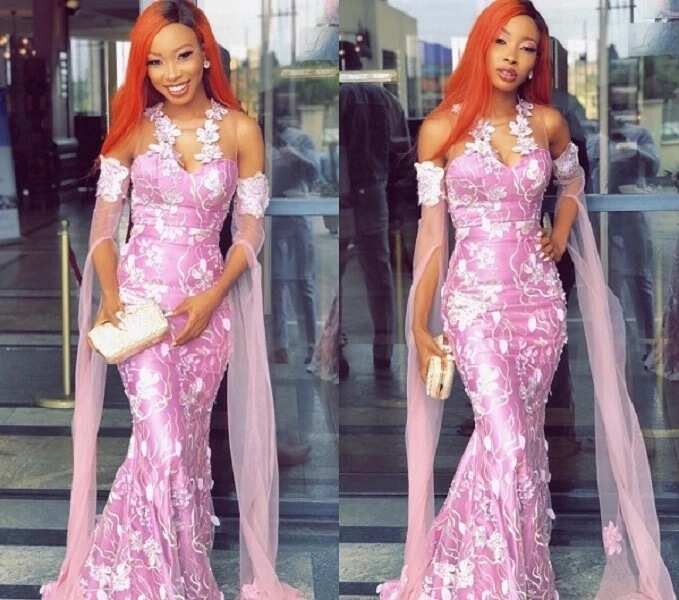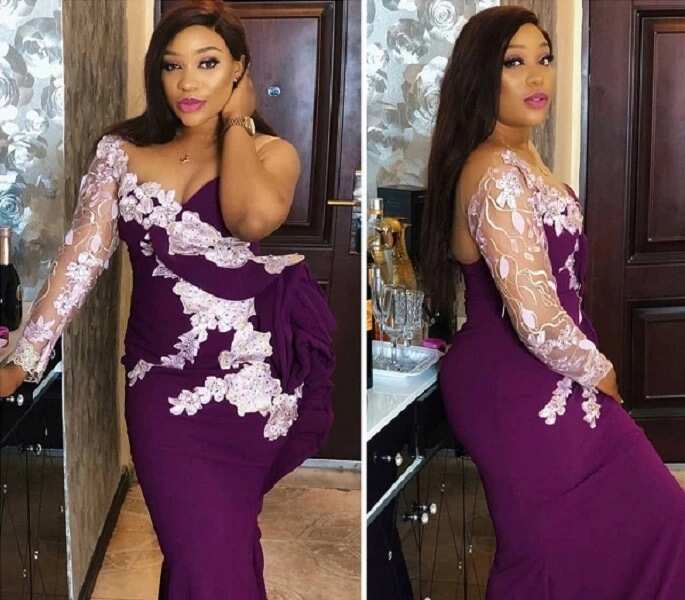 One shoulder with chiffon drapery and flower-shaped decor look very original. And in general, open shoulders is the trend of the season. So safely choose cold shoulder Aso Ebi styles. See a lot of Bella Naija photos.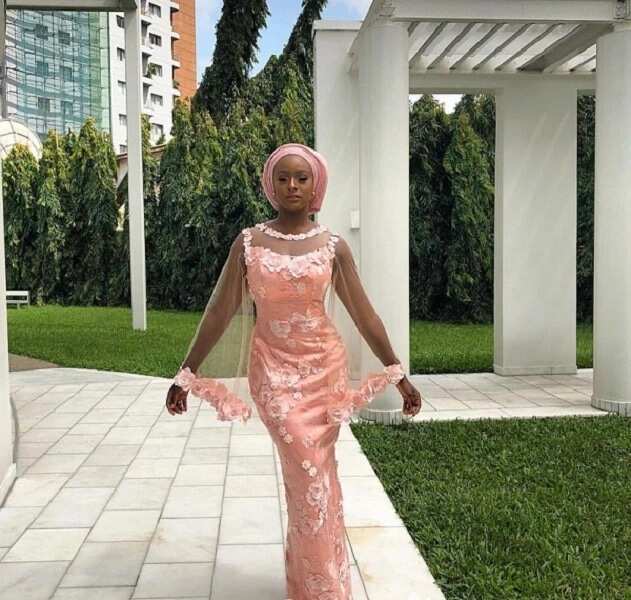 One more element can add solemnity and sophistication, as well as some intrigue. It's a cape or a train. As a rule, they are transparent or translucent. The length can only cover the shoulders or be up to the waist, knee or hemline.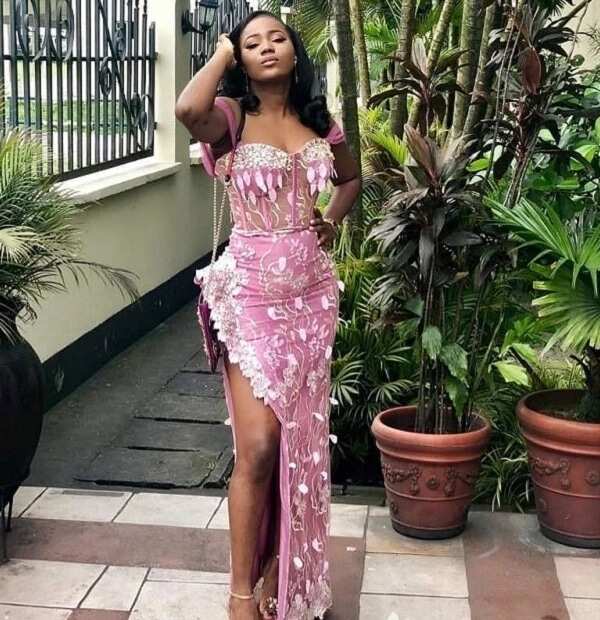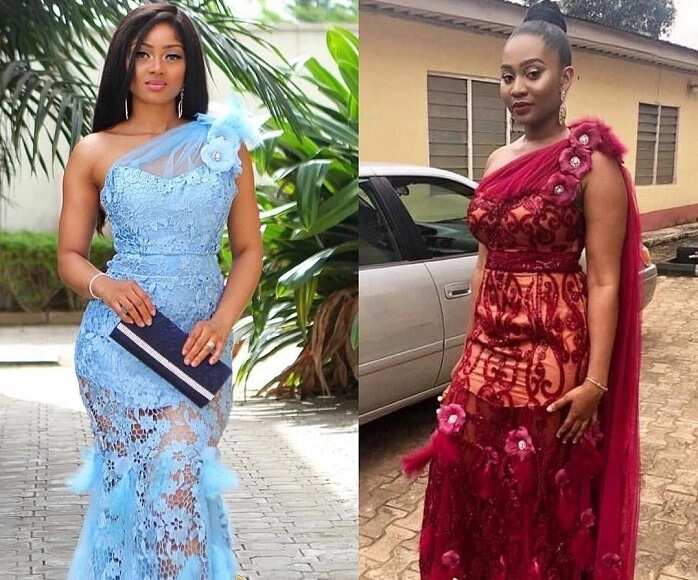 Aso Ebi Bella décor and colors
The decoration of such outfits impresses deeply. Frills and flounces of different configurations: many transverse or one longitudinal section through the entire dress one or multi-layered. Also, we can see bows of different shapes and size. Besides, some wears have flowers made of fabric. Others are beaded with a lot of small beads or some large stones. Feathers and fringe are also present.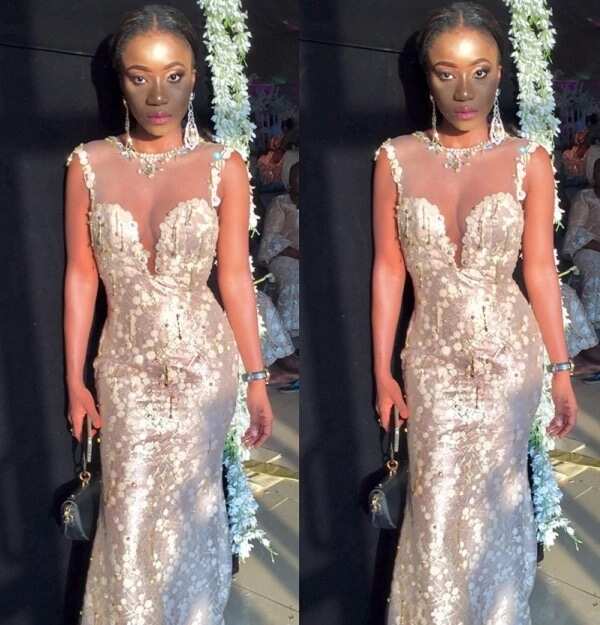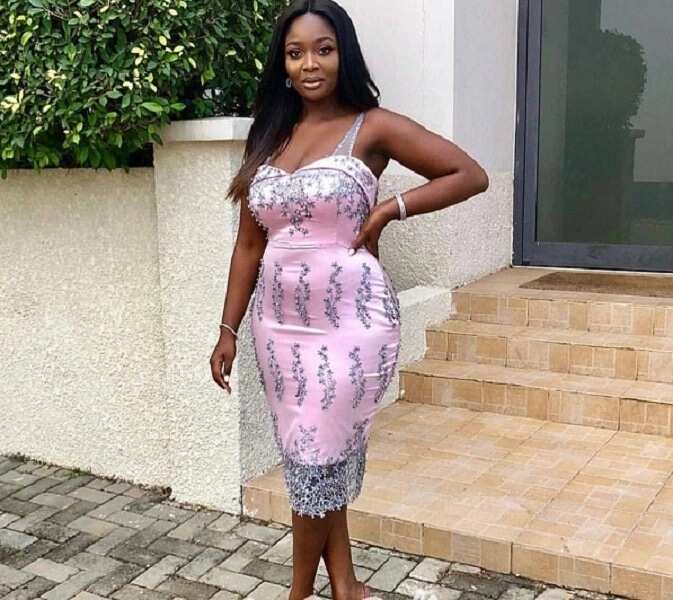 The color scale of Aso Ebi outfits is also diverse. White, gold and silver tones are 'must have.' Red, marsala, ash-pink, a combination of blue and white, dark green, purple and lilac, as well as peach colors are also loved by Nigerian fashionistas.
The ladies' fantasy knows no bounds. Their love for beauty and inspiration allows creating beautiful Aso Ebi outfits presented by Bella Naija.
READ ALSO: Bella Naija African dresses you will adore
Source: Legit.ng