- Nine corps member drowned in a river in Taraba state while on a picnic
- A new photo has shown the dead nine corps members taking a selfie before the water came upon them with the speed of a lightning
- One of the survivors narrates how it all happened while an indigene reveals drowning is a yearly occurrence in the river
A newly released photo shows National Youth Service Corps (NYSC) members who drown while on a picnic at a river in Mayo-Sebri village in Gashaka local government council of Taraba state taking a selfie at the waterfall just before drowning.
The 23 corps member had gone on a fun loving picnic on that fateful day of August 4, before nine of them lost their lives in the river upsurge.
One of the 14 survivors, a male corps member, who was lucky to be alive to tell the story narrated how the tragedy happened and his survival. He said:
PAY ATTENTION: Install our latest app for Android and read the best news about Nigeria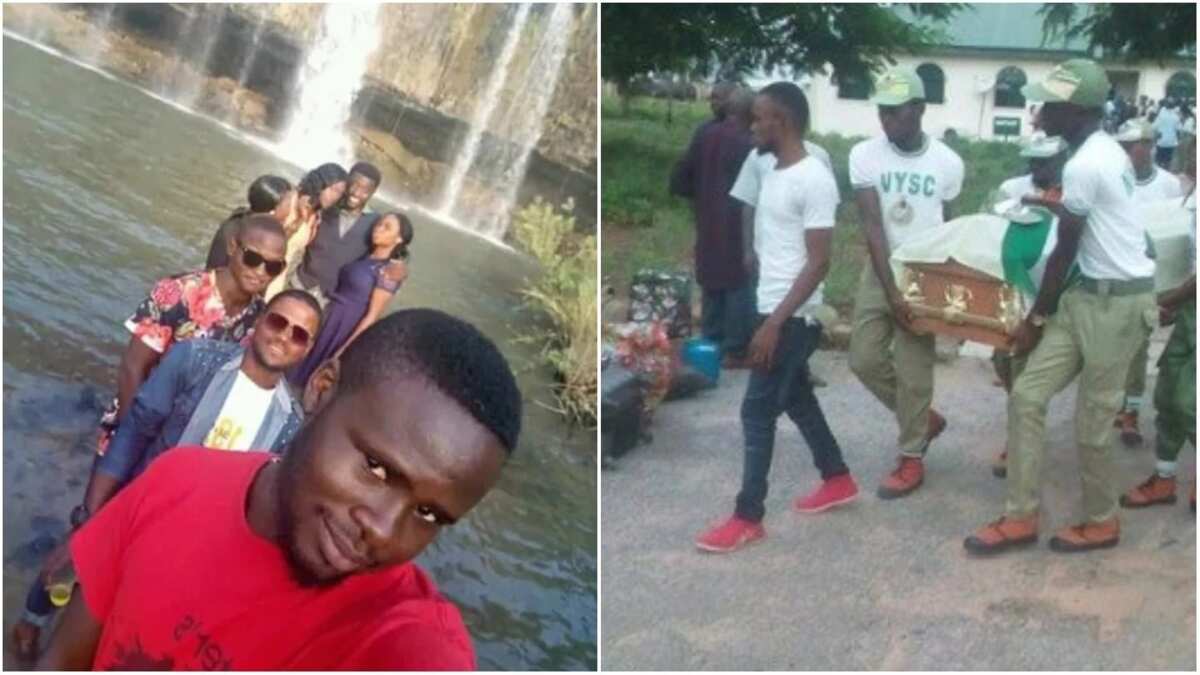 "We went for picnic, 23 of us. We went to a waterfall. That was the first place. After taking pictures, we went to another side where there are beautiful rocks with clean water flowing under them. The water was very low though. After taking pictures there, eating and drinking, we were about leaving when someone just shouted seeoooh.
"When we turned, we saw very dirty water coming with so much force and speed, the kind of speed I have never seen in my life, coming from a distance of about 100 metres. We were almost leaving the place but within seconds, the water got to our position. I don't know how I jumped out."
READ ALSO: Robbery victim offers N250k for the recovery of his passport and laptop in Lagos
However, one Idris Musa who claimed to be a resident of the community where the river is located, Mayo Selbe, disclosed that yearly, one to two persons lose their lives in the river. This made the indigene to name the river the nickname Kogin Mutuwa (Hausa word for River of Death). He explained further that many tragedies have happened in the river over the years but were not reported. He said:
"The water rushes down with great force and speed once it rains up here."
Legit.ng had earlier reported that tragedy struck in Taraba state on Saturday, August 4, as nine members of the National Youth Service Corps in the state drowned in River Mayo-Selbe, Gashaka local government area. It was also reported that only seven of the drowned bodies were recovered while the remaining two were seen days after.
NYSC members doing little wonders - on Legit.ng TV :