It's a red-letter day for billionaire businessman Chima Desmond Anyaso as he celebrates a nuptial of five years old with his wife Adanna Anyaso.
The affluent businessman who was in good spirits announced to people in a good natured post that his marriage was five years old today. He seemed very grateful for the journey so far and celebrated the day with his wife.
For Chima Anyaso, the anniversary meant a lot for him as it implied he could show off and extol the mother of his two beautiful children Zala and Zola.
The successful entrepreneur showered his wife with a lot of praises and called her a woman of inestimable values.
READ ALSO: Billionaire businessman Chima Anyaso shares adorable photos of his mother and siblings
In addition to the standup ovation the philanthropist accorded his wife, he also prayed that their relationship of five solid years continue to kept in love by God, peace and good health.
The proud father of a girl and boy child saw into the future and wished that he and his wife would see their children's children:
"It's been five solid years with this wonderful woman of inestimable values. My prayer today is that God will continue to keep us together in love, peace and good health to see our children's children in Jesus name, Amen!!!"
PAY ATTENTION: More Nigerian News on Legit.ng News App
To complement his praises, prayers and wishes, Chima shared pictures of his wife and himself. The pictures were reminiscent of beautiful memories that included their wedding moments, maternity shoots and other lovely pictures of them together.
About the same time last year, Legit.ng shared details of the couple celebrating their fourth year anniversary. Just like last year, congratulations are in order for them this year.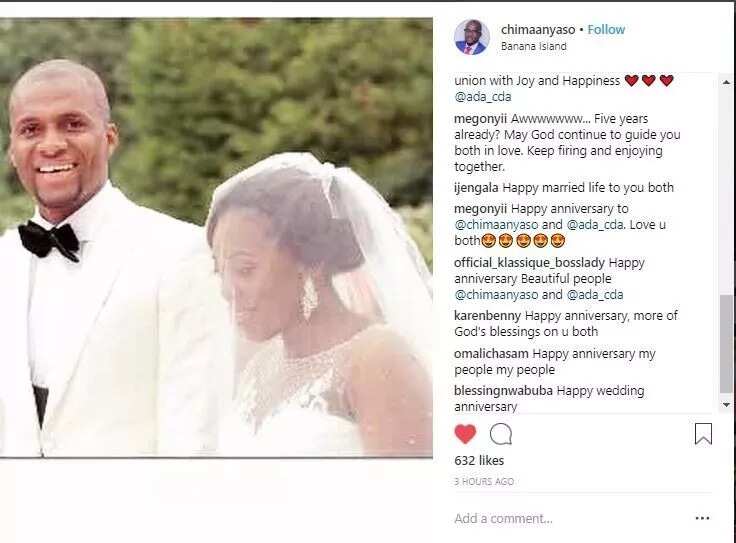 PAY ATTENTION: More relationship gist on Africa Love Aid
The Chief Executive Officer (CEO) of Caades Oil and Gas Limited is also a politician and he currently intends to run for a position in the upcoming 2019 election. The CEO and owner of the Chima Anyaso Foundation is vying for the post as member of the Bende Federal House of Representatives.
He has been known for his contribution to the Bende community where he is contesting for a post. For this, he is referred to as the Lion in Bende. But even more than that, Chima is celebrated more as a lover of his family and a lover of Nigeria.
Nigerian Air Force Day Celebration 2018 (54th Anniversary) | Legit.ng TV