Short hairstyles for thick hair
Are you in search for short hairstyles for thick hair? We have a pretty selection just for you. Here you will find many lovely variations of styles, colors, textures and stylish recommendations. Everything you need to do is choose the one that you love most and find a good hairdresser to do it for you!
The main problem of people with thick hair is, actually the thickness of their hair. They have lots of hair and don't quite understand what to do and how to style their hair. This is why short hairstyles work very well for them and help them keep their hair always attractive and cared for.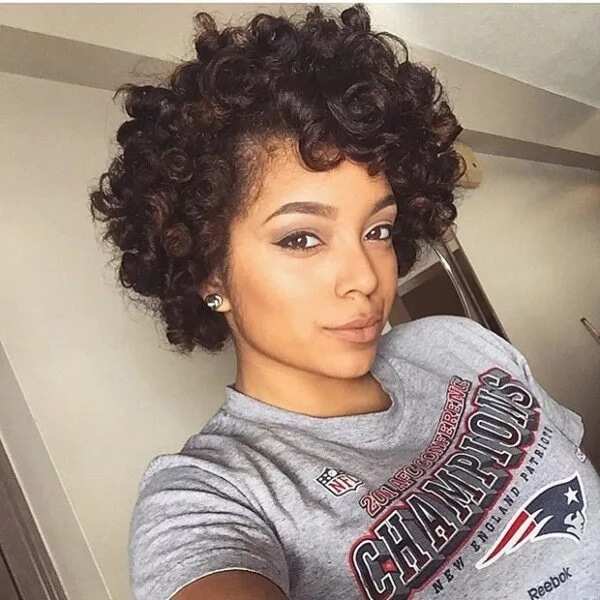 READ ALSO: Crochet hair styles for kids in 2018
Why short thick hair hairstyles? Short hair requires less effort, time and means spent for its beauty care. Besides that, short hairstyles are extremely trendy this year. All possible types of female undercuts, bobs, pixie styles – these beautiful solutions are waiting for you and they will definitely make your life easier.
A collection of the hottest short hairstyles in 2018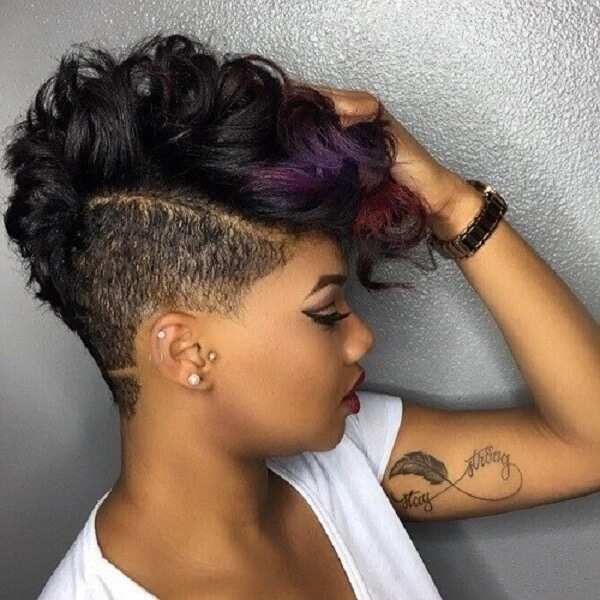 This is a variation of the extremely popular undercut when temples and sides of the head are almost shaved and the central strand of hair is left untouched. This is a haircut that will match your face better than anything else: African ladies look amazing with such hairdos. Don't forget to add some coloring to make the hairstyle and life a little brighter.
One half pixie, one half Mohawk
This is an edgy style, remember it, but utterly feminine with all those soft curls and waves. If you are not bold enough to wear a Mohawk hairstyle but want something more daring and unusual than a common pixie cut, give this one a try. Be ready to turn all heads as you pass by!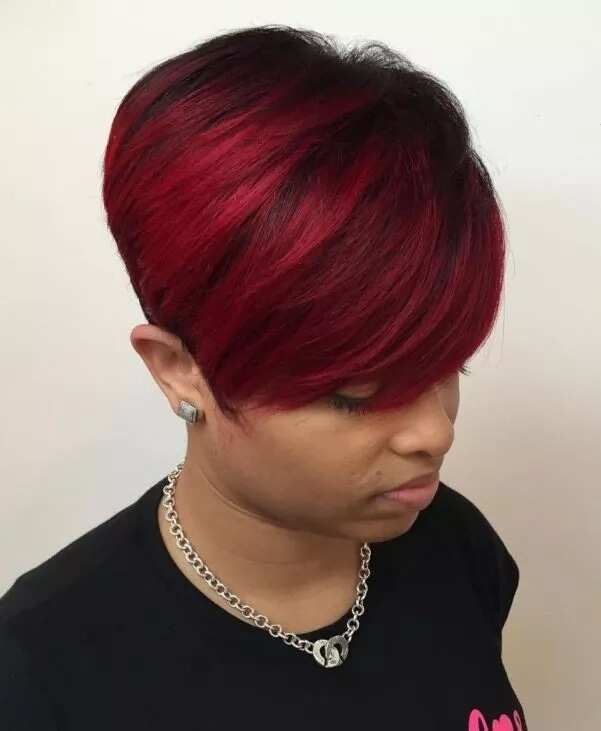 Such a voluminous layered pixie cut is too plain to be worn as it is. It requires something bright to be able to attract attention. This is why you simply must rock some bright vibrant color on your hair! May this be the scarlet red or any other one, which matches your complexion and style.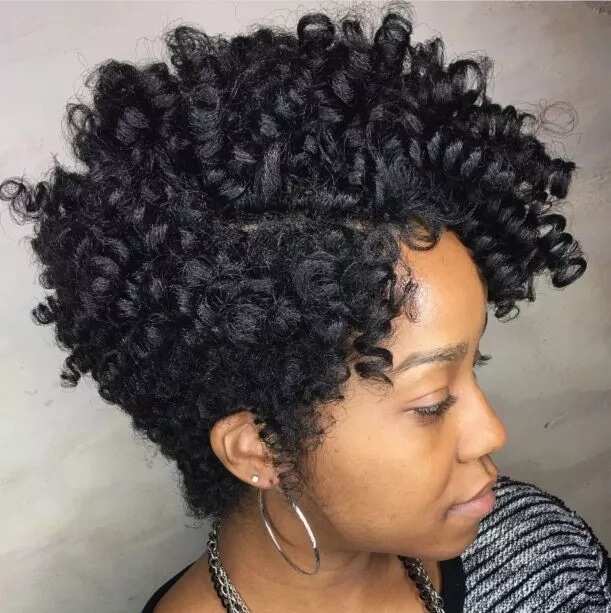 This is a perfect example of the ideal way natural hair can be styled. However, it's very important to find a hairdresser who's able to create such a cut without ruining the natural spirals.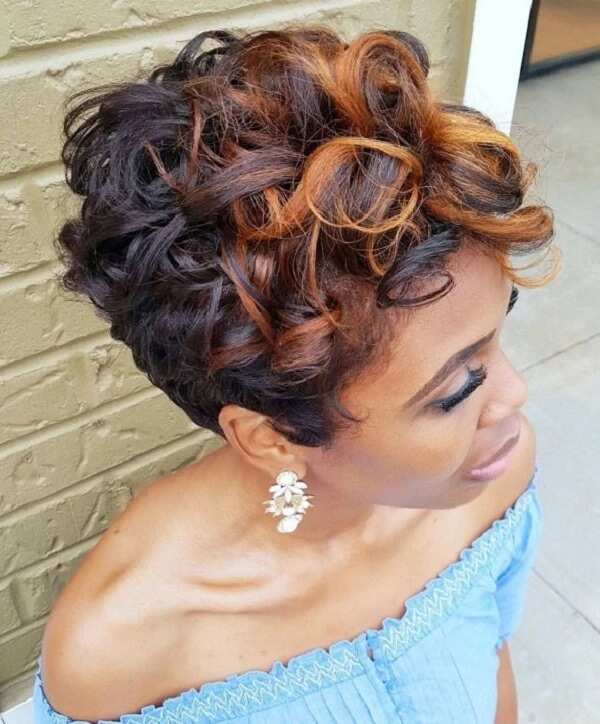 A short hairstyle with colored locks
The key here is in the colored locks that emphasize the natural color of hair. The hair on the back of the head and temples is cut real short and only the top layers are left to curl as they do. Such a hairstyle may require some straightening but it's extremely lovely and stylish.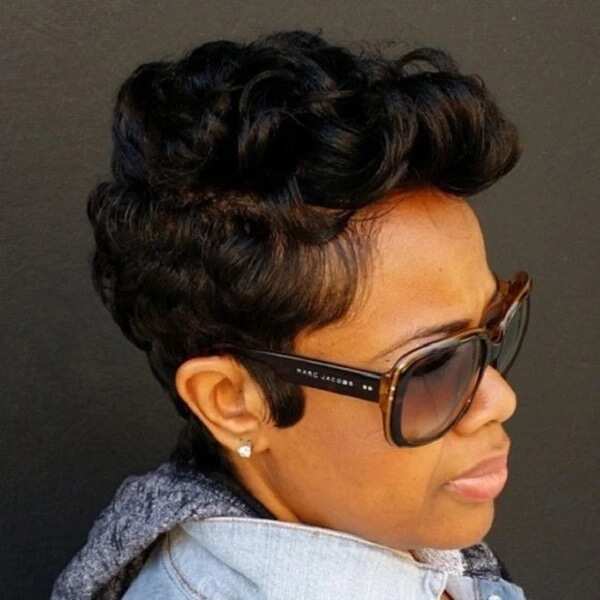 This pixie hairstyle is daring yet elegant as it only can be. The top layer is curled in such a way that hair flows backwards, opening the forehead and temples. This is a style for all types and face shapes and features. It's even suitable for any ages.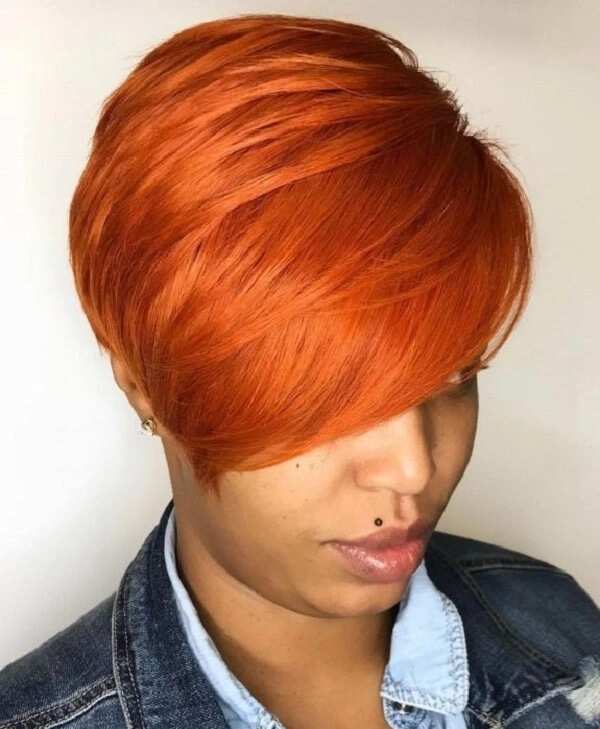 It's not quite about the haircut but about the color. You need to choose the color first because everything else is not that important. Your hair needs to be straightened perfectly and then cut into a very short, very voluminous and daringly angled asymmetric pixie hairstyle. Choose any color that matches your complexion and rock the incredibly bright style.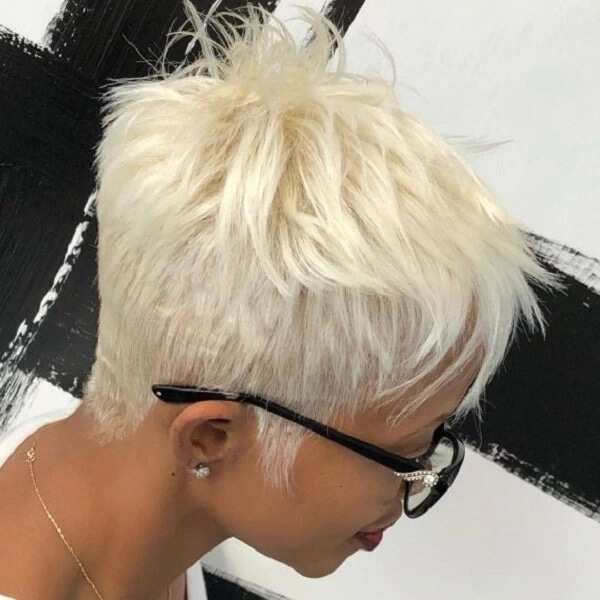 Here's one of the most trendy short hairstyles of 2018. This is a very short cut with a feathered crown and, as if it's not enough, all this beauty is dyed into a gorgeous platinum hue. It's not even easy to imagine how such a hairstyle can change the entire way you look. It's something so new and so fantastic that you will never want to return to the natural color.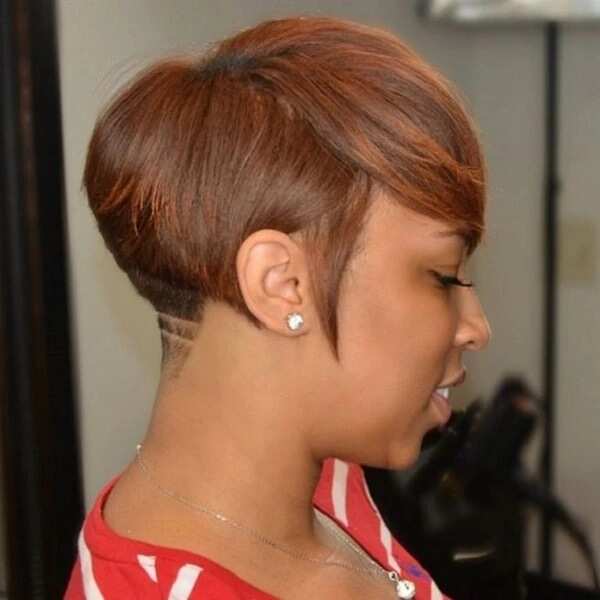 A pixie with a shaved back
If you have a lot of thick hair, you can cut it into this amazing style. Shiny colored strands frame your face perfectly well and the back of your head is shaved with some ornaments on it. Doesn't it sound too good to be true? Just give it a try and you will get addicted to turning heads everywhere you go, all the time.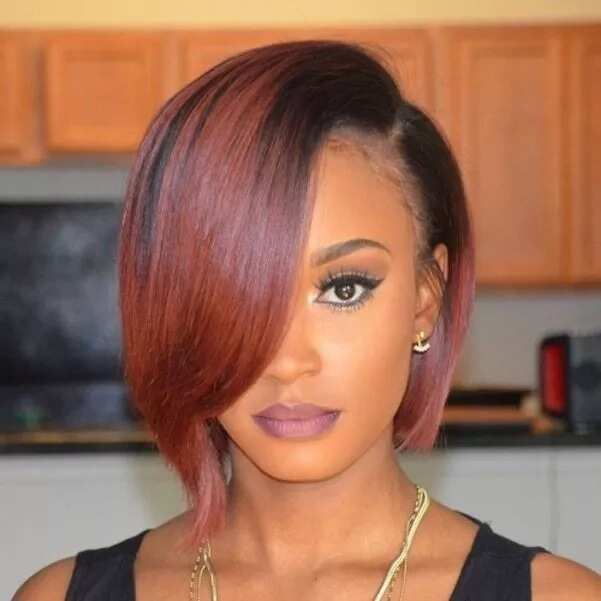 This is one of the most trendy most trendy short hairstyles. Have your hair cut into a regular asymmetric bob so that one side is significantly longer than the other. Than have your hair dyed in this lovely rosewood way so that the roots are natural and the length is colored. Wear the hairstyle with a low side parting and one part of your hair tucked behind your ear. Let the bangs flow down your face freely.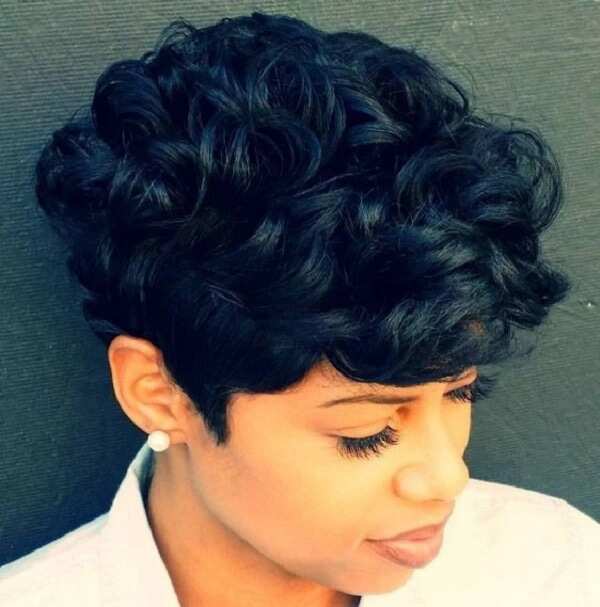 If you want to have such lovely curls, you will need some hair relaxer that will straighten the natural curls. Then, it will be necessary to use hot rollers or an extra big iron for curling. Such a hairstyle will emphasize your feminine tenderness and softness but in quite a flirty and a little bit daring way.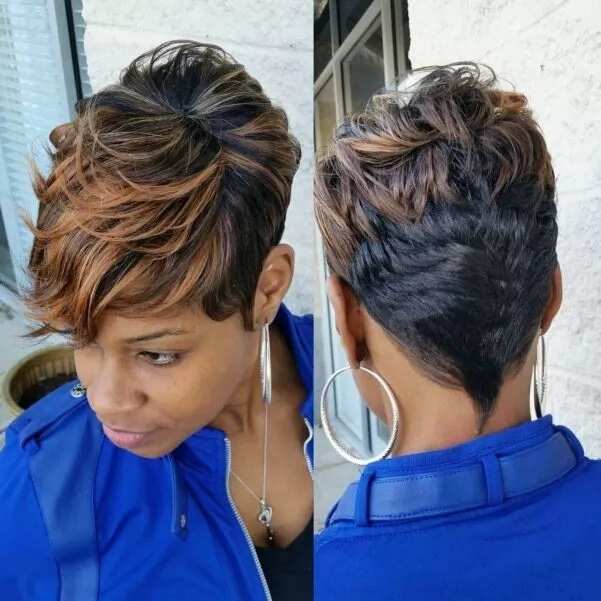 READ ALSO: Top low cut hairstyles for natural hair
Dramatic edges and layers
You will need a good hairdresser to work out all these dramatic layers for you. The top parts are colored and the ones on the back of your head are cut in such a way that small sections overlap each other. All this creates a very interesting and stylish effect that attracts attention.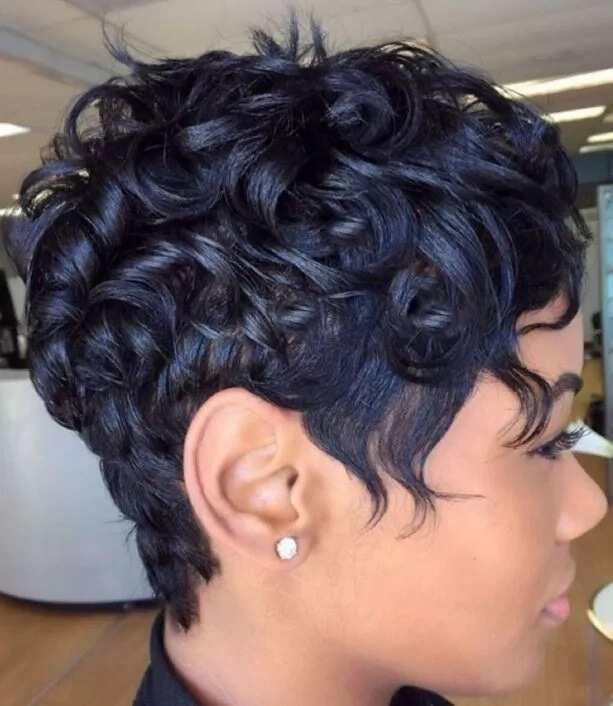 A short hairstyle for thick hair does not necessarily mean that all the hair strands need to be of the same length. Instead, you will look amazing if you try this extremely attractive style with curls of a different length. Styled in a perfectly elegant way around your forehead and on your temples, these curls will give you an incredibly attractive look.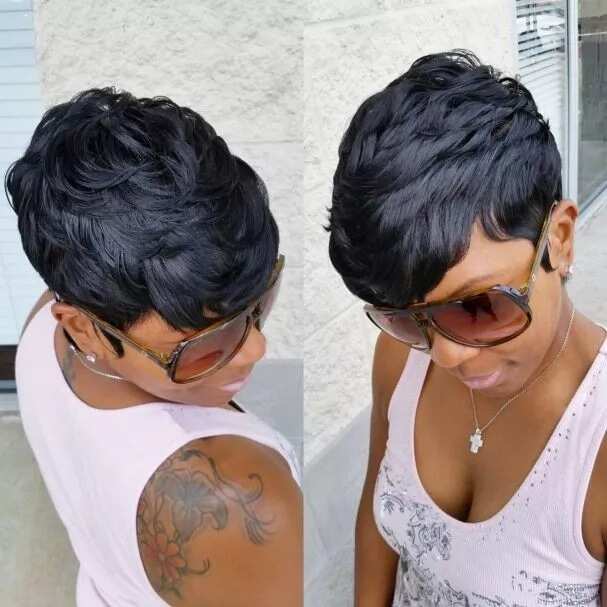 This hairstyle has its own specific feature. The relaxed shiny hair is cut short and styled from the back of your head to the front. You can have a parting on the side of your head or wear your hair as long bangs, if you like. You are the one who decides how it will be better to you.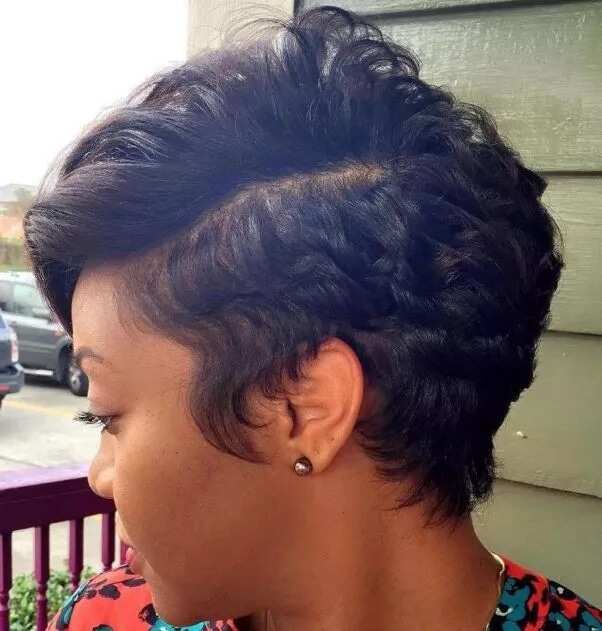 Having your hair cut like this is one of the best options in such situations. The hair can easily be tamed and the natural look will stay with you but the neatness and elegance of the appearance are guaranteed with such a length.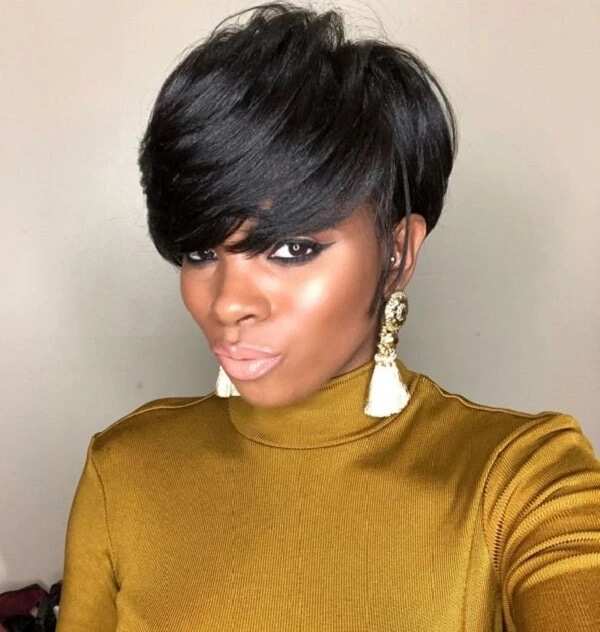 You can wear your hair natural if you like but you can also wear it straight and shiny. If you have such a haircut, you can rock both ways. When you straighten your hair, style the bangs across the forehead and let it shine like silk. This is a perfectly feminine style for women with delicate features.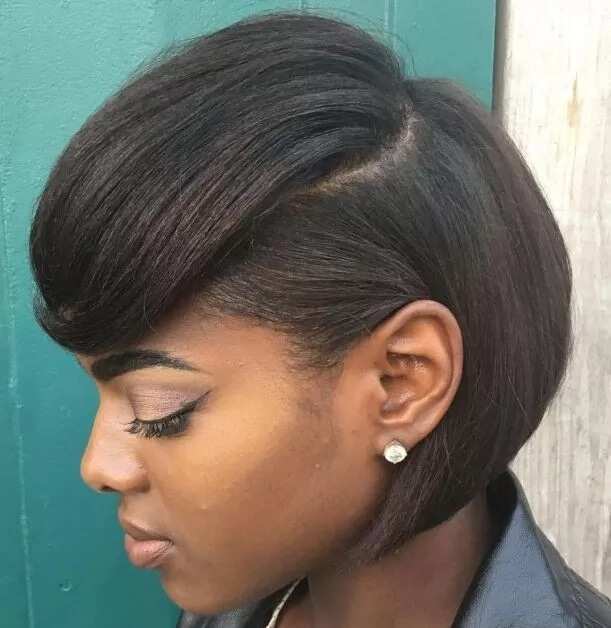 This is how you can totally rock relaxed hair. It should be cut short but remain long enough so that you can tuck it behind your ears. This is a lovely retro style that you will definitely love.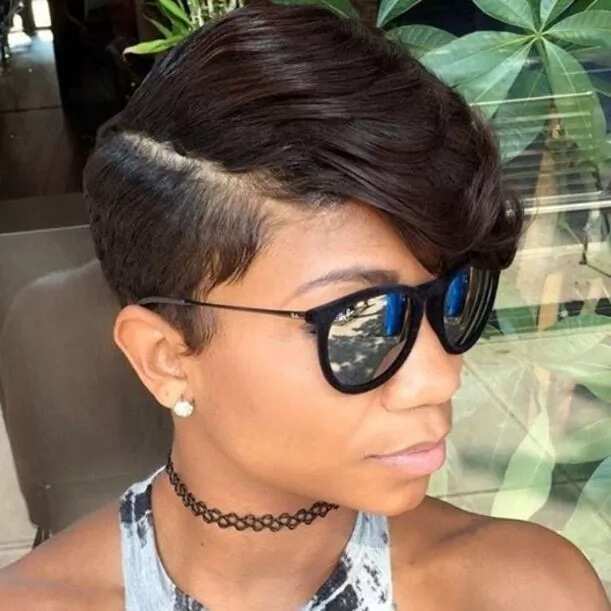 This is a stylish undercut with a defined line shaved along the side parting. Long bangs is styled to the side and it's completely different in length from the rest of the hair. This is a wonderful idea if you want to show your facial features to their fullest.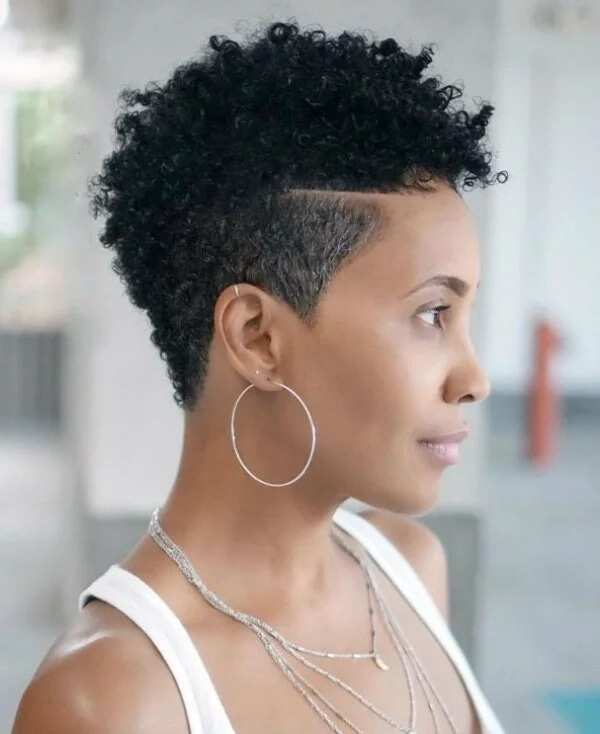 This tapered pixie style is something incredible. Leaving the natural curls on the top of your head, it reveals the temples where the hair is shaved and faded. Slightly manly lines of this haircut will add a lot to your feminine beauty. Don't hesitate, have it done!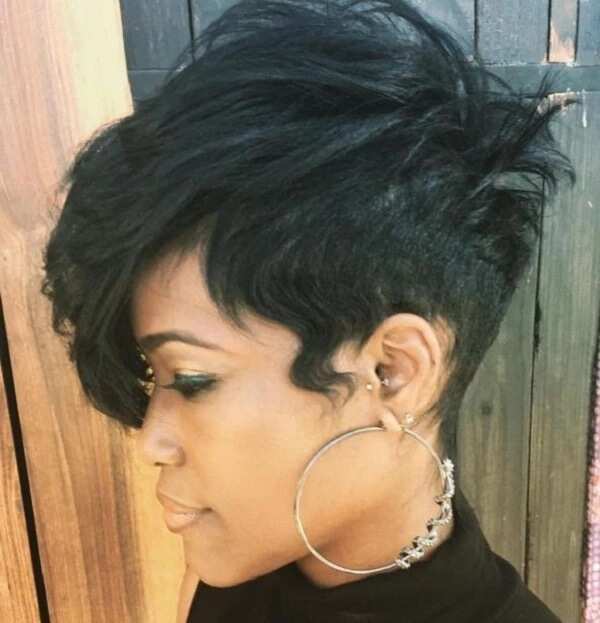 Feathered strands on the back, long bangs on the front, wavy styled temples – all this is something really amazing from the point of view of the style. Have it done from your hair and you will see how elegant and stylish it may look.
So, you are welcome to choose among these 20 incredibly attractive and fashionable short hairstyles for thick hair. Just don't be afraid of trying something new and you will love it!
READ ALSO: Didi hairstyles in Nigeria
Source: therighthairstyles.com
Source: Legit.ng