How to style big box braids
A lot of women think that having box braids, especially big ones, is already having a hairstyle. Maybe, they are right. Still, there are many different ways to wear box braids and some of them are especially lovely. If you are only planning to braid your hair this way or have already done this, check out the loveliest box braid styles here!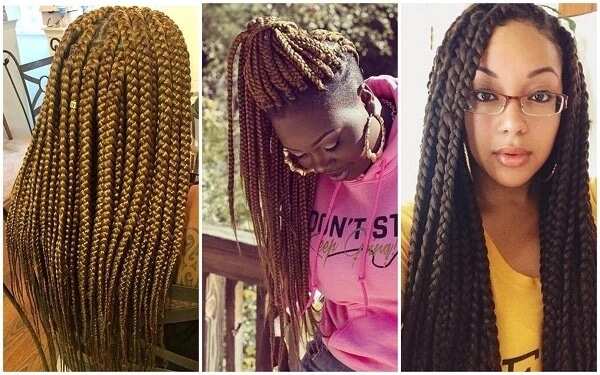 Hairstyles with big box braids
To begin with, they look absolutely stunning. When done with the help of natural or synthetic hair extensions, they look just perfect. Colored or black, they frame your face and give you a touch of a very special style. Big box braids are a great idea if you want to preserve your hair from damage, let it grow longer, or so. Besides that, having this hairstyle will save you plenty of time you would have spent on combing and doing your hair in a natural way.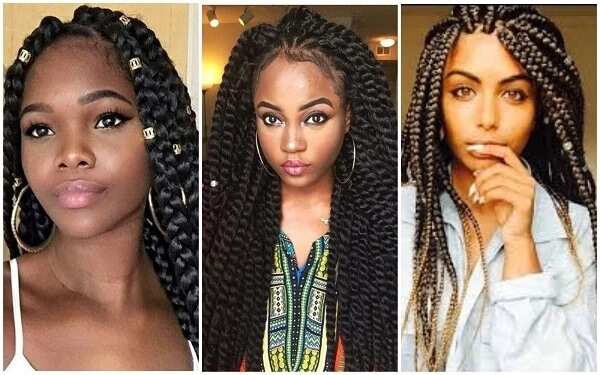 READ ALSO: How to style bridal hair in Nigeria? - Latest trends
Why making them big? Big braids look stunning and you can see how the hair shines in those big braids. If you make them thin, the braiding itself will take many hours of time. Finally, it's quite hard to attach the extension to very thin braids.
Now, let's see how you can style big box braids in order to have a new hairdo every time you want to and look perfect every time you do it!
The hottest big box braids styles in 2018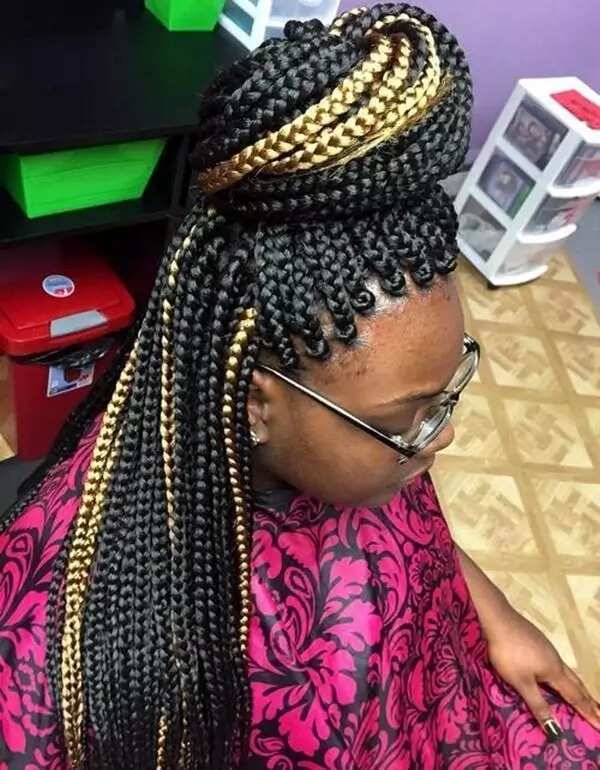 You have plenty of them on your head, so you can easily turn a part of them up and tie into a big bun. Such a hairdo looks especially interesting if there are colored braids on your head, just as the girl in the picture has. Some of the colored braids may go into the bun to decorate it and others will simply be revealed from under the top layers of hair.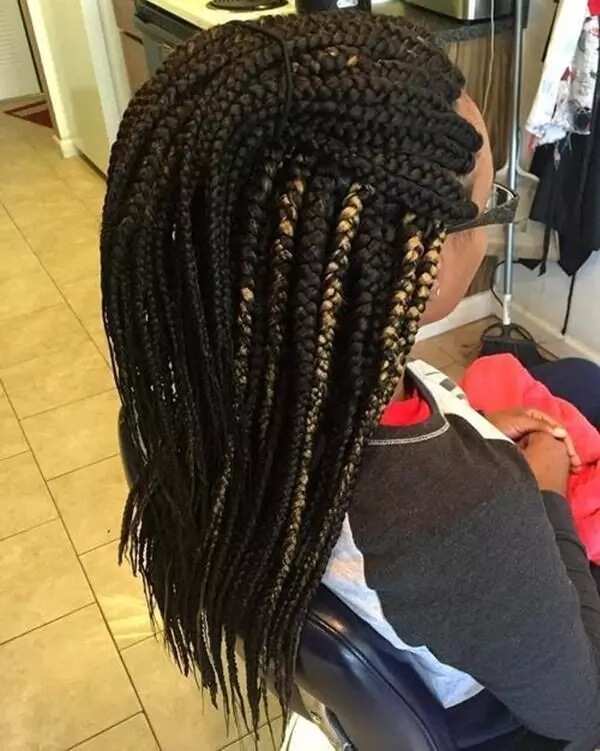 Here, you don't need to twist anything on top of your head. Simply pull some of the frontal braids backwards and fasten them with an elastic band. There's no need to make it very tight because they won't fall. Such a simple hairstyle is practical when you need to remove some of the braids from your face for the sake of convenience and also for the sake of beauty.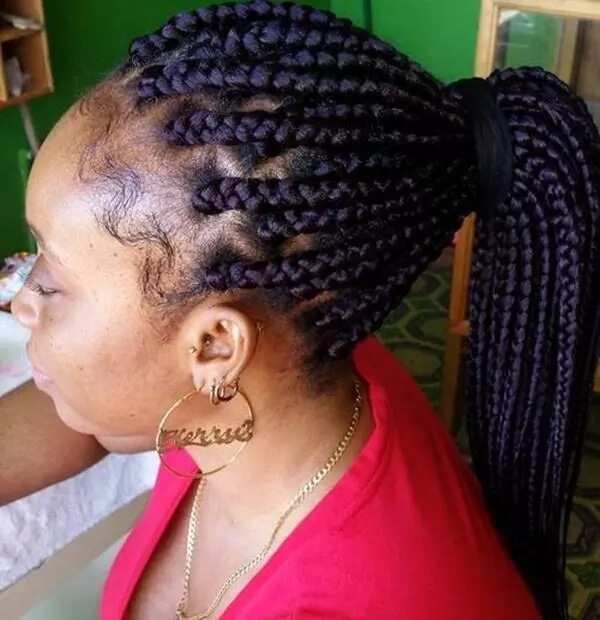 This is a great option when you need a formal look, for example, for a working day. Just fasten the tail on the back of your head with the help of an elastic band and enjoy the freedom and a clear view of the surrounding world. use some styling means to give the baby hair around the forehead a decorative look.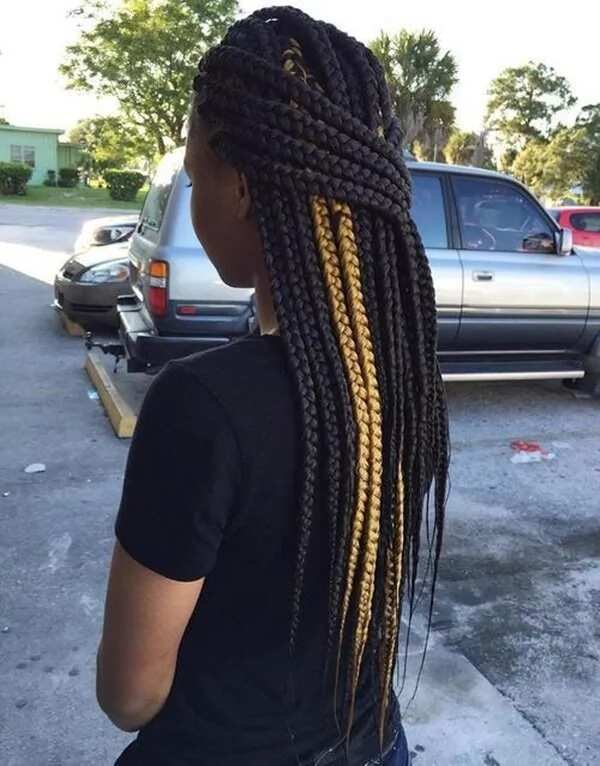 Take the braids from both temples and several ones from the forehead. Pull them down, overlap the side sections and wrap one section under the rest of the braids. Fasten from under the hair with the help of bobby pins or elastic bands. This is a lovely, simple, but very dramatic flowing look.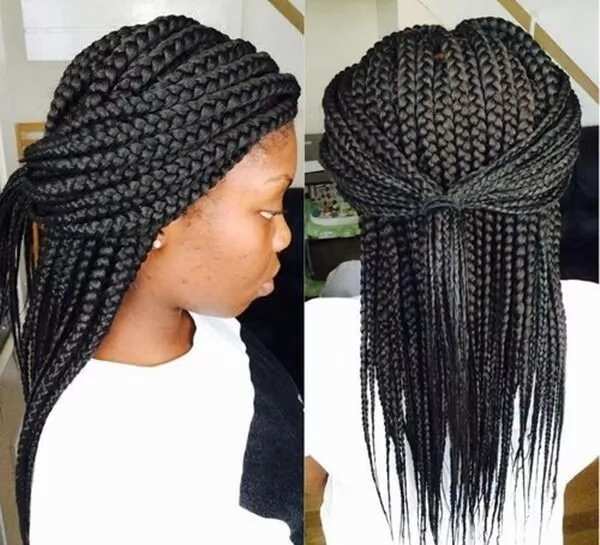 It's like taking the top half of the braids and creating a partial updo but in this case you need to take the braids from the sides of your head. Tie them with an elastic band on the back of your head easily. You don't need to pull anything tightly in this case. It may matter a lot where you will create the parting. A side one may work nicely for the majority of faces.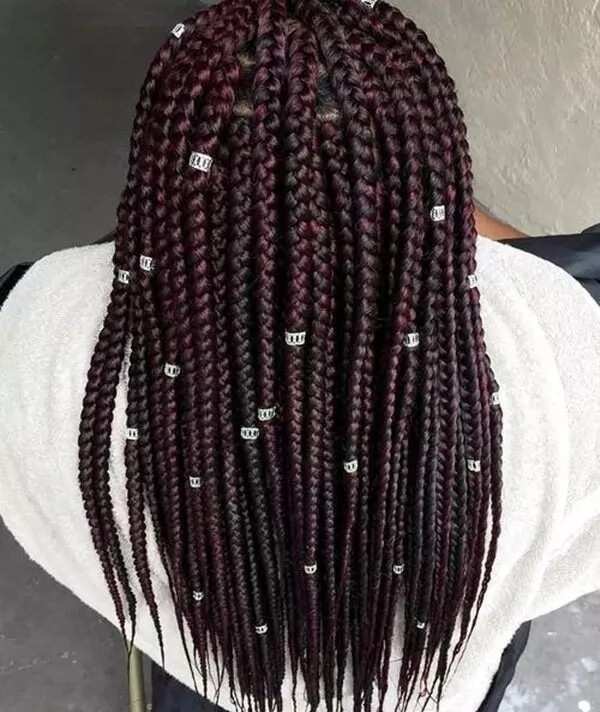 It doesn't matter much whether you have colored or black braids. Some shining metal bling will look great in any case. Just attach the decorative elements here and there to make accents and enjoy the shining hairstyle.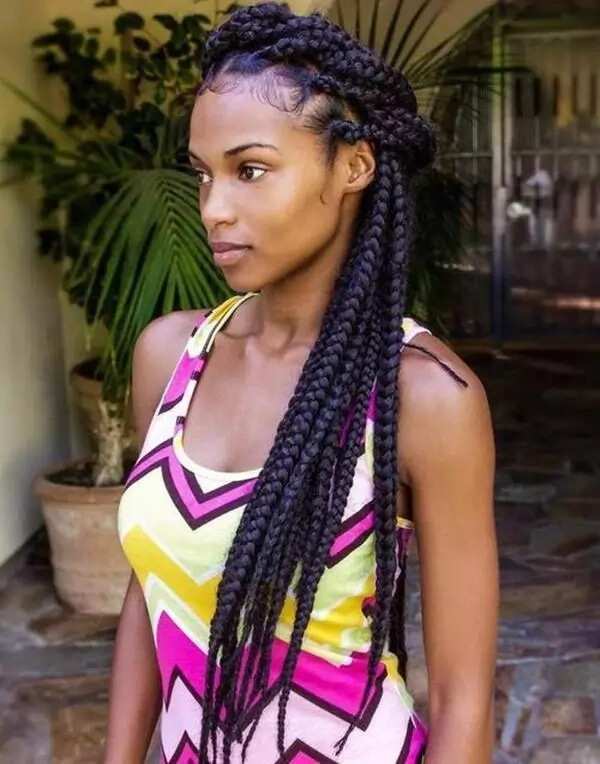 Take the braids that are close to the face and twist them with other ones, one by one, to create this wonderful design. Fasten the tips with the help of elastic bands and leave the rest of the braids flow down your back. Use some gel or mousse to do the baby hair around the forehead and on the temples. This romantic hairstyle is perfect for celebrations or a date.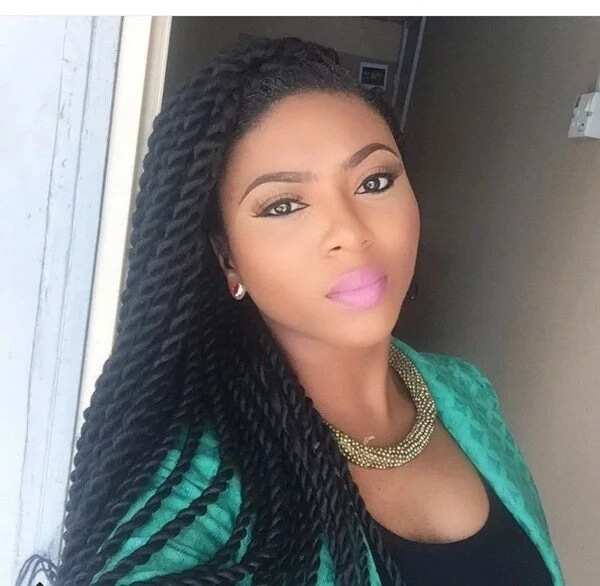 Throw all the braids onto one side and use bobby pins to secure them in place. This is a very feminine and hot hairstyle and, probably, the most dramatic one that you can create out of big box braids. It also looks great when there are colored braids underneath the others and when they are revealed by this hairstyle.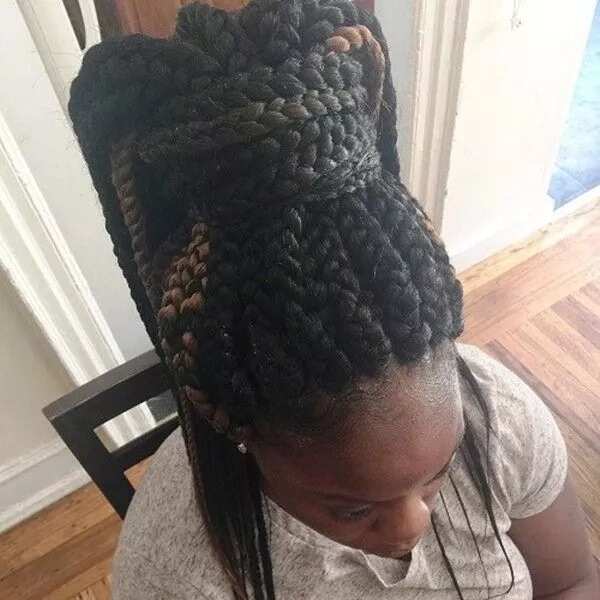 It's a perfect hairstyle for thick box braids. You need to gather all the braids up to the very top of your head, fasten them there with an elastic band securely, and then take a section of the braids from the tail and wrap them around the tail. Secure the ends behind the tail with the help of bobby pins. It can be a very impressive hairstyle. The more braids you use for the wrapping, the greater it will look.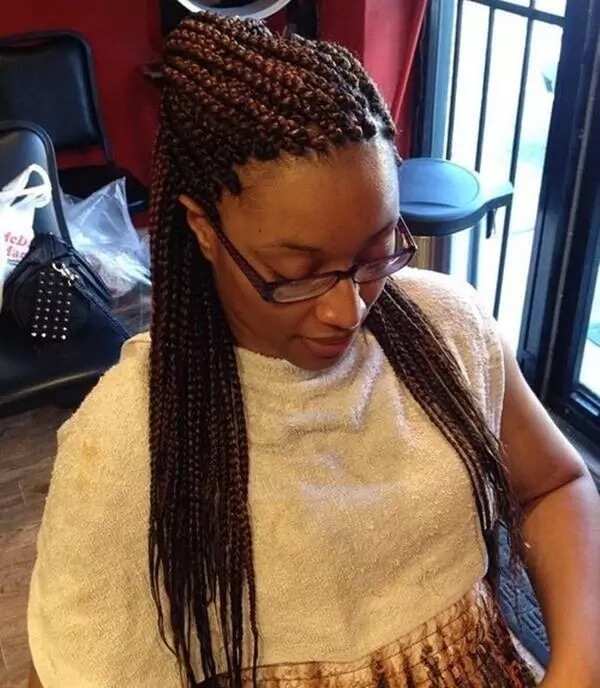 Divide your braids into two sections making sure that one of them is substantially bigger than the other. Take the top layer of the bigger one and twist it easily to create a big voluminous bump on the top of your head. Secure it with the help of hairpins or any hairclips that you find suitable. If you have several colored braids within this section, such a hairstyle will look especially impressive.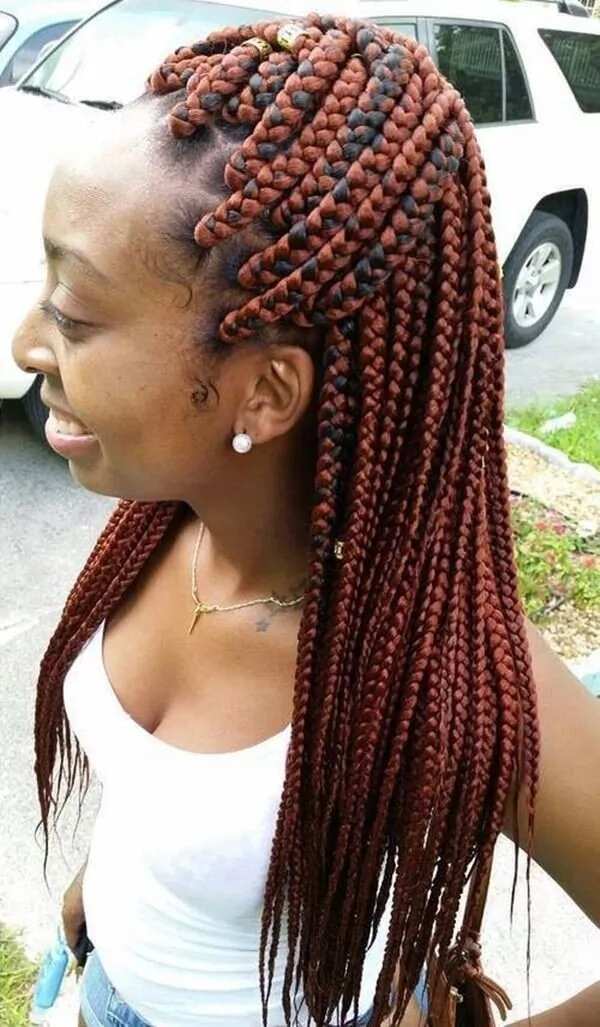 Separate the braids that surround your forehead and temples and start crossing braids from either side one by one but without making a braid. Secure the braids with the help of pins to create the crossed braided cap on the top of your head. If you like, add some bling to the crossed braids.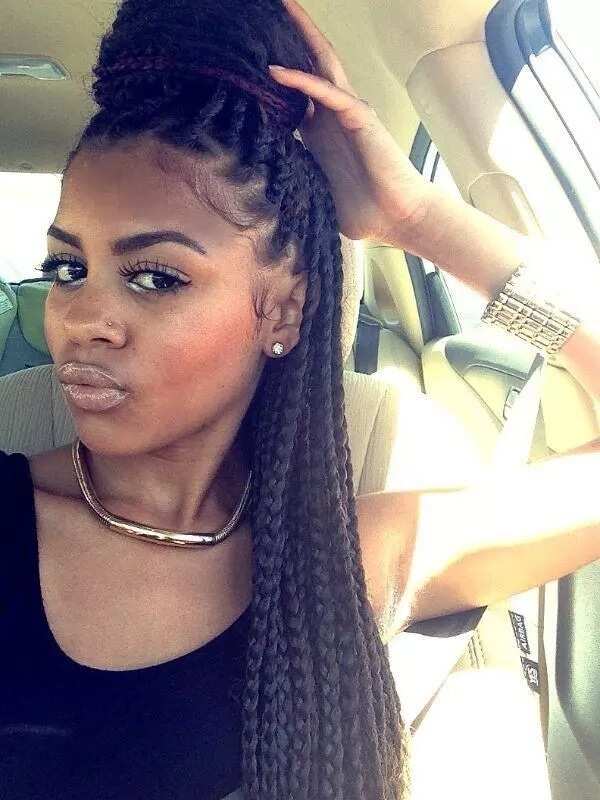 The key is to create a neat bun, hide all the tips and make it quite voluminous for the stylish effect. If you want a super beautiful look, hide the tips inside the bun and leave the braids on the outside. Don't forget to style the baby hair, which is visible around your face.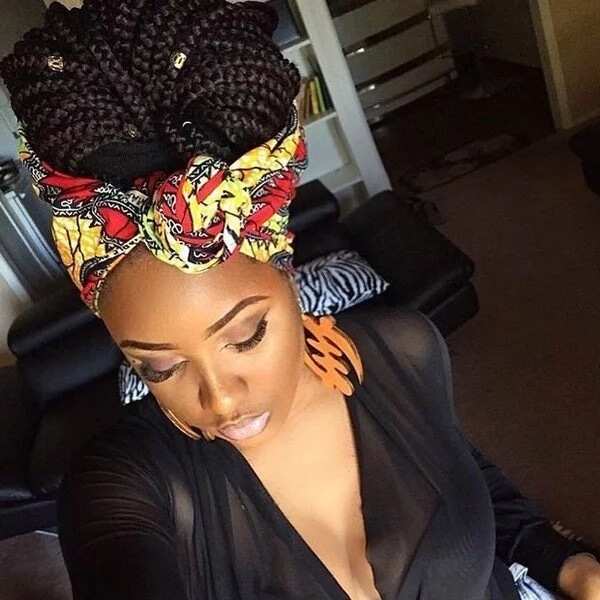 If you have bright scarves in your wardrobe, take advantage of them. Any simple updo can turn into a hot and stylish design with the help of a bright colorful scarf wrapped around your head and tied above your forehead.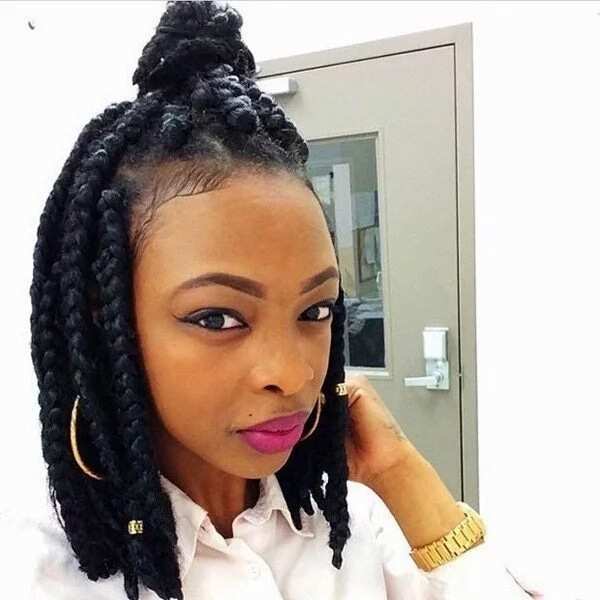 READ ALSO: Ghana weaving styles for natural hair
If you have short braids, even a small bun can look amazing on you. Take several braids and create a small bun on the top of your head. If you like funky styling for big box braids, leave it messy and inaccurate, with protruding tips. Only if you need something tidy for an official environment like a workplace, then, keep your hair neat.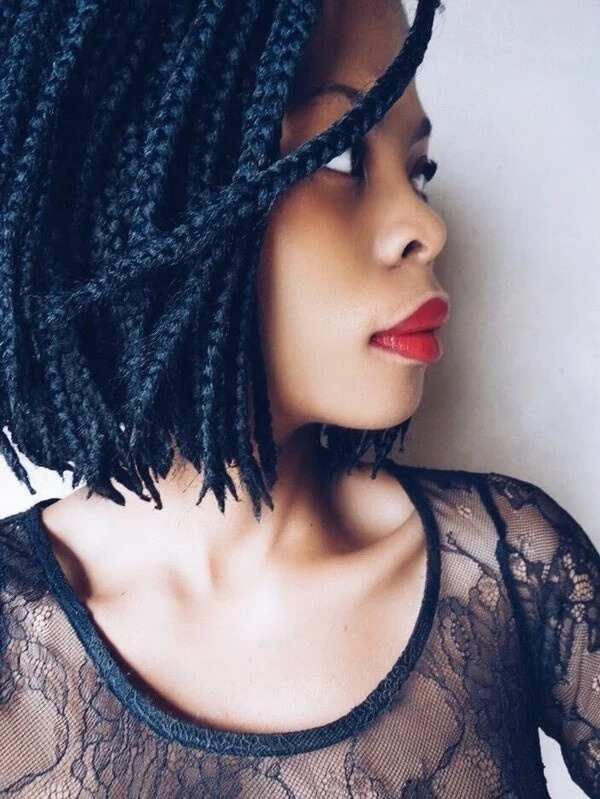 Box braids can short and still stylish and lovely. Have them done into a shape that reminds of a short bob and rock the utterly feminine, fashionable and really smoking hot style. Just make sure that the tips are sealed securely for a neat look around your face.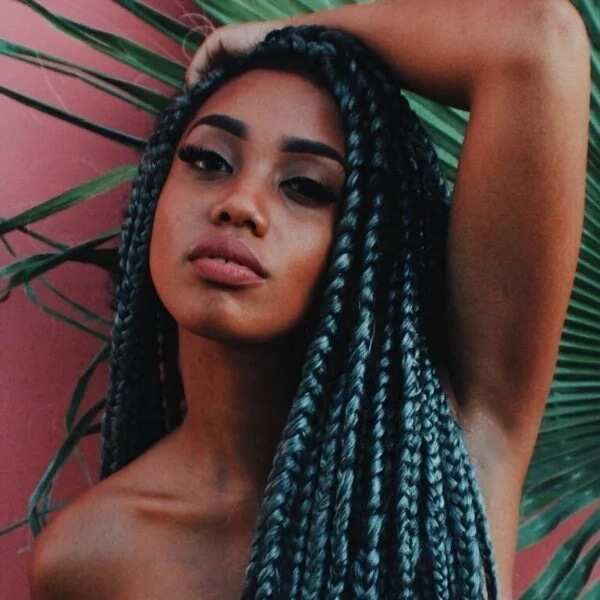 Even if you are leaving your braids flowing freely, add a touch of style with the help of easily applied colors.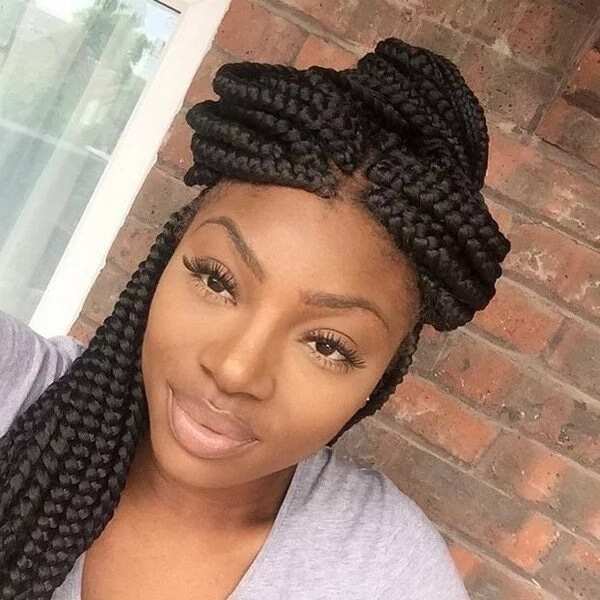 This is a style for very big box braids. Take several ones from the top of your head and create a bun on the very top. Then, take the braids from above the forehead and temples and pull them backwards. Make sure that they are laid easily to create additional volume. You have the crown!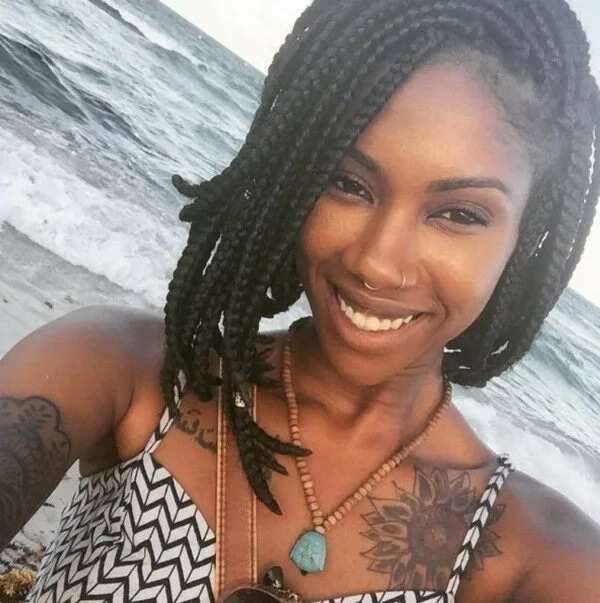 Again, this is about having short braids. The key idea here is to have one side much longer than the other. It will give your hairstyle a very attractive effect and emphasize the shape of your face. Besides that, such hairstyles look extremely stylish and bold.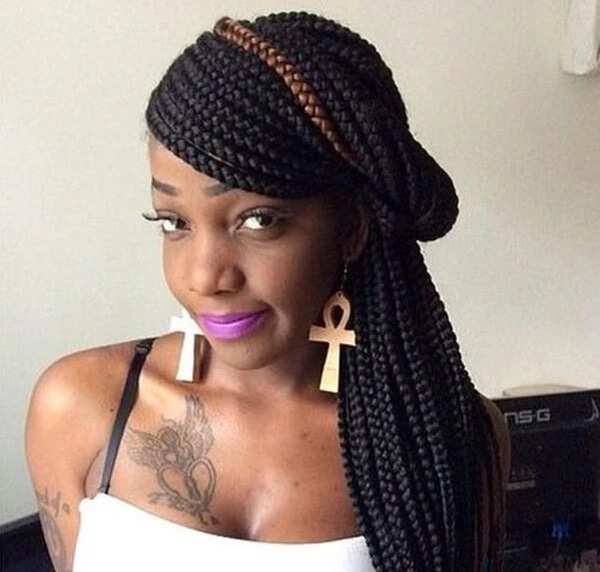 Part your braids right above the ear and sweep them all to the opposite side, covering your forehead. Above the opposite ear, twist and wrap the braids in such a way that they form a voluminous knot while the rest of the braids keep hanging down neatly. Secure the hairstyle with bobby pins.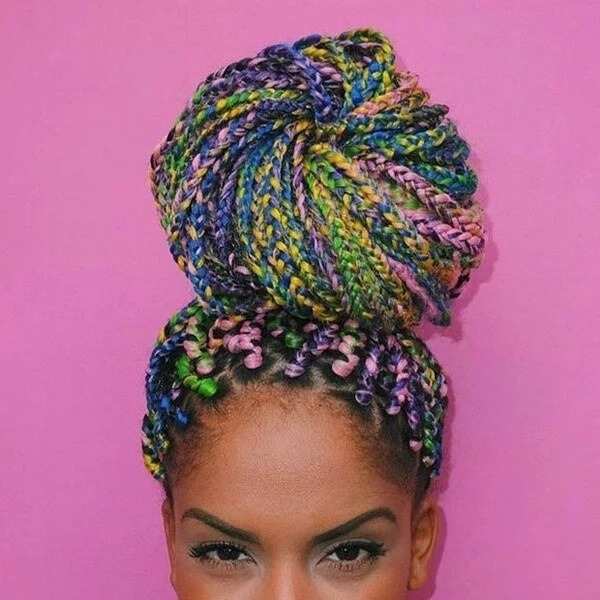 Okay, here we have seen 20 diverse big box braids hairstyles. If you like, you can easily invent more and enjoy wearing them as you wish. Big box braids are a perfect material for excellent styling!
READ ALSO: Wedding hairstyles in Nigeria: best styles for brides
Source: stylecraze.com
Source: Legit.ng