Hijab styles for face shapes: choose the best for you
Girls who wear hijab want to look their best, and luckily, hijab fashion is blossoming nowadays. There are so many hijab styles for face shapes, and you can always find the one that will match yours and make you look like a queen. Find out everything about hijab styles and face shapes!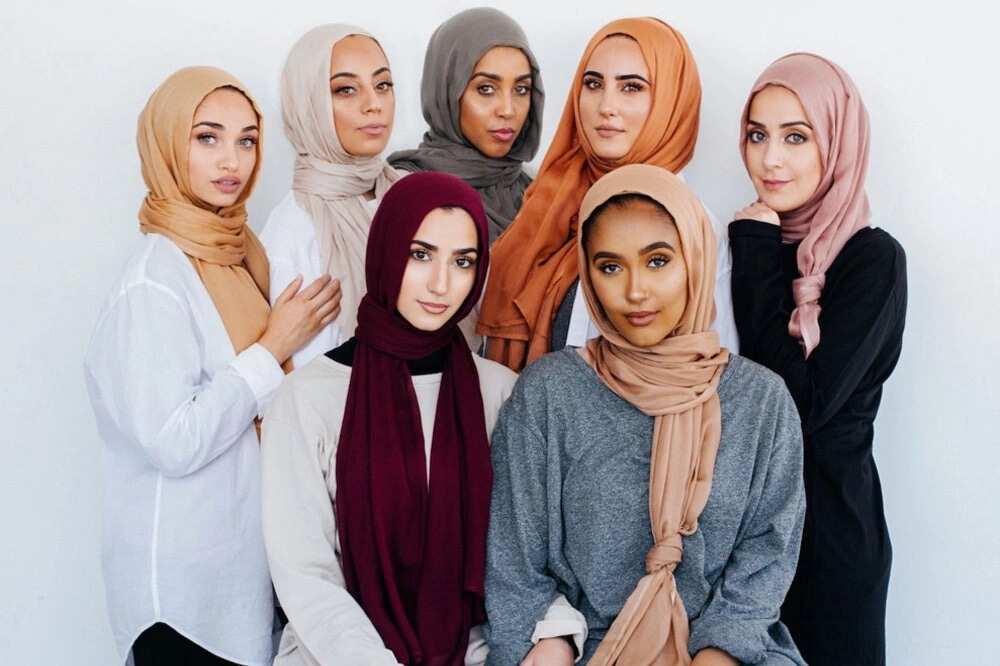 Latest hijab styles
Hijab is not just a regular accessory – it is much more. Obviously, we all have different face shapes, and every face shape has a matching hijab style that would show the face in the best light and hide all the flaws.
There are a few most popular face shapes that most people have – oval, round, heart-shaped, square, long, and diamond. First of all, we will teach you how to find your own face shape. Then, we will show you the most fashionable hijab styles that you can use to show the benefits of your facial structure.
How to find what your face shape is?
There are a few steps to finding out which type of face you have. First of all, look into the mirror and see what your widest face part is:
Forehead – if you can clearly see that your forehead is the widest, and your face tapers down gently to the chin, you have a heart-shaped face, which people also call inverted triangle shape.
Cheekbones – if your cheekbones are the widest, you clearly have a diamond face shape.
Jaw – usually, the jaw is the widest on the triangular (or heart) face shapes.
Everything is equal – if you notice that your forehead equals your cheekbones and your jaw, your face can be square or round. For more clarification, see the next steps.
The second step would be determining your jaw shape. Look closely at your jaw and you will see what shape it takes:
Round – this is an indication that you have a round face.
Square – having a strong jaw means that you probably have a square face, but remember that triangular (heart-shaped) and diamond faces can also have a square jaw.
Pointy – if your chin is pointed, then your face might belong to the heart-shaped category.
And finally, the third step is determining your face length. For this, you can draw a line in your mind below the eyes, and then draw another one vertically from top of the forehead to your chin:
Average – if the ratio of these lines is about 1 (in width) to 1,5 (in length), then your face length is average. You will not know your face shape just by this attribute since the average face shape can coincide with most of the shapes. So, check out the other factors.
Short – if the imaginary cross you drew has a ratio 1:1, then it is highly possible that your face shape is round.
Long – if your face is rather oblong, then you can have a long face shape, but sometimes it also may be an index of some other face shapes, depending on the other factors.
If you have determined your face shape, congratulations! See which hijabs you can wear to showcase all the beauty of your facial structure and demonstrate your sense of fashion.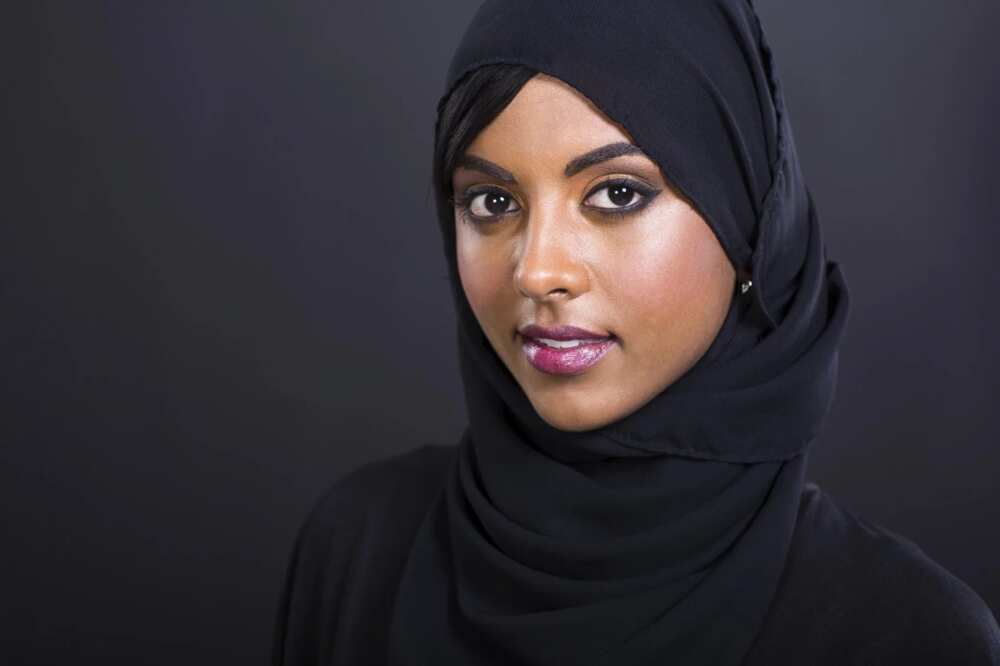 1. Hijab styles for oval face shapes
Oval face shape is considered to be the most universal face shape of all the existing ones. Usually, the oval faces are rather long, and they have defined cheekbones, as well as the tapered chin form. If you are the lucky owner of an oval face shape, you can be versatile with the styles of hijabs.
You can wear your hijab high on the forehead. If your forehead is round, you can use the under-cap, which will visually decrease the illusion of roundness. Under-caps are also good because you can experiment with them and use the cheerful colored ones. If you have chubby cheeks, you should be aware that if you put on the headscarf horizontally, your face will seem even more round. So, you should try to frame the face by wearing the under-scarf in a diagonal way, or in a crossed position which covers most of the cheeks but exposes the forehead.
If you have an oval face, you are advised to wear your hijab by wrapping the scarf around your face firmly and then tucking it under the chin. In case you prefer more fitted looks, you should avoid having folds because they make your face look rounder and shorter than it is.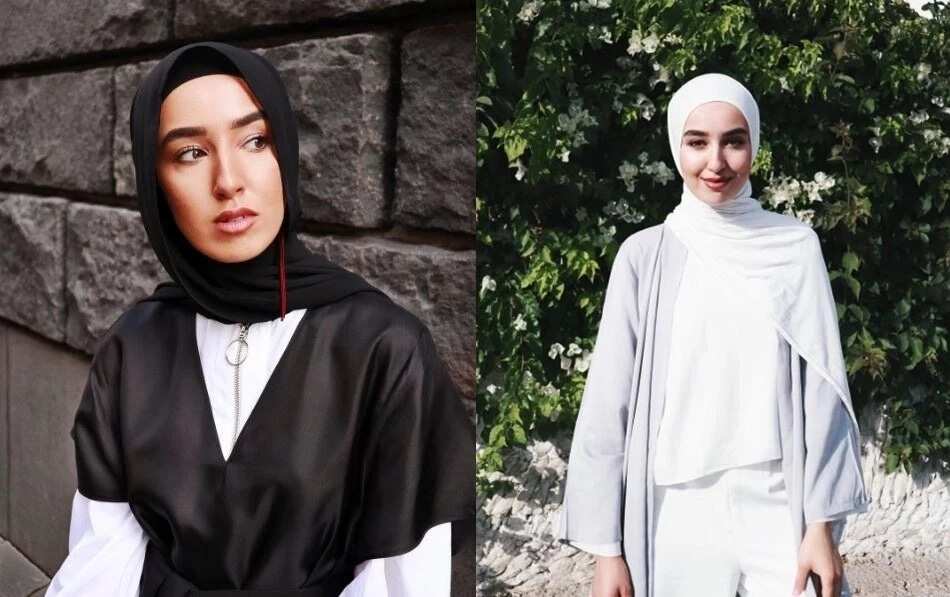 2. Hijab styles for round face shapes
The round face is defined by the full look, a round chin, and a hairline. The width between the top-bottom and right-left sides is nearly the same. The widest point on the round face is ears and cheeks.
For the round face shape, the loose styles would work out in the best way. They would perfectly frame your face. The stylists advise adding the loose folds to the cheekbones because this little secret will help you show more facial features of yours. Adding loose folds will also give you some texture and make your face look less round. Do not hide your cheeks by wearing your hijab tightly – this will make your cheeks even more visible. Wearing it too low down is also not advised since it will put emphasis on the cheeks.
You are also not recommended to wear the Spanish and Egyptian styles of hijab, because they will only look good on the women with slender necks.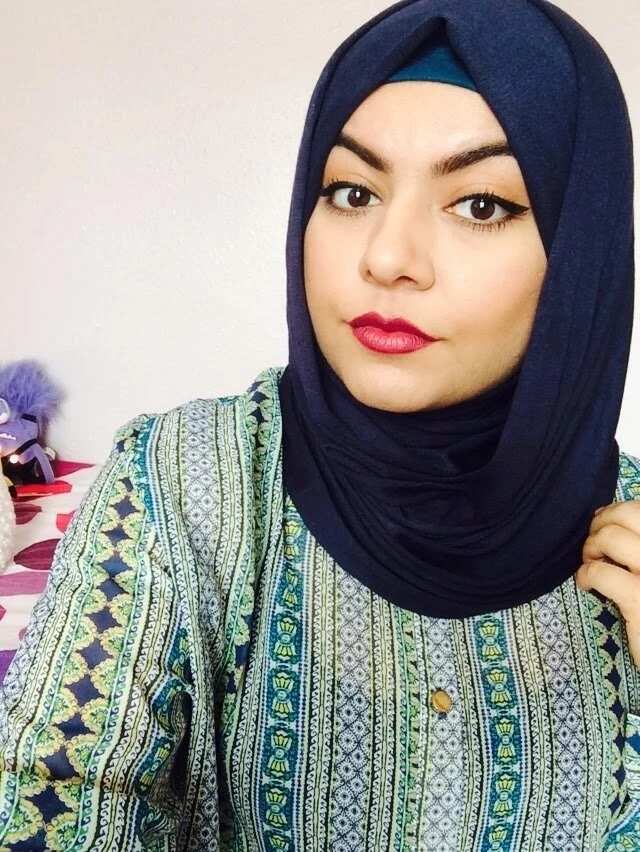 3. Hijab styles for long face shapes
If you have a long or rectangular face, it is quite similar to the oval face shape, except that it is more prolonged in the forehead and chin section – you have either a high forehead or a narrow chin. The biggest concern for you with this face shape should be keeping the forehead visible and bringing the hijab closer to the face on the sides – this will create the illusion of lengthening the face. You are recommended to add some volume on top of the head in order to balance out your lengthy face shape. If you wear a hijab that looks V-pointed in the centre of the forehead, this will make your chin look better and also add some symmetry to the general look.
Try to choose the hijabs which have ruffles and volume at the sides – this creates a great illusion of width. Also, the turbans will be the best choice for you – you will not need a lot of effort to rock them.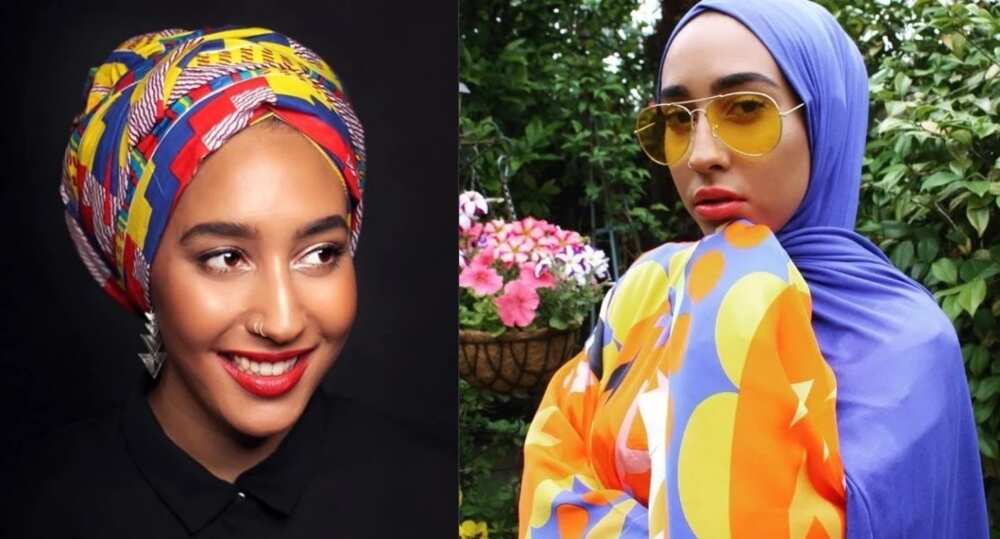 4. Hijab styles for square face shapes
A lot of people have square faces, which means that their jawline is square and strong-looking and the hairline also looks square. Most often, the face has the same parameters of width and length. If you have a square face shape, you should know that you are lucky because your jawline is really beautifully defined, but your main concerns should be about softening the angles so the face would look more feminine. For this, you can tuck your scarf loosely around the chin – you will instantly notice the visual difference.
Wear your hijab a little bit higher than if you had a rectangular shape because your forehead is shorter. You should frame the chin and cheekbones keeping them uncovered, this way it will seem like your face is oval or rounded. You can use the pastel colors to make your jaw look less masculine.
Women who have a square face shape should not wear the Turkish style hijab – these styles will make their faces look like triangular shape. This is because the scarf will pin under your chin very tightly, and covers the sides of your forehead.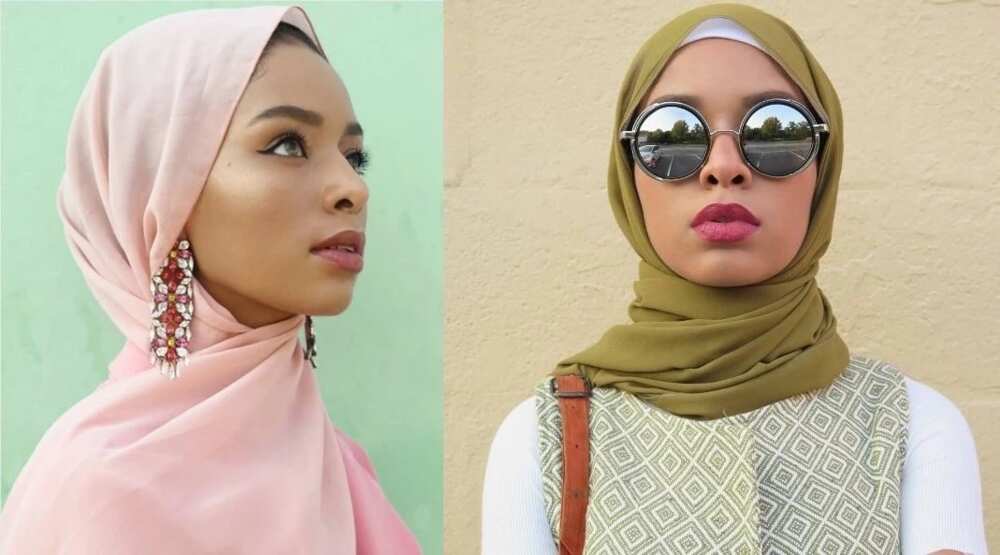 5. Hijab styles for diamond-shaped face
What exactly is the diamond-shaped face? It is something between the oval and heart face shape, or it can also be considered a more prolonged variant of the heart face shape. This shape is not as common as the other ones; therefore if you have it, you can consider yourself to be really unique. If you have a diamond-shaped face, your cheekbones are most definitely the widest part of it and the forehead and jawline are equally narrow, so your face is nicely balanced. This face shape's angles are very soft at the bottom jaw and the chin, and it looks great when you pin your hijab or wrap the fabric behind the jaw angle.
Your prominent cheekbones are a large benefit – they look good with the type of hijab which does not cover a lot of the bottom part of the face. You do not have to add any folds on the sides of your face. Other than that, you can do anything you like, keep it neat and smooth, and be versatile.
READ ALSO: Latest muslim wedding dress styles in Nigeria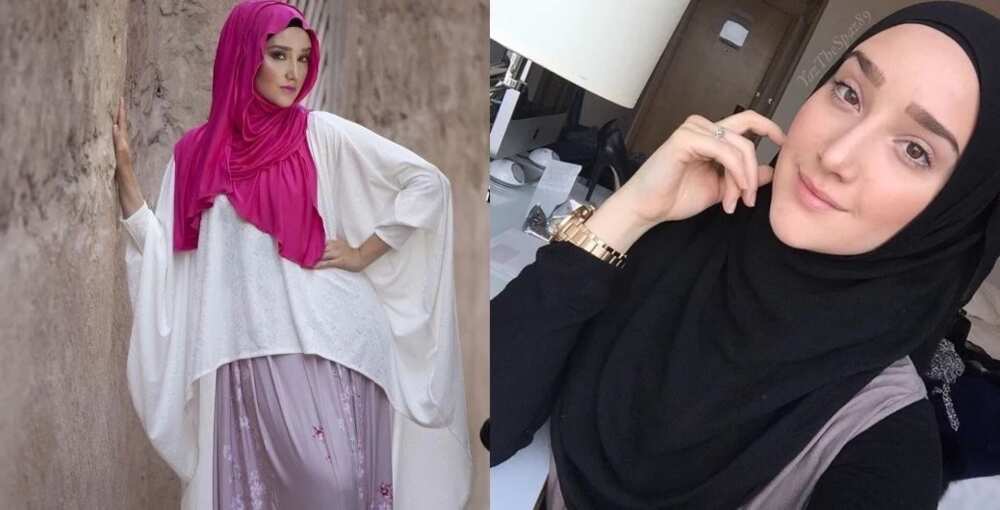 6. Hijab styles for heart-shaped face
The heart-shaped face is usually the widest in the cheekbones area and the hairline and then it narrows down to a little and delicate chin. The reason for it to be called "heart-shaped face" is that the pointed chin literally looks like the bottom of the heart symbol.
This face shape will look the most attractively if you wear the looser styles of hijab. You are advised to wear it slightly high up below your hairline. Wrap it up loosely around the jawline. You can also go for doing a tight wrap if you feel like it will present your face in the best way. If you have drapes around your neck, they will soften the look of your chin if it is pointy or sharp. Also, you should add some folds right below the cheekbones, which will make some accent on your face and discover its full potential. Your face has a lot of structure and looks amazing, so you should show it as much as possible.
One thing you are not recommended to do, is adding width to your face, so you should avoid multi-layering on the sides of your face. However, another win for you would be making a little point on the very top of your forehead with the scarf. It will compliment your face in a gorgeous way.
READ ALSO: Hijab styles for face shapes: how to play up your best features?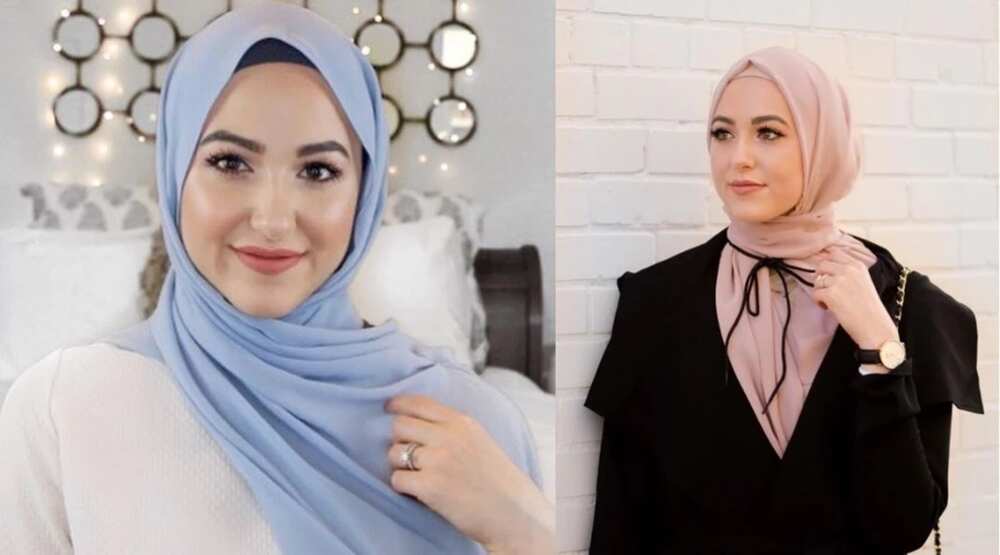 Some general tips on wearing a hijab:
If you realize that you are not wearing it like the person in this tutorial, you should not be discouraged. Perhaps this look is good for her, but the look you have created is actually good for you. We are all different, and you will never look exactly like her, just like she will never look exactly like you. Ask yourself if wearing this hijab feels right for you in particular, and if the answer is yes, then rock it.
As you can see, there is no correct or incorrect way to wear this accessory. If you still feel like something is missing, try experimenting with the ways of wearing hijab, or with the different types of it. Hijab accessory is supposed to make you look modest and gentle.
There are thousands of ways to wear hijab. Most importantly, you should remember that you need to match it not only to your face shape but also with the outfits that you have saved for every day. You can wear a hijab with a glamorous blouse, baggy trousers, or a maxi skirt. Most women consider the maxi skirt to be the best choice to wear with hijab, but you can choose whatever you want, as long as it makes you feel like yourself.
READ ALSO: Nigerian traditional wedding outfits: latest styles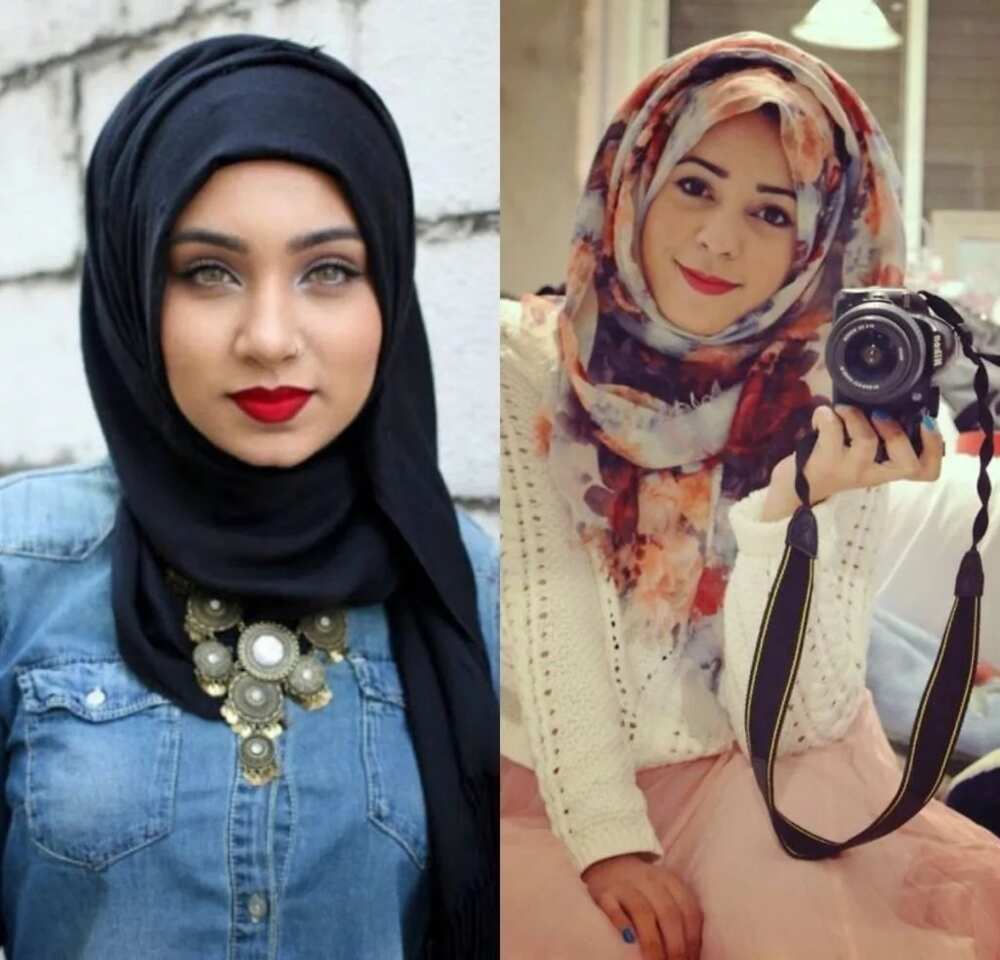 This was the complete guide on wearing hijab with different face shapes. We genuinely hope that you liked it and that it will help you to look brilliant in everyday life.
READ ALSO: Latest turban styles in Nigeria
Source: Legit.ng