Five joys in a single wrap, this is what a Nigerian woman recently got for a blessing in what can be called a rare but familiar occurrence.
Helen Abuchi Odoh, the Enugu-born woman from Ovoko Nsukka delivered five children at one birth. Of the quintuplets, there are four boys and one girl.
As earlier reported by Legit.ng, the woman had put to bed in God's Mercy Maternity Home, a private hospital near the palace of the Igwe in Nnewi local government area of Anambra state.
The lovely set of quintuplets caught the eyes of many Nigerians and photos of them have been shared several times on social media. Legit.ng came across a Facebook user Ekwe Scott Ekwe who was moved by the story of their birth.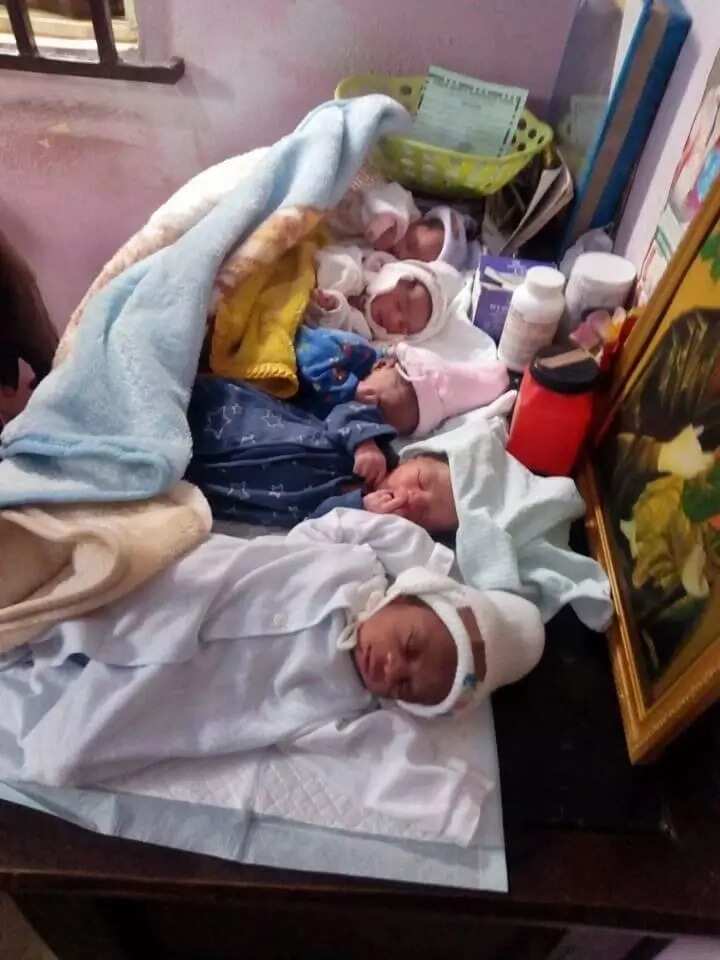 What made the story of the mother and her five children more endearing was the fact that the woman who is a seamstress by profession had earlier lost two sons to unfortunate circumstances. The two children she had lost were part of the triplets she birthed during the course of previous years.
READ ALSO: Nigerian quintuplets princesses who have taken over the internet
Even before birthing the triplets out of which she lost two of them, the woman had given birth to three girls consecutively. It was in an attempt to have a child of the opposite gender that she conceived and delivered a set of triplets.
Although pained by the death of her children, Helen and her husband were able to make a comeback by having quintuplets. Now, the couple has 9 children of their own.
Ekwe in a fresh post gushed over the amazing story of the woman,
PAY ATTENTION: The best of Nigerian News on Legit.ng News App
The way things played out for Helen made many agree that there is no such thing as impossible on earth.
PAY ATTENTION: Relationship gist in full measure on Africa Love Aid
My Husband Ran Away When He Heard I Had Quadruplets | Legit.ng TV