Matthew Seiyefa has been confirmed as the person to take over as acting DG of DSS.
Seiyefa, who hails from Bayelsa state, had earlier served as the director of the Institute of Security Studies (ISS), before he was moved to the DSS headquarters.
Legit.ng had earlier reported that the director-general of the Department of State Services, Lawal Daura was sacked by Acting President Yemi Osinbajo.
READ ALSO: Osinbajo in closed-door meeting with Magu, new acting DSS DG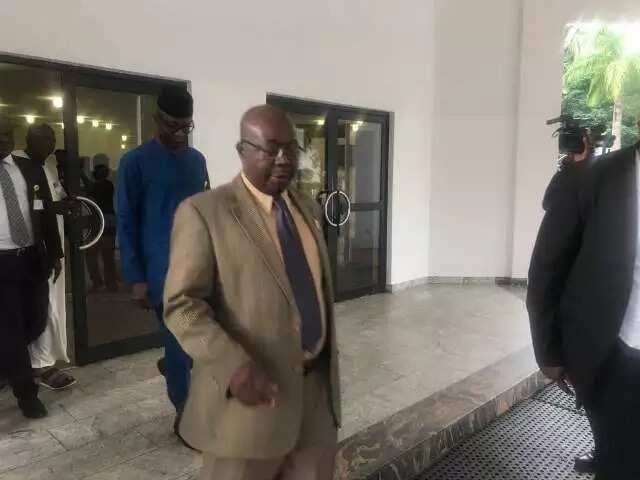 According to tweets by Laolu Akande, senior special assistant to the acting president. Osinbajo "directed the termination of the appointment of the DG of the DSS, Mr. Lawal Musa Daura".
"Mr. Daura has been directed to hand over to the most senior officer of the State Security Service until further notice," Akande said.
Operatives of the DSS, wearing masks blocked the gates of the National Assembly this morning, preventing senators and workers from gaining entrance.
Some PDP senators, who were caught in the blockade interpreted it as a move to impeach Senate President Bukola Saraki. But it turned out there was nothing like that in the offing as no APC senator was in the National Assembly when they were creating the row outside the gate.
The blockade was roundly condemned as anti-democratic and made the leadership of the National Assembly to call off a scheduled meeting this afternoon, that would probably have paved way for the reconvening of the Assembly.
PAY ATTENTION: Read the news on Nigeria's #1 new app
Members of the two-chamber legislature went on break on 24 July. They were scheduled to resume on 25 September. The executive arm of government has issued a red alert that the recess may lead to a government shutdown.
News Nigeria Today: Who is Nigeria's Smartest Politician? | Legit.ng TV.