Here we have must-read post for every fashionista. We want to tell you about hairstyles for jumbo box braids. Here we have the list of 55 trendy variations for every event, style and mood. Don't waste time, checkout the styles.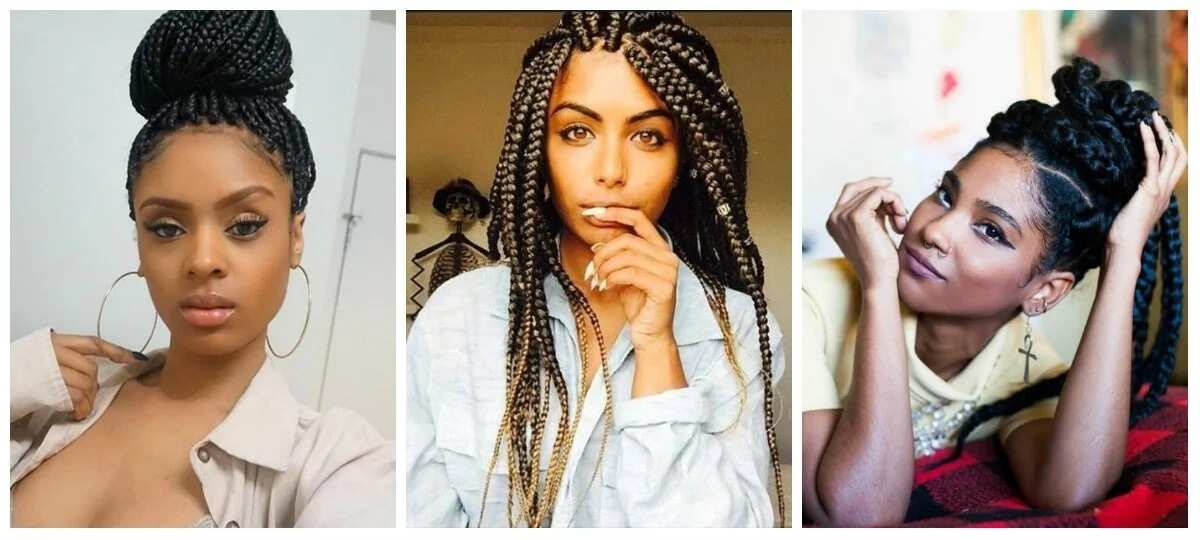 The list of styles for jumbo box braids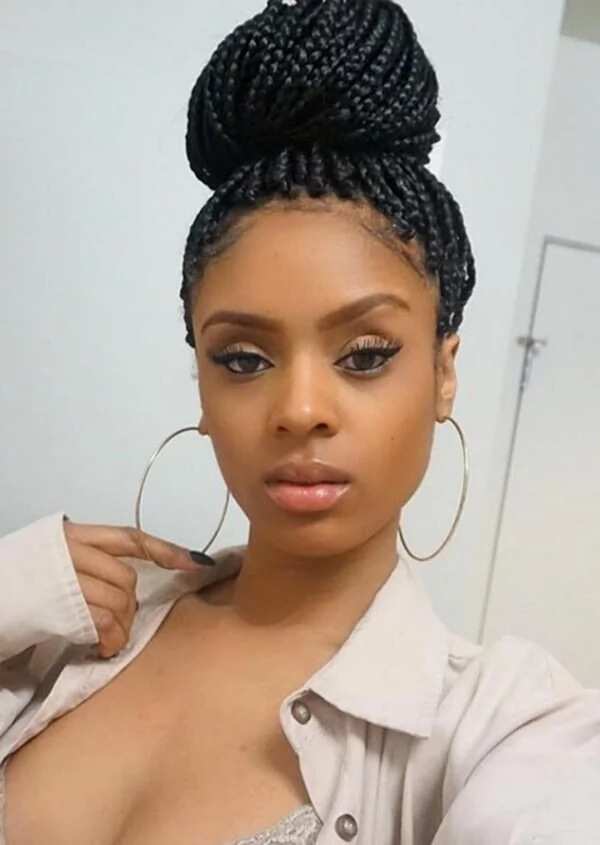 READ ALSO: How to pack natural hair: best styles in 2018
The braids pulled up in the spiraled way and form an elegant bun.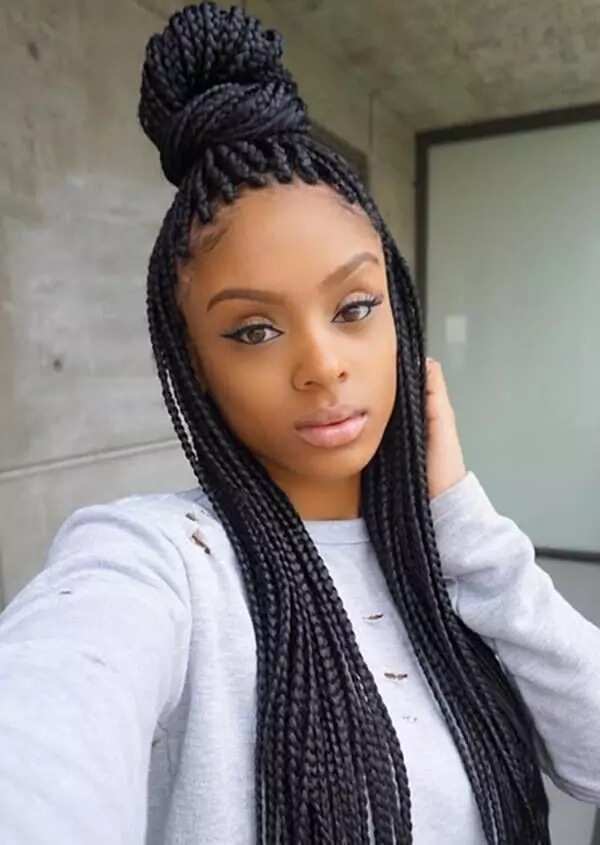 Try half up and half down way of creative design.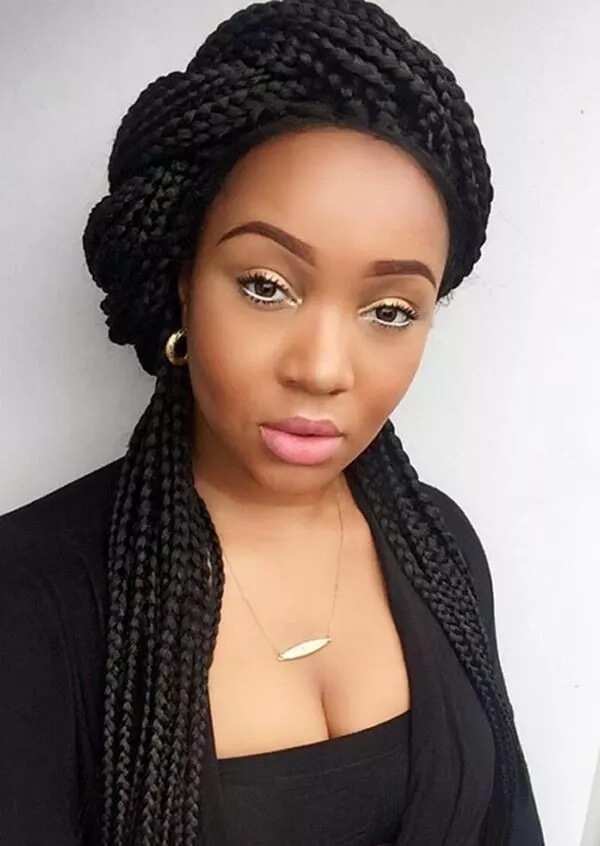 Hairpiece style is a great idea for an evening event.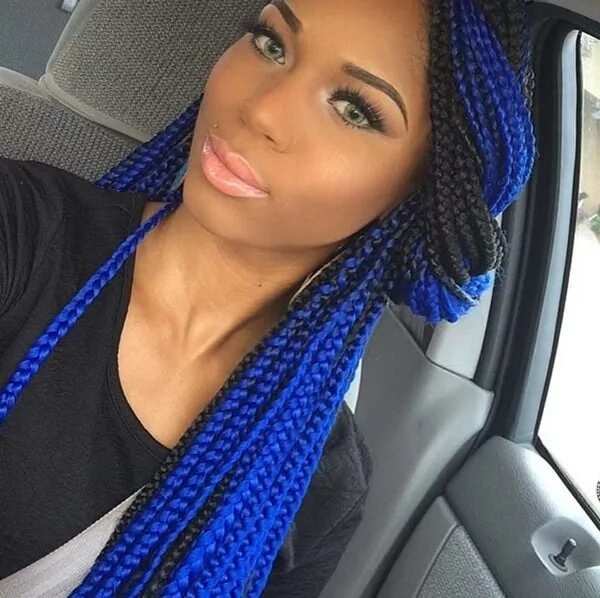 Try jumbo box braids with color as a way to do a bold experiment, that save your natural hair. Choose a knockout color to impress everyone.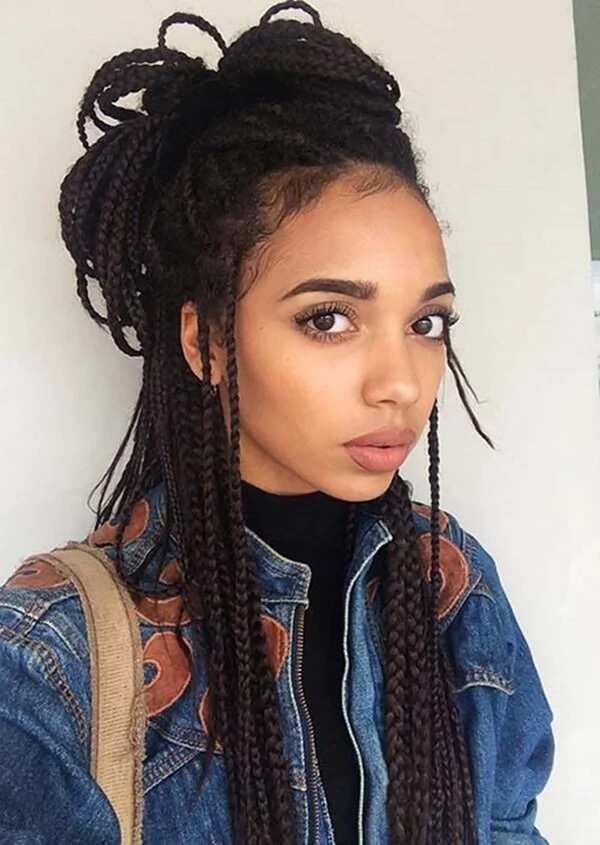 The idea for a casual look that can be good for everyday.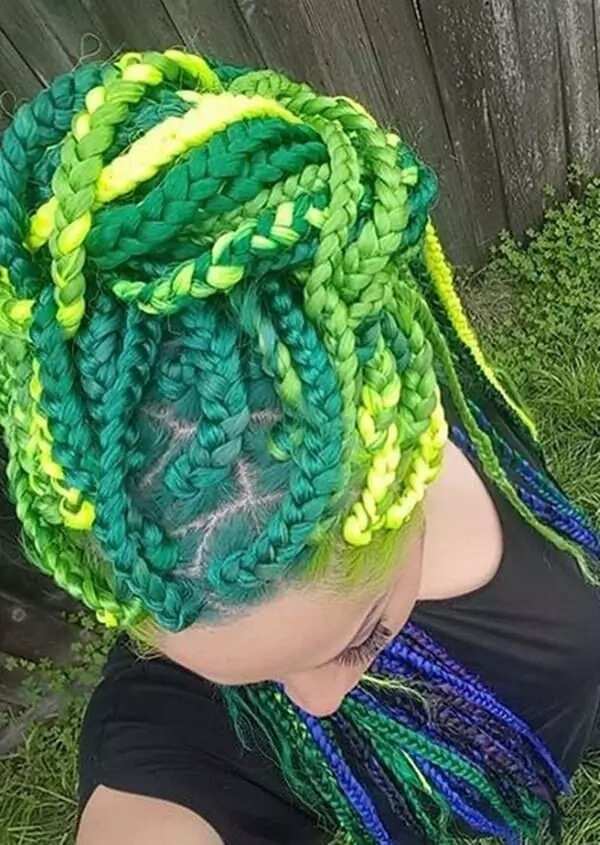 Do you want to feel wild? How about such a choice of color.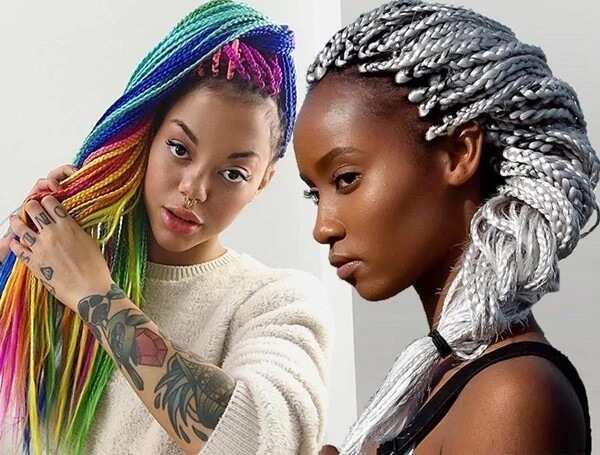 One more example of color experimenting, there are numerous of combinations.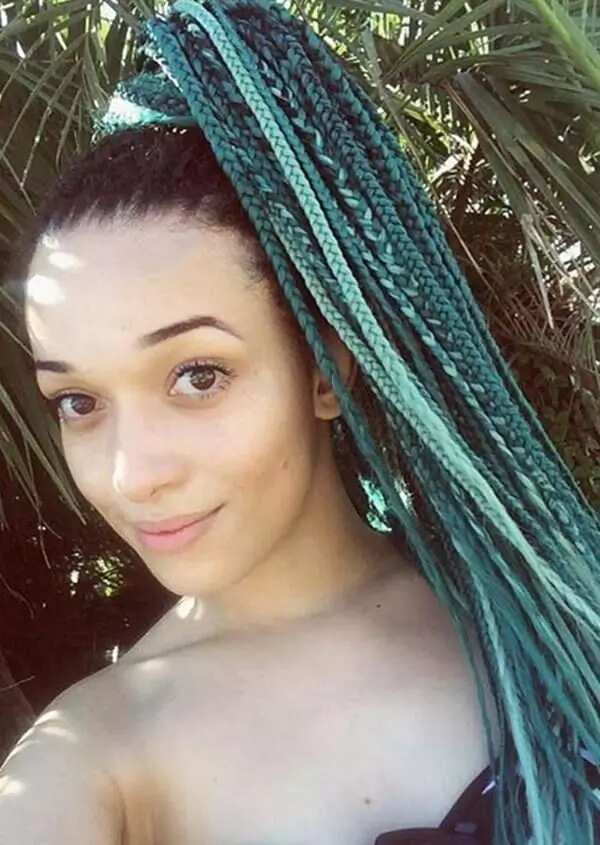 Left the base in a natural state and add a tail of braids.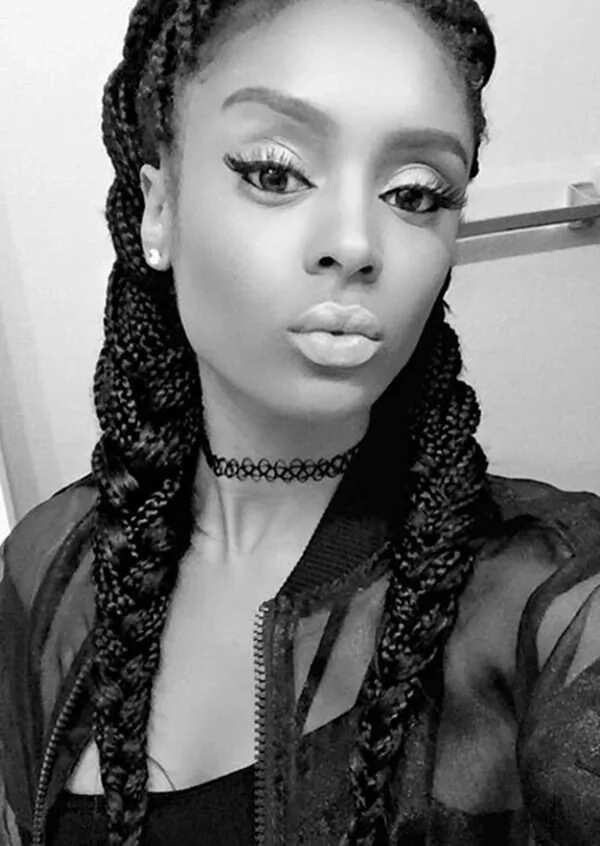 The pigtails can be made of large and small braids to create a unique style.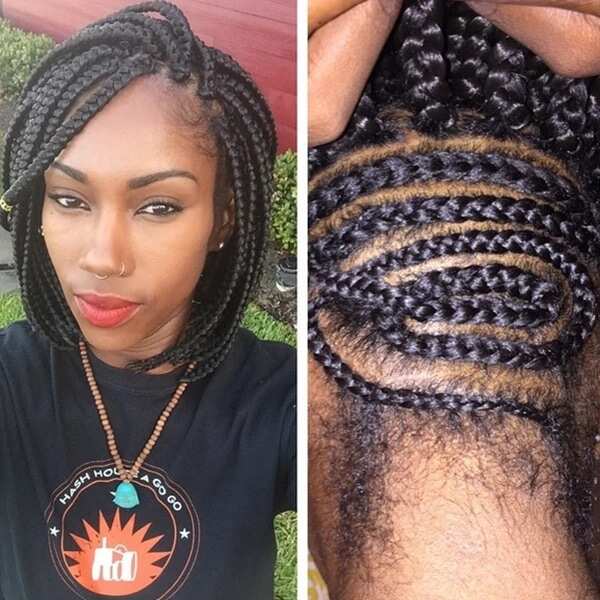 READ ALSO: Top low cut hairstyles for natural hair
There are numerous ways of braiding box braids with your natural hair.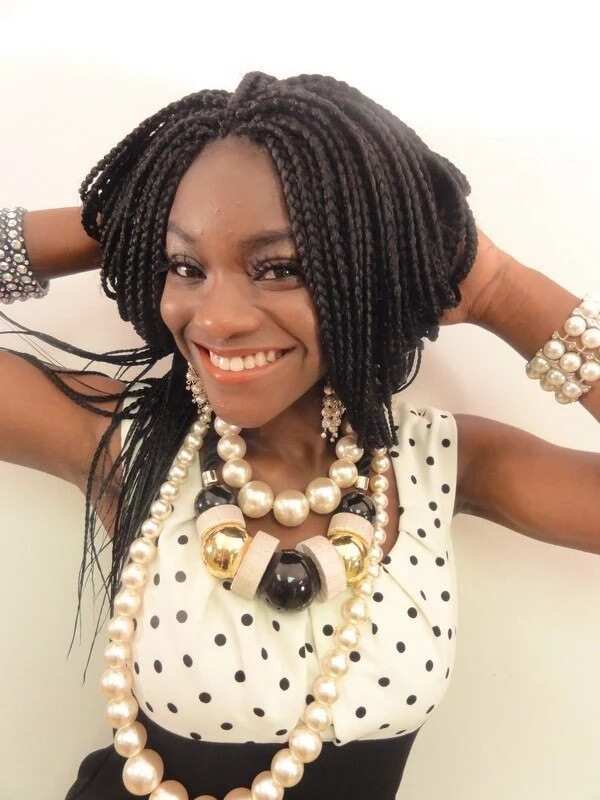 The sizes and shapes allow to create any variation of a look.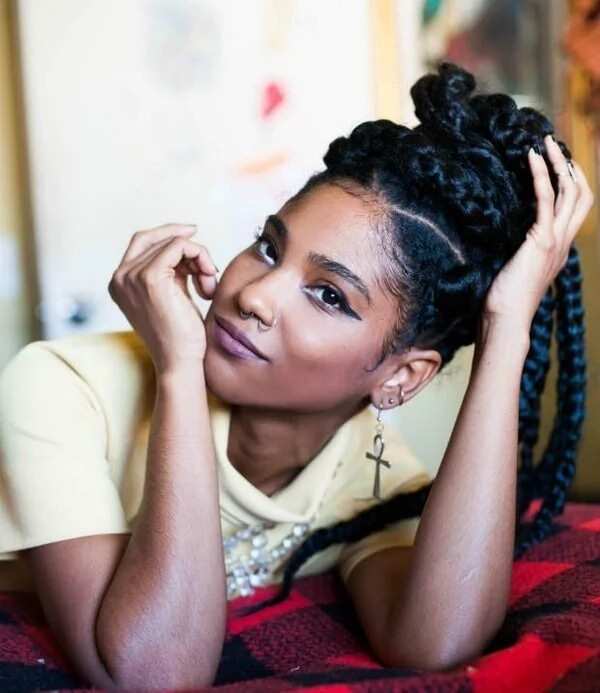 Try to put your jumbo braids back and shape the ponytail.
Long Braids with two ponytails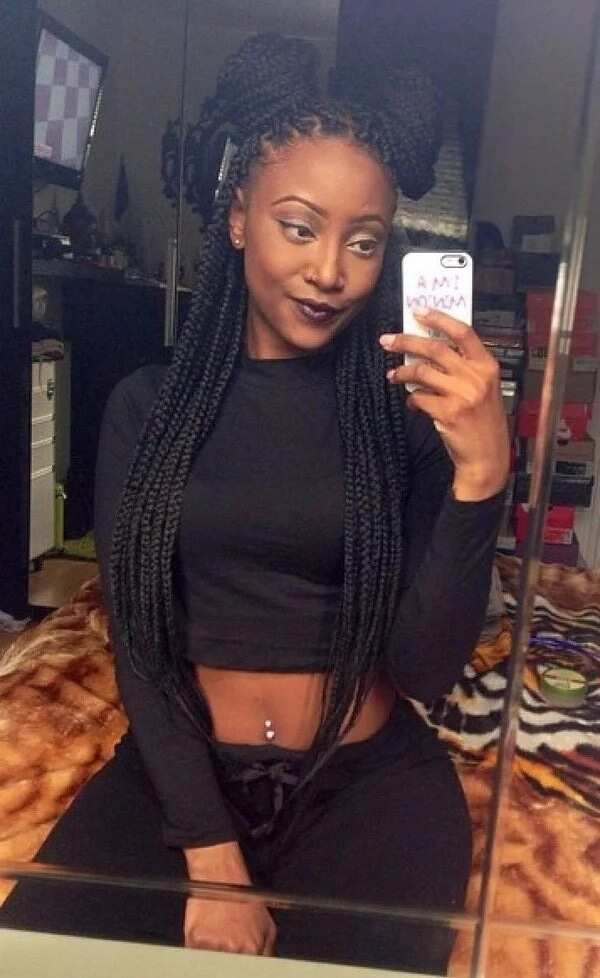 Have some fun with your long braids.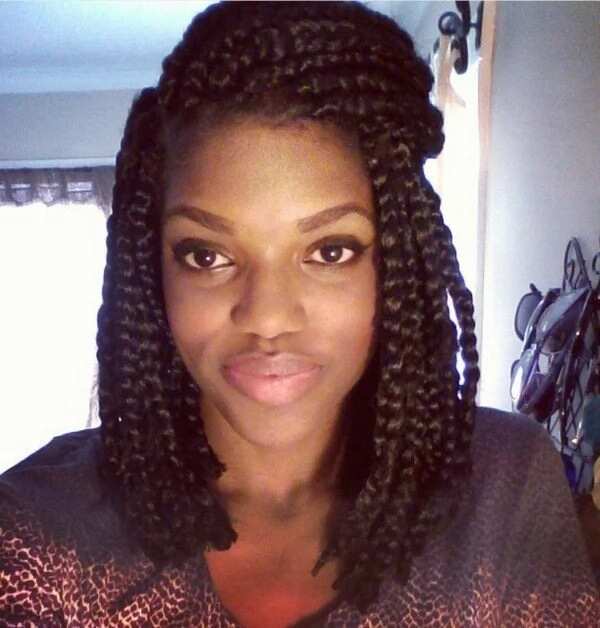 Short variation is not less fashionable than long version.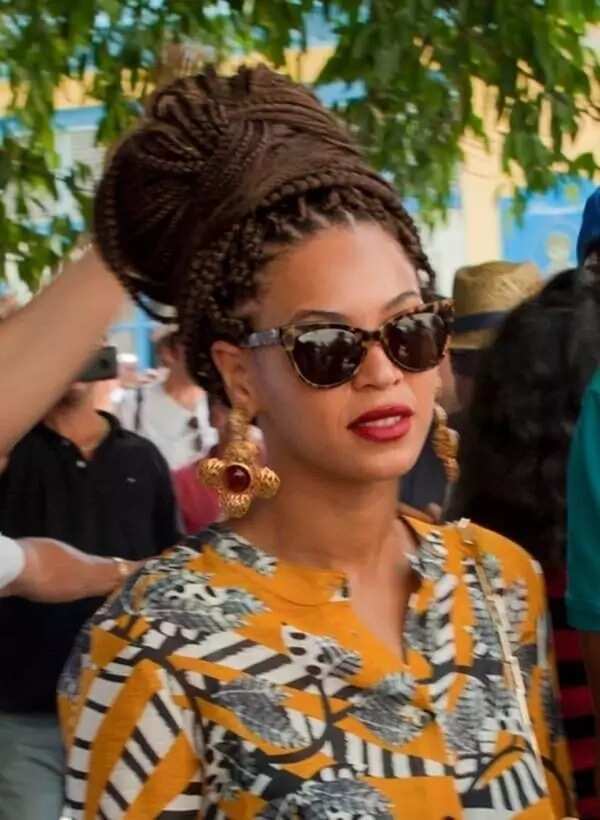 The color and styling looks highly creative.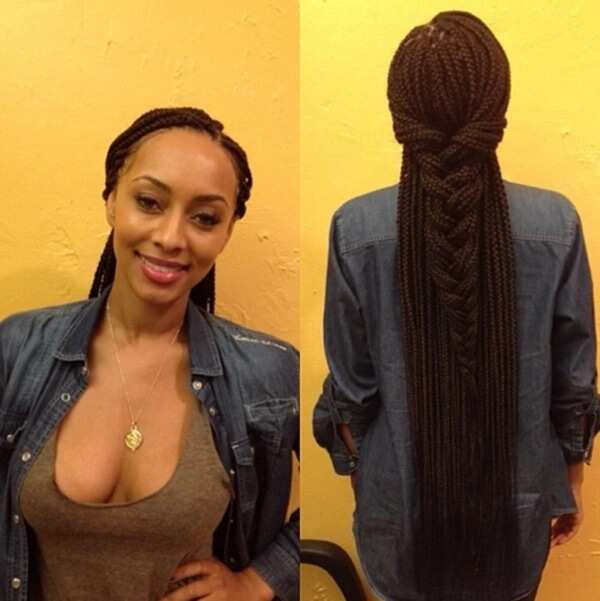 You can make one large braid with all of your braids.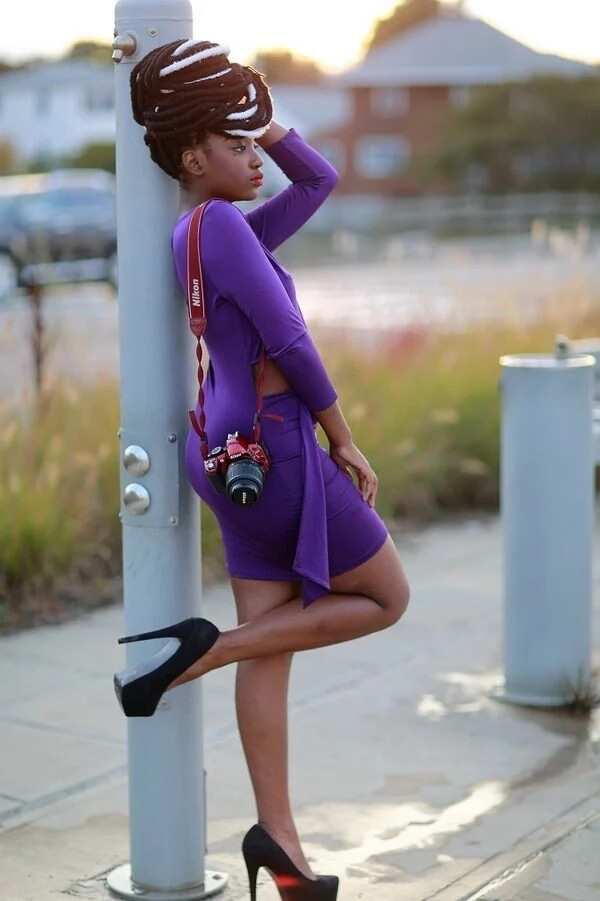 Another form for your jumbo box braids, to create the completely different look.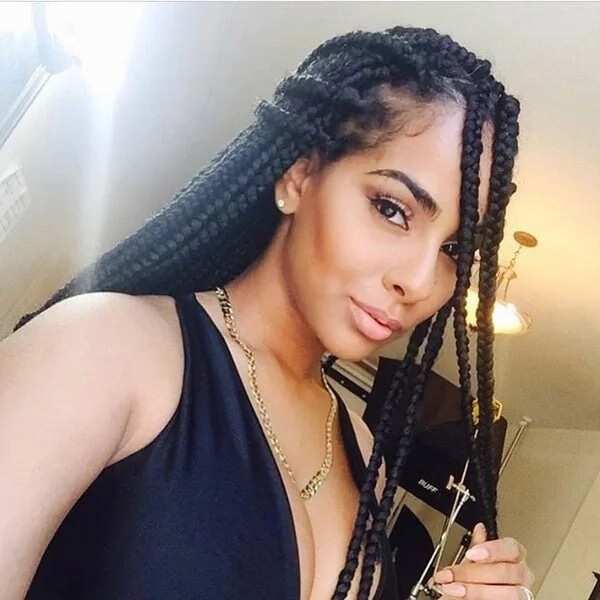 This is a gorgeous style that is appropriate for any event.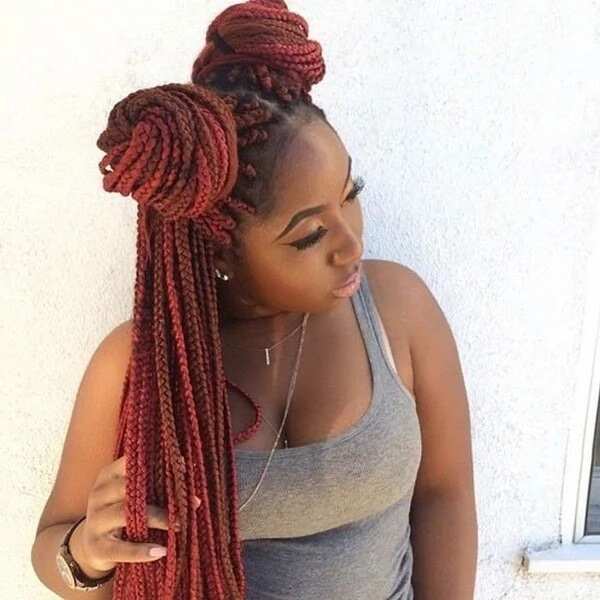 Try to add some more creativity to your buns.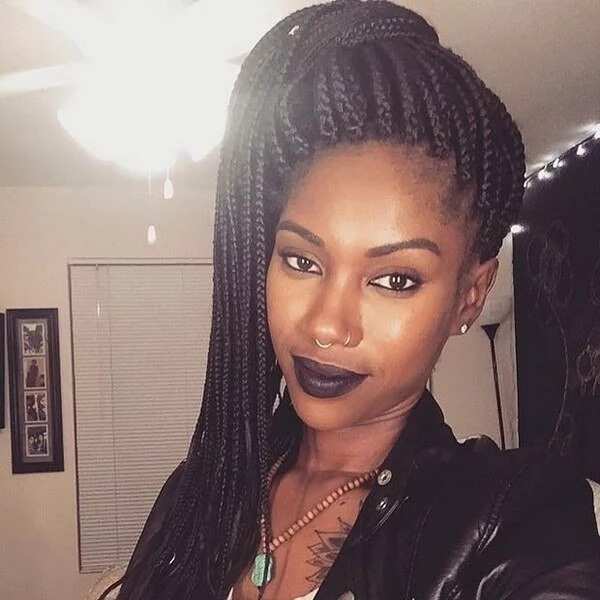 The braids look gorgeous in the shape of a high ponytail.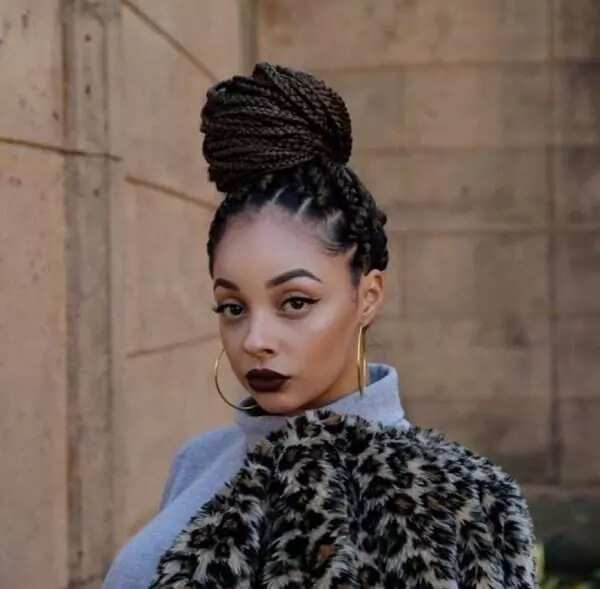 Look at this creative bun, it is definitely a piece of high fashion.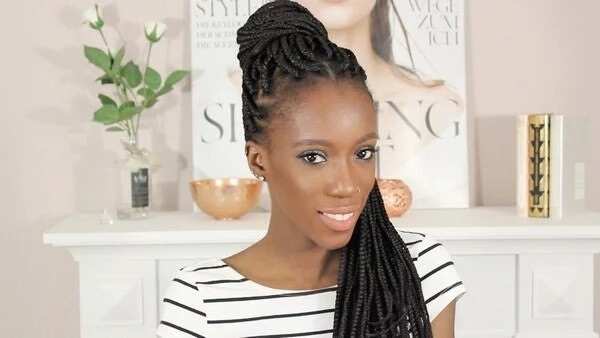 It can be good for office, and for an event, the elegance and sophistication are the main qualities of this look.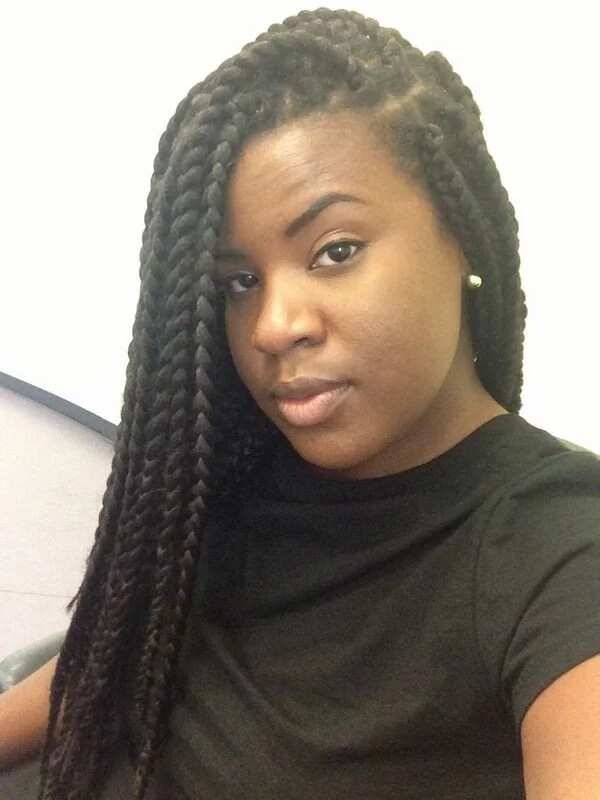 An easy way to manage your jumbo braids, just put them into a side part.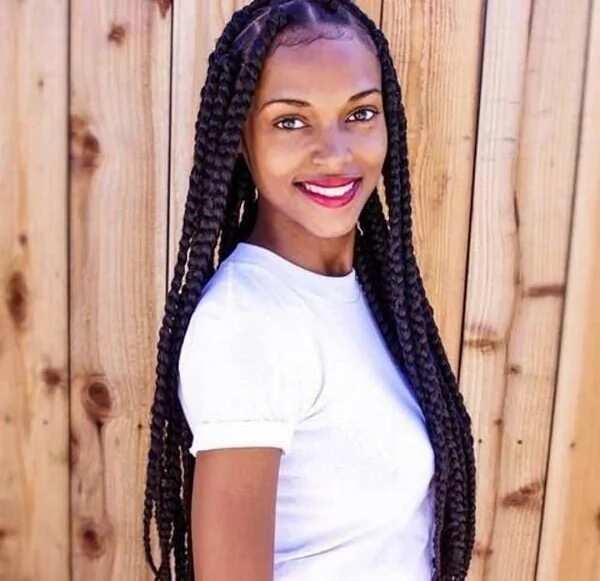 One more idea for everyday wearing of jumbo box braids.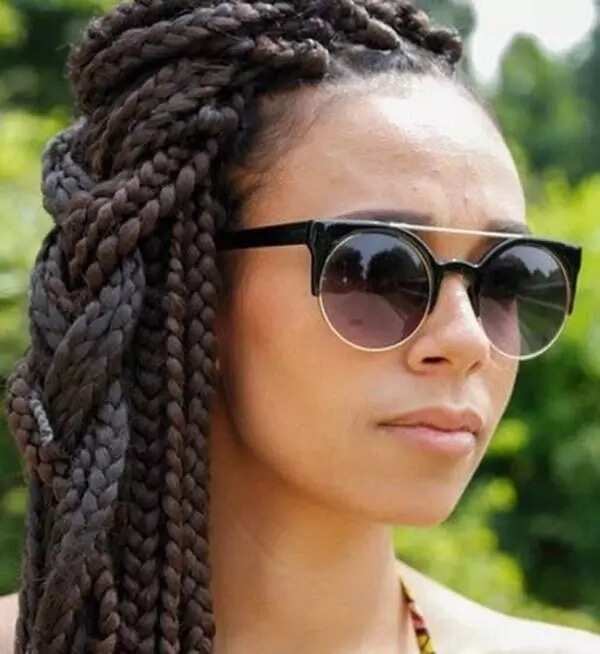 One more variation of the braid that is made of braids.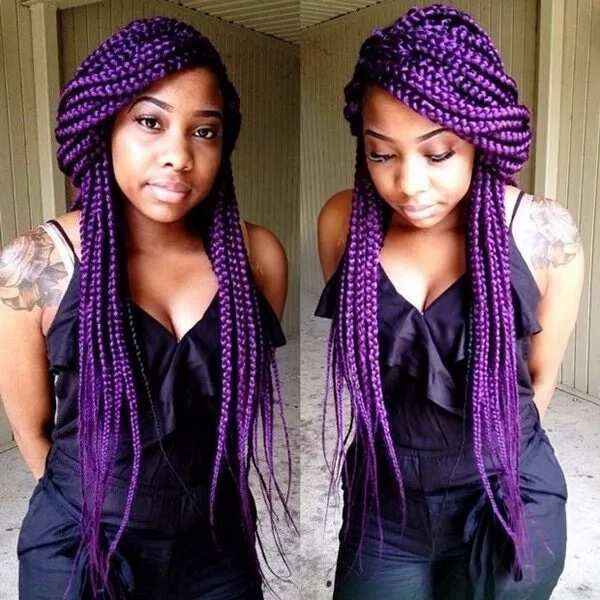 Never stop color experimentation, try outrageous purple to look amazing.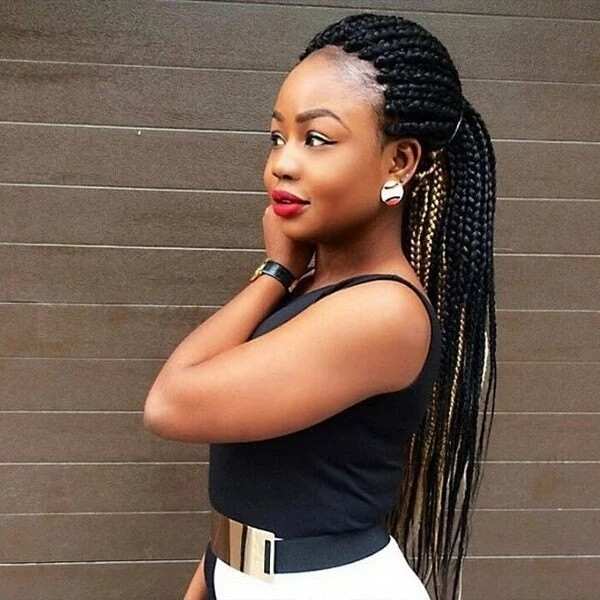 Eye-catching and at the same time easy design that can be good for the office.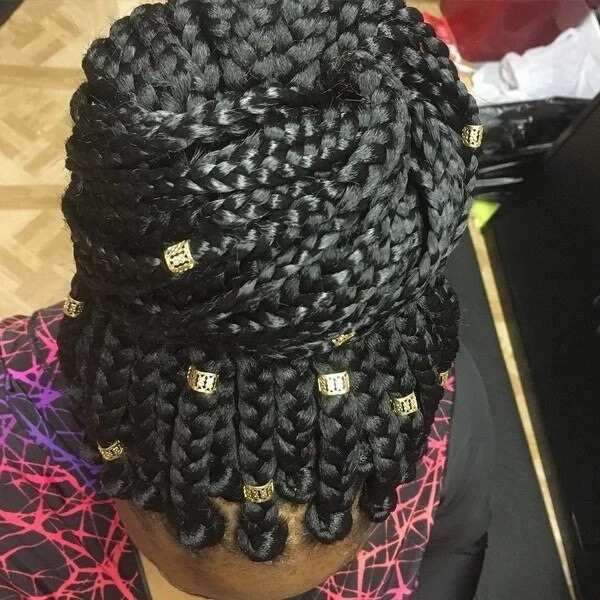 Make your updo shine with the help of accessories.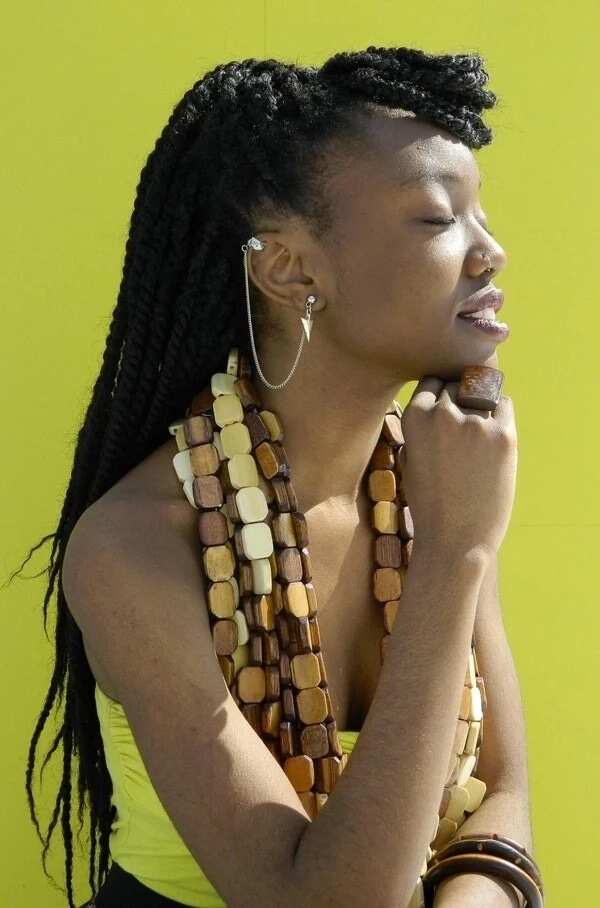 What about to change the look with the help of bangs?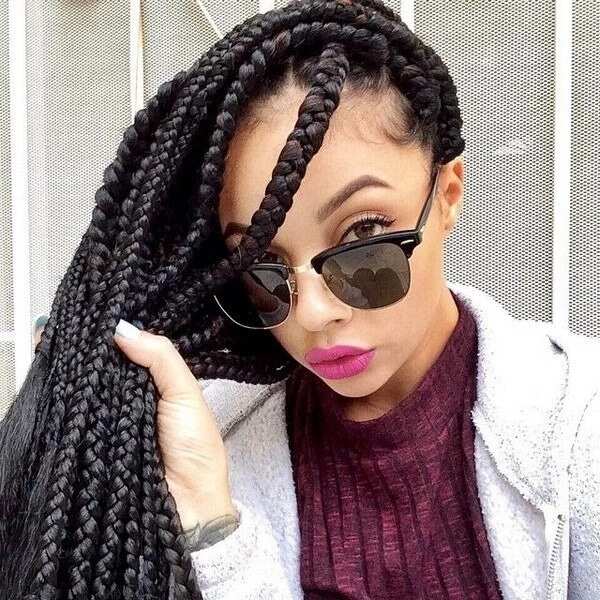 This is the idea to handle big jumbo box braids hairstyles.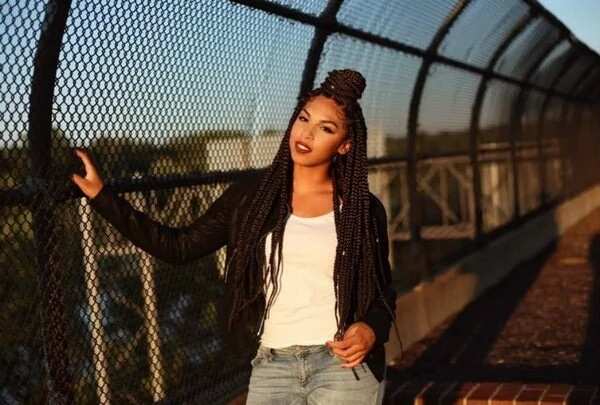 READ ALSO: Didi hairstyles in Nigeria
Easy and beautiful partial updo with a bun and braids left down.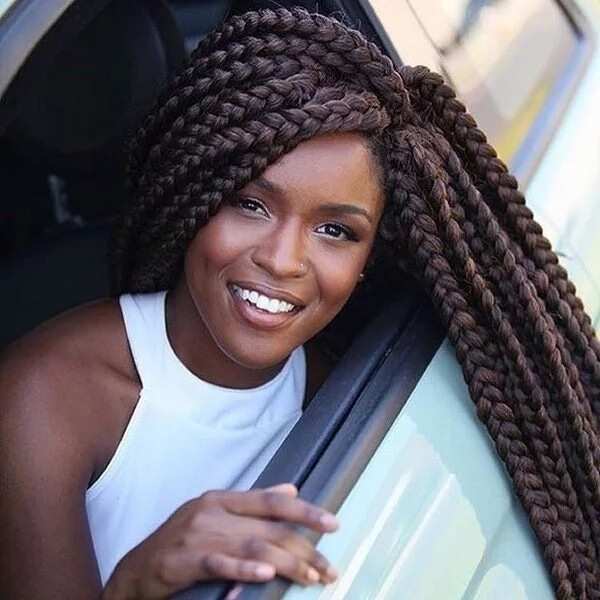 Jumbo box braids can be quite massive and create kind of different look.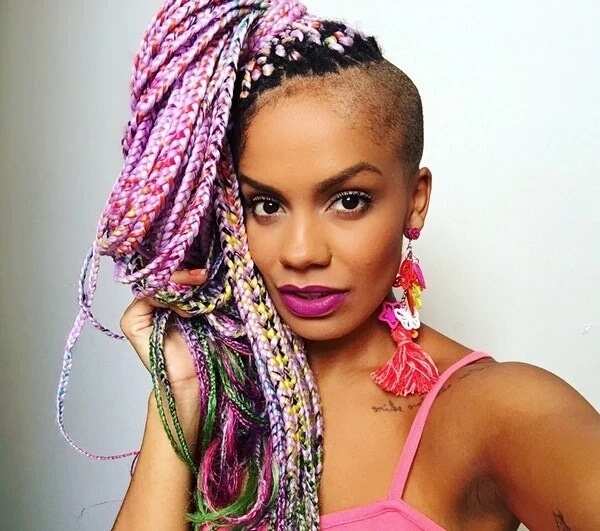 A bold combination of the color and shape.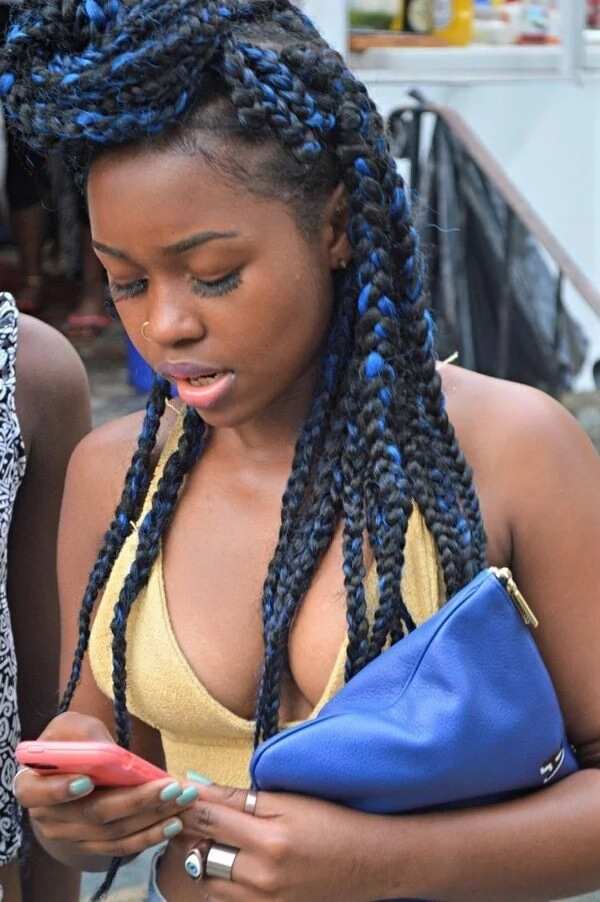 You can add some inserts of beautiful color and refresh the look.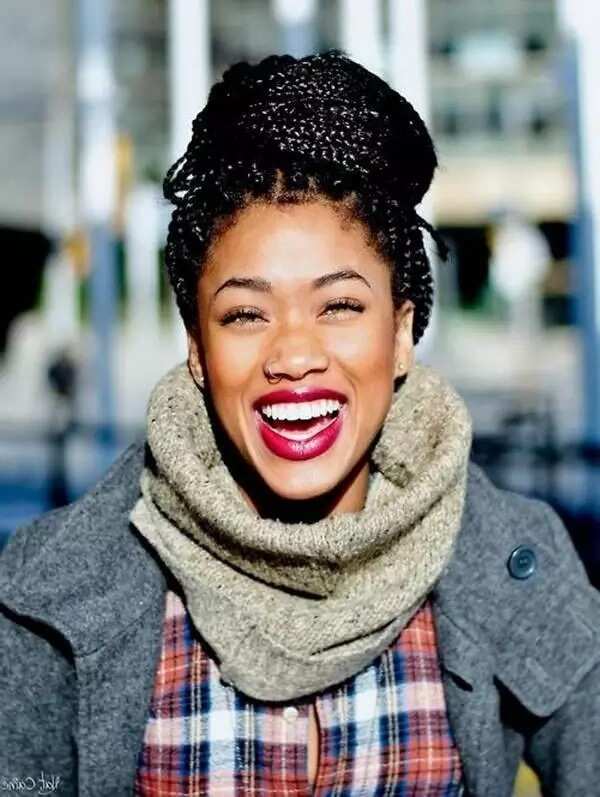 What about some glossy braids? This is another way to shine.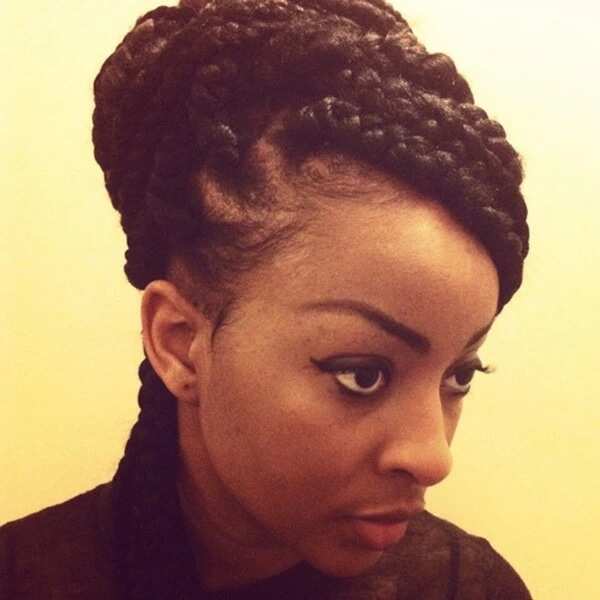 Create side bang just by pulling the braids to one side and pinning it up.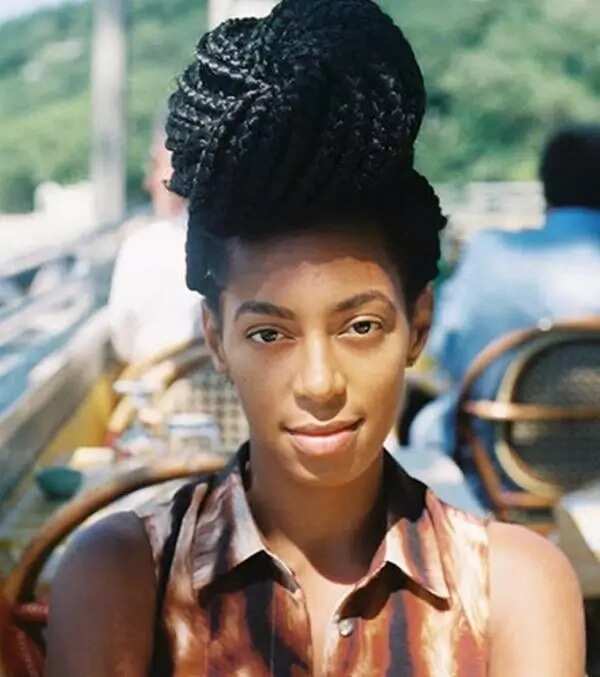 Jumbo box braids can be easily pulled in such a form.
Here we have the example of the experiment with blond color and some rings in the hair.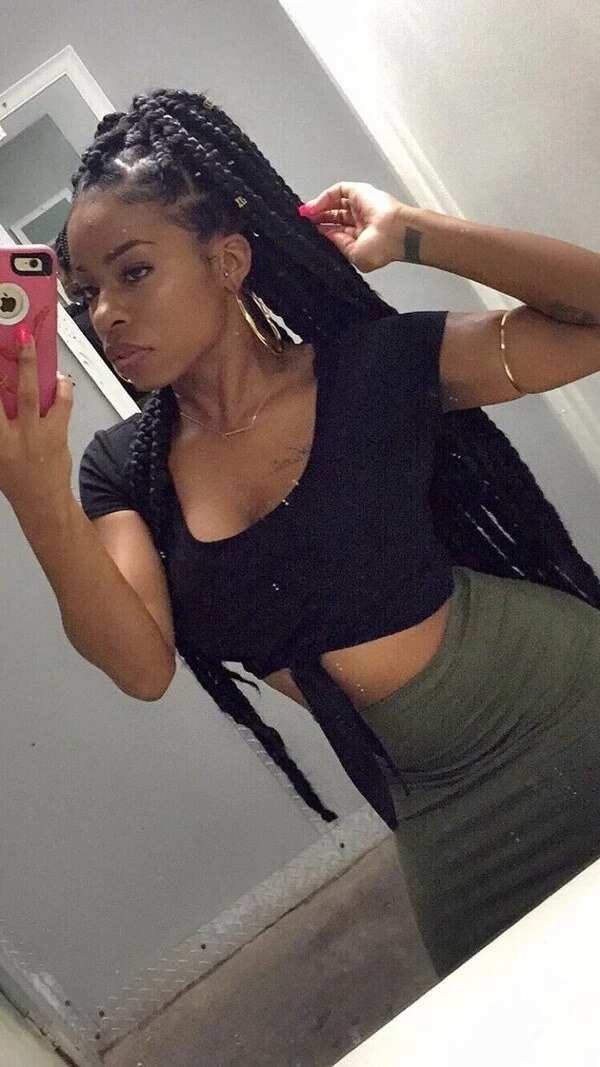 Here is a creative approach to a ponytail.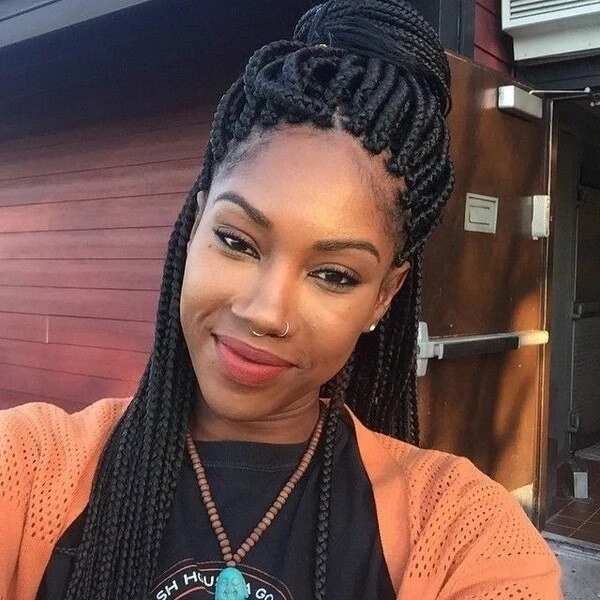 One more idea for a partial updo.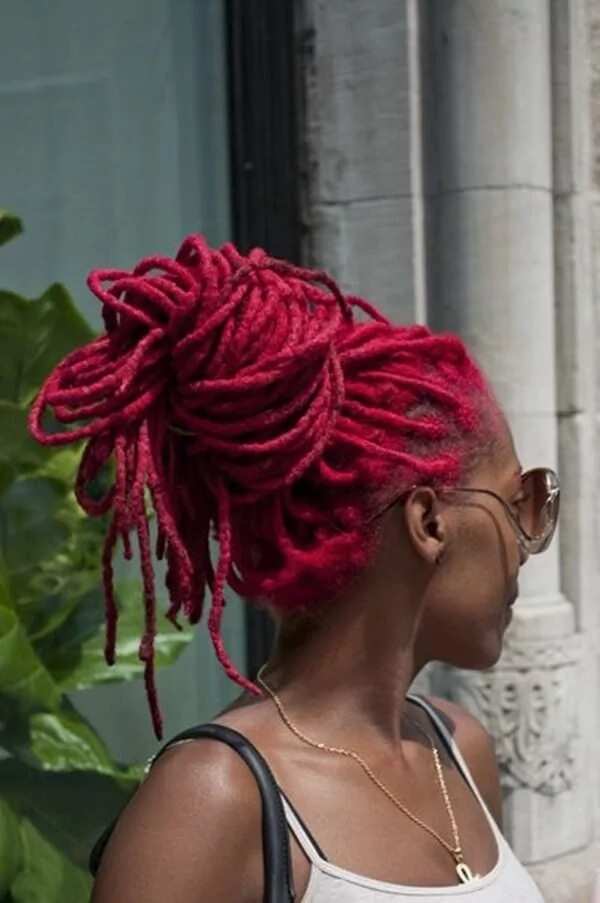 The examples of color experiments are not about to stop.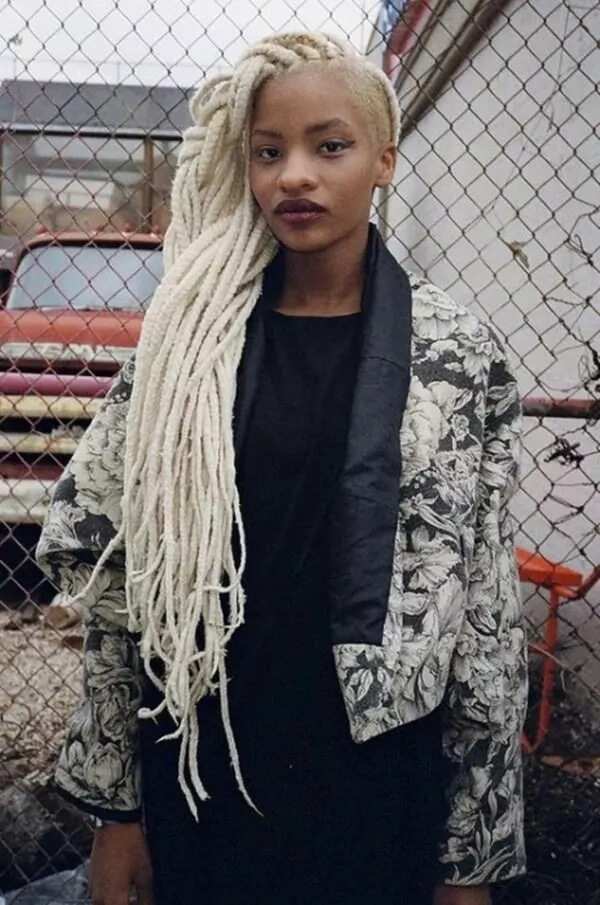 Shaved sides and white color to look in a creative way.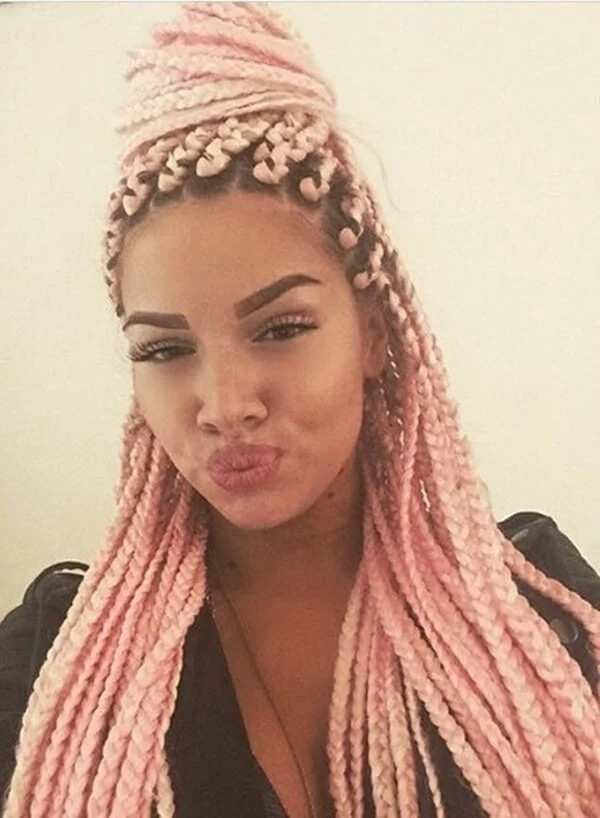 Pastel soft pink and partial updo as an idea for an evening party.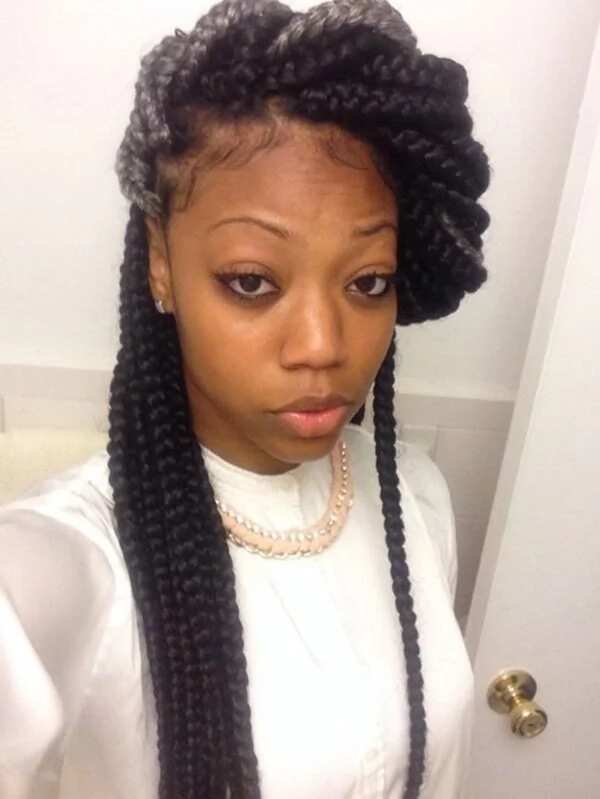 The top is curved to the side to create a unique style.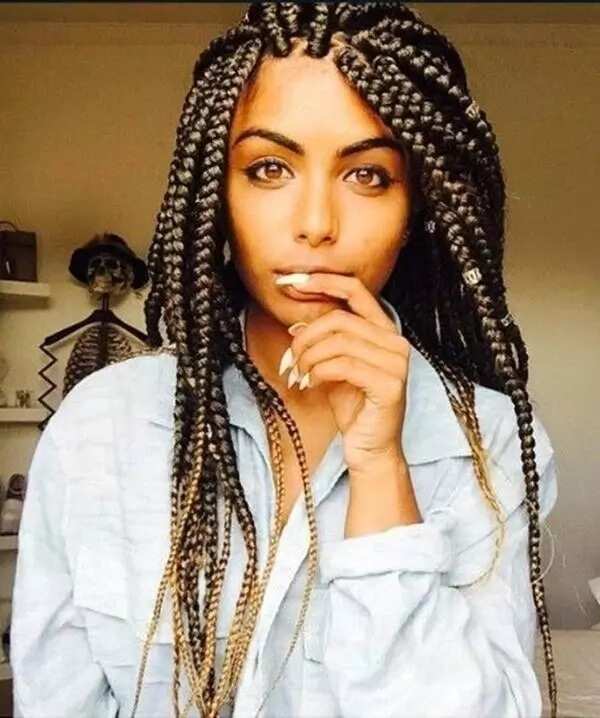 Look at this combination of braid sizes, accessories, and color.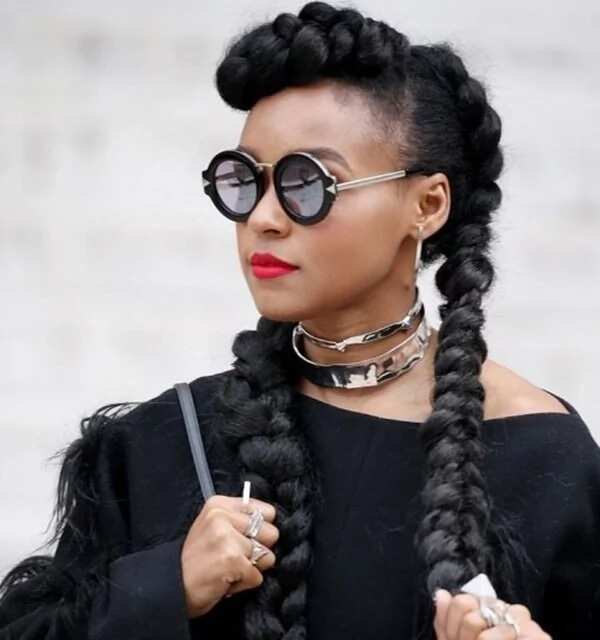 Large braids can be shaped in pigtails, and a unique look is ready.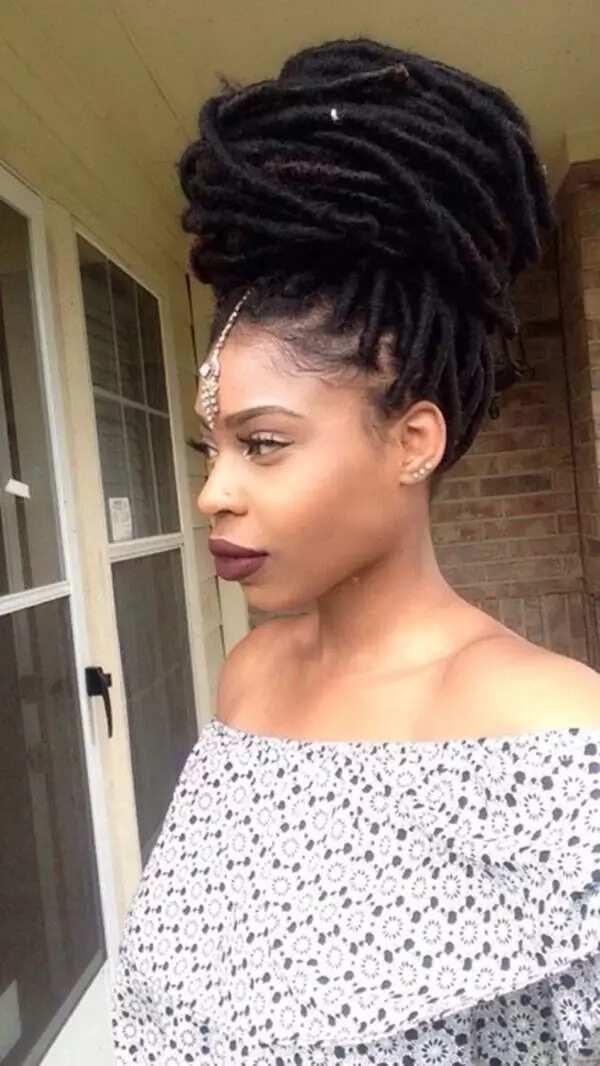 Put your braids into a voluminous updo, it looks like a large bun and creates an eye-catching effect.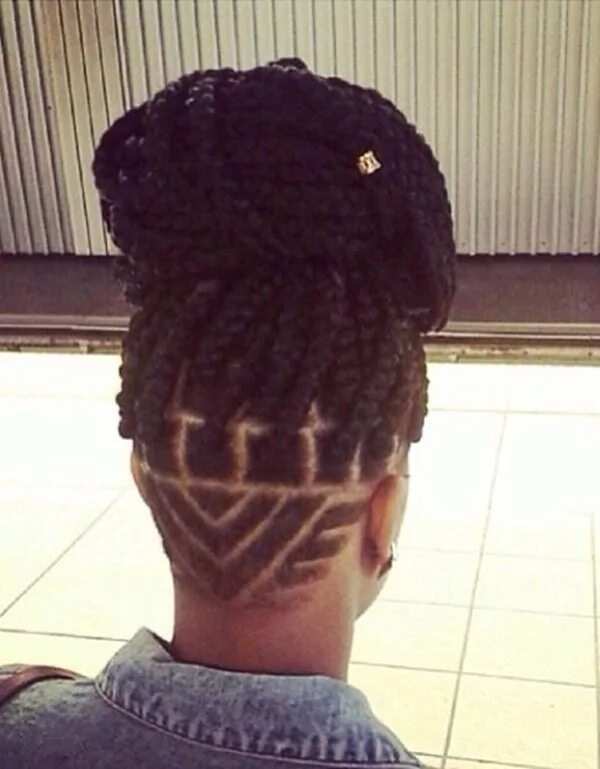 Shaved parts cake the hairstyle very unusual.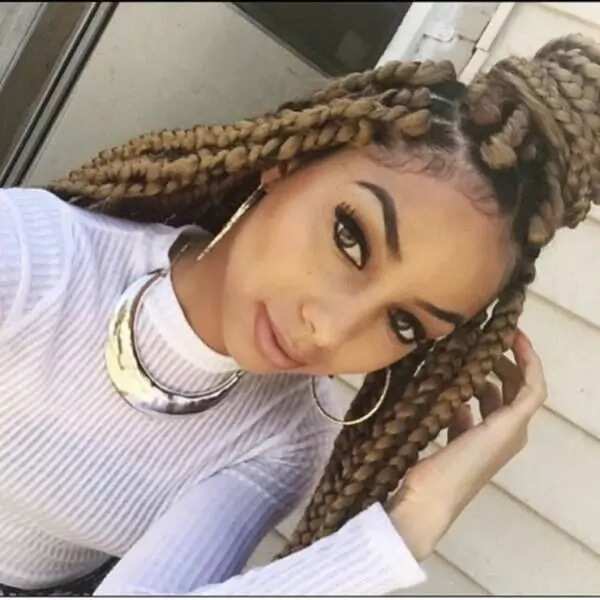 Caramel highlights to add some trendy features to your partial updo.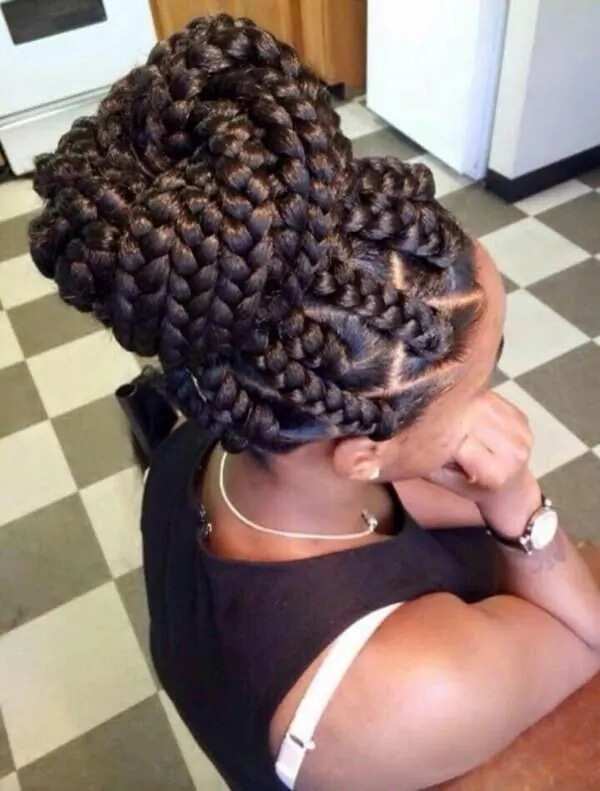 Buns are trendy so do it in a creative way.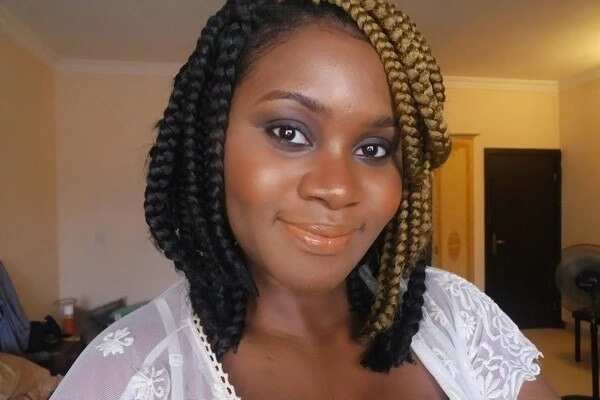 Short braids and contrasting colors as one more example of creativity.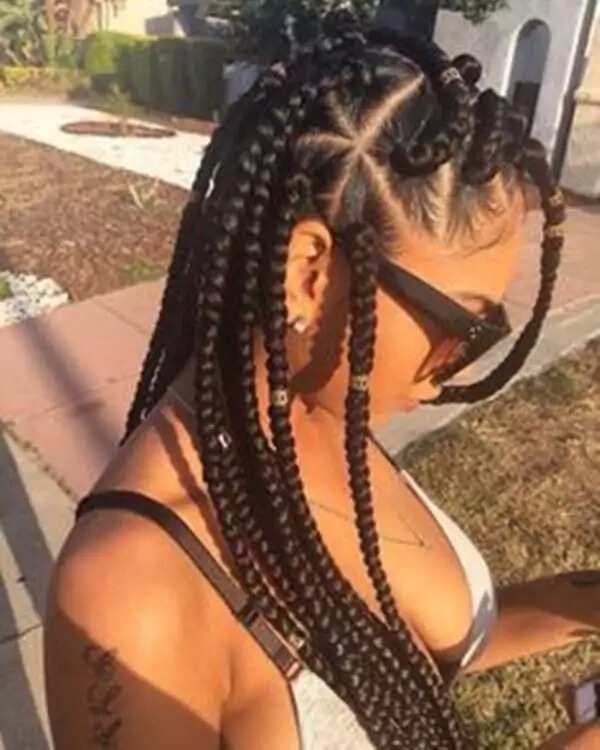 Just create a star on the side of your head.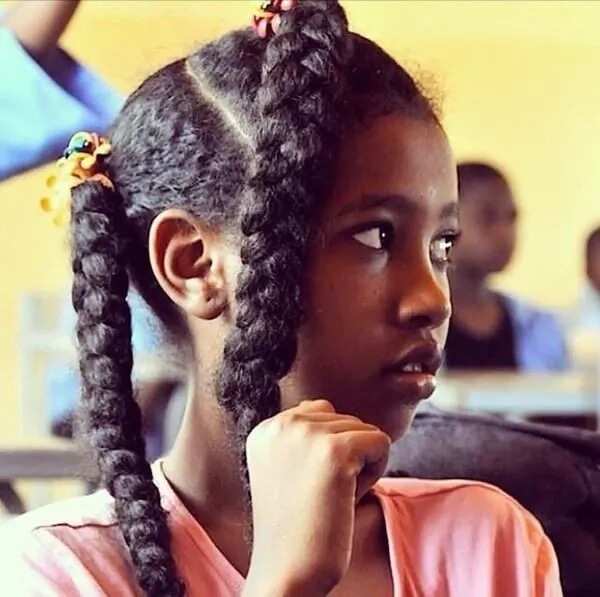 We should say that jumbo box braids are good for kids.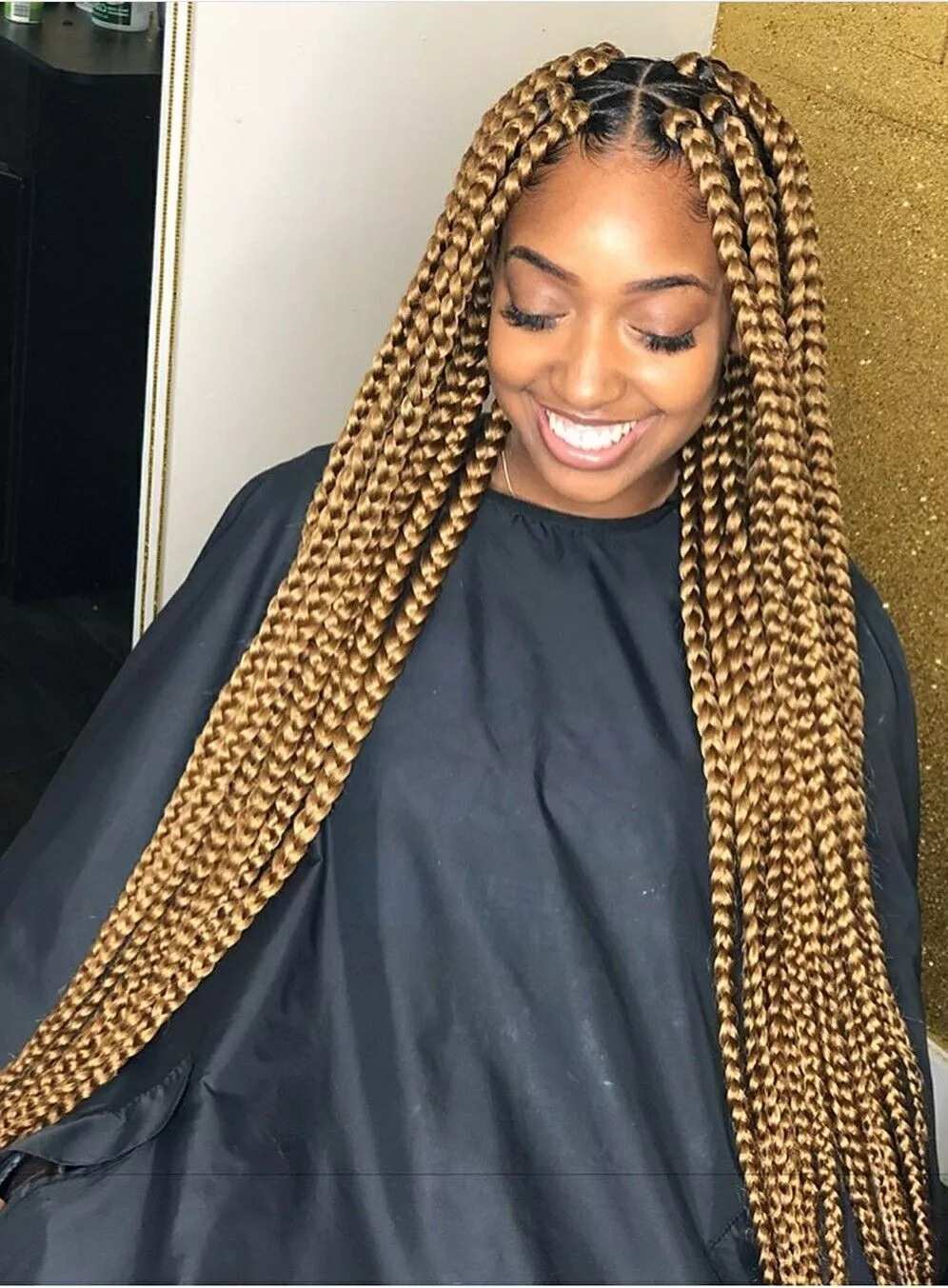 This is a shining look with a star on the top.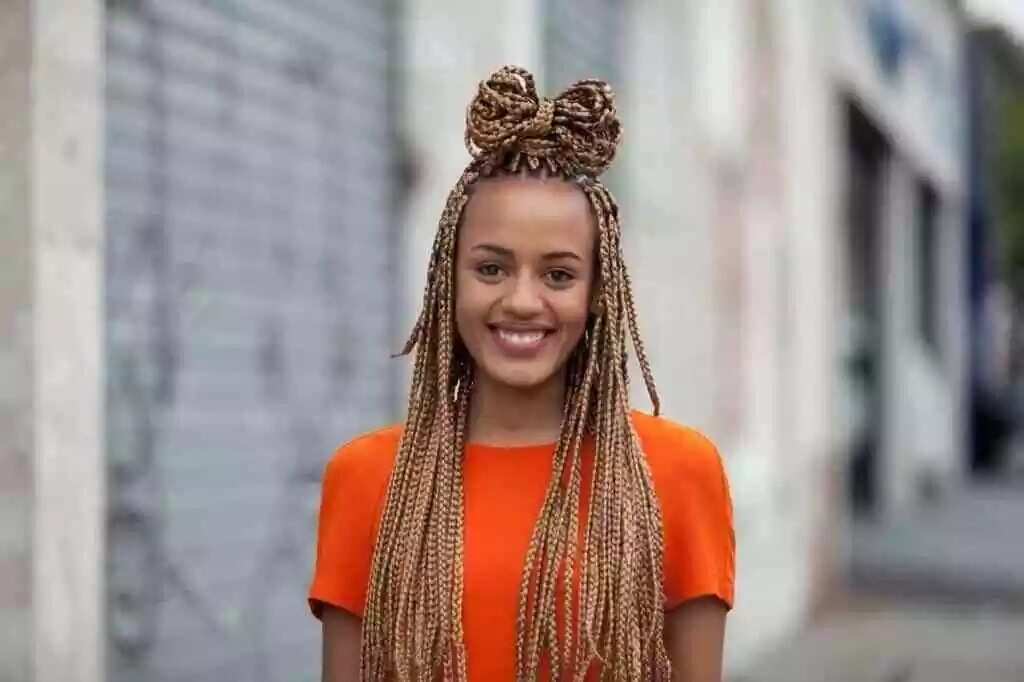 Braids can be shaped in different variations, try some bow to look sunny.
Jumbo box braids is a trendy choice
Jumbo Box braids are a very popular type of hairstyle. The style has numerous numbers of variations may be this is one of the reasons for its popularity.
A good thing about this hairstyle is that it protects your hair. Box braids create a little protective layer to a natural hair, and this is the way to extend the life of your hair. Jumbo box braids hairstyle choice is so big, everyone can easily choose the appropriate one. You can wear it in a casual manner or create an elegant updo.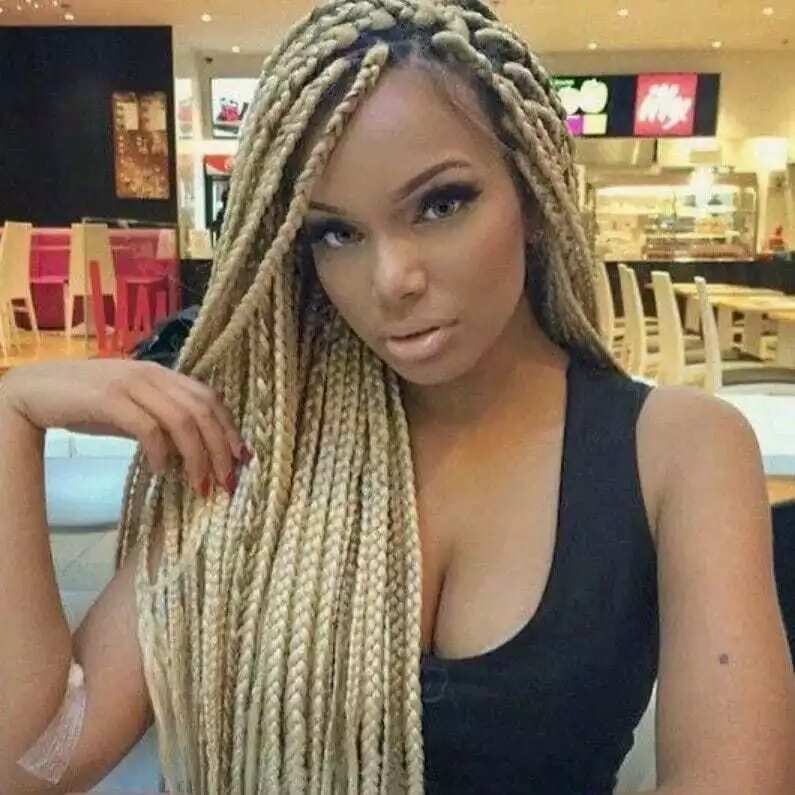 Box braids overlap your natural hair and save it from environmental damages. Such a hairstyle can last for up to three months. It is always fun to experiment with styles and jumbo box braids open for you a huge field for creativity. We have prepared for you a list of trendy variations to choose.
As you see the styles for jumbo box braids gives you many ways to look fashionable. The hairstyle will be held for three months and after that, you can try some other variation. It is not hard to maintain this kind of hairstyle.
READ ALSO: Black natural hairstyles for medium length hair
Source: Legit.ng