- A Nigerian woman has praised a man who was spotted bathing his newborn baby
- She praised him while she talked about qualities to look for in a man before woman decides to have his child
- The adorable dad was spotted bathing his child in a baby tub in his living room
In some parts of Africa, it is rare to see a man taking on the role of caring for a child, be it bathing or feeding the child. Many people still believe childcare is the sole responsiblity of a woman.
That's why the act of a man seen taking care of a child seems strange to a lot of people. Some people would praise him for being a good father while others would berate him for doing something that is not part of the culture.
A Nigerian man has received praises on social media after he was spotted bathing his newborn son. The man was filmed bathing his daughter in a pink plastic baby bathtub in his living room.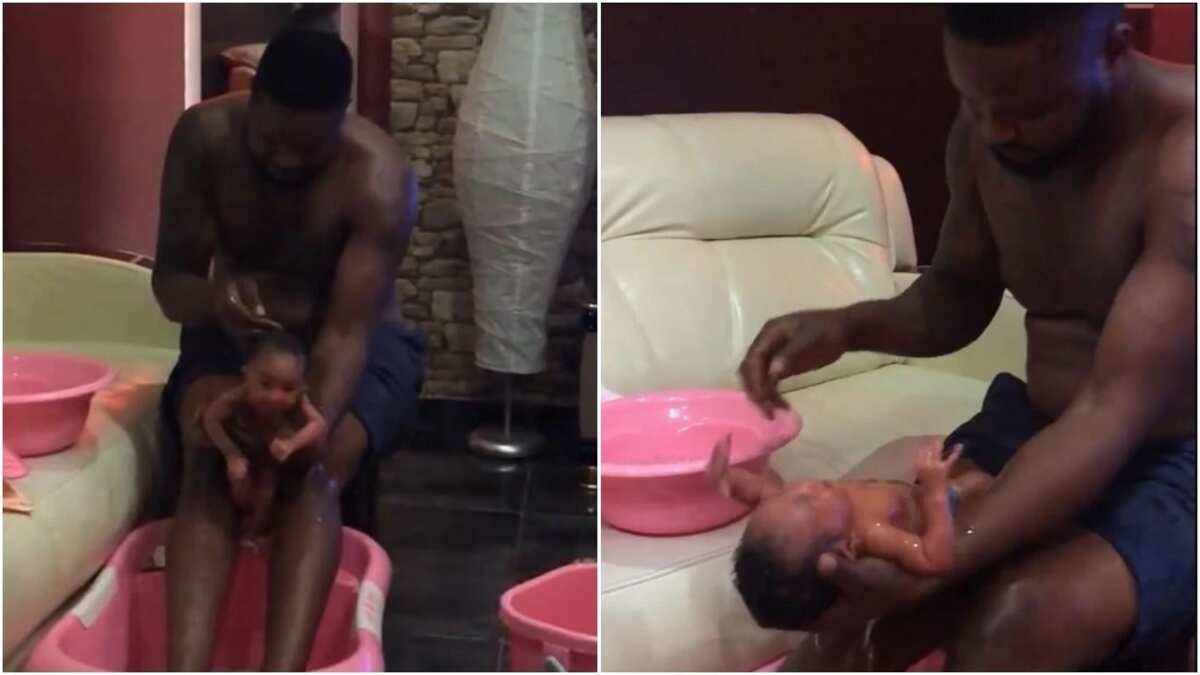 READ ALSO: Homeless man hands out his CV on the streets and lands a job
The video of the man was shared by Facebook user identified as Nkechi Bianze who lauded the man. She expressed that she was impressed by the adorable father.
According to her, a father who chose to bath or take care of his child is not helping out the wife but taking responsibility for his child. She noted that children are the responsibilities of both father and mother.
PAY ATTENTION: Get the Latest Nigerian News on Legit.ng News
Bianze also took the opportunity to advice women to make sure the man they choose to have children with are capable of looking after children.
Read her post below:
"I saw a video today, and took some screenshots because I was impressed. The video/photos attached are that of a man bathing his new born baby girl. I immediately fell in love with this man.
Ladies, this is this is the type of assurance you should ask for. A man who is capable of looking after your child when you are not there, or when you are incapable of doing that.
Dear ladies,
Stop having children with men who are not ready to be Dads by hands-on doing what responsible Dads should do.
I currently do NOT know how to bath a newborn baby. But I plan on learning before I have my first child. And my husband or the father of my child MUST be ready to go through this learning process with me, if he doesn't already know how to do it. The child(ren) will belong to BOTH of us, not only me.
AND
If a man changes his baby's diapers and uses his hands or mouth to scoop the poo, if he baths the baby, feeds the baby, and minds his own baby; he is NOT HELPING his wife or mother of the baby, he is carrying out some of his responsibilities as a father. These are some of the duties that come with being a father.
A man who feels too big to change diapers, bath his own child, and mind a child should probably not get a woman pregnant. Changing diapers, bathing your child, minding your child, and cleaning up after the baby are part of the package of being a dad. If you can't do these things, do NOT have a child.
Even Mark Zuckerberg, a young stinking rich father of 2 girls does some or all of these duties. He is the 5th richest man. So, tell me again, who are you to feel too big to look after your own child?
I have never thought it made sense for a man to consider these chores as helping his wife. How do you help another person take care of YOUR OWN child? So, how does your husband/male partner assure you of his love and commitment?"
PAY ATTENTION: Get your daily relationship tips and advice on Africa Love Aid group
Is it appropriate to do house chores, wash your wife's undies? - on Legit.ng TV