Twist crochet braids styles: marley, kinky & havana
These days, there are so many natural hair styles that their sheer number might make your head spin. Luckily, you have us and we have the latest collection of twist crochet braids styles that can fit any person (and any wallet). Check them out and who knows, maybe today is the day when you finally find your perfect crochet hairstyle.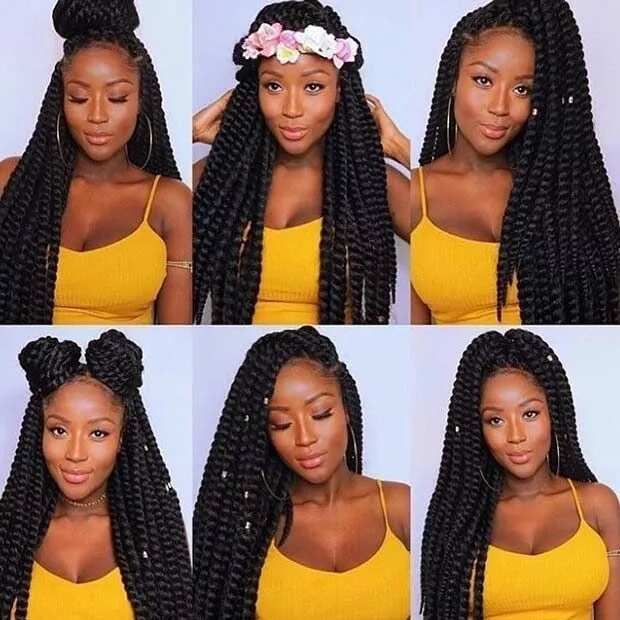 Crochet hair styles
Before we get to our braids, let's talk a little bit about the difference between them. What exactly are the crochet twist braids and how are they different? Well, let's see:
Havana twists are made with special Havana crochet hair, which is usually hard to come by, as it is not available everywhere, and it is on the expensive side. However, it is very fluffy and full, as well as light, so it does not weigh you down much, even if you get it wet. Moreover, due to its rough texture, it looks more natural, and you do not have to seal the ends so that the twists do not unravel.
Marley twists, as you might have already guessed, are made with Marley hair, which is cheaper and more accessible than Havana hair. That said, you might have to use more hair if you want fuller twists, as this type is smoother and thinner. At the same time, Marley hair gets really heavy when you get it wet, and you will need to have the ends sealed.
Kinky twists are a whole other breed. They are not quite as popular as the previous two options, but a lot of people still enjoy this style. They are also usually made with Marley hair, but there are a few differences. First, the hair is braided with extensions for an inch or so before twisting. Second, the twists themselves are much thinner than either Marley or Havana crochet hairstyles. Third, unlike the other two styles, the twists are mostly on the shorter side and the ends are curled.
Now that you know the difference, let's get to the styles.
Havana crochet braids styles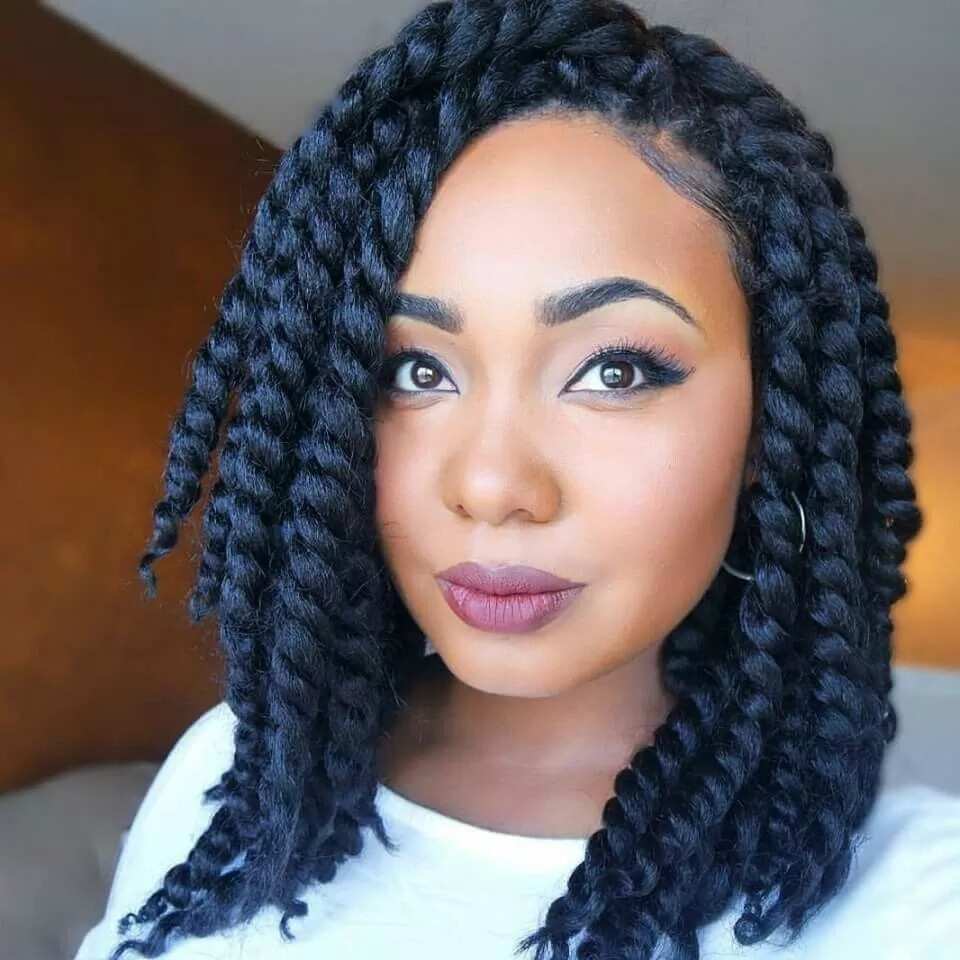 READ ALSO: Crochet braids with expressions - Best designs
Here is our first pick in the Havana twists category. There is not much that can be said about this particular hairstyle. It is simple, classic and lovely, and it will fit almost everyone. So if you are not looking for something out of the ordinary, then this style should be perfect.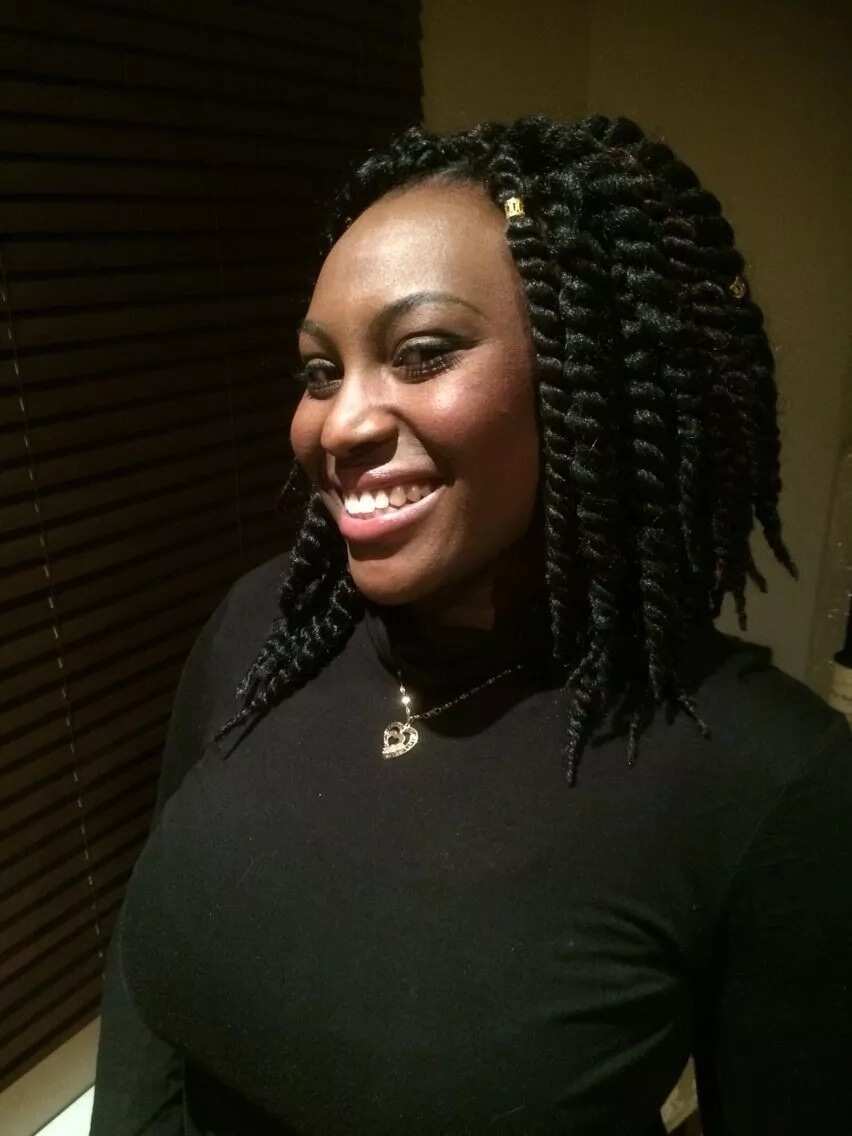 This is another simple look you can try, only this time it is spruced up with lovely gold beads. Such a tiny detail can make the whole look so much more interesting.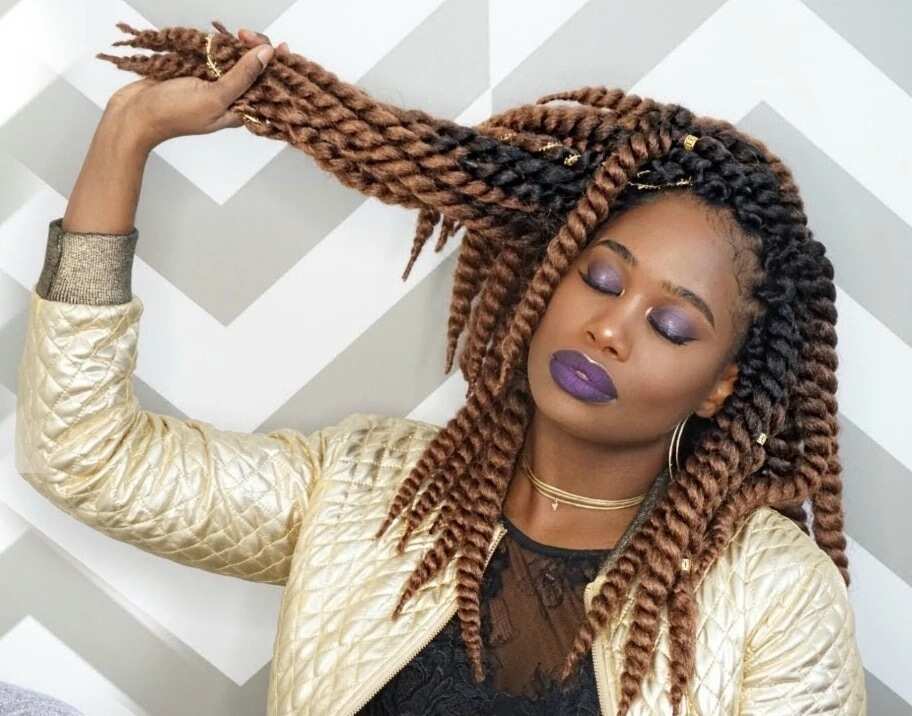 If you want to add a little something special to your Havana twists, you can go for an ombre effect and add some hair jewellery to spice things up. Even a few beads here and there can elevate your look significantly.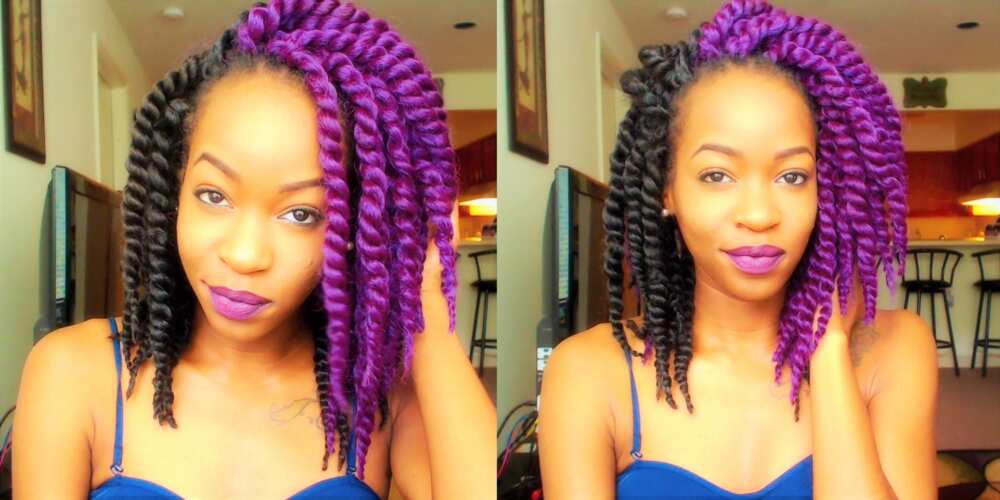 Now, if you are not afraid to go for bright bold colours, this style should be a great option for you. Even though a lot of people choose to go for vibrant colours these days, you can stand out by leaving a part of your hair natural.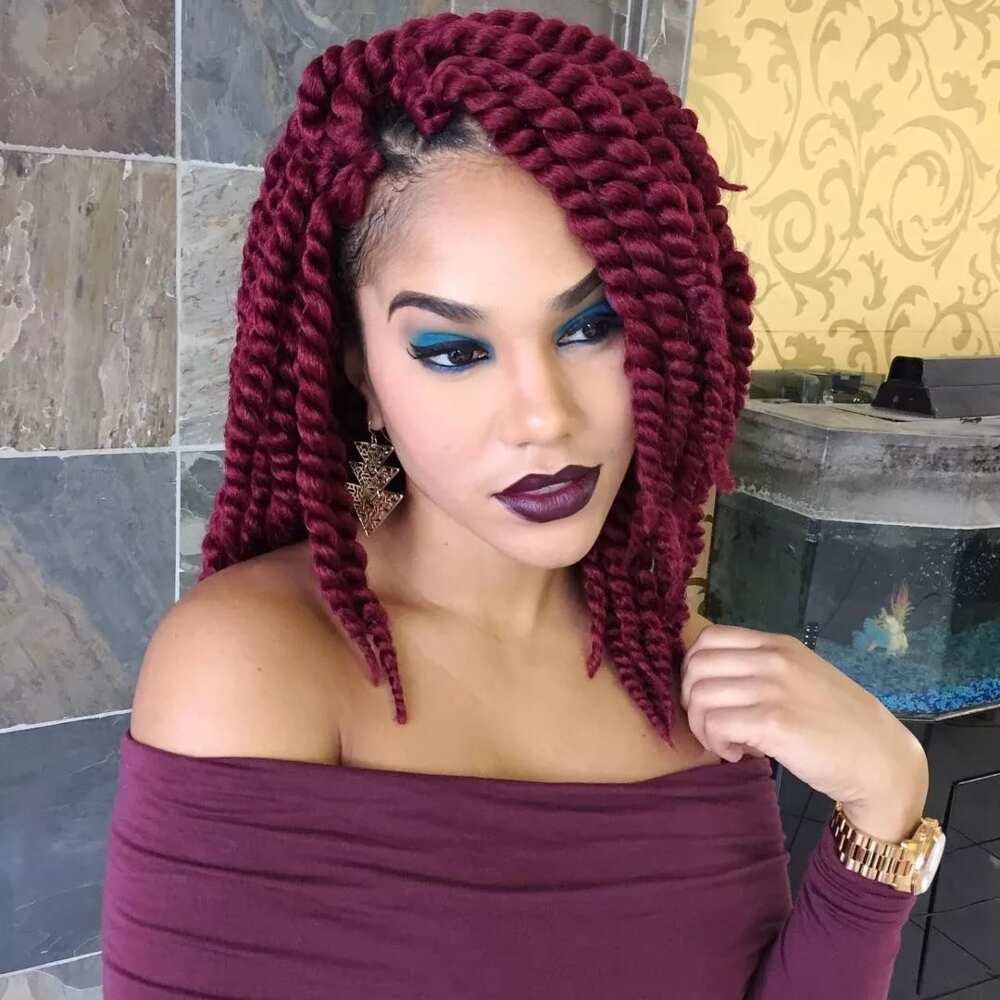 That said, a full head of brightly coloured Havana twists is also not a bad idea. As long as you pair them with the right clothes, accessories and makeup, you can stand out even in the brightest crowd.
Marley crochet braids hairstyles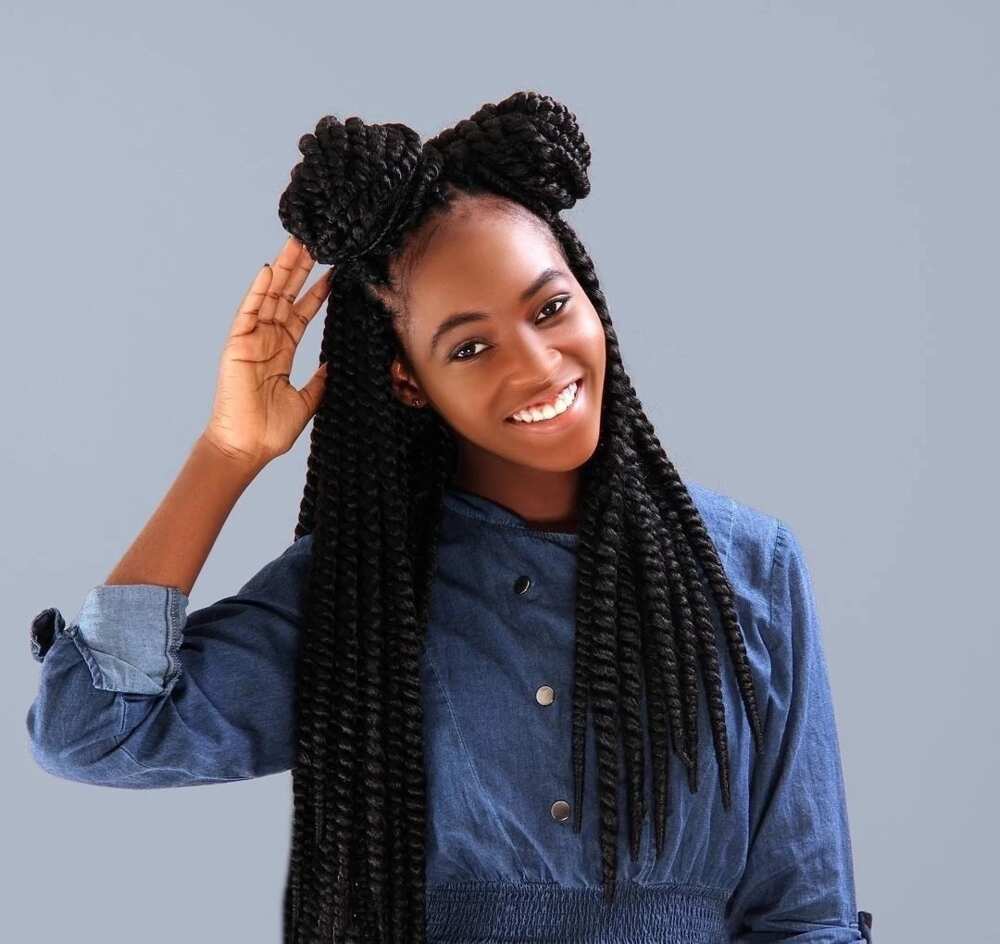 READ ALSO: Ghana weaving styles for natural hair
If you do not have the means to get Havana twists or they are just not your style, Marley twists are just as great. Besides, taking into account that the hair is cheaper, you can go for much longer twists that look nice and slick. And if you do not want your twists to get in the way, you can always make some buns out of them.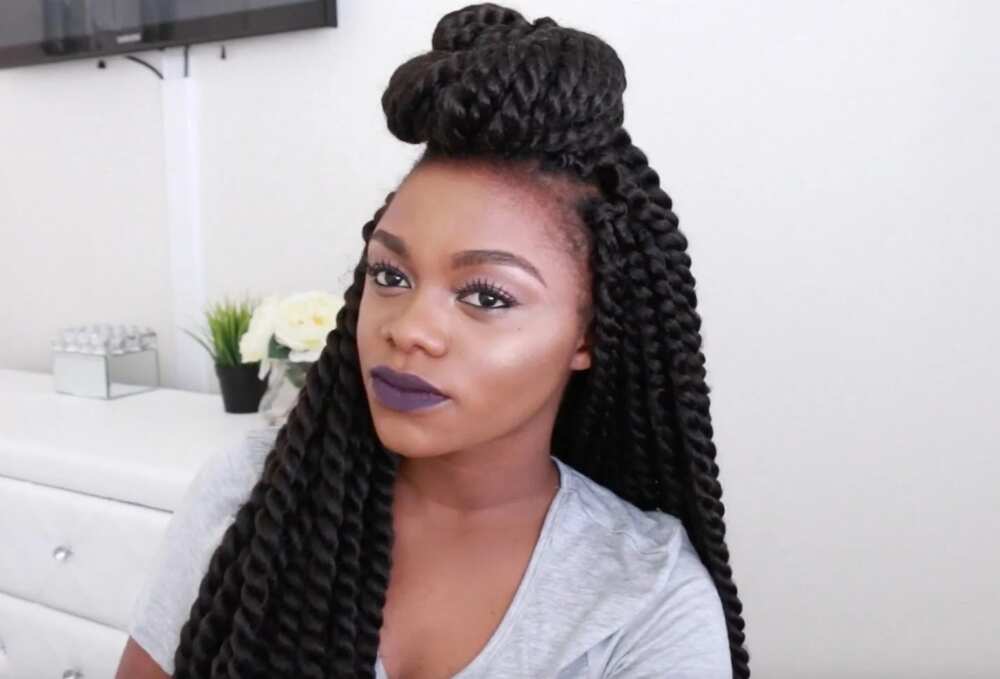 Another way to deal with long Marley twists is to tie some of them in a tight bun on top of the head and let the rest fall back on the shoulders. It is both convenient and stylish, so you can be comfortable and stunning at the same time.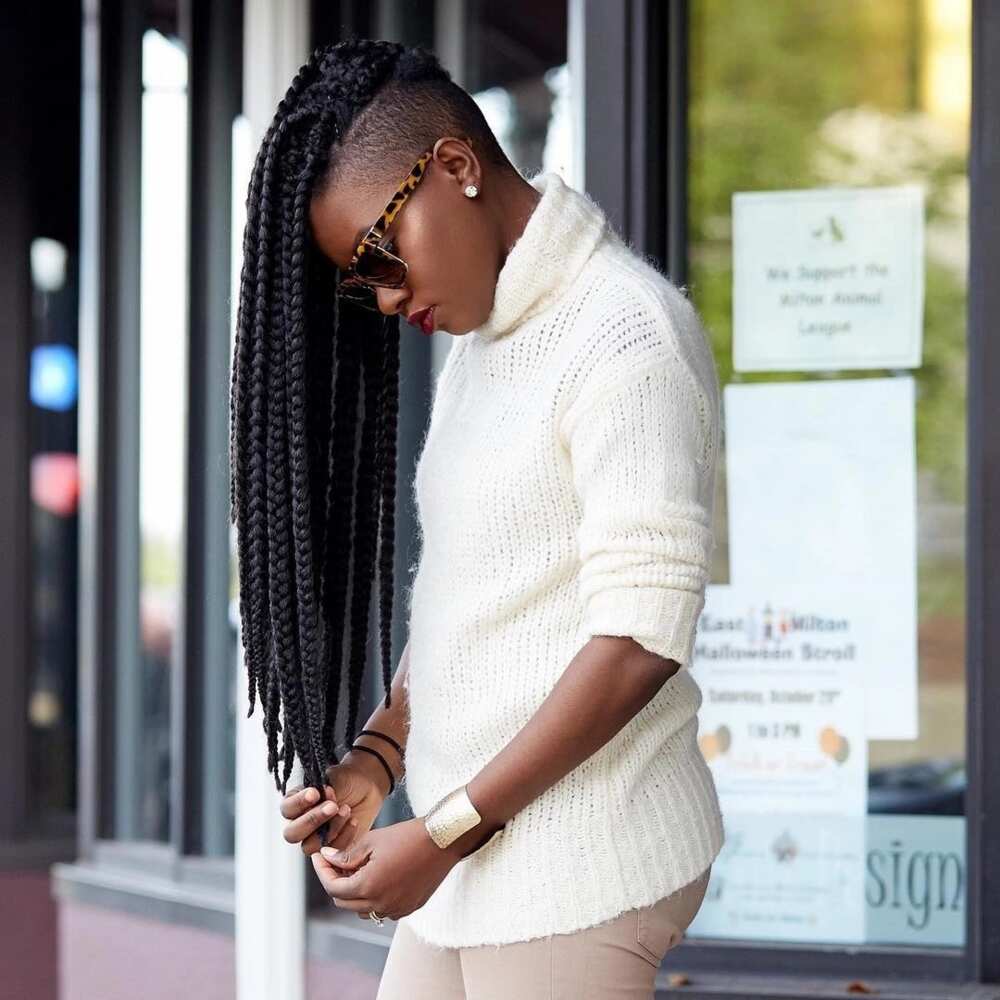 If you want to be a little edgy, why not try to shave the sides of your head and put the rest in twists? This style is not the most common these days, so you will definitely stand out among other twist-wearers.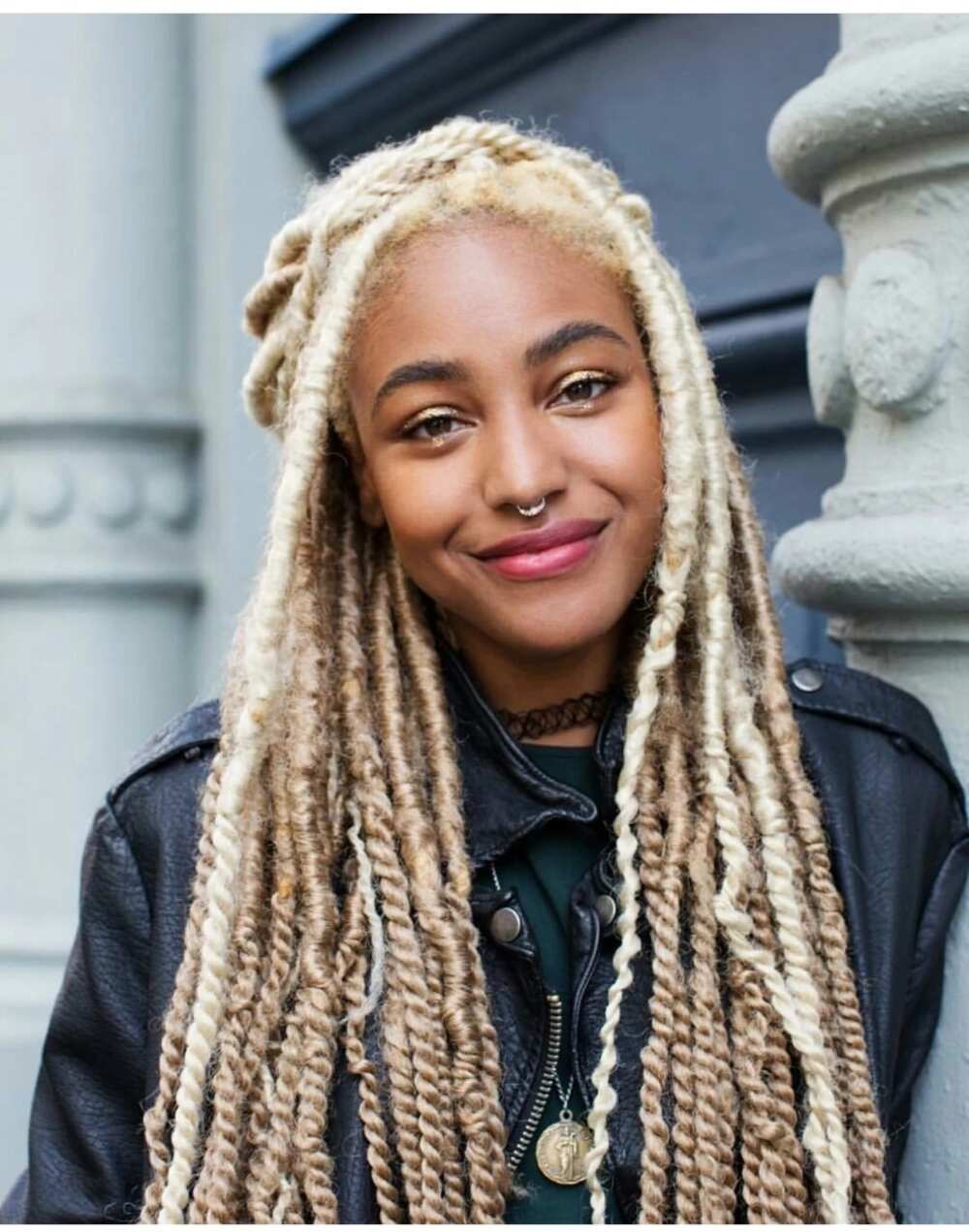 When talking about marley twists, we do not want to forget about their namesake Bob Marley. If you are not yet ready for the commitment that dreads entail, you can always go for messy two-strand and one-strand twists for an illusion of dreads.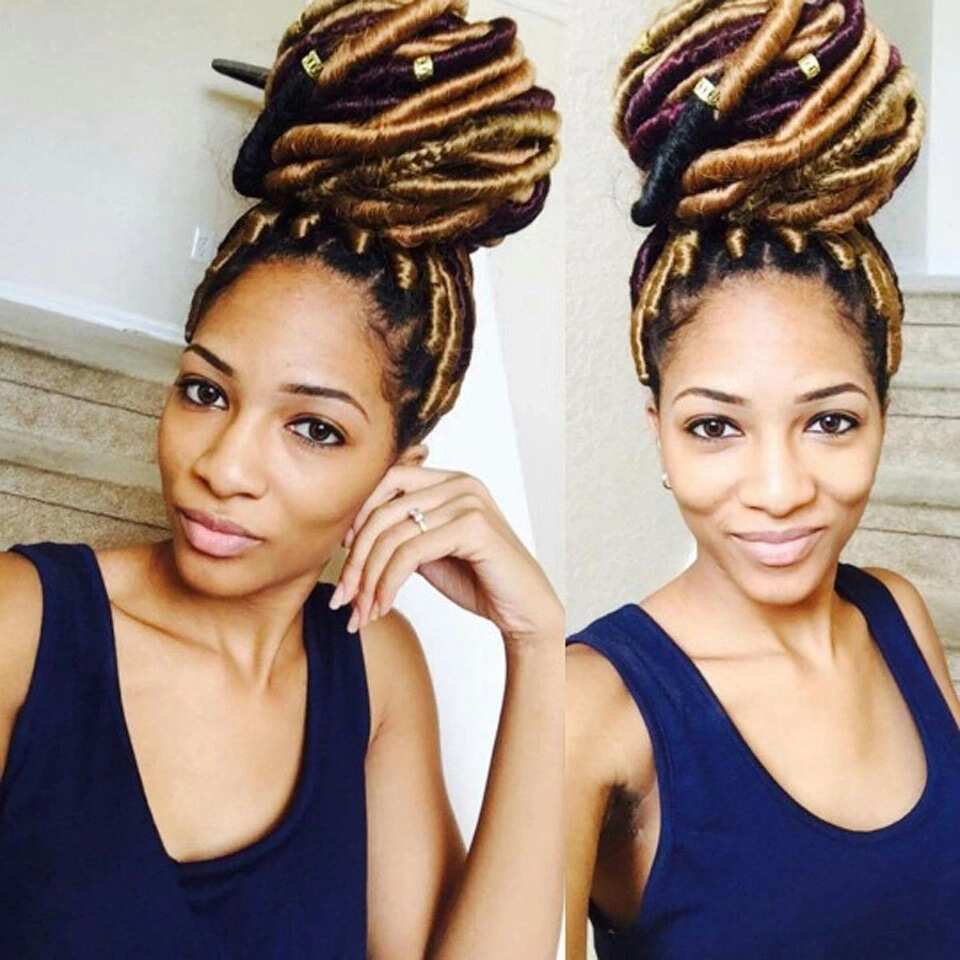 Last, but certainly not least in this category is this wonderful creation out of one-strand twists. It is big, bold and beautiful and you will certainly get some interested looks coming your way if you style your hair like this.
Kinky crochet braids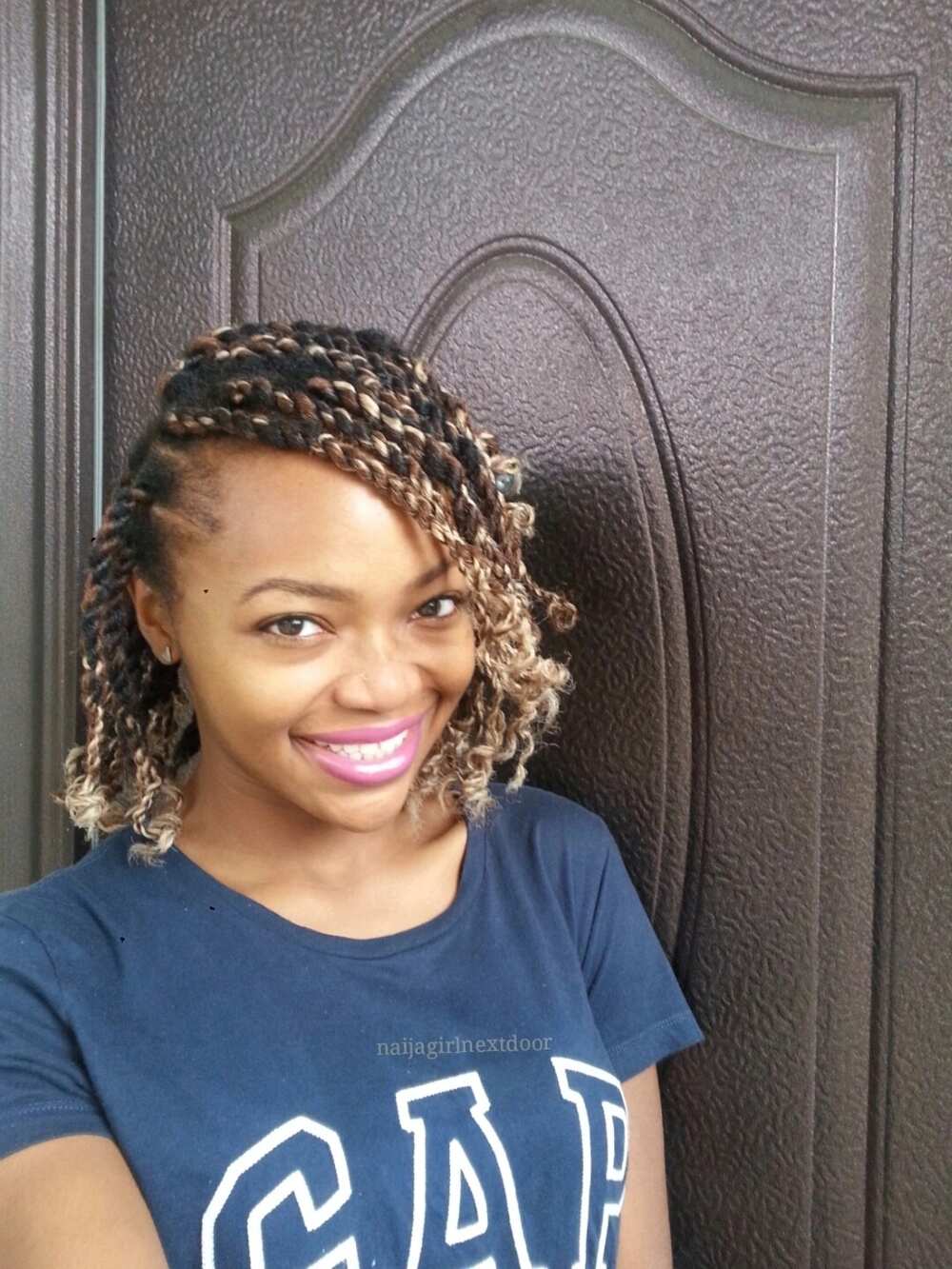 READ ALSO: Nigerian weavon hairstyles 2018
Now, thick twists might not be for everyone, which is why we have a whole separate section for kinky twists. They are fun and unique in their own way, and they definitely stand out from the rest. For instance, in this case, the simple kinky twists have been made much more interesting just by adding some lighter hair in the mix.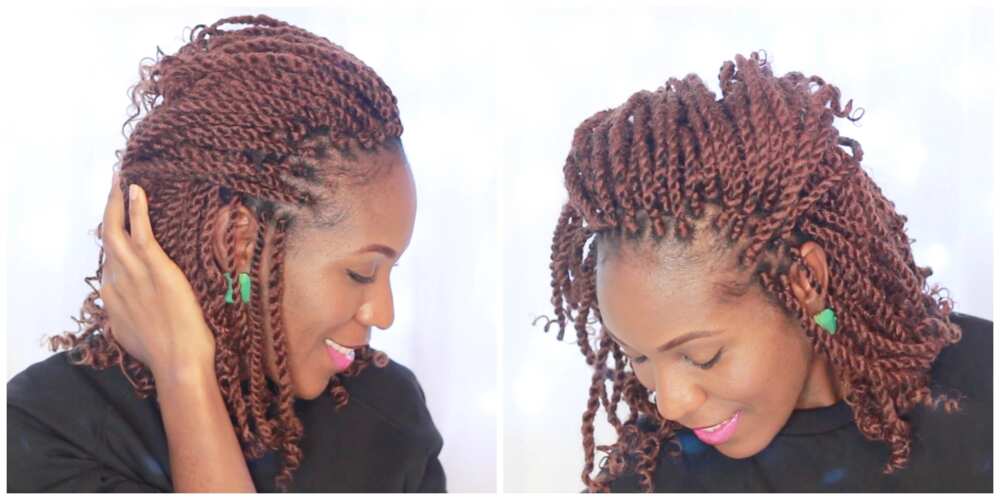 You can also go for a single colour if that is more your thing. Instead of pushing it all to the front, you can pull it back to avoid the twists getting in your face.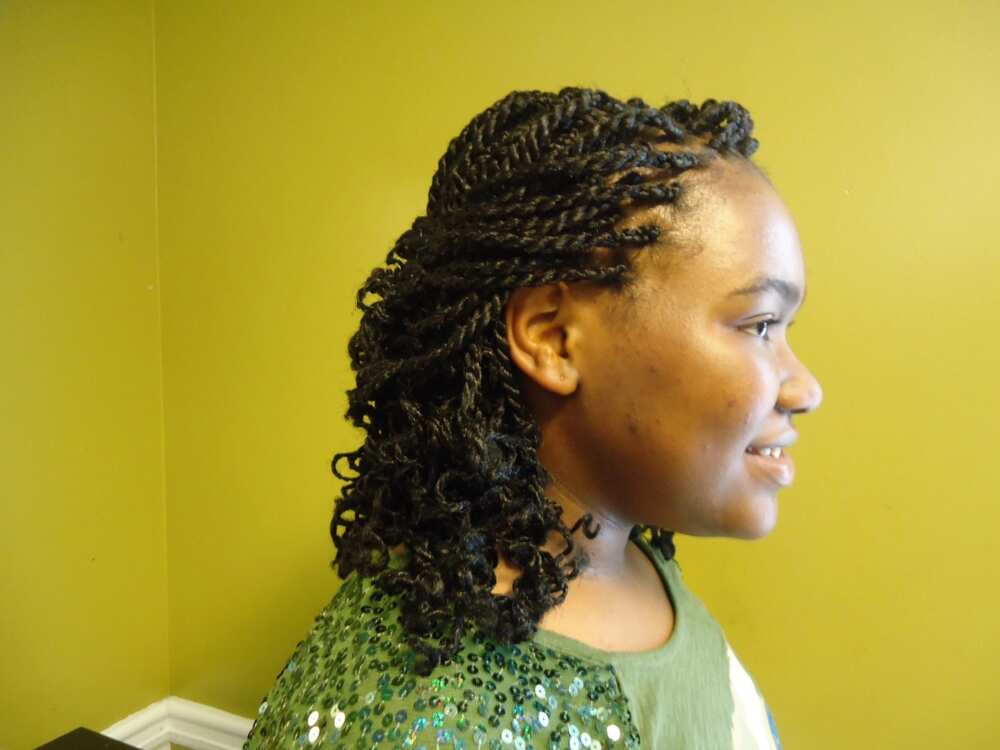 All that said, you can always go for the natural-looking colours if you feel like that is more your style. If you do not want your twists getting all up in your face, you can simply tie the front strands at the back of your head, thus creating a lovely hairstyle.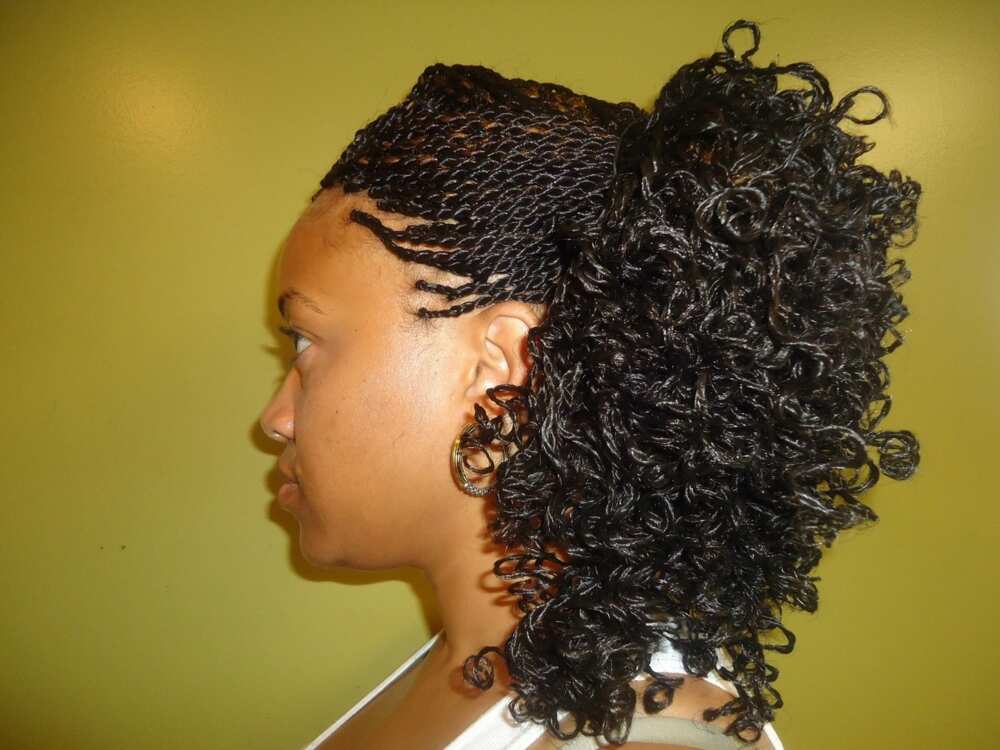 On the other hand, you can gather all of the twists together and make a side ponytail with them. It will make your hair look fuller and curlier, if that is what you want from your twist hairstyle.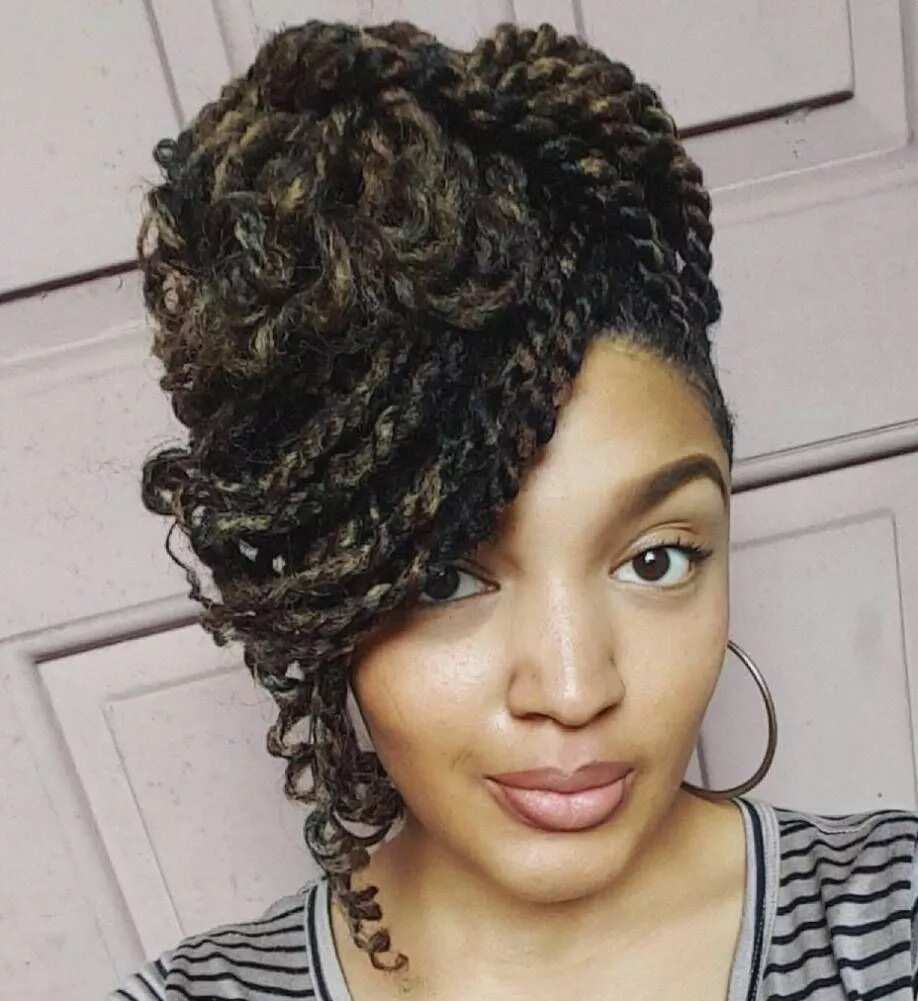 Another thing you can do with your kinky twists is gather them at the top of your head and let the hair fall naturally. You can then reposition some strands and pin them down to create a one-of-a-kind look with little to no effort.
Those were all of our picks for crochet braids. Did you like them? Would you consider wearing your hair like the ones in the photos? Let us know which styles you liked best.
READ ALSO: Braid hairstyles for long hair
Source: Legit.ng